Review:
Let's Golf! 2 HD
Score:
74%
Not content with creating the rather super Real Golf 2011 HD, Gameloft has come up with a quirky sister game. Let's Golf! 2 HD takes the same golf engine, morphs the graphics into a trademark cartoon/manga style, adds outrageously themed hole designs and even endows each of the 8 different golfers with special powers.... The result is still golf, but not quite as you're used to seeing it. On the other hand, there are core improvements here and enough eye candy here to give you cavities!
Buy Link | Download / Information Link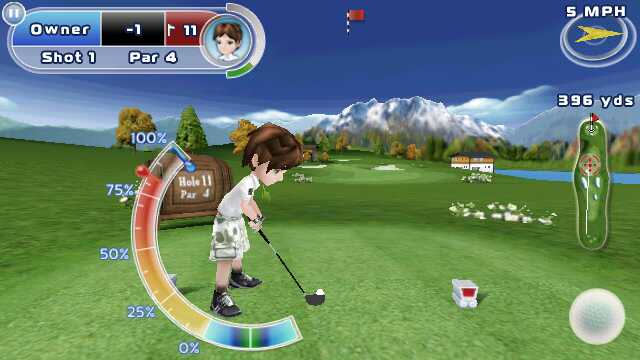 Let's Golf 2 is a franchise that has spanned every other mobile platform, plus the core interface code was already in the (golf) bag, so there really was nothing standing in Gameloft's way in producing this title for Symbian. It's tempting to declare this as the same game as Real Golf 2011 HD but with a different look and feel, but in reality there are some significant upgrades to the older title:
There have been some graphical embellishments, with extra lighting effects and course detail - Let's Golf 2 HD is quite stunning at times.
There's a new 'swingometer' that vaguely mimics a golf swing and is more pleasant to use.
There's a high resolution, atmospheric introductory video (that can, of course, be skipped).
There are extra 'challenge' game modes.
There's a putting 'crib' where you intially get given an idea of how a straight hit putt will far on the curves in front of you.
There's now full multiplayer action, via Bluetooth or Wi-fi with someone in the same house or office as you, or online via the wider Internet. I'm presuming this only pitches you against people with Let's Golf 2 HD on Symbian, rather than on all platforms, since there were few people around every time I came to test out online multiplayer action. I did find some opponents though, and playing against another human being (when it works) is utterly addictive and a whole new ball game (literally), compared to playing against the computer AI.
On the downside, aside from having to endure the cartoon characters (and animals - see below), the TV-style golfer post-shot animations are gone (compared to Real Golf 2011 HD), the 'TV commentary' track is gone and there are no crowd 'applause' sound effects.
An additional downside is that Let's Golf 2 HD seems to use even more RAM than Real Golf 2011 HD - substantially more than 100MB - it's hard to keep anything else loaded in memory (under Symbian Anna) while playing the game. And frustrating when the game terminates halfway through because the OS runs short of RAM.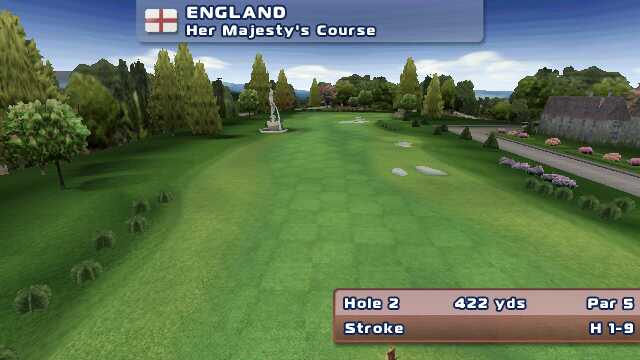 Fabulous detailing.... at the cost of using huge amounts of RAM?
For the serious golf game fan then there's a dilemma. The better (RAM-permitting), more powerful (by virtue of being more recent) of the two titles is the cartoon-themed, jokey, quirky one, while the 'realistic' one languishes slightly in its shadow - let's hope that Gameloft put some money into a Real Golf 2012 HD with the best parts of both titles....
Let's Golf 2 HD is fun to play though, which is after all the main criteria for a smartphone game title. It does behave well on a phone in that it doesn't use up processor time while not in the foreground, but the aforementioned RAM requirements do mean that you can't do a lot else on the device at the same time.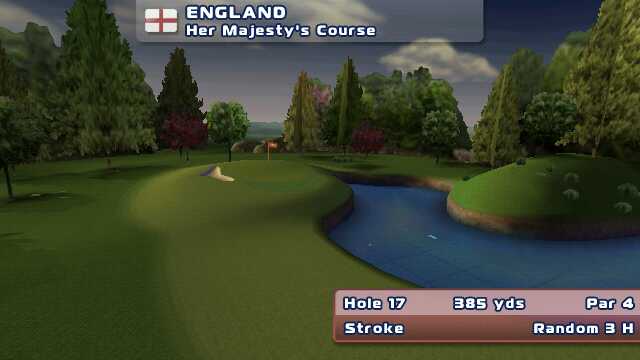 A sensible course...
The 6 courses supplied range from the fairly sensible ("England", "Germany") to the outrageous ("Greece", "Greenland", "Mexico", "Kenya"), with the latter featuring greens and fairways on 1000 foot high rocky plateaux. The variety is immense and the modelling of each (rather cliched) country impressive. Ground textures, object 3D modelling, vegetation, animated waterfalls, lakes, Aztec temples(!), and so on, are all here and looking superb. Whether you want to play in some of these extreme locations is another matter, but hey...!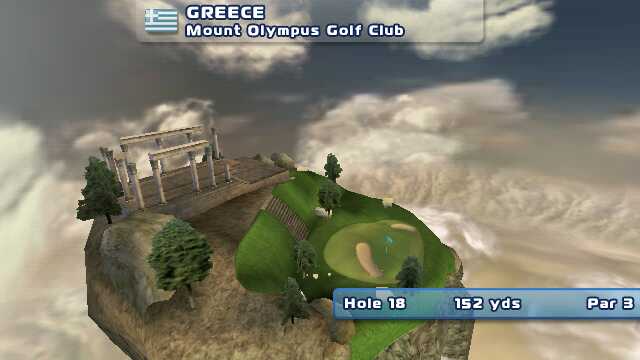 ...and a crazy one!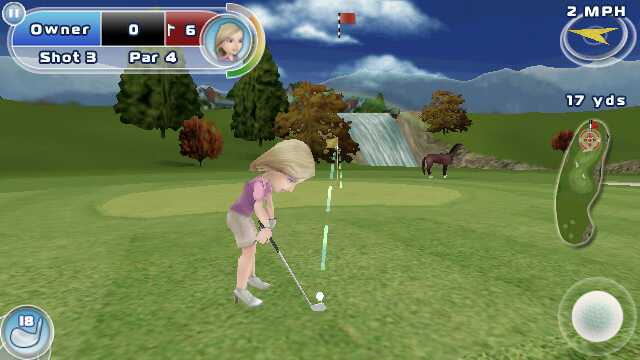 I should also add that all the above aren't just graphical affectations - the modelling includes a degree of collision detection. So, for example, your ball might bounce down the steps of an Aztec temple or roll down the almost sheer face of a Kenyan cliff.
What are graphical affectations are the animals. These are presumably added 'just because the programmers could do it' and add nothing to the game. In fact, they're often a nuisance and a distraction. In each country, an appropriate selection of modelled creatures wanders around the course in seemingly random fashion. For example, in "England" you get foxes, rabbits and carthorses, in "Kenya" you get elephants, vultures and rhinos, in "Greenland" you get penguins and polar bears (has noone watched the news recently?!) The novelty of all this wildlife wears off in the first few minutes.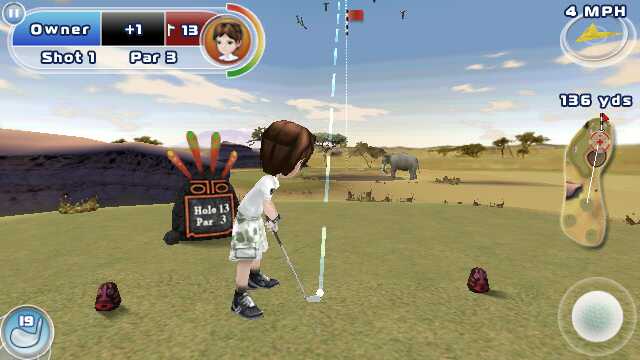 Talking of novelties, Let's Golf 2 HD's programmers couldn't help but add one last element into the mix: special powers. Each golf character in the game has a special power that they can use every now and then (when the 'special power' meter has filled up again). 'Vincent's power is "Explosive force" - nothing to do with intestinal problems, this adds extra power to a drive when needed. 'Jade's power is "Power of charm", apparently being able to stop the ball dead on the green at any point, while 'Chris's power is "No wind", being able to play a shot entirely unaffected by prevailing winds. You get the idea. It's an interesting twist on the gameplay but it's still a novelty and I for one kept forgetting to look for special powers or use them. Sorry, Gameloft.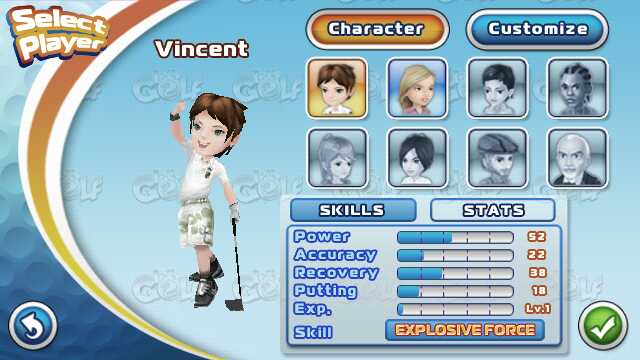 Basic game structure, multi-player apart, is much as it was in Real Golf 2011 HD - an 'Instant play' option and a 'Career' mode, with the former giving you three random holes from random courses and the latter leading you through each course in turn and expecting a certain performance to unlock the next one. Each character has slightly different attributes and there's a building 'experience' factor too - especially noticeable when you come up against another human controlled player later on in multi-player mode!
There are two extras: firstly there's a 'Challenge' mode, with 'Longest putt', 'Bunker ball' and others, each with five difficulty levels. The two most difficult are unlocked when specific courses get unlocked in Career mode. All a nice idea, but most people would probably rather just get on with the game itself? And 'Free hole' lets you pick a range of holes to play on any courses you've currently got unlocked. There's a difficulty setting at each stage, mainly tied into wind control - 'Hard' means fighting 15mph cross and headwinds.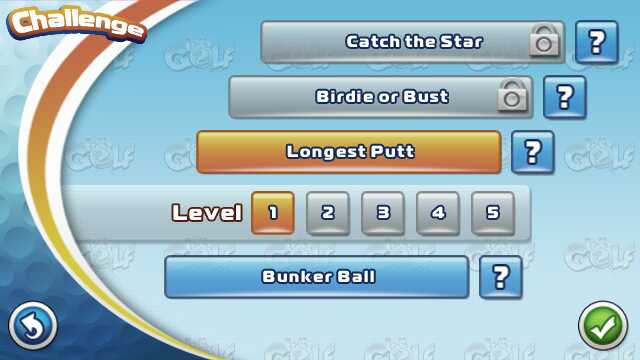 The core physics and ball control are much as they were in Real Golf 2011, with a sensible interface throughout. Tapping to the left and right of the player rotates your 'aim', you can change clubs at the bottom-left, and tapping the hole overview zooms ahead to show where your ball should land, spin and wind and hook/slice permitting.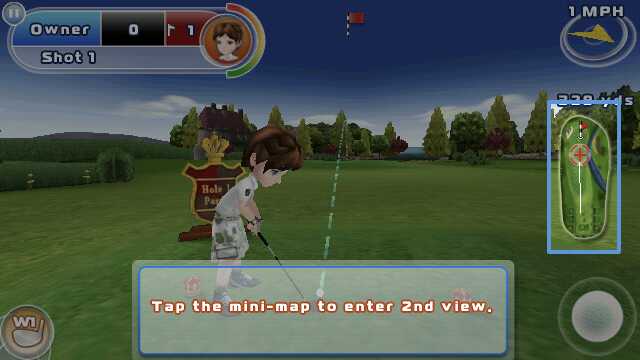 On the green, there's nice handling of green gradients, and my only complaint would be that putting power control is too fiddly - so often, the power needed is just a small blip at the start of the 'bar' and it's easy to overdo putts and spend a frustrating few shots going backwards and forwards across the hole.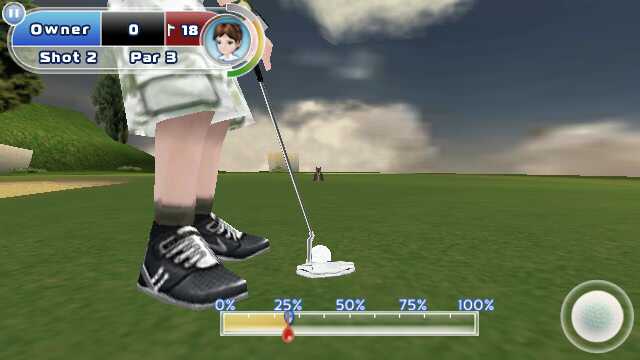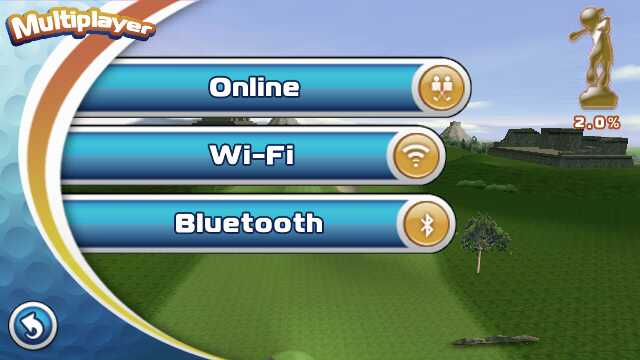 Online multiplayer gameplay is, in theory, the jewel in Let's Golf 2 HD's crown though and it largely works as advertised, with a few caveats. Logging into Gameloft's 'Live' servers takes an eternity and you could be waiting a few minutes more for anyone to join your 'room'. Then, once started, you're at the mercy of your two connections and each of my test games had an interruption of some kind, either through Wi-fi or 3G problems at one end or because one of the two smartphones ran out of RAM and the game closed. When working, the multiplayer is superb, but don't expect a smooth and trouble free experience.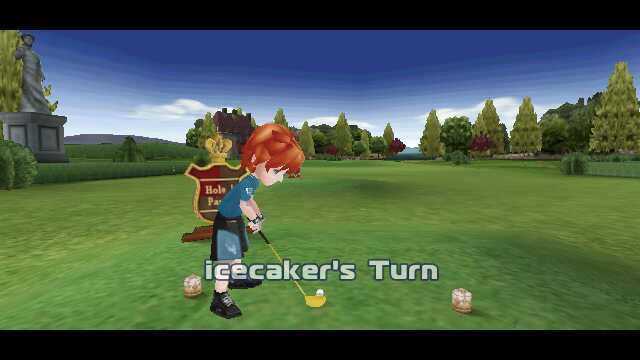 At the end of the day, any application has to work comfortably within the confines of the OS and hardware that run it - and Let's Golf 2 HD often doesn't. You could argue that this is Nokia not putting enough RAM into current devices (again - I did note that the latest announced crop have twice the RAM). Or that Gameloft shouldn't have tried to put so much detail, so many bells and whistles into what is at heart a decent golf game. Either way, this title struggled for me on the E7 with Symbian Anna - it'll be fine for an all-encompassing hour long gaming session with nothing else happening on your phone - it's a potential disaster for a game on a multitasking smartphone in the real world.
Oh, and there's no way to send messages to your playing partner, so there's no interaction other than watching him or her play. So you can't explain that you'll be right back or that you have to take a phone call - the game will just appear to die from their standpoint. Assuming it's still running.

Let's Golf 2 HD is a fine programming achievement that deserves more work. I'd like to see its innovations brought into the more realistic 'Real Golf' world, I'd like to see hole-to-hole transition times brought down to be two or three seconds and not the current ten, and I'd like to see it optimised to need 20 or 30MB less RAM. Then we'd have a title to really be proud of.
Steve Litchfield, All About Symbian, 25 August 2011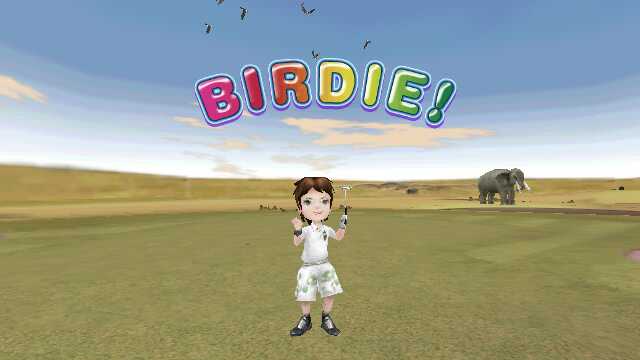 Reviewed by Steve Litchfield at