Review:
Nokia Hard Cover CC-3009 for E7
Score:
95%
I'd originally planned another case review roundup for the Nokia E7, but several of the possible cases have failed to materialise, so I'm going to tackle a few of the best cases individually. Starting with the Nokia CC-3009, a simple, yet superbly made shell that both protects and enhances daily operation.
Buy Link | Download / Information Link
Designing a case for a device with a 'transforming' form factor (like the E7) is always tricky, and the case elements usually get in the way too much and add too much bulk. The CC-3009's designer took a simpler approach, providing a hard plastic frame (with soft neoprene inner surface) with moulded corners that hook around the E7's base. In situ, there's very little extra perceived volume and, importantly, there's no impeding whatsoever of the E7's slide-up screen and QWERTY keyboard.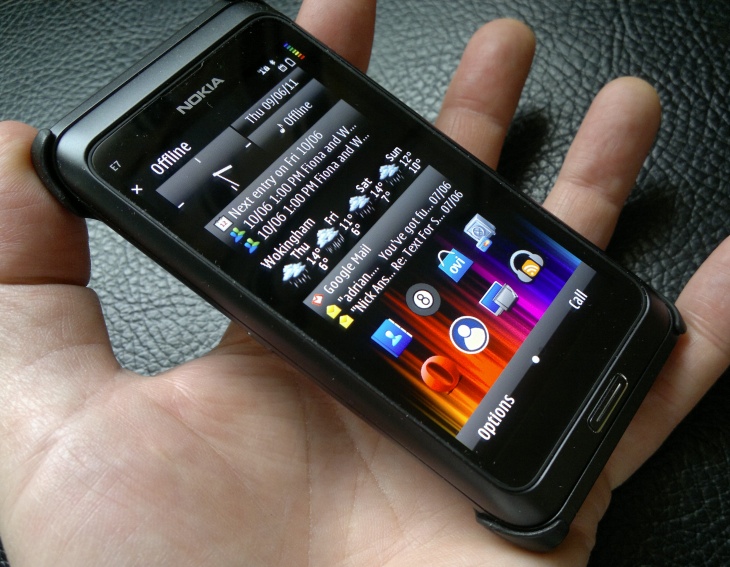 The corner 'hooks are really well done. Just hard enough and rigid enough to both stay 'on' and to protect the device corners in a fall, yet flexible enough to be bent for easy removal of the E7, should you want to switch cases.
It's not obvious in the photo below, but the corner mouldings flow nicely with the existing curves at the keyboard's sides - your fingers just roll from one to the other, with no jarring edges. A design flourish which you'd expect, given that this is an official Nokia-designed case and not some third party knock-off.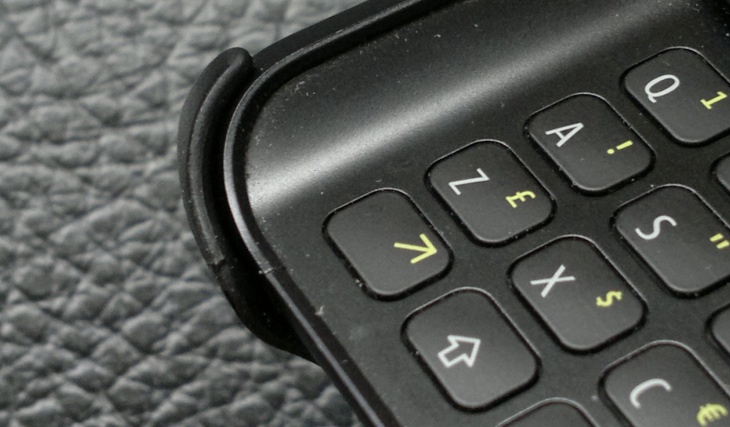 In addition to providing some basic protection of the overall Communicator, the CC-3009 has another couple of important side benefits. By virtue of adding a couple of millimetres to the E7's bottom surface, the (otherwise vulnerable) camera glass is raised away from dust and potentially damaging objects. And because the bottom surface of the CC-3009 is textured (see bottom photo), there's far more grip on a desk - so that, when typing away, the E7 doesn't 'skate' across the desk away from you.

The detailing and texturing is really quite impressive. I'm no materials expert, but the whole surface smells and feels like leather, yet I know it can't really, because of the moulding and lack of bulk. It's a superb illusion though and creates a real 'premium' feel to this cover.
The (inset, almost flush) Nokia logo has a very grippy silicone-like bubble finish, adding extra grip when the case is resting on a desk.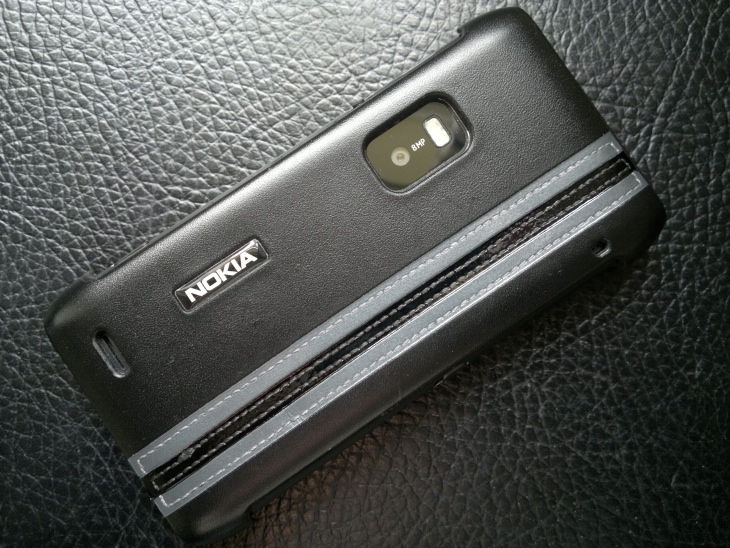 Interestingly, you can also get this case in black/orange and black/blue, but as ever, I prefer the understated approach!
The almost unprecedented 95% score here reflects the fact that I can't think of a single way that this design or implementation could be improved upon. Highly, highly recommended to any E7 owners.
Steve Litchfield, All About Symbian, 11 June 2011
Reviewed by Steve Litchfield at