Review:
Medica Medication Reminder
Score:
65%
We all have to take medication sometimes. Remembering when to take it, and when to order repeat prescriptions, can be difficult when you're busy or not feeling well. It can be even harder if you're looking after yourself and/or several others too. Wouldn't it be good if your phone could be your personal medical assistant? With "Medica, Medication Reminder" you can do just that. Read on to find out how well it works in practice.
Version Reviewed: 1.2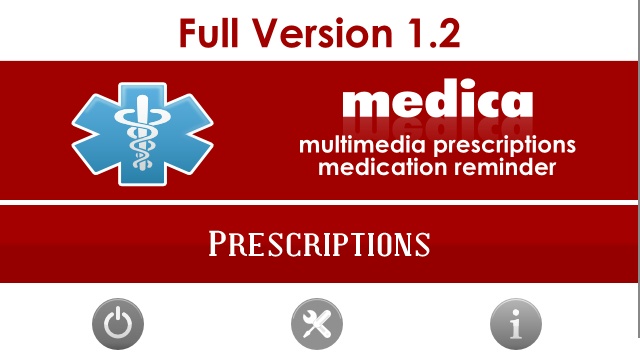 Titles screen
Medica is one of those applications that I am always happy to see come along. Taking the abilities of the smartphone beyond the social media driven tech bubble that we seem to live in most of the time. It's good to see applications aimed at serious and practical tasks.
The basis of Medica is in the creation of a virtual prescription, which can trigger reminders for when it's time to take your medicine. The interesting thing is that that you can create multiple prescriptions for different people. Also, you can attach multiple medications to any prescription, just like a real repeat prescription.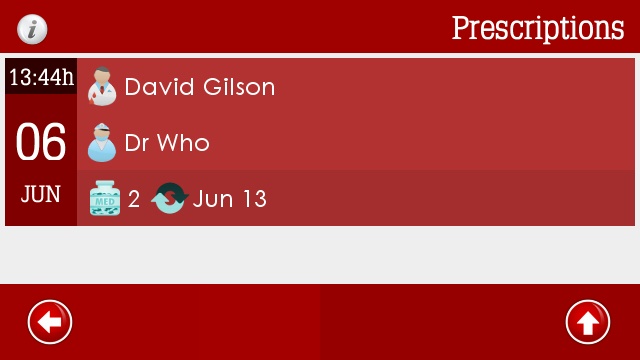 The prescription list
A novel feature of Medica is that it comes with its own portrait and landscape QWERTY keyboard. No doubt implemented through impatience, after waiting for the portrait QWERTY promised in Symbian Anna!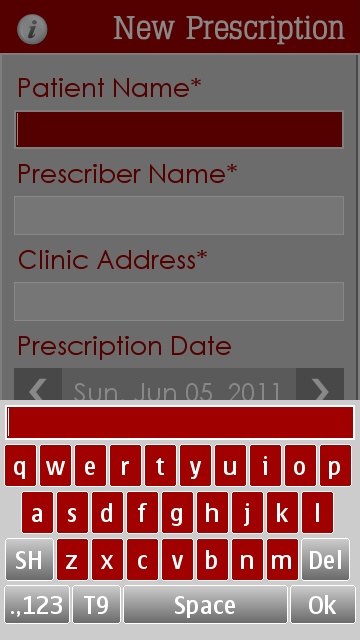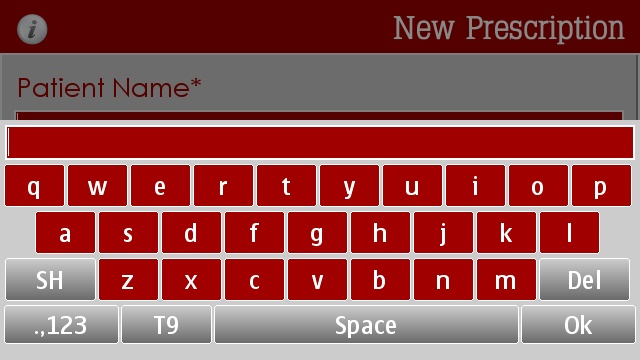 Medica's QWERTY keyboards
You can save an extensive amount of information in each virtual prescription. You start off with the patient's name, doctor's name, and the surgery/clinic address, followed by when the next prescription is due. There's an 'Other info' section in which to put the patient's age, surgery phone number and opening hours. After this you can set a reminder for follow-ups. It's not clear whether this is meant to be for a follow up consultation or subsequent repeat prescription. It could be used for either, as long as you're consistent and don't get confused. A novel feature is the ability to attach an audio note, allowing you to quickly capture information in-situ, about the medication. There are two software keys at the bottom of each page, one for going back a page, and one for a context menu. From the prescription edit page, there is a context option to 'Add Medication'.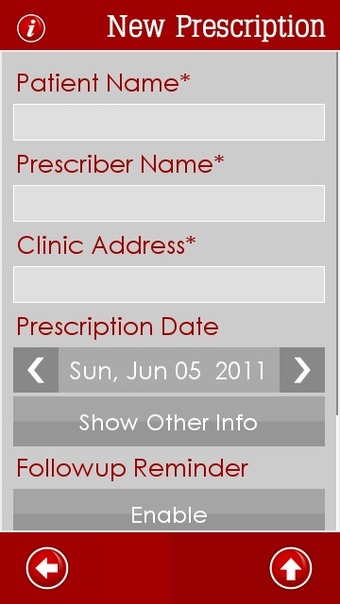 Creating a prescription
When adding medication, the first option is to take a photo (within the app) of the medication. This can be useful for several reasons. If you were in a rush, taking a photo of the packaging would be quicker than typing a complicated name. Another scenario could be that the tablets had already been taken out of their packaging, and placed in some sort of organiser by someone else. Then, you might need a visual clue for which tablet is which, etc. The next input allows you to enter the medication name. Next there is a drop down list of what type of medication it is; e.g. tablet, inhaler, injection, etc. Following from those options you can add the dose, quantity and/or number of required refills, as appropriate.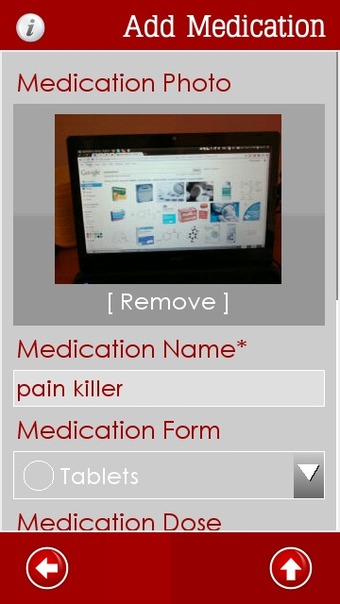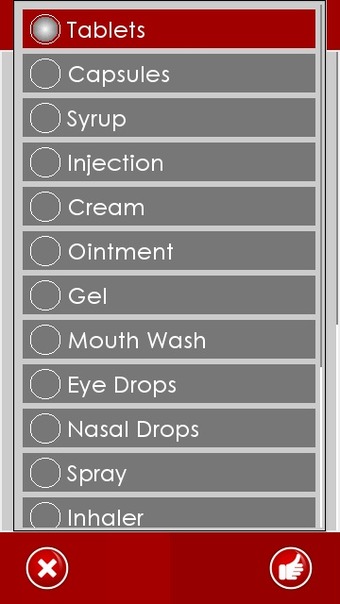 Taking a photo of medication and selecting its type
The last option is perhaps the most critical for everyday use. You are able to add multiple dosage times, and which days of the week they apply to, which in turn set the application to sound an audio reminder. When exiting Medica, after the first time you set any reminders, it asks for permission to be registered as a start up application. However, after accepting this and rebooting the phone, I checked the task manager and didn't see Medica running. Therefore, this looks like a bug, and means you need to make sure the application is running in the background to be able to receive reminders.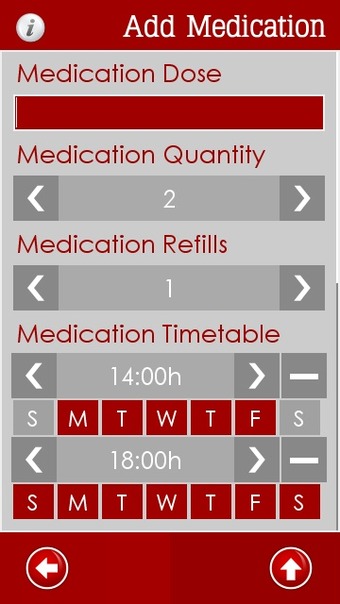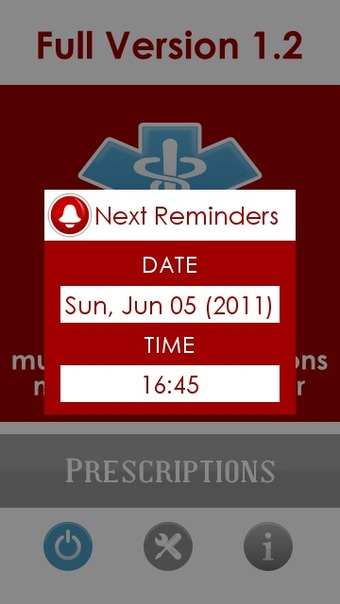 Setting and viewing reminders.
There are plenty of options for configuring the alarms, which boom out in a robotic, or human male, voice "This is a Medica Reminder!" You can control the volume, and what the respite (equivalent to snooze) period is.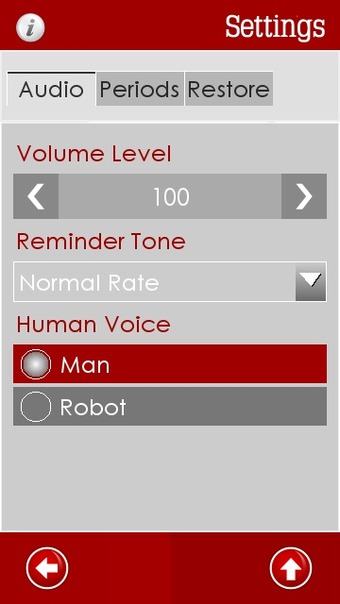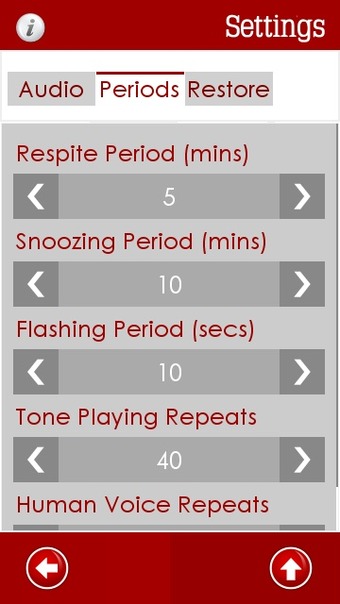 Alert settings
Going back to the main page of Medica, you get a summary of all prescriptions, but only one is expanded at a time, which shows you when the next prescription is due, when the follow-up date is, patient and doctor name, along with how many medications are attached.
That covers the basics of Medica, but how well does it work in practice? My first impression of Medica was that I couldn't quite make head nor tail of of it. With a little patience and a second attempt at using it, I started to get the idea. For an individual, I wonder if all the 'form filling' might be a little overkill. Furthermore, having set dose times is only as reliable as one's routine. For example, if you sleep through your Medica reminder, Medica won't help you any further. In which case, you need to rely on yourself to check the application afterwards. So this is certainly not a bullet proof medication planner (is anything?)
Where Medica could come into its own is for someone working as a carer, who is responsible for several patients' medication. In this context, Medica makes much more sense, as that library of data would become much more valuable, for managing and checking everything is as it should be for those under your care.
In any context, the underlying concern I have with Medica is that it's a data silo. It doesn't interface with Calendar, and there's no homescreen widget to give you a 'heads up' on upcoming reminders. It very much depends on you living in that one application.
If this sounds like it might be able to help you in your daily medical routines, you can pick up Medica in the Ovi Store for £1.50.
David Gilson for All About Symbian, 6th June 2011.
Reviewed by David Gilson at