Review:
3D Sky Fighter 2
Score:
35%
Calling all ace pilots, there's another 3D shooter in the Ovi Store. 3D Sky Fighter 2 is a forward scrolling accelerometer-controlled shoot 'em up. This is a bare bones game, with no instructions and minimal controls. That means the game will fly or crash and burn on its gameplay alone. Read on to find out whether it's a soaring success or a descending disaster!
Version Reviewed: 1.0
Buy Link | Download / Information Link
I wasn't exaggerating when I said 3D Sky Fighter 2 was a bare bones game. As soon as the game launches, an operating system prompt appears asking if you want to use the accelerometer as a controller, then you are immediately greeted by an aircraft selection screen. There's no title screen, no loading screen, no menu.
The two aircraft have distinct designs, but that's where their differentiation ends. Having played both planes, there's no discernible difference between the two. Your choices are either a delta wing type design, or a Sputnik type craft, both look quite surreal.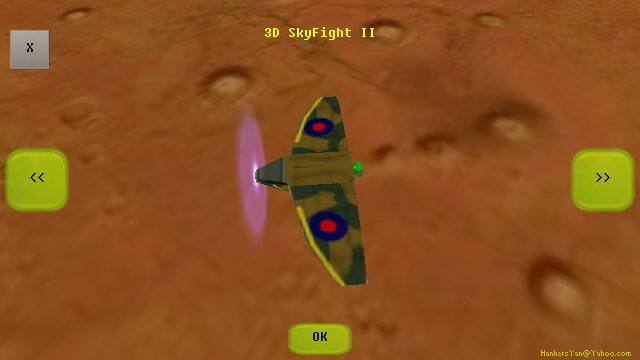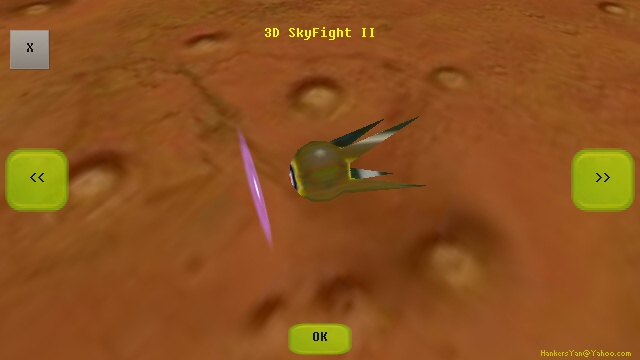 The aircraft selection screen
Once the aircraft is chosen, you're flung right into the action. There are left and right buttons in the bottom left corner of the screen, and a fire button in the bottom right corner of the screen. The fire button is deceptive because your aircraft will continually fire bullets. The 'big red button' actually triggers the charging of a massive beam weapon. In case you were wondering, there's no foward motion control, the game has you going at a steady pace, apart from when you temporarily stop while dealing with the occaisional boss.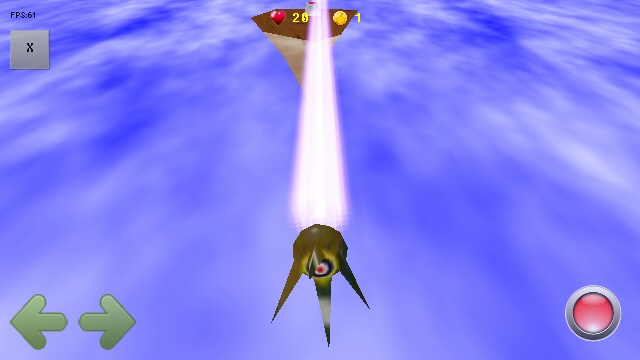 Letting rip with the secret weapon!
The enemies you'll come across are other planes and fortified ground based targets, which are tougher to crack. Those ground bases are either rotating turrets, or fixed angle guns which fire a spread of bullets. All of which make it tough to avoid damage.
While playing, you win (what look like) coins for every target destroyed, and you have 20 hit points (denoted by a red heart) with which to keep going as long as possible. The problem is that you have to concentrate very hard on tracking where the little yellow bullets are going, because there's no indication that you've been hit. No haptic feedback, no screen flash, nothing apart from the dwindling heart counter.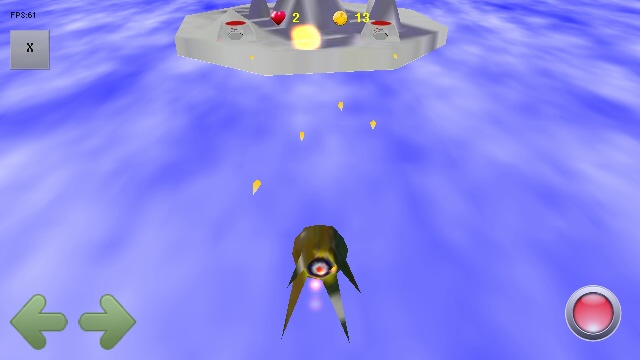 Avoiding incoming fire
Even if it were a free game, 3D Sky Fighter 2 would still be a shockingly unfinished product. Considering that it actually costs £1.00 in the Ovi Storemakes things even worse. There are no instructions, no tips, no sound effects, no variation in gameplay. There is zero effort given to the presentation of this game.
If you want something fun to try on your Symbian device, avoid this one.
David Gilson for All About Symbian, 3rd June 2011.
Reviewed by David Gilson at