Review:
Pocket View
Score:
49%
There's some wonderful photography on the Internet, uploaded from anyone with a camera and an Internet connection. Flickr and Picasa are two of the biggest players in this area, and searching their content for keywords can bring up a treasure trove of images. Accessing them on your phone via a browser can sometimes be a clunky experience. This is where Pocket View steps in, allowing you to discover photos with a slick Qt user interface. But does it have everything? Read on to find out.
Version Reviewed: 1.0
Buy Link | Download / Information Link
Pocket View has three views, which can be switched via swiping gestures. The first and third views show images from Picasa and Flickr respectively. For each photo service, a gallery of most recent photo uploads are shown. Strangely, Picasa only shows fifteen thumbnails, while Flickr shows twenty.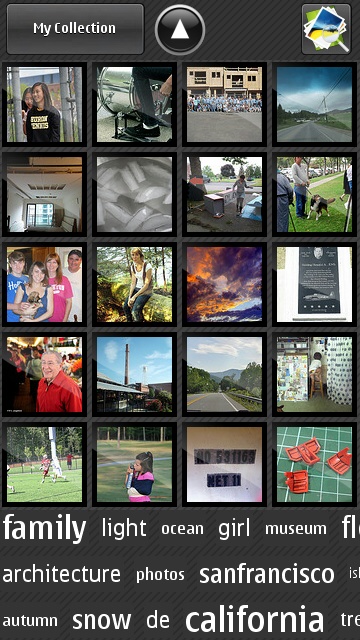 The Flickr gallery in Pocket View
In addition to image thumbnails, each view has a tag cloud at the bottom, which horizontally scrolls with a swipe of the finger. The font size of each tag supposedly represents its popularity. As you might expect, tapping a tag brings up a gallery of matching images. If the subject you're looking for isn't in the tag cloud, then tapping the yellow icon in the top corner of the screen reveals a search box.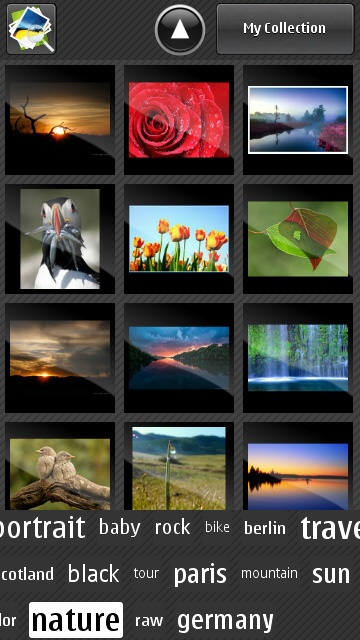 Searching by tag cloud
When you select a single image to view, Pocket View is still fixed to portrait mode, whereas most images have a 4:3 aspect ratio, unfortunately. Neither is there any sort of zoom function. All of which means you're limited to viewing a fairly small image. In the single image mode, tapping the star icon will add the image to your 'Collection' page. Adding an image to your collection allows you to set your own title and tags. When you view your collection, which is the central page in Pocket View, you see a tag cloud form, based on the tags you gave each image.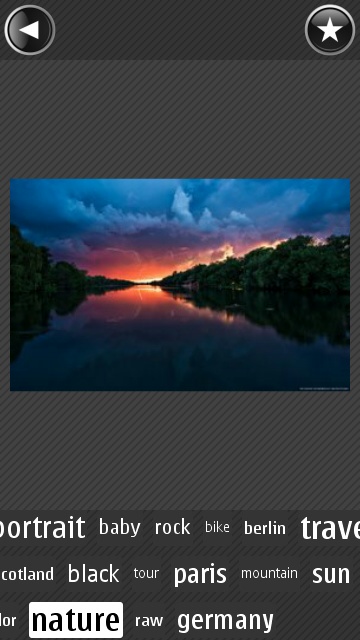 Viewing a single image
It's at this point that you might begin to notice the shortfall in Pocket View's functionality. Once you've added an image to your collection, there's nothing else to do. You can't download the image, neither can you set it as your wallpaper. There isn't even an option to send the photo's original URL by e-mail. This means, unbelievably, that if you find a great photo you want to keep, or use elsewhere, you will have to go online and start searching for it all over again!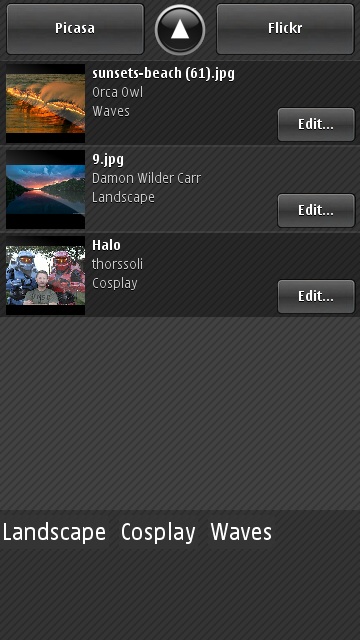 The collection page
This is why I fail to see the point of Pocket View. It has a great user interface, certainly impressive enough to show off to your friends. However, beyond demonstration purposes and brief entertainment value, it's literally useless. I've tried pinching, stretching, long pressing, tapping all over the place, there's just no other functionality hidden away in this application, which is a great shame.
Pocket View is available for free in the Ovi Store, let us know what you think in the comments.
David Gilson for All About Symbian, 25th May 2011
Reviewed by David Gilson at