Review:
Elderly Care
Score:
58%
Getting old is something that (hopefully) happens to all of us. Before that happens though, there's a fair chance that at some point in your life you'll have to look after an elderly relative. Can mobile technology help make the task any easier? That's what the makers of Elderly Care have tried to do with their application. If you're looking after an elderly relative, read on to see if this might help you.
Version Reviewed: 1.01
Buy Link | Download / Information Link
Elderly Care is really a dual purpose application, offering facilities for elderly people to get help and offering advice to carers.
Help for carers is provided in the form of advice pages, split into four categories: common diseases, home safety, communicating with elderly people, and advice for better sleep. The advice offered ranges from common sense and practical, to somewhat more subjective, especially in the communications section.
Being a carer can be an stressful and lonely job, therefore these guides will be useful, and maybe of some comfort, to anyone who is in a caring role, but hasn't yet reached out for support; e.g. someone new to caring. The content is rather basic though, so it should be thought of as just somewhere to get ideas for further research. On a technical note, the layout of these pages is quite poor. Each page has an image, which takes up far too much space. There are only five lines of text shown at once, which means a lot of scrolling, and prevents your eyes from scanning through content.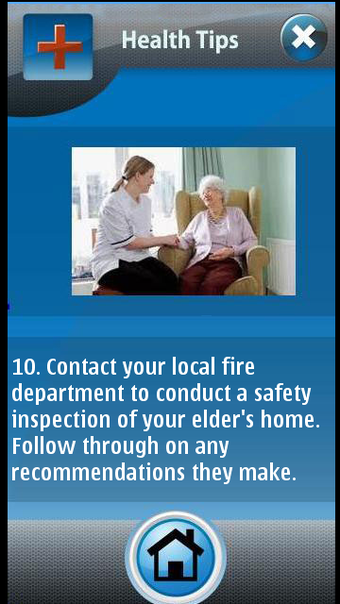 Some of the guides supplied in Elderly Care
The main user interface of Elderly Care has three large buttons. The first is "Health Tips", which presents the guides described above. The next two, "Alert Mode" and "Call for Help" are both services for an elderly person to use.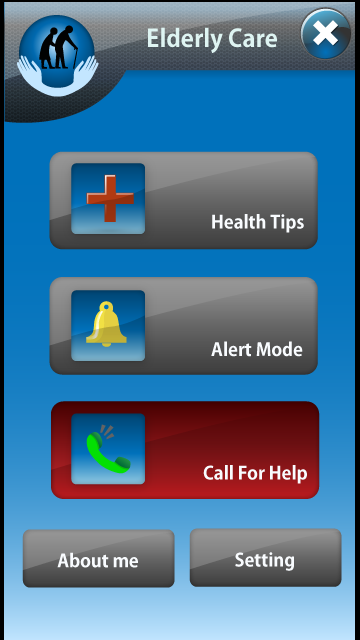 Main user interface
The Alert Mode gives four large buttons, which each send a pre-set SMS to a phone number which must be added via the Settings screen. The buttons are labelled: "Out of medicine", "Lost", "Fall(en) down", "Headache". You can see the messages that the carer will receive in the screenshot below. There is no feedback to tell the user that messages are in the process of being sent. However, a success message is eventually shown to confirm that the message was sent. The delay might be a little disconcerting to anyone not technically inclined, and who is either nervous or impatient with technology.
These messages cannot be changed; which is something the pedantic technology reviewer in me would like to complain about. However, if the messages could be changed to anything, e.g. to fit the specific needs of the elderly person being cared for, there would be the problem of creating new and memorable icons. All of a sudden, the application would be made too complicated for someone who may already be struggling to find their way around a mobile phone in the first place.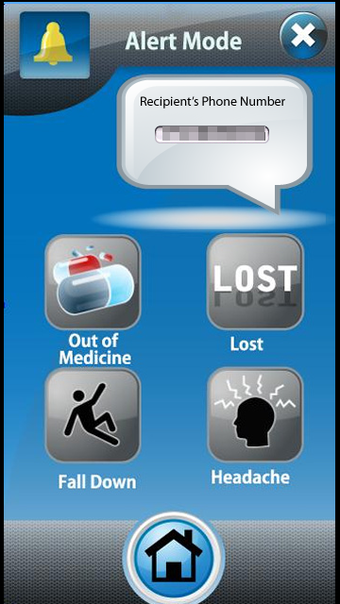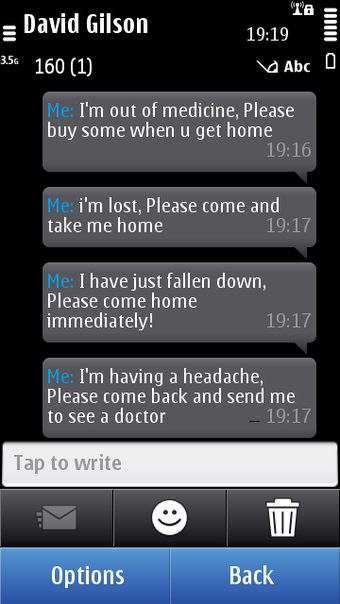 The alert message buttons and received messages
The other feature for elderly people is "Call for Help" mode, which is simply a personal alarm. Once this button is touched, the phone plays a loud continuous sound. The idea is a good one, but it is limited by the loudness of the phone's speaker, and I think one may struggle to hear it in a house with thick walls.
Overall, I'm in favour of this type of application. It takes the abilities of smartphones and puts them to use beyond the technological bubble that many of us exist in. I am not convinced that it will work in every case though. Some people, especially older ones, are just not comfortable with technology. After all, this is an app which needs launching just like any other. I'd be interested to see comments from anyone who has used this, or something like it in practice. Did it work, or was it just a novelty?
You can get Elderly Care for free in the Ovi Store.
David Gilson for All About Symbian, 19th May 2011
Reviewed by David Gilson at