Review:
Alpha Wave
Score:
59%
Are you feeling protective, but that you need some space in your life? Then you might be the ideal candidate play Alpha Wave, and protect our moon base from that impending meteor shower. Yes, that meteor shower, up there! We love classic game genres and Alpha Wave seems to be taking on two at once, by combining Space Invaders with Asteroids. Read on to find out how well the combination works.
Version Reviewed: 1.0
Buy Link | Download / Information Link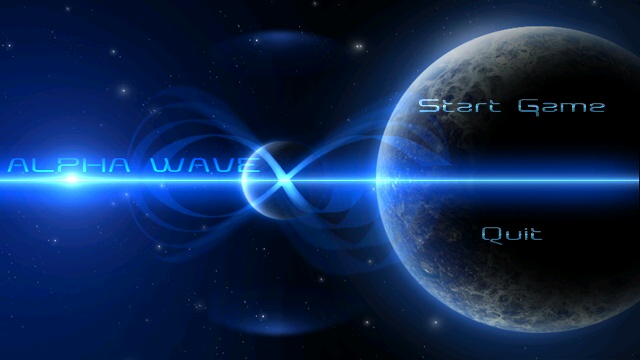 Title screen
If you're too young to remember "Space Invaders", it was a pretty simple formula. You controlled a mobile gun platform, which moved from side to side. Your aim was to shoot down the descending waves of alien invaders, which were all to happy to shoot back at you. To protect you, there were bunkers, which would eventually erode away under constant enemy fire.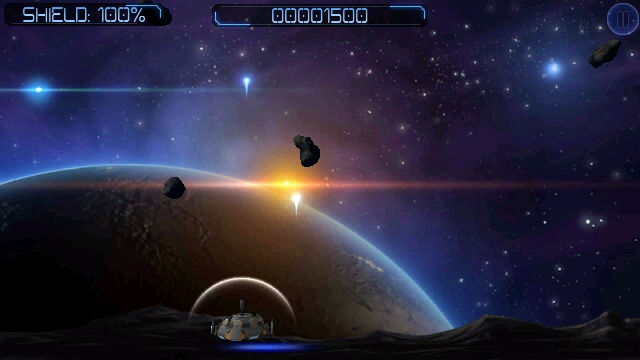 Getting started slowly
Meanwhile, "Asteroids" was a 2D physics simulation where you controlled the direction and thrust of a space craft, whose purposes was to shoot down a constant flow of asteroids. However, just as in real life, shooting the big asteroids would split them into smaller rocks, thus making your task that much more complicated.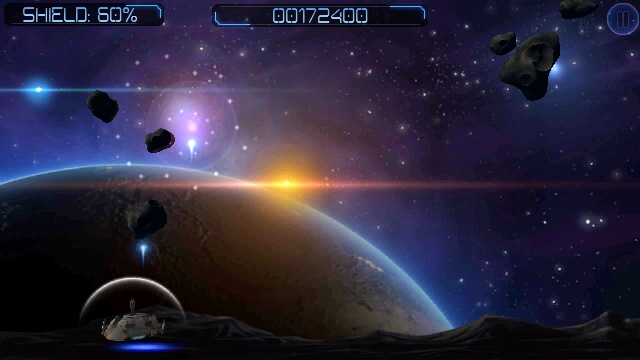 A few early close calls
Take the ground-based side to side shooting action of Space Invaders, and the increasing multiplicity of targets from Asteroids. Then, mix them together with beautifully drawn graphics, and you have Alpha Wave.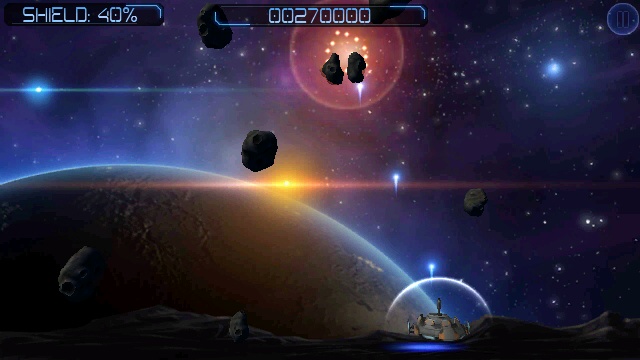 High altitude destruction
In Alpha Wave, you have a gun platform, protected by an energy shield. Your job is to shoot down as many incoming rocks as possible. Deceptively, your job isn't to stop the rocks hitting the ground, you just have to survive. Every time a rock hits your shield, it gets depleted in units of 5% or 10%, confirmed by haptic feedback, just to give you an extra jolt.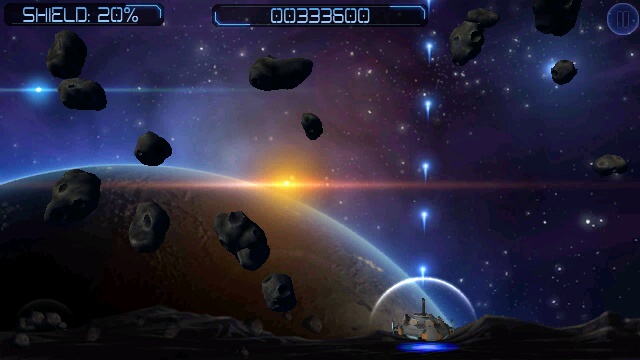 Fire rate creating a stream of shots to fend off the meteors
The only control you have in the game is by dragging your gun platform from side to side. There is a slight kinetic effect, so it's possible to 'sling' your gunner across the ground, just a little. You have no control over your gun, it is constantly firing. At first, the fire rate is frustratingly slow. However, if you survive long enough, both the fire rate and intensity of incoming meteors ramps up quickly. The energy shield is much wider than the area of the gun's effect, so you have to make sure that you don't get a rock hitting your flank, while lining up your next shot.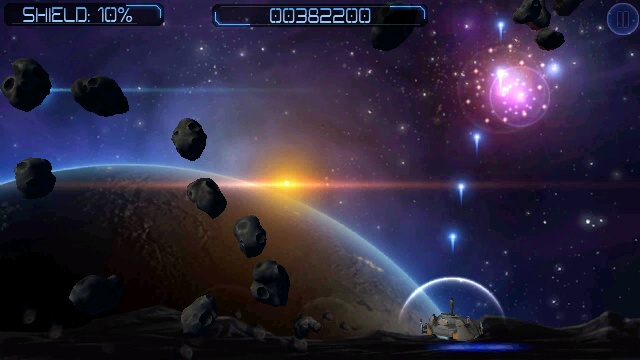 A brave last stand with 10% of shields remaining
Alpha Wave is all about its game play. There's no settings, such as muting sound effects; they're controlled via the physical volume buttons, which I liked. The game does have a points system. As you might expect, the longer you survive, the higher your score goes. However, there's no high score table, online or offline.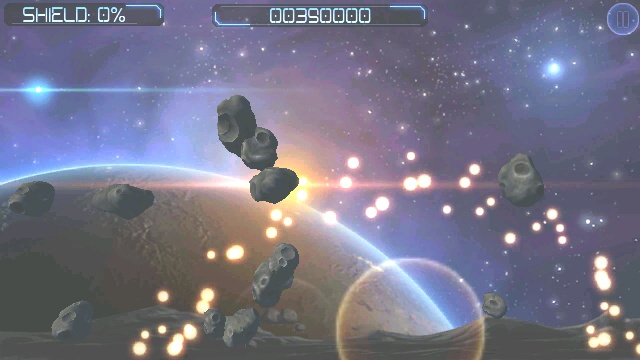 Game over!
I'm not totally convinced about the long term appeal of the Alpha Wave, because it lacks variety. Even the gorgeously drawn backdrop never changes. The game play is nothing more than an ever quickening process of shooting down rocks. There are no power ups, and no way to replenish your shields. It is purely the challenge of how long can you survive; with the knowledge that the game will ultimately go faster than you can keep up with.
Alpha Wave is available in the Ovi Store for free. So you can try it for yourself, and let us know what you think in the comments.
David Gilson for All About Symbian, 13th May 2011.
Reviewed by David Gilson at