Review:
Autumn Dynasty
Score:
62%
Real time strategy (RTS) games can be a lot of fun, if you like that kind of thing. Sometimes though, you don't want to be bogged down by all the facts and figures that are often involved. Is creating an RTS game that strips away all the number crunching and technicalities possible? That's what the TD development team have tried to do with Autumn Dynasty. Read on to find out just how well it works.
Version Reviewed: 1.0.0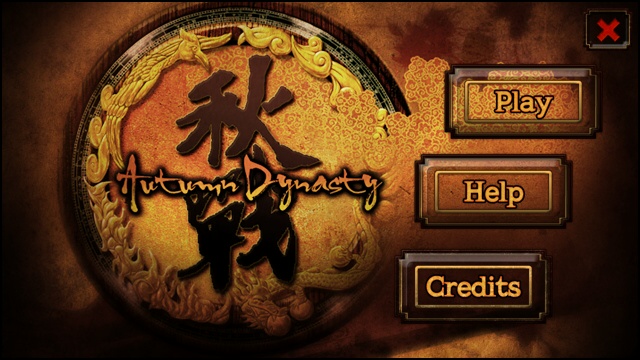 Autumn Dynasty's title screen
Autumn Dynasty is a real time strategy (RTS) game, apparently set in feudal China, with music and visuals reflecting that ancient era. Aesthetically it works really well. The playing field and military units have a hand drawn feel, which adds a certain sense of magic, as you see your battle units move across an ancient map, following your orders and doing battle. The music has a mellow, oriental accent, but there's no way to turn it off. When the game is paused, there are sound options - which just don't work. I quickly went from enjoying the music to being driven to distraction by it, after it had looped through for the dozenth time!
Before playing the game, it's wise to look at the beautifully illustrated help pages, to get an idea of how the the game works. You'll find information on the units at your disposal, how to command them, and the types of terrain you'll face.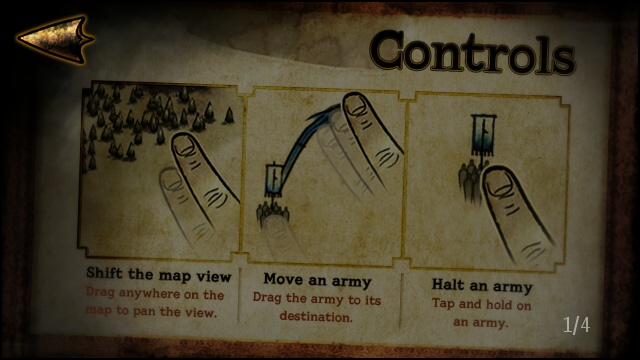 How to control units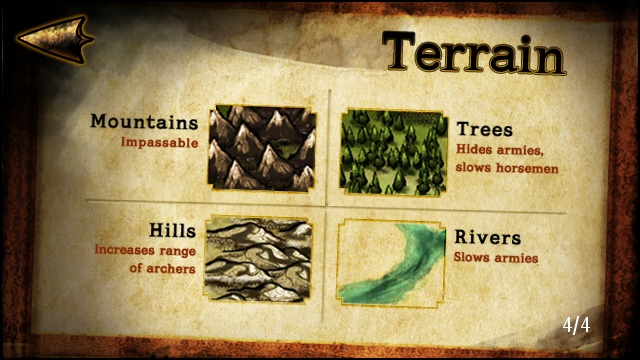 Types of terrain in Autumn Dynasty
It's worth giving special attention to the types of unit available. Autumn Dynasty avoids the usual RTS vocabulary of hit points and resistances. Instead, the game opts for a paper-scissor-stone type game, as shown below. We have Horsemen who are most effective against Archers, while Archers who are best engaged with Swordsmen and Pikemen. Swordsmen can best deal with Pikemen, and to complete the loop, Pikemen are the ultimate foil against Horsemen.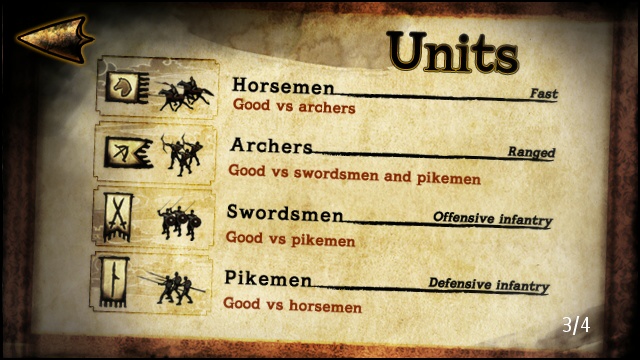 The units in Autumn Dynasty
Each type of unit has its own special abilities, but the help pages fail to mention that they even exist. This leaves you to work things out for yourself. Even then, it's not completely obvious what the exact effect of each is. It was only with my experience of the genre that I could build up a reasonable theory of what they each did. For example, the Horseman 'Sabotage' ability will stop watch towers firing arrows and forts producing new units.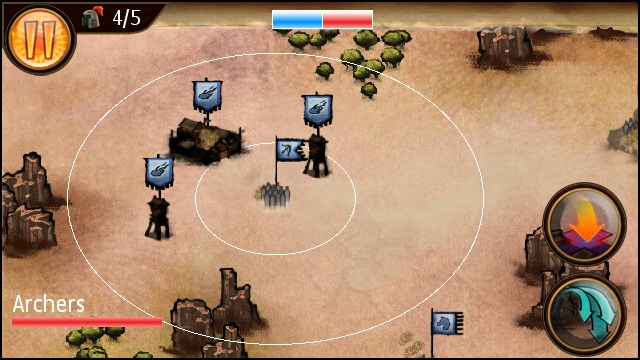 Selecting a unit indicates its area of effect.
E.g. the minimum and maximum range of Archers.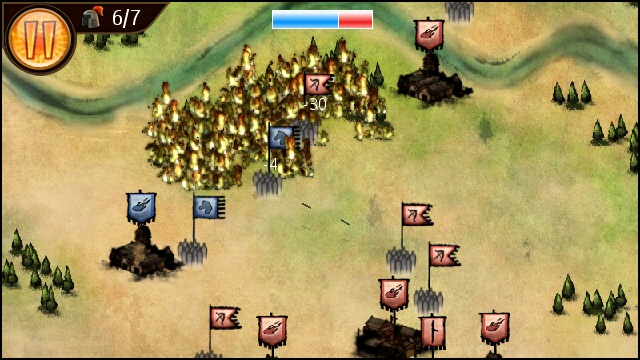 Using the Horsemen's fire ability to counter the Swordsman's ability to use stealth in a (now burning) forest.
The object of the game is to control all buildings for 20 seconds, or to destroy all of the opposition's units. Each player has two watch towers which guards their fort; the latter is where the player produces their units. Another way that Autumn Dynasty simplifies the RTS genre is by having no resource points. You can keep producing more units, up to the maximum for the current map, without penalty. Controlling buildings doesn't give you an advantage, you simply have to siege them, take control, and not lose them to the enemy.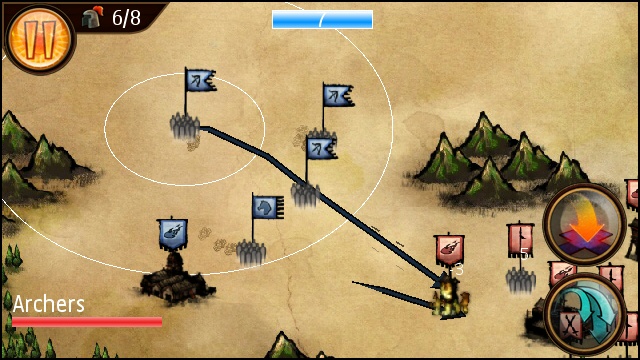 Moving units is easy, by just selecting and dragging you can lay out a path for them to follow.
Autumn Dynasty has several maps, which you can play in any order, there's no linear progression. Unfortunately, there are only five maps, defined by difficulty; two easy, two medium, and one hard. This really limits the long term appeal of what is an otherwise enjoyable game. There are only so many ways in which you can replay the same battle!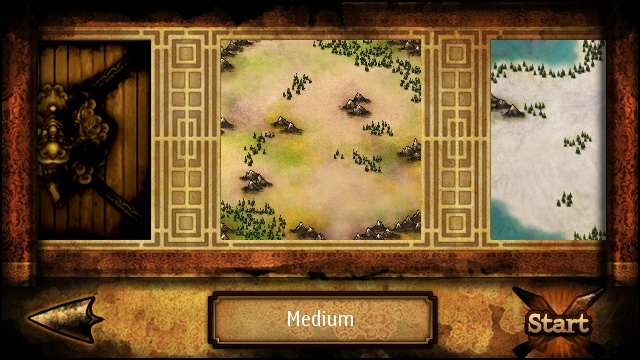 The map selector
On the subject of limited appeal, Autumn Dynasty was not that much of a challenge, I have yet to lose a game. During the review, I did, of course, use all of the units. However, I found that having a fast offensive force, consisting of Horsemen and Archers, is enough to sweep across every map and quickly gain and maintain full control.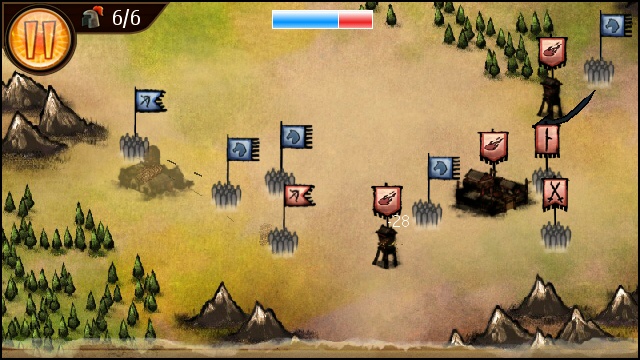 The cavalry making a final charge on the enemy fort!
Overall, I enjoyed playing Autumn Dynasty; it deftly brings a potentially complex game genre into the mobile space by stripping away all the demanding mental work, characteristic of RTS games. Instead, it reduces the genre down to a smooth flow of thought, by only requiring you to select which units to create and where to send them. Perfect for a mobile device, where you're likely to only want a moderately quick distraction before you get off the train, or continue with your day's work. However, it's marred by a lack of long term appeal, due to being too easy, and it lacks variety by only having five maps.
You can try Autumn Dynasty for yourself, it's currently free in the Ovi Store.
David Gilson for All About Symbian, 8th May 2011.
Reviewed by David Gilson at