Review:
Night of the Living Dead streaming video
Score:
59%
Time to grab your pop-corn and prepare to hide behind the sofa. Yes, the iconic zombie movie, "Night of the Living Dead", is now available as an app for Symbian. Please, no jokes about Symbian itself now being a member of the living dead! We've already seen e-books sold as self-contained applications, so can video translate into the same business model? Read on to find out.
Version Reviewed: 1.1.0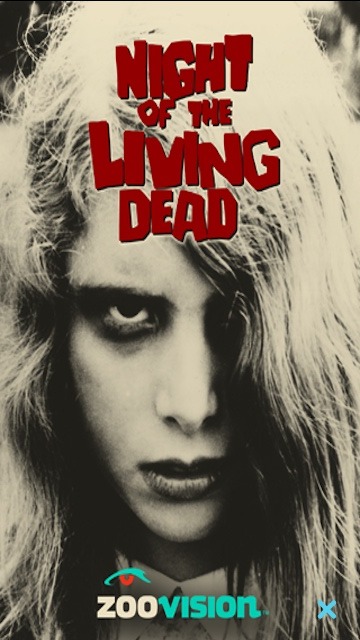 "They're coming to get you, Barbara!"
If you're a fan of the horror genre, then you cannot avoid knowing about George A. Romero's "Night of the Living Dead". Despite its effects being tame, or even laughable, by some of today's standards, it still isn't a film for those of a nervous disposition. Despite that, it's a piece of movie history, from which you can see the inspiration in many films that have followed it. Just compare the situation depicted in this film to the introductory scene of 28 Weeks Later!
When it comes to the application, there isn't much to write home about. There is a user interface, which shows a thumbnail of the movie, along with a menu. The UI has a distinct look of a generic skeleton application, to be used as a wrapper for other content.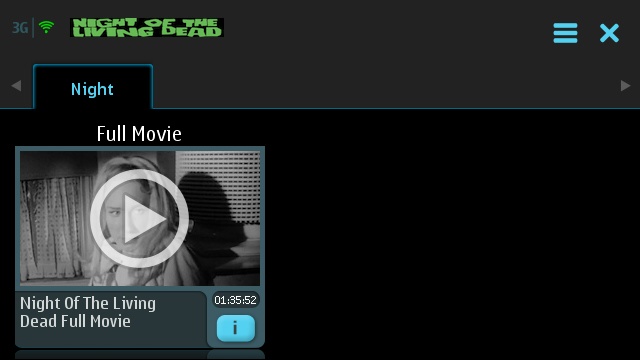 The user interface
Indeed, Zoo Vision are selling dozens of applications which do the same thing. That is, stream a single video title to one's phone. Night of the Living Dead is available on the Ovi Store for £1.50, other videos range from £1.00 to £4.00. The rest of the selection can be broadly grouped into martial arts and Anime. Night of the Living Dead is something of a big-name anomaly in the range.
We've seen this kind of business model used before with e-books. An entire book is sold as a self-contained application. The difference here is that video is streamed, rather than packaged. The application launches the Symbian video application to play the video stream. It's not clear whether there's any DRM involved; instead obscurity seems to be the protection mechanism. I suspect that it would be non-trivial to work out where the stream is coming from!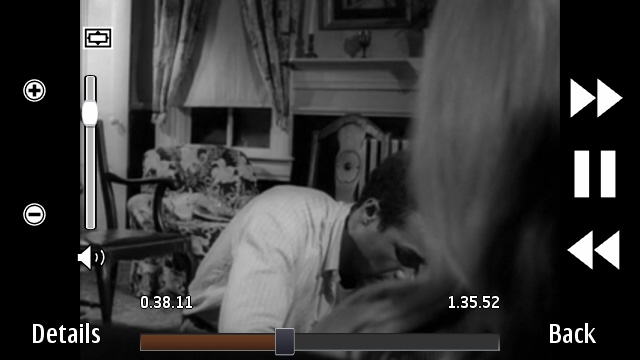 Night of the Living Dead, streaming via the Symbian video player
Going back to the application UI, there is a menu, with several options, only one of which seem to be useful, which toggles a WiFi only connection. This is very useful, and shows the developers are conscious of the potential data charges for their users, as echoed in a warning that appears when the application is launched.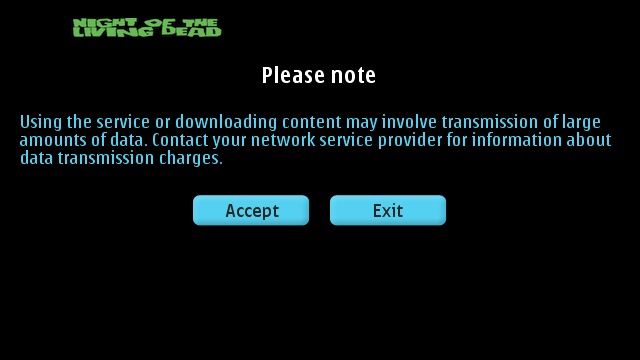 Data warnings, avoid streaming over 3G!
The menu also has a search option, which doesn't do anything; I'd conjecture that it wasn't meant to included in the final product. There's also a link to the Ovi Store that actually sends you to a web version of the same. Again, this should ideally link you directly to the Ovi Store application, presumably to view the rest of Zoo Vision's video selection.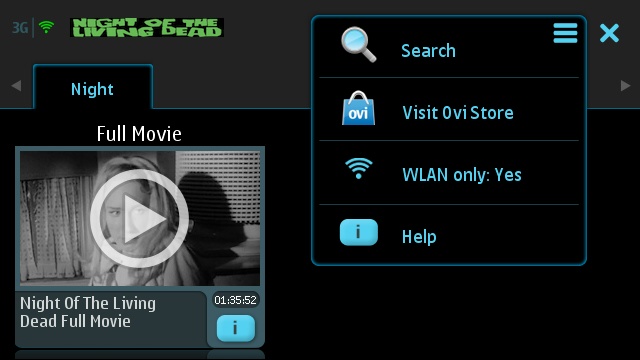 The, mostly non-functional, main menu
Another thing that suggests a re-purposed UI, is the left-aligned thumbnail of the movie. It very much gives the impression that other videos are meant to be horizontally listed there. There are none, as this application is a one-trick pony.
The jury is still out on whether this way of packaging content will be a sustainable way of selling content. I am uncomfortable with the fact that one has bought a film that they can only use for as long as they use a certain type of phone, and within the rather inconvenient re-download limit of the Ovi Store. In Zoo Vision's favour, the video prices are low enough to justify as a short-term, or throw-away, purchase. Given the selection of videos and their low cost, it's best to think of these as the mobile app equivalent of a DVD bargain bin!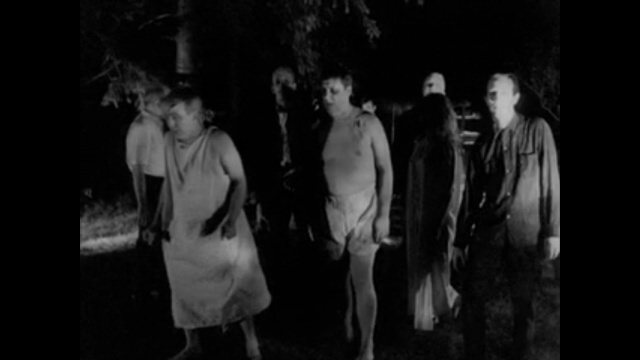 Zombies on the march!
In terms of streaming, I didn't have any complaints. Being able to shuttle along to another position in the video worked reliably, which is just as well; when the video stream is left on pause for long enough, it plays from the beginning. In the 95 minute movie, I only had three instances where the video player had to stop to re-buffer itself. Of course, this is a 'your mileage may vary' type of observation, as network conditions (even wi-fi, if shared) constantly fluctuate.
As much as I have criticised this app's UI, it's hard to knock a full movie for £1.50, as long as you're aware of the limitations. Therefore, if you feel like experiencing some gory movie history, then grab Night of the Living Dead from the Ovi Store. Hook up your phone to the TV, and make sure you can either: A) dive behind the sofa, or B) hide behind a loved one!
Qualified recommendation.
David Gilson for All About Symbian, 4th of May 2011.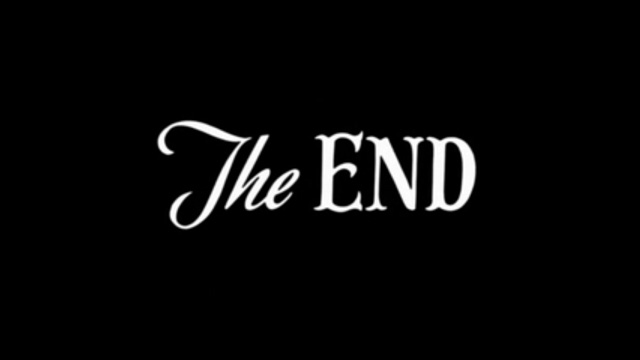 Since we're doing a movie review on this particular date ...
May the Fourth be with you!
Reviewed by David Gilson at