Review:
Different Tack
Score:
63%
Different Tack is a Twitter client with a twist, literally. If you're longing for something more than linear menus, sick of scrolling, wishing things were more rotary? If so, you just might like this one. Different Tack is a new Qt app which has the most creative user interface I've seen. That's all well and good, but how well does it work in practice? Read on to find out.
Version Reviewed: 1.0.0
Different Tack
, created by the aptly named
FluidInteractions
, really needs to be assessed on its dual aspects: the unique user interface and its Twitter functionality.
So, let's talk about its unique selling point, the user interface. Not that you can tell from the name, but Different Tack is based on a circular control interface. Fortunately, it starts with a comic book style set of tutorial pages, explaining how things work.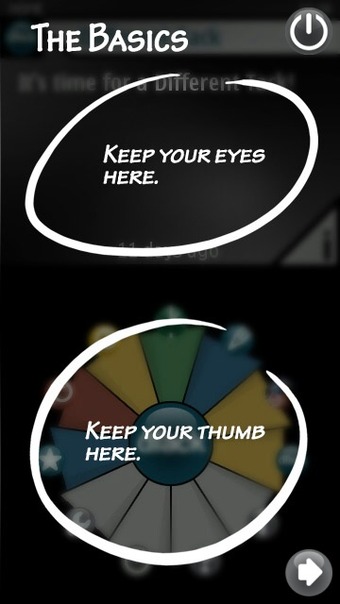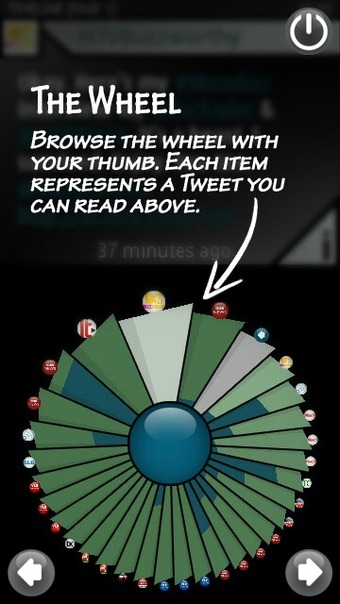 Different Tack tutorial pages

In general, menu items are fanned out in triangular segments around a central circle. Each can be selected by a single tap, or be viewed in the viewing window by dragging a finger around in a circle across each menu segment.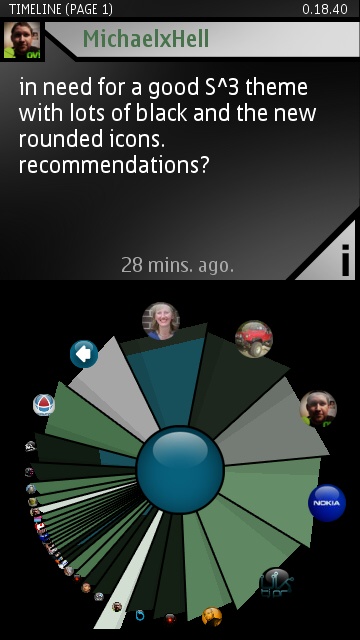 Different Tack only allows viewing one tweet at a time

The segments are equally spaced, until you hold one with your finger. The segment, and its neighbours, will widen out, compressing the rest, and viewing its content in the viewing window. As you drag your finger around each successive segment, everything will resize 'on the fly'.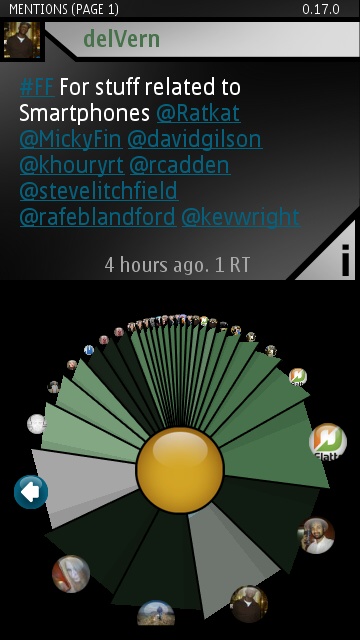 The menu segments spread when touched

Tapping, or letting go of, a segment will then bring out a new layer of segments representing a sub-menu. In the case of individual tweets, the sub-menu will be all the Twitter functions, like replying, opening links, retweeting, etc. The central disc acts as a universal back button.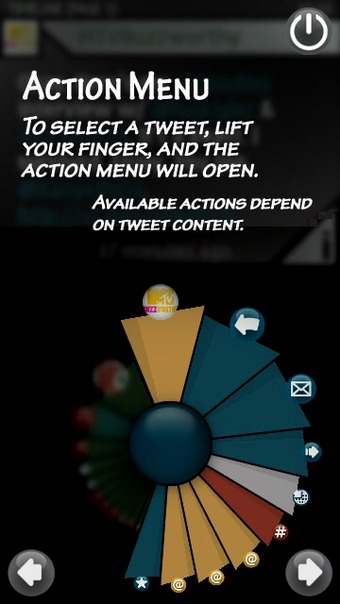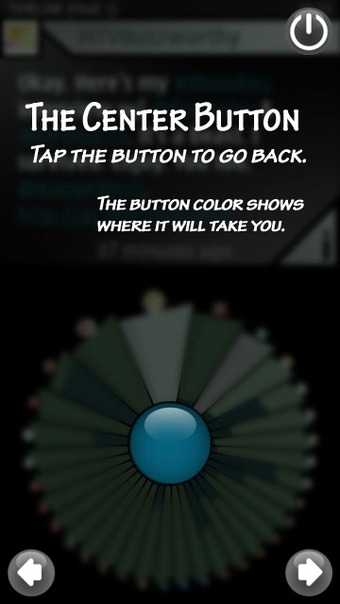 More tutorial pages in Different Tack

Different Tack is also more aware of the accelerometer than any Symbian application I've seen. The circular controller and the square viewing window will re-arrange their orientation, no matter the orientation of the phone. Yes, this means that you can now successfully bluff your way through those embarrassing moments when you pick up your phone and find that it's upside down!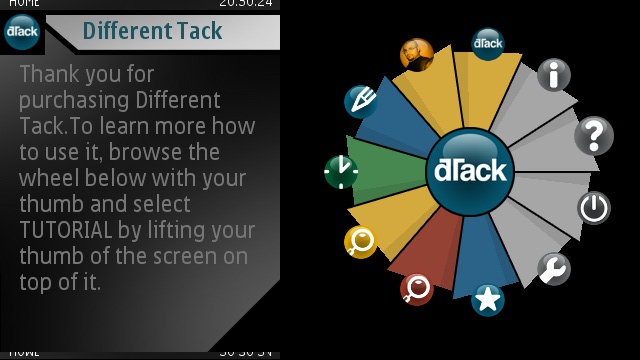 Different Track working in landscape orientation

Looking at Different Tack as a Twitter client, it's more or less in the same league as Nokia Social, that is to say the basics are there, but it is notably limited.
You can post tweets, see your mentions and direct messages. However, there's no conversational view for either. In fact, sent and received direct messages are in separate lists. Also, while you can open links, there's no sort of image viewing, nor can you post your own photos. Different Tack allows you to search for keywords and users, and it also hyperlinks hash tags. But there's no support for Twitter lists.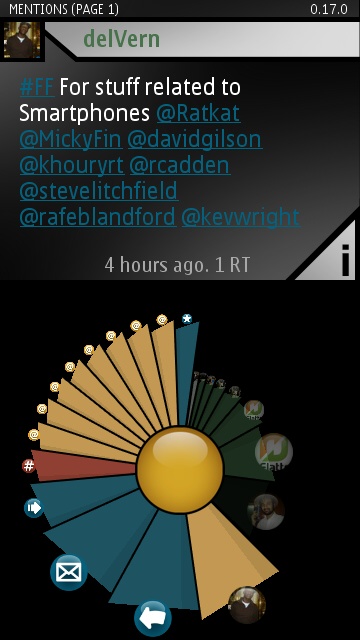 The 'action menu' for each tweet

Retweets are supported, but only Twitter's native retweet. The old style "RT: [quote]" style is not provided. Retweets do get some attention in the unique user interface of Different Tack though. In the timeline view, where each (thin) segment represents a tweet, radial shading indicates how much each tweet has been retweeted. Furthermore, you can view a list of which tweets, by you, have been retweeted. However, it fails to indicate who retweeted them!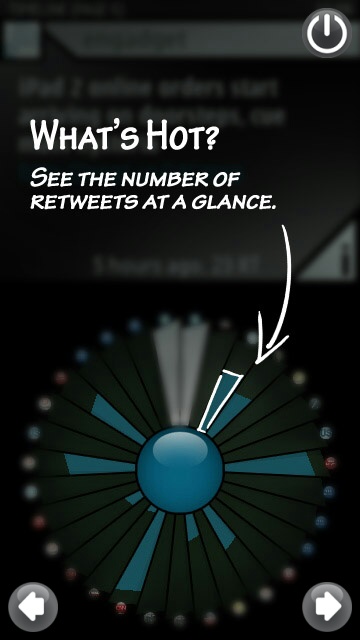 Different Tack's retweet meter

Tweets can be bookmarked, and on a cursory glance this would appear to be the way to add tweets to your favourites list. However, those bookmarked tweets are only saved locally on the phone. This is not creating favourite tweets, in the official sense. Nor is there any way to view your favourite tweets.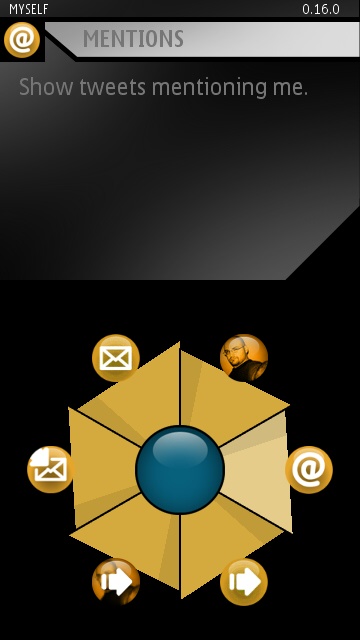 Your personal action menu

Summing up, Different Tack's user interface has to be regarded by how well it can be used 'in anger'. I have to doff my cap to them for making a user interface that's engaging and interesting to interact with. However, I think the main drawback with this UI style, as applied to Twitter, is that it prevents you from scanning quickly over the timeline. In any other Twitter client, the timeline is a continual list of status updates that your eye can scan over. With Different Tack, every tweet has to be revealed in the viewing window, because the 'list' of tweets is reduced to a tessellation of triangles.
If you use Twitter and want to try something different, then please do try Different Tack for yourself and post a comment here. However, for serious use, don't uninstall Gravity just yet!
Reviewed by David Gilson at