Review:
Elements Touch
Score:
70%
For the scholarly amongst us, one genre of mobile applications that never seems to get old is that of reference applications. Most of which are scientific in nature, and you can't get more so than the periodic table of elephants, pardon me, elements. I'm glad to say that Offscreen Technology has trumpeted the cause for scientific reference by producing a periodic table of elements application for Symbian touch screen phones. Read on to find out more.
Version Reviewed: 1.0
As with all of Offscreen Technology's applications, Elements Touch is a simple affair. There are no menus or options, just the content. Speaking of the the content, it is a pleasure to look at. What you'll find is a colour coded table of elements, with a wood-effect background. The brightly coloured user interface, perhaps, may help to put you in a studious mood!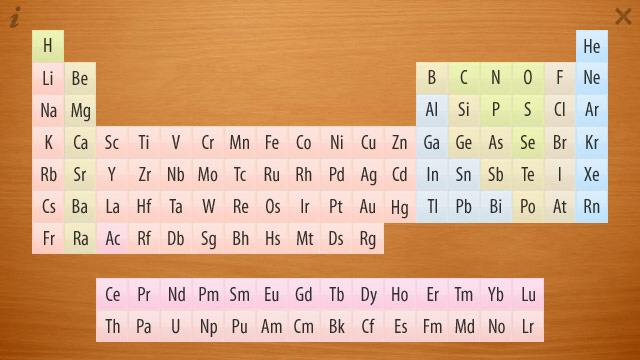 The happy looking period table, laid out on a virtual wood desk

However, the colour coding is perhaps one hint however, that things are over simplified. There are no labels for groups or periods; nor is there a legend for the colour coding. I can see that adding text around the edges of the table may spoil its aesthetics. Academically speaking though, it is incomplete. The shape of the periodic table lends itself well to providing space for a legend, as any Google image search demonstrates.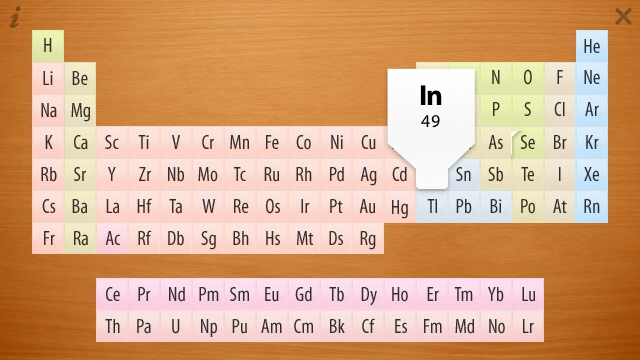 A selection aid appears as you drag your finger across the screen to help you see what your finger is blocking out

Tapping on an individual element brings up a small information box for that particular element. These boxes present useful information for an enthusiastic pupil starting out in Chemistry or Physics. Offscreen have made the best use of the screen area available. However, I wonder whether it would have hurt to make the data view scrollable, so that more facts and figures could have been included. The data boxes do show the element symbol along with its atomic number (i.e. number of protons), but the atomic number isn't labelled as such, which will confuse beginners.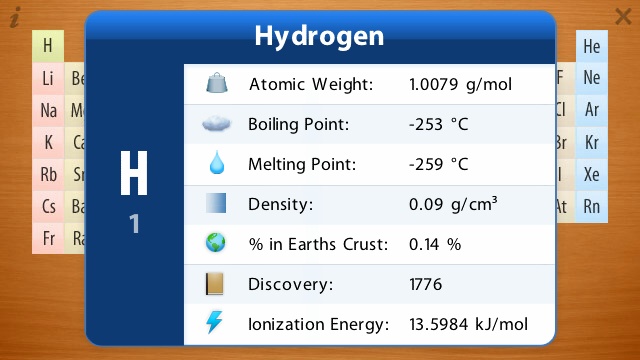 Hydrogen data

I'd especially like to have seen a proton and neutron count, along with details of each element's ground state electron configuration. This would have made the app more useful to novice and advanced students alike.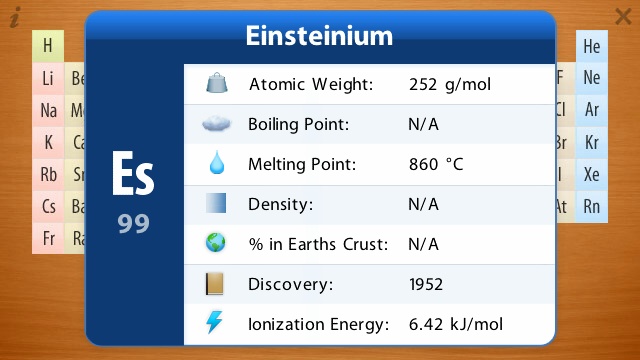 Einsteinium data

That's not to say there isn't any educational value here. There are interesting tidbits of information like: melting point, boiling point, density, when the element was discovered; and its relative abundance in the Earth's crust. The latter point being particularly interesting data for anyone following science shows like Wonders of the Universe. It coincides quite nicely with explanations of how elements are created in super novae and why heavier elements are vanishingly rare in the universe.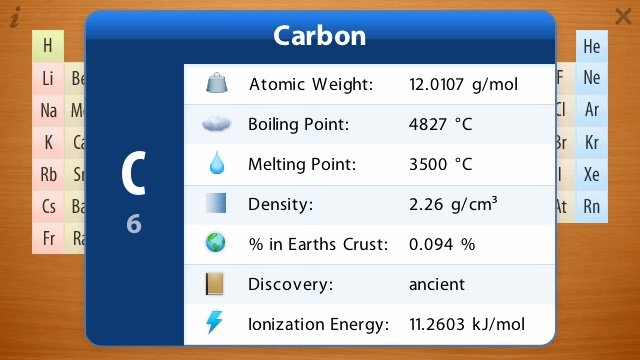 Carbon data

Elements Touch is not an ideal study aid, but considering the price, it's worth grabbing simply as an aide-mémoire.
David Gilson for All About Symbian, 21st March 2011.
Reviewed by David Gilson at