Review:
Gmail Apps Browser
Score:
70%
The good thing about Google services is that you can get them just about anywhere these days. The folks from Pixelpipe have now created an app that utilises "native WebKit capabilities that are available with Qt". This app provides Google's Gmail, Tasks, Calendar and Buzz all in one application. Utilizing Qt technology is a step forward from the pioneering Web RunTime Widgets made by Asri Al Baker. Read on to see how well Pixelpipe have captured the Google experience on Symbian devices.
Version Reviewed: 1.00
Gmail Apps Browser has a very simple user interface. A progress bar along the bottoms of the screen doubles as a placeholder for five buttons. From left to right, these are: Back, Forward, Zoom in, Zoom out, and a shortcut to the application list.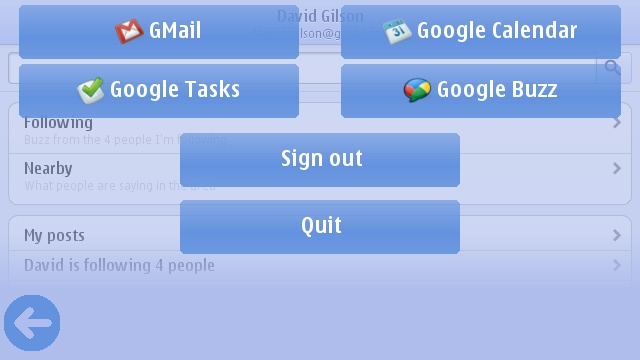 The rest of the screen is taken up with the content and controls of whichever Google application you're using. For a brief interlude, I'll hand over to Pixelpipe's CEO, Brett Butterfield:

Pixelpipe: Google Apps Browser from Pixelpipe Developer on Vimeo.
Gmail
The Gmail interface is much like the enhanced iPhone/Android web interface that we've seen before. However, there are some important differences. Anyone who has used the enhanced Gmail mobile site in Web will be aware of the screen width issues. These problems have been fixed, allowing Gmail to fit perfectly in the 640 pixel landscape width for Symbian's touchscreen format.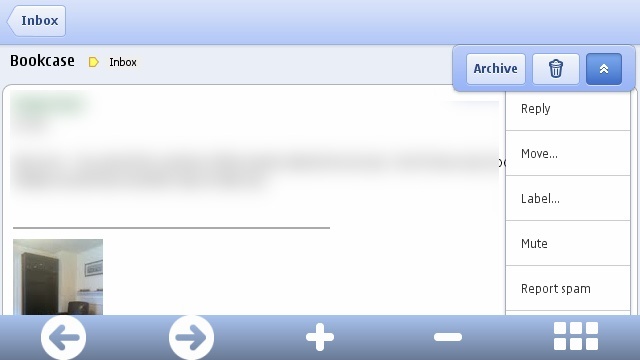 When browsing the enhanced Gmail interface in Web, Symbian users have also missed out on the floating menu, which provided quick access to functions like archive and delete. However, cross-platform users will be glad to hear that it's present in Pixelpipe's bespoke solution. All of which makes the Gmail site much more usable, despite Symbian's limited screen resolution.
Calendar
The Calendar interface is the same as the mobile web interface avilable to Symbian's browser. The month view only indicates all-day events. Therefore, the user has to use the left and right hyperlinks, or select specific days, to see timed entries.
Event creation and editing is supported in a more user-friendly fashion. A handy floating calendar is presented when selecting a date, which saves you from typing in dates.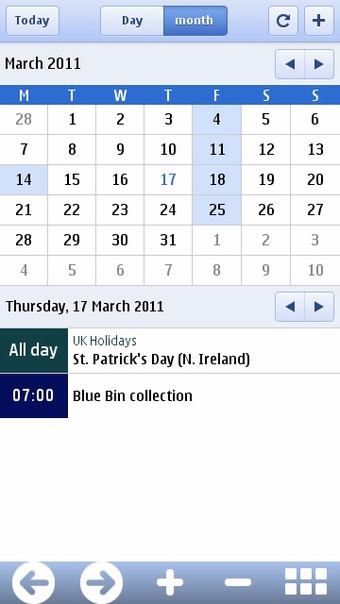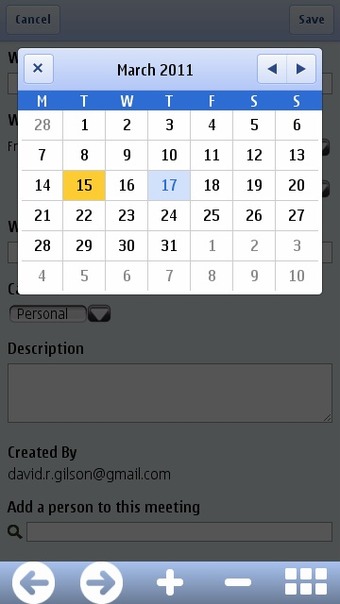 The look and feel of the Google Calendar site may actually be preferable to some people than the built-in Symbian Calendar application. However, as with any of these applications, the user experience completely depends on connectivity and latency.
Tasks
The task manager was a long requested feature in Gmail but is still awfully limited in its functionality. However, for simple task list management it will probably suffice, especially since it supports sub-tasks and multiple lists.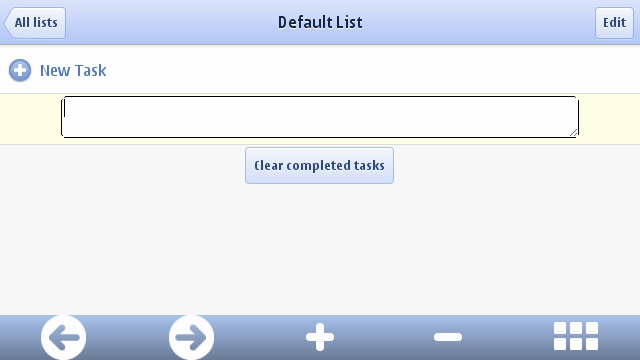 Tasks are supported cleanly in Gmail Apps Browser. The user can view all of their task lists, and the tasks stored within each. Users can create, edit, and remove tasks; mark them as complete; and remove completed tasks. What doesn't seem to be possible is creating sub-tasks. When adding a due date to a task, a handy calendar is brought up, as mentioned above, to allow easy inputting of dates.
Buzz
Buzz is Google's ill-fated social network; an attempt to created a richer, threaded, version of Twitter. Among other reasons, privacy concerns meant that Buzz never really gained traction, with only the hardcore geeks sticking with the service, just in case it finally hit critical mass.
The implementation of Buzz in Pixelpipe's Qt application is basic, and not quite yet complete. The main menu of Buzz allows you to view updates from people who you're following, that are nearby to you, your posts, who you follow, who is following you, and a link for finding other people.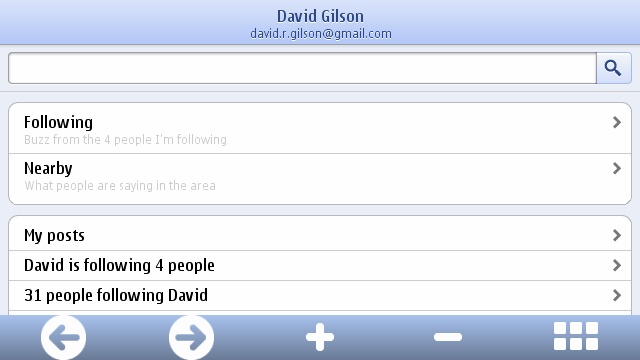 These all work with varying degrees of success. The lists of followers, for example, does not fill the screen, but instead is boxed off with scroll bars that don't work. Also, finding Buzz updates from people nearby doesn't yet work because the application cannot access the phone's location.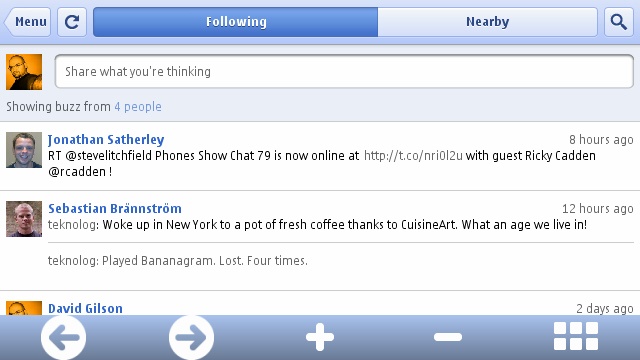 To be fair, those are lesser used aspects of Buzz. In terms of reading posts, it performs well. You can make posts and control whether they are private or public. However there's no entry field for hyperlinks.
Overall
Pixelpipe stated in its beta tester mailing list that this application came out of an in-house training project. Therefore, any criticisms I make here are me being rather picky, for what is, after all, a free to try side project. However, it's a compelling idea, and is a timely reminder at how the mobile web has the potential to over take native applications as and when networks become faster. I look forward to seeing further development of this project.
Something that Pixelpipe do well is rapid development, so it's worth keeping an eye on this project. There are more Qt-based applications on the way from Pixelpipe too, hopefully including a Google Reader application. Reader was in the early beta versions of Gmail Apps Browser, but didn't make it to the release candidate due to user feedback.
David Gilson for All About Symbian, 15th March 2011.
Reviewed by David Gilson at