Review:
SPB Time
Score:
80%
You can already tell the time with your smartphone, but do you want it to do some more? SPB hopes so, as the release of SPB Time should prove to you. It's a new clock, but there are stopwatches, counters, alarms, and a full moon. Let's find out if that's enough.
Buy Link | Download / Information Link
Put simply, because there's a lot more you could be doing than just telling the time with your phone. You could go and look out lots of little apps that cover each desired function... or you could just grab SPB Time, which has them all in one interface.
In the package you have a number of utilities that the developers hope will add up to create a value for money package. Switching between them is a simple matter of swiping up from the "menu" bar at the bottom of the screen (the one that has a handy arrow pointing up). From there you can choose from: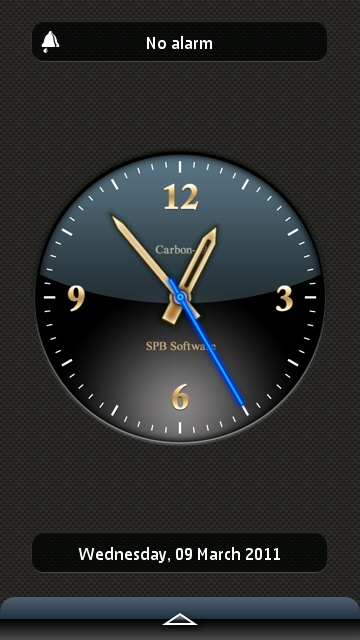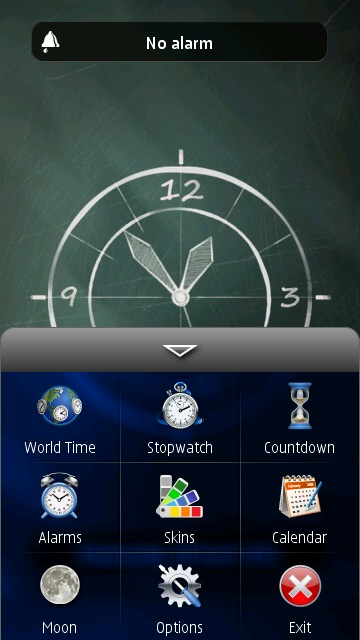 Clock face
As it sounds, a full screen analogue clock face with a second hand sweeping around it. It's skinnable with two themes built in and others available online.
World Time
Part of the Earth is visible in the top part of the screen, and as it automatically jumps between your chosen cities (all user definable), the globe spins to give a visual representation of where they are in the world, and if it's in day or night time. It's also slightly hypnotic.
Stopwatch
Start and stop under one button, with the ability to punch in intermediate lap times as you go on. I like the fact that the buttons are nice and big, even on the small 3.2 inch screen of the C6-01. Very easy to use when next to me as we record the All About Symbian podcast.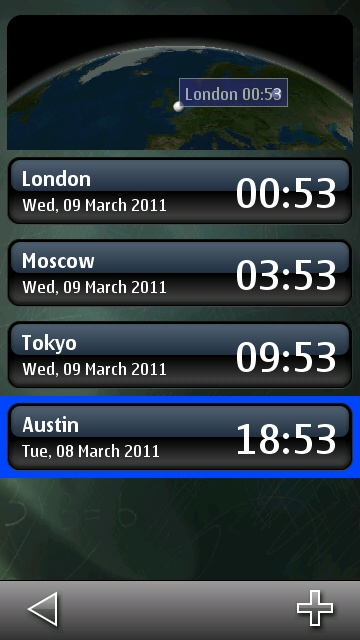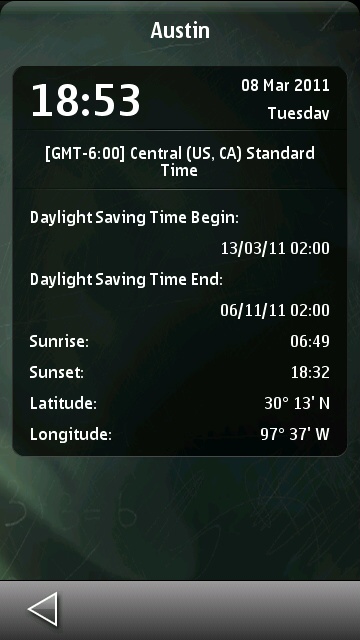 Countdown
Not as graceful as the stopwatch mode, but thankfully letting you set up multiple times (perhaps one for the eggs and one for the sausages?) which can be stopped and started independently of each other.
Alarms
Lots of alarm sounds to choose from, days on which the alarms should ring, the amount of anger the alarm sound should have. It looks great, I just wish it tied into Symbian's alarm server so you could see and edit existing alarms, and vice versa, to have alarms made here as part of the built in system. This is probably the biggest tissue I have with the title.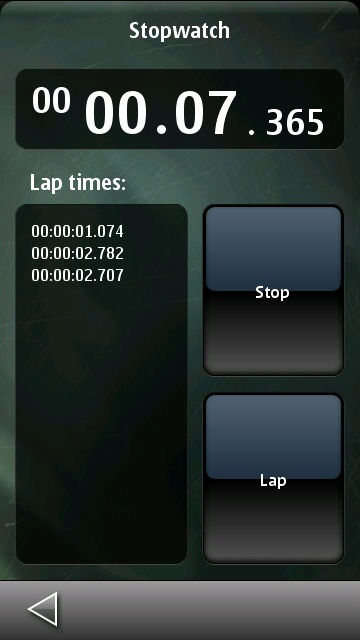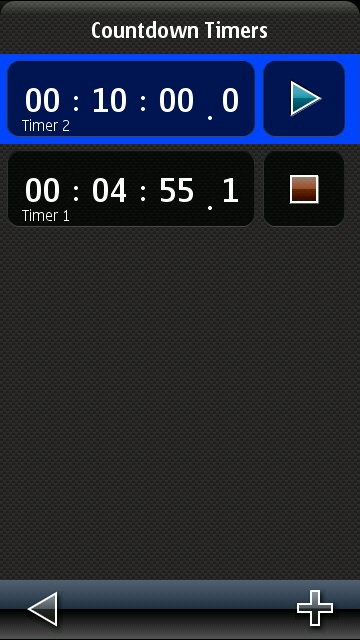 Calendar
Gives you an alternative view to the built in Calendar data, and tapping on the entries will take you through to the built in application. So it works here, but not for the alarm server? Grrr…
Moon phases
Am I a werewolf? Nope, so I'm not sure how useful an index of the moon phases would be to me, but if it helps sell the application to the Twilight crowd, then who am I to complain. I guess it's good for trivia quizzes (and night walkers? - Ed) and to be fair my Filofax has this information as well, so someone is keeping it in prominent circulation.
Anyone using solid time management principles will see that there's a lot in SPB Time that can be used to make your day a productive one, and to have them in a consistent interface is a great boon. But is it worth a release price of $9.95 (or local equivalent)?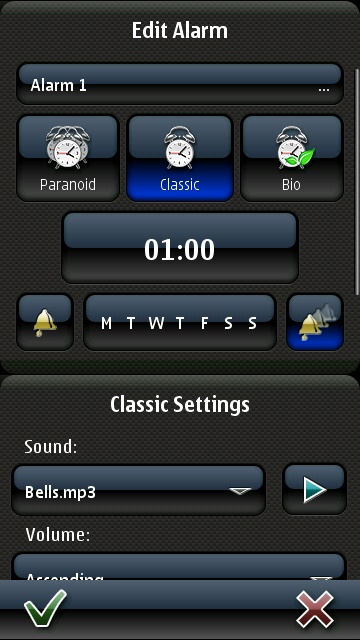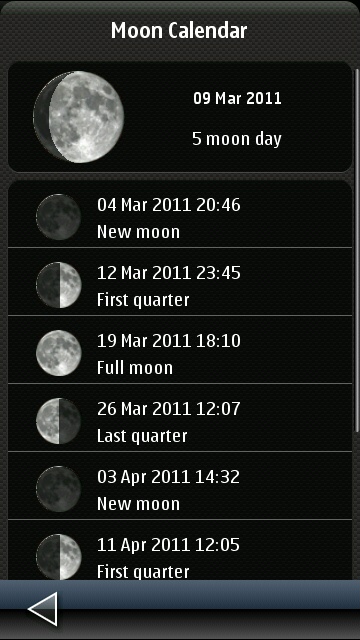 To be honest I don't think so. There's nothing that's earth shattering in this mix. Yes it's well presented, but it's a buyers market now in the Ovi Store (and in other locations) and if you're going to charge top price, you need to be swinging the bat and getting the ball out the park. A hit to the left field and a double is welcome, but it's not enough.
Enough of the baseball references (they confuse me - Ed). SPB Time is nice, it does what it set out to do, but fails my value for money test, your mileage may vary.
-- Ewan Spence, March 2011.
Reviewed by Ewan Spence at