Review:
Dukto
Score:
82%
Sometimes you need something that just works - no bells, no whistles, no fancy graphics. You just want to move a file from your phone to a computer. What options have you got? Well now there's one more for Symbian smartphones. Dukto is a Wi-fi based file transfer system that not only is fast, but also multiplatform. Symbian to Mac, PC, Linux, or another Symbian device? No problem at all. Looks like I've one less need for the Nokia Ovi Suite. Here's why.
Version Reviewed: R3
Buy Link | Download / Information Link
One of the personal issues I have with the latest Symbian devices is the focus on the Ovi Suite as the connectivity option, with Nokia pushing the big, large (and certainly on my PC a little bit unstable) software packages. What's upsetting is that even though PC Suite does work, it reminds me at every opportunity that it shouldn't, so "why not install Ovi Suite, there's a good chap."
So if you hand me another option to connect my smartphone to my computer, I'm going to look at it seriously. And that's where Dukto comes in. An open source project from Emanuele Colombo, this is a simple file transfer program that operates over your local Wi-fi network.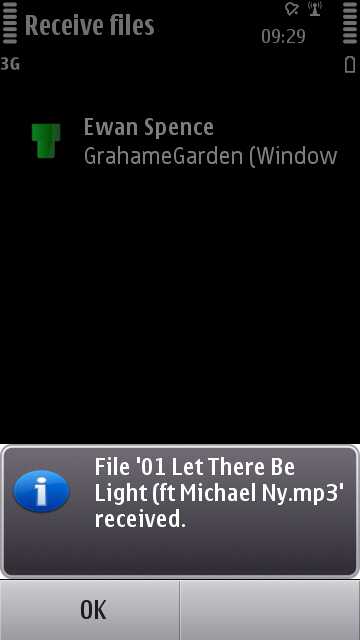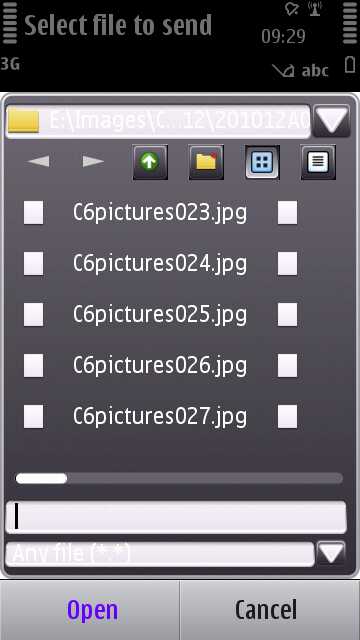 It's a user interface that works, but don;t expect it to look like anything else on your smartphone.

Once installed and run, you'll see a list of all the other devices on your WAN network that are also running the Duktu client (versions for PC, Mac and Linux can be found at www.msec.it/dukto). Highlight where you want to send a file, hit the Options menu to send a file (or a snippet of text entered you can type or paste into a dialog box) and away the file goes. There's no confirmation or acceptance needed on the receiving machine, which will dump it into a pre-selected folder.
That gives away the nature of this tool. It's not a comfortable solution with a pretty interface or nice graphics and rounded corners. It uses the Qt code to do a job, it presents the information you need, the options to finish the task, and just gets it done. That's fine by me.
I'm pretty sure that this was knocked up by Colombo because he needed something that just worked between computers of different Operating Systems (maybe at University) and on picking up a Symbian phone, has decided it needed to be added, so he coded till it worked, and then was happy to publish.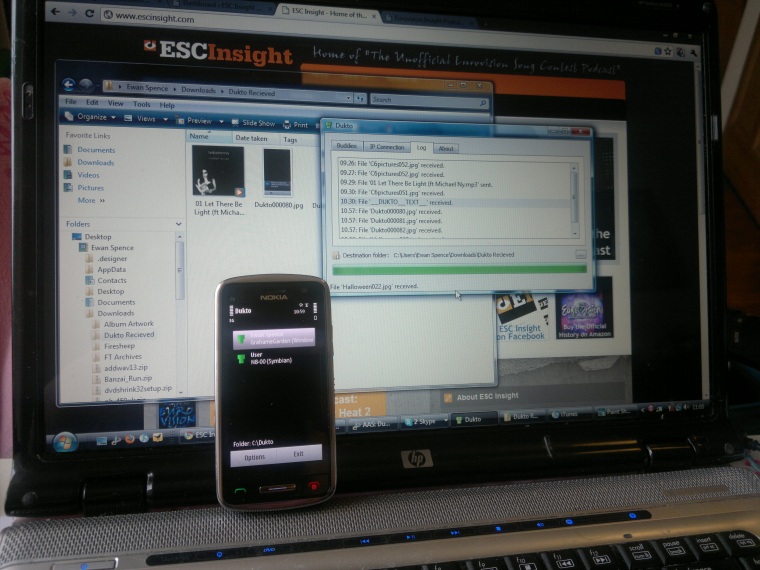 And here it is in action with some subtle advertising of Italian Rock Noir band Belladonna...

More of this please! Developers playing around with tools and doing stuff that makes life easier is a strong an argument for Nokia's developer program to push as is huge download numbers on the Ovi Store.
Yes the app has issues - I wouldn't leave this running in the background, but it is open source so if you're paranoid you can check it's not calling out or listening to anything else online. But this is not only staying on my handsets, it's also having the small PC/Mac/Linux clients squirreled away on my travelling USB key as well – plug into a computer, click the executable file, and transfer files with ease.
What's not to love – it's a hackers tool, so all the style guide errors it makes I can ignore. It does the job, does it well, with minimal fuss. Love it, recommend it, never leaving home without it.
And while it's advertised as smartphone to desktop (and back again), if you've two Symbian handsets running Dukto, they'll happily transfer files between each other over Wi-fi. Classy!
-- Ewan Spence, Dec 2010.
Reviewed by Ewan Spence at