Review:
Real Football 2010 HD
Score:
71%
As you can tell, I'm working through all the game genres on the new Symbian platform, and next up is the "sports game". Time to load up Gameloft's latest version of Real Football HD for the new Symbian smartphones from Nokia to see if this is cup final worthy or just another jumpers for goalposts effort.
Version Reviewed: 1.0.3
Buy Link | Download / Information Link
[layout note: this game proved impossible to 'screenshot', but the down-sampled promo images here will give you a good idea....]
As this isn't the "official" game or has a licence from any of the Football Associations around the world, you'll be playing for delightfully named teams like Manchester Red, Aston Birmingham and Merseyside. All recognisable but far enough removed from the real names to keep the lawyers happy.
And like countless football games beforehand, there's an option to edit all the team (and footballer) names. So if you really want your favourites to be easily recognised, feel free to type away. To be honest it's far too much for me.
There are a huge number of game styles to choose from, all of them different enough to be worth inclusion, but close enough in mechanics to still be the same game – there's no learning new control systems or techniques here.
As well as the Exhibition game, which is effectively a single game that you can play quickly against any other team, you have an offline and online league (where you play a game against your phone's AI, and the score is uploaded so you are compared to others around the world, rather than head to head online gameplay).
Enter the Legend lets you play a whole game as one player, even when they don't have the ball – this makes it feel more like an RPG game, and makes for a different experience but once you've played through the "team" games this revitalises the game and essentially doubles the product on offer.
And you can practice your penalties – no matter how much you practice though, any England team should always lose at this sudden death style. Just as it is in real life. One note on the menu, I still can't forgive Gameloft for adding a "Paul Simons - Gracelands" style ethnic musical theme – it's just painful.
On starting your first game, you get the option to run through a tutorial that shows the main gaming element, from dribbling and running to passing, shooting and crossing the ball into the penalty box. This is perfectly pitched, given the lack of manuals and reading material that come with the game, as long as you are attacking – there's nothing in this training about how to defend as a team, tackle to gain the ball or how to switch players to someone else.
Once over this, you're in the match, the opposing team come to the field, and may the best team win.
I'm going to have a standard paragraph made up about the idea of a virtual joystick and two buttons on the capacitive screens of the new symbian devices – Real Football takes the same approach but makes a bit of a hash of it. The directional stick (on the left side of the screen) needs a lot of movement to register a direction and if you want your player to sprint then you need to move it even further away from the centre of the stick. So have a sprinting player, running down the field, and your thumb is covering a good quarter of the screen.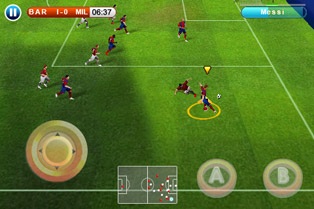 Technically it works well, the multi-touch allows for directional control and the kick and pass buttons continue to work (something that would have been impossible on the resistive screened devices under S60 5th Edition), it's just that it really gets in the way of the game. And while it's cute that you have to "throw" the ball at a throw-in by tilting the phone, it feels a little gimmicky.
Controls aside, playing football is actually quite nice. You have to pay attention to where your player is facing (a little arrow on the ring that highlights your player helps), because you can't just change direction without losing balance. You can build up a good passing game between players to move forwards – or, if you're Scottish, just hoof the ball high and long before chasing it down.
You can change the formation of your team when you pause the game, and as the other players are under computer control when not highlighted and at your fingertips, you can give them the a bias towards attack and defend – and it's nice these can be changed when you feel the need.
But there's something missing from Real Football HD (and I don't mean a decent commentator that explains the game you're in the middle of playing – come back, Motty, all is forgiven). I'm not quite sure what the missing thing is, but all the pieces of Real Football should add up to make a great game… but they don't. The elements feel just about right, maybe with one tiny niggle each, but these start to pile up.
While there's nothing wrong with Real Football HD and while I'd be happy to suggest it as a good game on Symbian, there's nothing that makes it feel more than above average. It's therefore in that horrible 'no mans land' that every Tottenham Hotspur fan can relate to.
-- Ewan Spence, Nov 2010.
Reviewed by Ewan Spence at