Review:
Casing the Nokia N8
It's an All About Symbian tradition: take the latest and greatest Nseries or Eseries handset and assemble a decent selection of commercial cases, of varying form factors and styles, then rate them according to style, protection, convenience and value. Even if my Nokia N8 case winner doesn't float your boat, hopefully the round-up will at least give you an idea of what's 'out there'.
I should really include a score for 'smell', since the Noreve cases always win out for the best 'leather' smell. And possibly for styling too, since they're always superbly finished. The Tradition range means that the N8 stays in-situ, held roughly in place in a metal backplane by six metal clasps. The top flap then wraps over and press studs in place. The N8's sides are kept pretty clear, though the middle one on the right makes unlocking the N8 harder than it should be. My other complaint was that the N8 isn't held vertically well enough - so in practice it slides up and down by a couple of millimetres. These are minor complaints, mind you - of greater annoyance is that the supplied plastic belt swivel clip is bulky and clunky and not up to the standard of the rest of the case.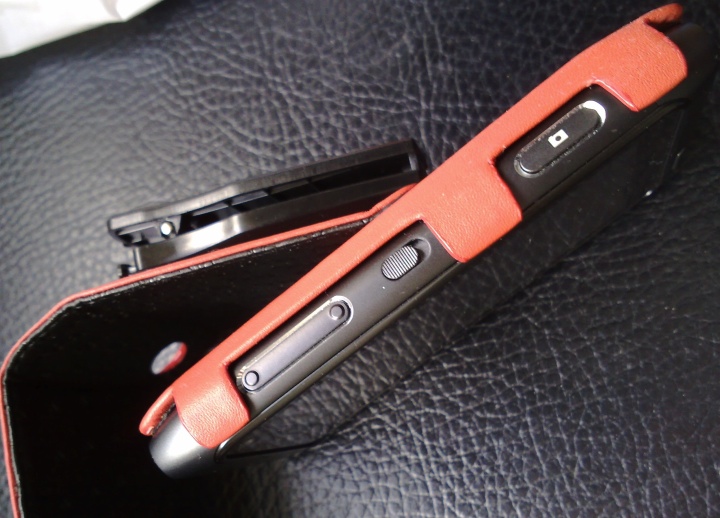 Style: 7/10 (factoring in the bulky clip); Protection: 8/10; Convenience: 7/10; Value: 7/10 - Overall: 29/40
---
Peeling off the 'Made in China' sticker, it becomes apparent that this was probably designed in China too. Just about everything that could go wrong with this case has gone wrong. Almost identical in form to the Noreve Tradition, it uses cheaper materials all round, one of the metal clasps blocks the side 'unlock' slider and there's no camera aperture on the back (so you're faced with either bending the top back and hoping you've bent it far enough to miss being in-shot, or extract the N8 from the case every single time). And if those defects weren't enough, the swivelling belt clip design is the bulkiest I've ever seen and also manages to unscrew itself in use, i.e. turn it in the wrong direction and the case doesn't merely swivel, it physically works its way off the clip. You just ordered this case? Tuff.
Style: 6/10; Protection: 6/10; Convenience: 4/10; Value: 6/10 - Overall: 22/40
(Thanks to Mobile Fun for sending over several of these review samples from their Nokia N8 accessory range)
---
Regular readers will know that, although open to new designs, a snug belt-fitting pouch is my preferred form factor for a case for any main smartphone I might be using. And I've thus sworn for years by the AX-ALEX range, which are handmade in Germany, made of top quality (thick) leather, have the slimmest and toughest belt loop imaginable, have no noisy velcro or catches to break and... simply protect and carry my phones without fuss or getting in the way. The N8 version is no different - available in many colours but the black one's always best to get because it won't show any dirt and will 'go with everything'! When you first slide the N8 in, it's a tight fit because the leather side panels need a little wearing in. Give it a few weeks (or, trade trick, just leave a slightly-wider-than-an-N8 piece of wood or other object in overnight) and it'll fit like a glove. Gripping the phone by the side-tops works well, for getting it out of the case and I especially liked the extra padding on one internal surface, both for protection and to stop the phone rattling around at all once you've 'worn' the sides in.
Oh, and if you're wondering about the price. It's a handmade case and it comes in a velvet bag, inside a luxury box with wax seal from a world leader (ok, the world leader bit is a lie!) - and you can even pay more if you want - there's a version in Ostrich leather for 150 Euros!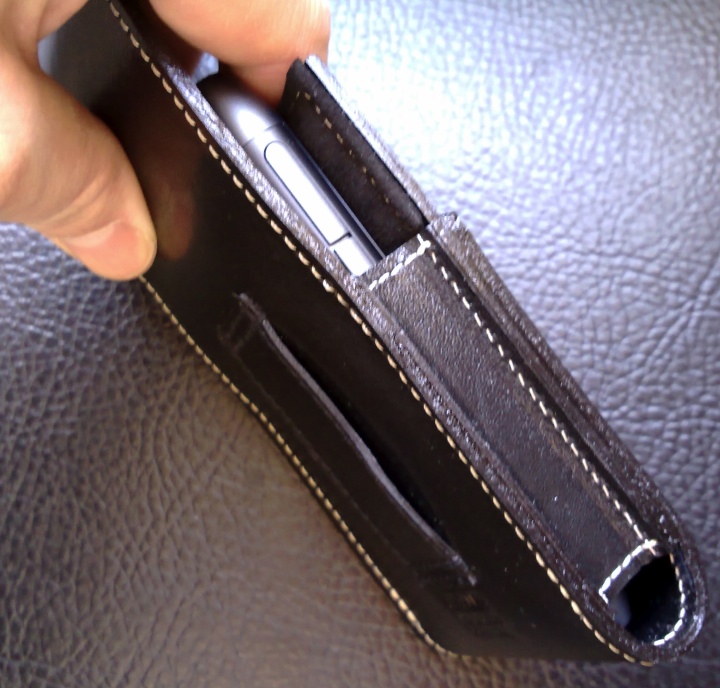 Style: 8/10; Protection: 9/10; Convenience: 8/10; Value: 6/10 - Overall: 30/40
---
Ensconced in the CP-500, the N8 wouldn't look out of place in The Matrix, it's a curious steam-punkish mixture of plastic and leather. The frame is a plastic clamshell with velvet cushioning inside, with the leather inlay for front and back also acting as the hinge. The front/top flap closes with simple plastic tension grips and the closed whole feels remarkably well put together. The sides of the N8, with their ports and buttons, are all accessible - as is the camera island, which looks good but you might have thought that the one thing an N8 case should do is protect that exposed camera glass. Not so here. Still, the N8 is held very firmly in place, there's the Nokia logo on the front and my only real worry, over the lack of any belt mounting option, is that the cheap leather flap and inlay will start to look tatty rather quickly.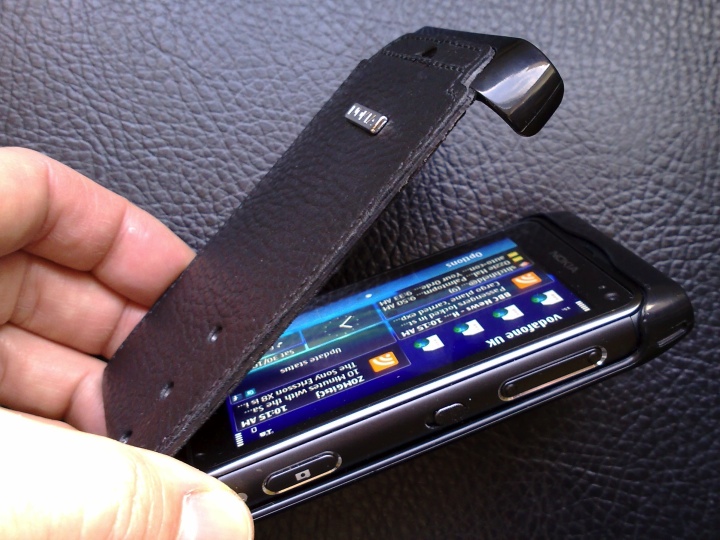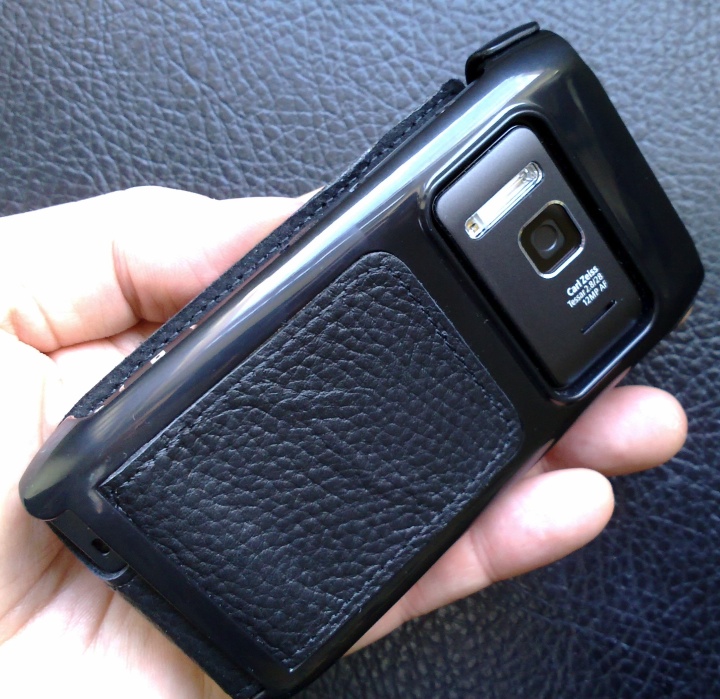 Style: 8/10; Protection: 8/10; Convenience: 8/10; Value: 8/10 - Overall: 32/40
---
Ah yes, Krusell do love their all-encompassing in-situ cases - that never seem to fit properly. The Orbit Flex follows this tradition and looks somewhat tacky as a result if you look closely enough. The leather is high quality though, plus there's both protective padding and space for memory (and business) cards in pockets in the top flap. The camera problem is tackled by simply having a cutout in the back of the case, along the same lines as the CP-500, but with the obvious disadvantage that there's no protection for this exposed element. Krusell's multidapt system is better thought out than some of the belt clips reviewed here, but the improvement here is moot, since the swivel belt clip supplied here is bulky and horrible - savvy Krusell users will know to order it with their slimline/fixed belt clip instead, which works far less obtrusively.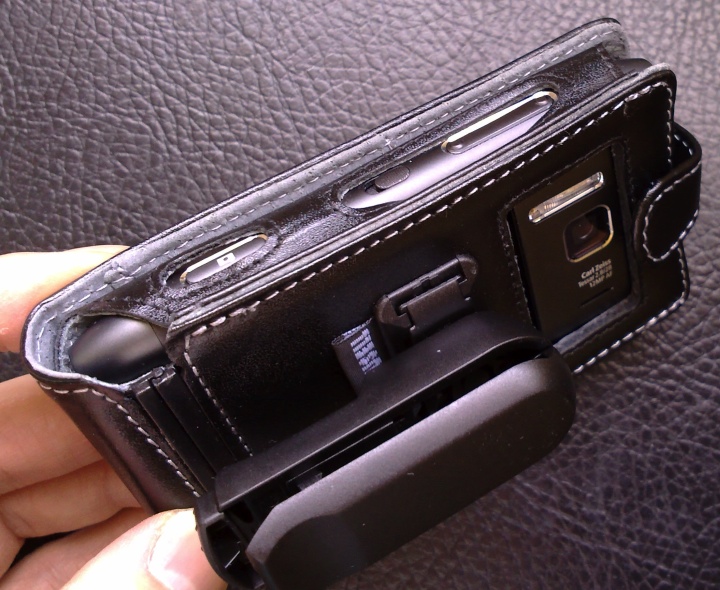 Style: 5/10; Protection: 7/10; Convenience: 7/10; Value: 7/10 - Overall: 26/40
---
Along similar lines to the AX-ALEX case but arguably even more minimalist is the PDair Vertical. This uses padded panels with thin leather to add very little to the N8's profile, using elasticated sides to keep the phone snug. And, again, there's a certain 'wearing-in' period needed, while the elastic stretches to allow easier insertion and extraction, but this is fine. Belt mounting is taken care of with a heavy duty metal sprung clip, as shown in the photo - it works well though there is always that slight risk that you'll 'catch' the case on something and it'll get wrenched off the belt.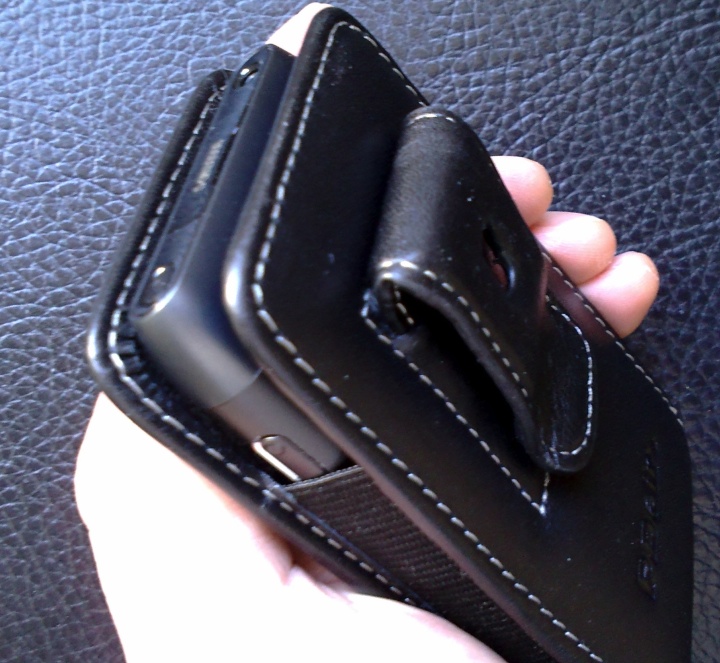 Style: 8/10; Protection: 7/10; Convenience: 9/10; Value: 6/10 - Overall: 30/40
________________
Overall then, for N8 cases, it's a win for the Nokia CP-500, a case with few weak points that fits and protects well and which doesn't cost the earth. The pouch form factor suits me better personally, and my favourite the AX-ALEX case is in joint second place with the PDair Vertical - just choose based on how much is in your bank account?
Steve Litchfield, All About Symbian, 1st November 2010
Reviewed by Steve Litchfield at