Review:
Samsung Omnia HD Preview (i8910) - Part 1 - General Design and Hardware
Score:
-%
Rafe takes an in-depth preview look at Samsung's top of the line i8910 (Omnia HD). Want to know more about the device? There's a lot of information here! In this first part of the preview we cover the general design and hardware details of the phone. Parts 2 and 3 will cover the multimedia and other software elements of the phone respectively.
Version Reviewed: PR
Introduction
The Samsung Omnia HD (i8910) was announced at Mobile World Congress earlier year. With headline grabbing features such as HD video recording and playback, 8 megapixel camera and a large AMOLED screen, Samsung managed to create a lot of buzz; it was certainly the device I got asked my opinion of most frequently. The general consensus, amongst those I spoke too, was that it was the best specified mobile phone to date. This technological leadership confers both bragging rights and automatic interest from certain consumers, but does not necessarily mean it's a great phone. In this preview we're going to take a closer look at the Omnia HD and assess its credentials.
The Omnia HD sets a number of important firsts. It's the first S60 5th Edition device from Samsung, once again underlining their commitment to the platform, it is the first mainstream mobile phone to record HD video, and it's the first Symbian device running on a next generation chipset (OMAP 3). All of these help explain why the Omnia HD stands out, but they are also indicative of future trends; some applying generally and some specifically to Samsung. Therefore, for those who enjoy reading 'mobile tea-leaves', it's a device that is well worth paying attention to.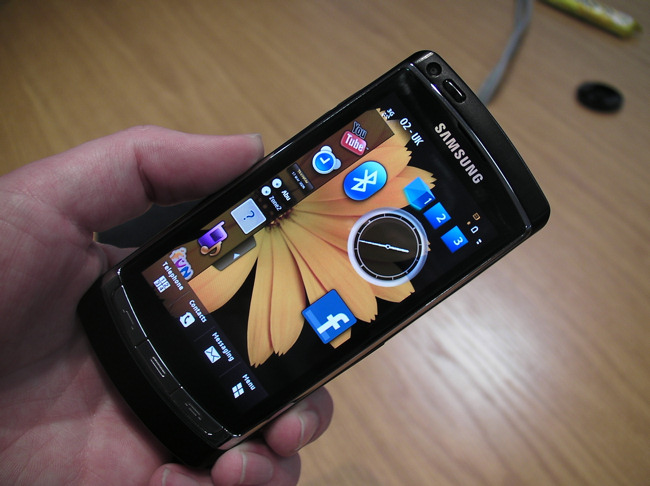 This preview is based on both my experience at Mobile World Congress and some additional hands on time with the Omnia HD (at Samsung UK). Even with the relatively short time period between the two, there were noticeable software and performance improvements and we would expect this to continue up to the late April release date. As such this preview should be taken as indicative only and we've ignored some of the issues which are common on prototype devices (e.g. the odd crash or debug dialog). You should bear this in mind when reading this preview.
General Design and Hardware
At 123 x 58 x 12.9mm, the Omnia HD is a large phone. This compares to the Nokia 5800 at 111 x 51.7 x 15.5mm (12mm shorter, 6.3mm narrower, 2.6mm thicker), the iPhone 3G at 115.5 x 62.1 x 12.3mm (7.5mm shorter, 4mm wider and 0.6mm thinner) and the Nokia N97 at 117.2 x 55.3 x 15.9mm (4.6mm shorter, 2.7mm narrower, 3mm thicker). Perhaps unsurprisingly, given the form factor, it is the iPhone that provides the closest match to the Omnia HD, the 5800 is thicker, but smaller overall, while the N97 is similar, but slightly thicker thanks to its keyboard. It is worth noting that while the Omnia HD is a large phone, it's not all that much bigger than the multimedia sliders that many carry now; the i8510 is 106.5 x 53.9 x 17.2mm and the N95 8GB is 99 x 53 x 21mm (both of which are shorter and narrower, but much thicker).
With that said, I think the key factor here is that the Omnia HD falls firmly into the tablet/slate mobile phone form factor. Its width means that prolonged one handed usage, especially for those with small hands, is somewhat cumbersome. This is true of all touchscreen devices to an extent, but it is a matter of degree - the 5800, for example, is narrow enough that it feels more like a traditional phones and less like a PDA. At 144g, the Omnia HD is significantly heavier than the typical mobile phone, but well within the norm for a phone of this size.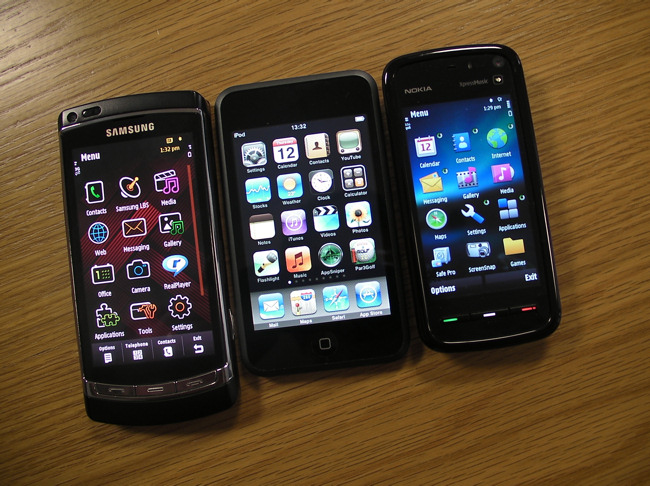 Samsung Omnia HD, Apple iPod Touch and Nokia 5800 XpressMusic
In style terms, the Omnia HD is a mix of the original (Windows Mobile-powered) Omnia with some of the elements of the i8510 thrown in. It's fairly typical for a high end Samsung device, with metal and hard, gloss plastics making up the major portion of the casing materials, with tempered glass covering the screen. It is predominantly finished in black with a few silver highlights, but I would not be surprised to see other colour variants in due course. It is a sleek and attractive device, but, in very general terms, it feels masculine and thus may not have the same appeal to some as the recent 'white' devices that Nokia has been experimenting with in its Eseries range. The overall build quality feels very good with no noticeable squeaking or flexing. However, it is difficult to make any final judgments until we've used a production device for a few weeks.
The 3.7" touchscreen dominates the front of the device, there are three buttons (call, home, hang-up) placed on a silver band at the bottom of the device, with a VGA camera and light/proximity sensor at the top of the device. The keys are large, well defined and give good tactile feedback - exactly what you want. The light sensor at the top of the screen controls screen brightness based on ambient light conditions and the proximity sensor prevents accidental screen touches when you hold the phone to your face (in the same way as on the Nokia 5800).
The screen uses AMOLED technology, which is generally brighter, uses less power, has a wider viewing angle and better contrast ratio than similarly sized LCD TFT screens. It looks absolutely fantastic, especially when displaying photos and other multimedia content. In common with other S60 5th Edition touch devices, the screen has a resolution of 360 x 640, a real boon when viewing web pages and other content-heavy information.
The touchscreen uses capacitive technology, in contrast to Nokia's N97 and 5800, which both use resistive technology. S60 doesn't differentiate between the two technologies and each has their own merits, as we discussed in a recent article. One of the advantages of capacitive technology is its much greater sensitivity - you only need to brush your finger against the screen. This generally makes scrolling and other gestures easier. On the down side, capacitive screens are less accurate and will only work with a finger (it needs your electrons!). In my opinion the most significant advantage of the Omnia HD's capacitive screen is that it means hard, tempered, glass can be used to cover the screen. There's no resistive layer to 'blur' the screen and outdoor clarity is better as a result and, subjectively, the glass feels better to the touch than the plastics typically used in resistive displays. On the other hand, handwriting recognition, especially for longer blocks of text, is cumbersome, especially as you have to use the flat of your finger rather than a nail or stylus. Touchscreen technology always seems to excite a lot of comment, but for me, bearing in mind the OS is essentially technology-agnostic, there are many more important factors which would dictate device choice than the type of touchscreen used!
On the right side of the device there's a thin, two-stage camera key, a microUSB port (also used for charging), and a hold key, which locks the screen and other keys. Any touchscreen device owner will tell you this is an essential key and it's a shame it is not a little larger on the Omnia HD. On the left hand side of the device, there's a microSD card slot, and volume up and down keys. At the top of the device, there's a small hatch covering the 3.5mm audio jack. It's good to see Samsung include this as it's not something they always include (e.g. i7110) or position ideally (i8510).
There are twin speakers at the top and bottom of the device and they're impressively loud. As with any small mobile speakers, they sound distorted at higher volumes, but they're perfectly adequate for basic use, and are well positioned for use in landscape mode (e.g. when watching a video). Overall sound quality was very good; the device includes the DNSe 2.0 technology, as seen in various Samsung products including the audio-impressing i450. Realistically though, unless you've got a good ear, you'll have difficulty picking an audio winner between most current top of the range S60 phones. A decent set of earphones is likely to make a bigger difference for most people's listening experience than switching to a different device.
The back of the device, which is covered with a hard, glossy plastic, houses the Omnia HD's 8 megapixel, autofocus camera and an accompanying LED flash. Opening the battery cover reveals a 1500 mAh battery. A big battery is clearly a must for such a device and we'll be making a careful note of battery performance once we get a review device. Day to day, it should comfortably last 24 hours, but any power intensive activity such as watching or recording video is going to have a significant impact. For example, the specifications note a 3 hour HD recording time, but in real world conditions will almost certainly be less than that, similarly video playback time is quoted at 4.3 hours (for 720p HD) which means watching a movie will probably use up most of a fully charged battery.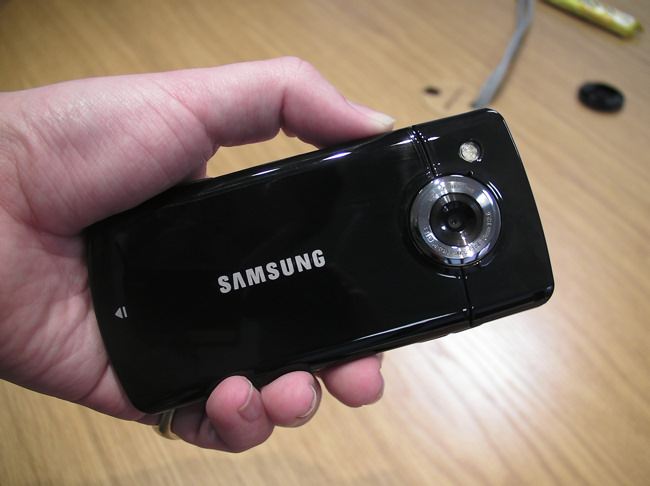 The Omnia HD has two variants, one with 8GB internal flash (mass) memory, the other with 16GB and there's 100MB or so of internal flash memory (for the 'C' disk). Both versions have the SDHC compatible microSD memory card support (official support up to 16GB, most likely 32GB too), which should be sufficient for most power users. Probably because of the requirements of handling HD video, there's a massive 256MB of dynamic RAM, with over 160MB free after booting.
Inside the Omnia HD, there are GPS and magnetometer (compass) sensors for geotagging and mapping and a G-sensor (accelerometer), which is used in a number of games (including a customised version of Gameloft's Asphalt) and applications (e.g. the media browser) and also enables system level functionality, such as auto-screen rotation and 'flip to silence'. Including the previously mentioned proximity and light sensors, there are a total of five sensors (or eight if you include the microphone and two cameras); all of which should be addressable by third party developers.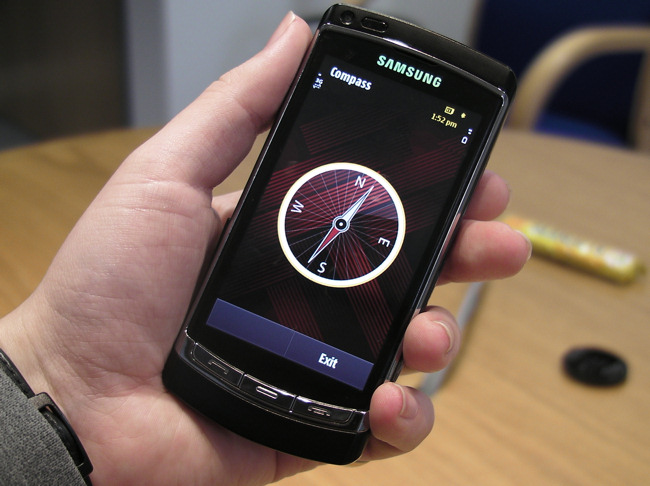 The Omnia HD boasts the usual connectivity options: WiFi, Bluetooth (including support for A2DP and HID profiles) and USB 2.0 (including HiSpeed). It's a quad-band GSM and tri-band UTMS/3G (900, 1900, 2100 Mhz) device with both HSDPA (7.2 Mbps) and HSUPA (5.76 Mbps) support. HSUPA, which allows faster upload speeds, is a nice extra, and while it is not widely implemented yet, it does provide good future proofing.
The Omnia HD runs on the OMAP 3x chipset (most likely the 3430) from Texas Instruments (TI), which is based on the ARM Cortex A8 architecture, and includes a graphics co-processor which uses Imagination's POWERVR SGX graphics technology. OMAP 3 is the next generation chipset on from the OMAP 2 family that was used in the Nokia N95, Samsung i8510 and a number of other popular devices and TI say the OMAP 3 provides three times the ARM performance of previous ARM 11 based processors. The integrated POWERVR SGX graphics technology provides graphics, imaging and video acceleration and enables the support of Open GL ES 2.0 and Shader 4.1 graphics APIs.
Undoubtedly, the OMAP 3 will provide the Omnia HD with better benchmark results, but what does this mean in the real world? The new silicon technology means the Omnia HD is able to encode and decode 720p HD video in real time, something which previously wasn't possible. It also means that the operating system and applications can run more quickly. The difference will be most obvious in processor intensive tasks, but it is worth noting there's not a directly proportional relationship between processor performance and device performance. Clearly a better performing processor will help, but there are other constraints involved too and many different factors go into overall performance. Just as significant is that the amount of power needed to perform the same amount of processing is less, potentially opening up energy savings, though this is likely to be more than offset by the fact you'll be doing more with the device.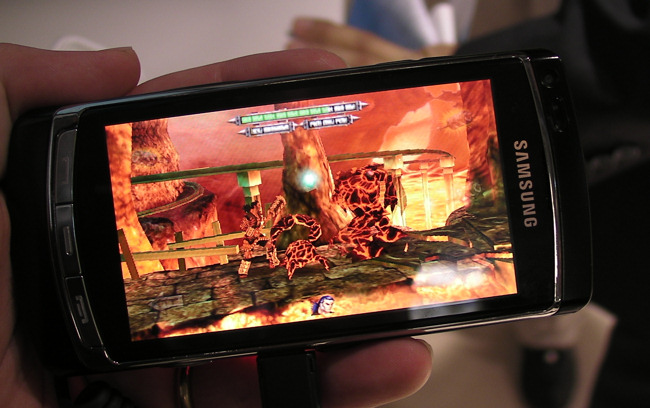 Kroll on the Omnia HD. Great graphics and touch based gameplay.
HD video support aside, the improved graphics support, most notably Open GL ES 2.0, may in the long term be the most obvious visible improvement. It provides the potential for near console graphics quality (they use similar APIs), and will be a very significant step up from current levels. For reference, the iPhone, rightly lauded for its graphics capabilities, uses only OpenGL 1.1. It does require developers to take advantage of the new capabilities, but it is clear from talking to Samsung that this is one of the areas that they will be looking to promote and exploit as a differentiator. The Omnia HD will ship with a couple of games, including Kroll, which looked absolutely spectacular, even if the game play was a little suspect.
Direct performance comparisons between different silicon families are difficult, but it is fair to say that the OMAP 3 chipset comes close to matching Intel's ATOM processor, which is best known for its use in the recent surge of netbook computers. The OMAP 3 chipset manages this despite using approximately half the amount of power. The important point is that in processing terms the Omnia HD will be effectively matching the performance of current netbooks - that's a significant step on the road to mobile - laptop convergence.
Rafe Blandford, 26 March 2009
---
Samsung Omnia HD Preview
In part 1 of the preview we cover the Omnia HD's hardware and general design.
In part 2 of the preview we cover the multimedia elements of the Omnia HD, including the camera and HD video recording.
In part 3 of preview we cover GPS, Web, TouchWiz, other software, S60 integration and draw overall conclusions.

See Also
Steve's first impressions of the Omnia HD
Samsung Omnia HD photo gallery from MWC
Samsung Omnia HD news announcement
Steve's video preview of the Omnia HD in The Phones Show programme 78.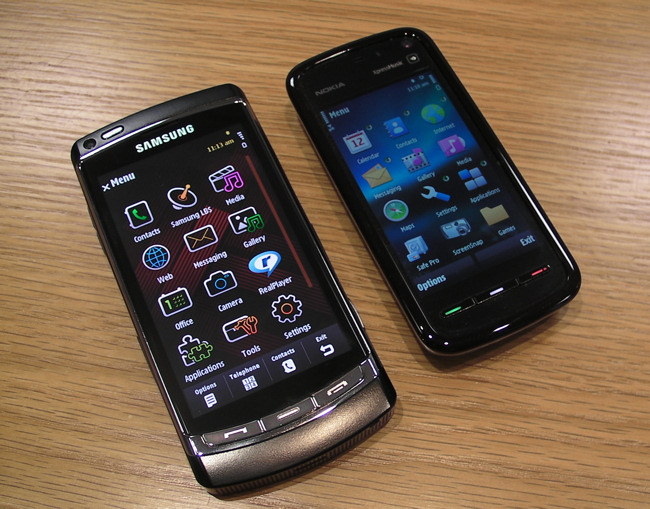 Reviewed by Rafe Blandford at