Review:
Samsung Omnia HD Preview (i8910) - Part 3 - GPS, Web, TouchWiz, Software and Conclusions
Score:
n/a%
Version Reviewed: PR
GPS and Mapping
Samsung are highlighting the location/GPS abilities of the Omnia HD. A collection of applications, referred to generically as Samsung LBS, will be available in their own folder in the Omnia's application launcher. The applications include Gypsii - an application that allows you to share your position and favourite landmarks with friends, GPS+ - an enabler for assisted GPS, Navigation - a Samsung branded version of Route 66, Travel guides, Maps, Traffic information, Weather and Routes.
Navigator offers a full car and pedestrian navigation service - a free trial is included, but for ongoing use you'll have to pay for a full license. Since the Omnia HD includes a compass, your orientation is displayed on the map at all times, this is especially useful in pedestrian mode. The application also includes an extensive point of information database with integrated search.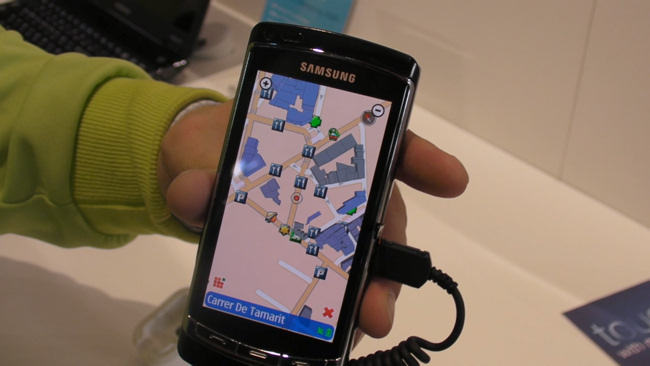 We were unable to test the location applications on this occasion, but they are an important part of the Omnia HD package and we will take a fuller look at the various applications when we do our full review. In general they are a good example of the way Samsung are including more bundled applications and services, giving closer parity with the Nokia devices (bundled with Ovi services) than was previously the case.
Web
The Omnia HD uses the standard S60 5th Edition web browser, as first seen on the 5800. The browser has been optimised for finger touch, with the large pop-out shortcut panel used to access many of the browser key functions. The software changes are welcome, but the biggest change, compared to earlier phones, is provided by the increased screen size and resolution. With a greater amount of screen real estate available, more of a page can be displayed at one time, and, perhaps even more importantly, the extra physical size means you can zoom out on a page and see more, yet still comfortably read the text being displayed. The capacitive screen makes scrolling easy, a light brush across the screen is all that is required, although two hands are almost essential for long browsing sessions. Unfortunately there's no continuous kinetic scrolling - something that, as recently demonstrated by Nokia on the N97, would make a sensible addition.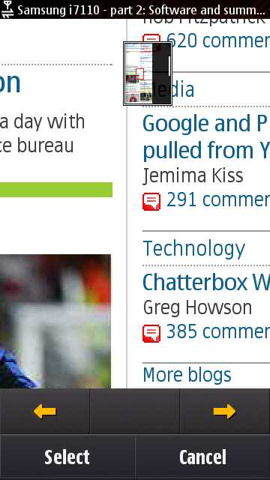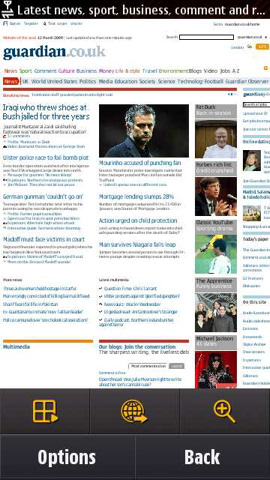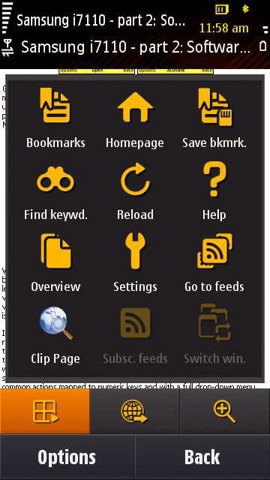 Samsung have added a number of customisations to the S60 Browser. The best of these is a zoom in/out shortcut; holding a finger on the screen pops up two zoom 'icons' and if you move your finger upwards you zoom in, if you move it downwards you zoom out. It's a simple idea, but it works very well - it makes it possible to move round a page relatively quickly and goes some way to overcoming the inherent resolution limitations in mobile devices. Another example of Samsung's customisation is the mini thumbnail overview that is displayed, showing where you are scrolling on the page. This was available on some of Samsung earlier S60 products and is especially useful when moving around larger pages. Samsung have also added a number of visualisations (swirling 3D effects) when switching between pages in the history list - they don't add any functionality, but it does help reduce the perception of a delay between page loads.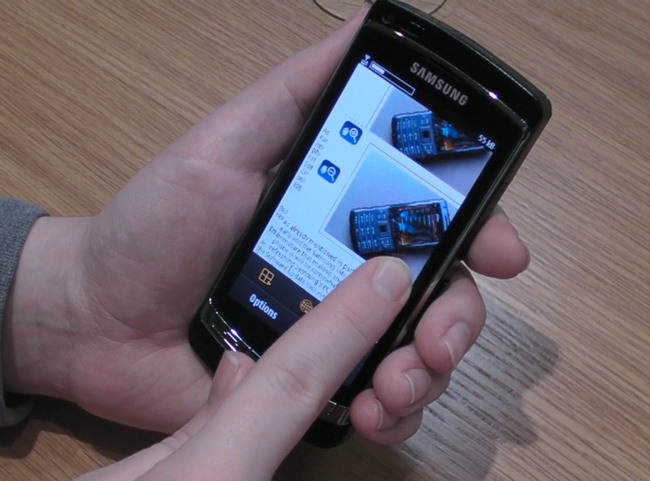 Overall, the performance of the browser was impressive - even on larger pages, scrolling and rendering remained reasonably smooth, although there's still room for improvement. The version of the browser shown at MWC was different to that at our later hands-on; it appears that the browser is still being developed, so we can't say with certainty what features the final retail release will have. We'll revisit the browser in more detail in a later review.
As you would expect, with a S60 handset, there's full support for Flash content, either in the browser or packaged separately (Flash Lite 3.1). Web Runtime (WRT) with device service integration (e.g. the ability to read GPS information) is also fully supported - we're expecting this to be a significant enabler of applications going forward. For example, it's very likely that the Omnia HD will, in the UK market, be getting the WRT-powered BBC iPlayer.
Samsung TouchWiz and Photo Contacts
The Omnia HD includes Samsung's TouchWiz home screen technology; it acts as a replacement for the standard S60 home screen (Active Idle). TouchWiz is the generic name that Samsung applies to a 'widget-based' homescreen, which is used across a broad portfolio of devices. This includes both other open mobile platforms (e.g. Windows Mobile) and Samsung's proprietary software platform. Samsung uses it to create a common UI and 'identity' across its portfolio of mobile devices. It facilitates easy access to common phone functions, onboard software and services, and shortcuts to web based services.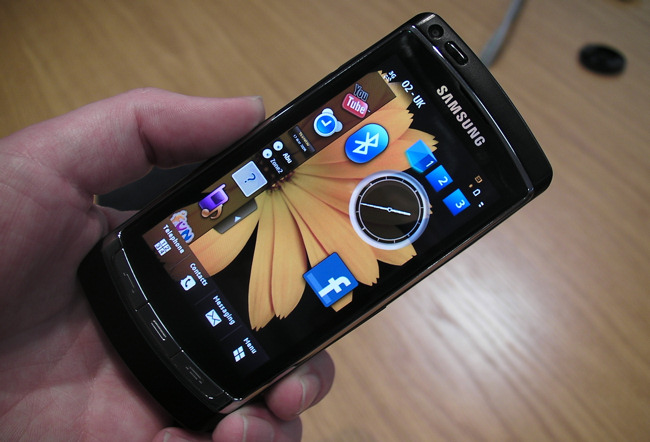 The homescreen consists of three distinct areas: the widget toolbar, the desktop and the bottom toolbar. The widget toolbar is a scrollable ribbon and 'holds' the widgets that can be used on the homescreen, while the desktop 'contains' the active widgets. Widgets can be dragged from the toolbar and 'dropped' on to the desktop; widgets can be arranged by dragging them to the desired location. The bottom toolbar of the home screen has four on-screen buttons: Telephone (brings up the dialler), Contacts (opens Contact application), Messaging (opens Messaging application), and Menu (opens application launcher). These are present on both the TouchWiz homescreen and the standard S60 application launcher. These three elements are consistent across almost all of Samsung's TouchWiz implementations. However, the Omnia HD has an interesting extra - there are three separate widget desktops, they can be accessed using the number on the top right of the screen. This allows you to use more of the widgets that would otherwise be possible; it could be used to have a homescreen for multimedia, one for personal use and one for business use.
The available widgets range from a simple analogue clock, through Bluetooth shortcut and mini-music player controls, to shortcuts to web-based services. Some widgets acted as simple shortcuts to other applications or settings panels, but some were more involved. For example, there is a music widget which allows you to control the playback directly from the home screen. The Bluetooth shortcut opens up a screen which shows local Bluetooth devices in a 'radar' like format. The profiles widget allows you to switch the currently active profile, via a drop down menu, directly from the homescreen. Other widgets include calendar, birthday reminder, digital clock (with time zone), FM radio, calculator, voice memo, alarm and more. The web services widgets we saw (MySpace, Facebook, YouTube, Samsung Fun Club) consisted of simple shortcuts to the mobile web versions of the appropriate service, but it is possible we'll see something more substantial in the future. Samsung recently announced that they were working with Yahoo, Google and Accuweather on a range of different widgets and I would expect more of these partner announcements in the future.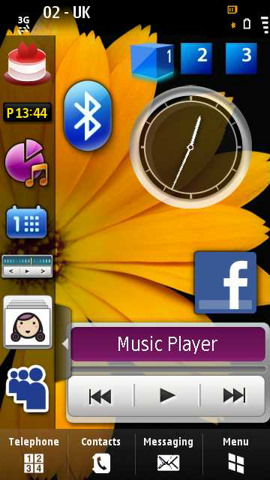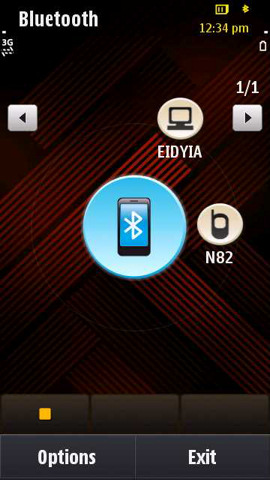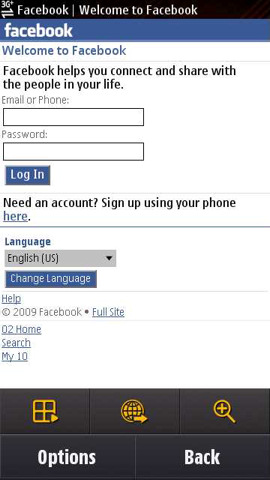 On the Omnia HD, swiping on the screen, from right to left, switches to the application launcher (and vice versa). Swiping from left to right brings up Photo Contacts; this is a photo-based, speed dialler type application and takes the form of a pile of photos, similar to HTC's TouchFLO equivalent, which you can flick through to select, and communicate, with a contact. You can choose which contacts you want to add, and choose all, or part of, a photo to represent that contact. It is easy to use and customise, but I wonder how much it should be considered novelty UI compared to using the standard Contacts application. The swiping, which Samsung refer to as 3D navigation, is an elegant solution and provides UI eye-candy, but it is probably quicker to use the dedicated homescreen button on the bottom of the device.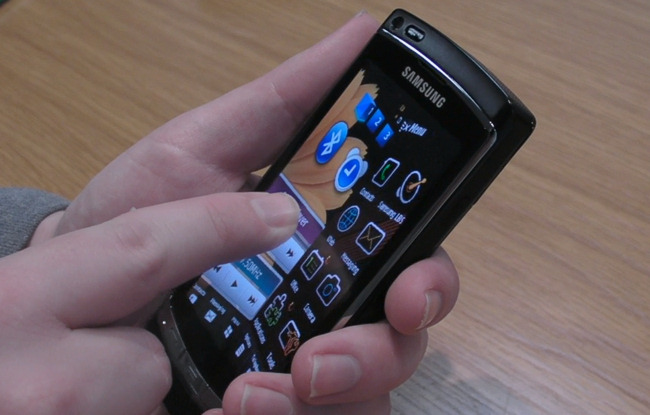 Overall, TouchWiz and its associated widgets and components provider a much flashier front end than we usually see on S60 devices and for the device's target audience that will be very much welcomed. Without using it for an extended period of time it is hard to assess its impact. We'll be revisiting TouchWiz on the Omnia HD in greater detail in future coverage and will give a fuller opinion then, but for now it is certainly safe to say that it has a great deal of potential.
Samsung recently announced the evolution of TouchWiz (effectively TouchWiz 2.0); it adds better support for 'rich connected applications' (web-enabled widgets) and includes the provision of an SDK and IDE which will allow third party developers to create widgets for the TouchWiz platform. The Omnia HD will be using this 'evolved' version of TouchWiz, but the exact mechanics of third party support and which features will be supported is currently unclear. However it does suggest that TouchWiz on the Omnia HD has the potential to move in the same direction as the Nokia N97's widget-based homescreen.
The TouchWiz homescreen is a significant departure from the traditional S60 homescreen, which means Nokia users might feel like it has been grafted on to the platform. However that's really not the case; there is an impressive level of integration and it offers a significant UI differentiation. For those that think S60 has only a basic homescreen and lacks graphical eye-candy, the TouchWiz solution provides both an elegant and practical response. For existing Samsung users, it offers an immediate feeling of familiarity and ties the Omnia HD very strongly into Samsung Mobile's look and feel.
Samsung is well known for its multiple software platform strategy. This does offer advantages in flexibility - notably the ability to offer the 'right' platform to different markets and target audiences. Samsung's impressive engineering scale and set up allows it to overcome some of the costs associated with supporting multiple platforms. However, it does not solve the brand and user experience inconsistencies, which are the inevitable result of using multiple software platforms. TouchWiz, at a general level (and as far as consumers are concerned), provides at least a partial answer to this problem. TouchWiz demonstrates, together with customised iconography and styling, how Samsung, despite using different software platforms, can tie together its products into a single portfolio.
Other Software and S60 5th Edition
There are a few more custom Samsung applications shipping with the Omnia HD, in addition to those we have already mentioned. Smart search is a global search tool; it allows you to search the contents of your device as well as the Internet. The application is divided into three 'tabs', one tab for on-device search, one for downloads and one for the Internet. The on-device search looks through contacts, logs, images, videos and messages, and you can specify the category you want to search in (e.g. just search contacts, or search all). Global search isn't a very exciting application, but it has long been a standby of PIM devices and it is absolutely essential if you've got a lot of data stored on your phone. There's also a Download application which will serve as an on-device application store. There are few public details on this at the moment, but we can say it has no relation to Nokia's Download! application.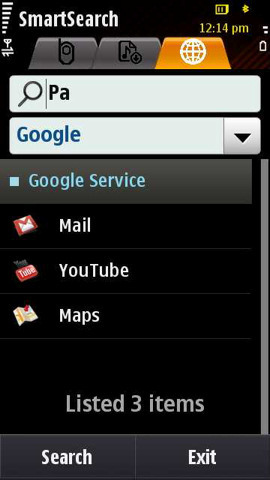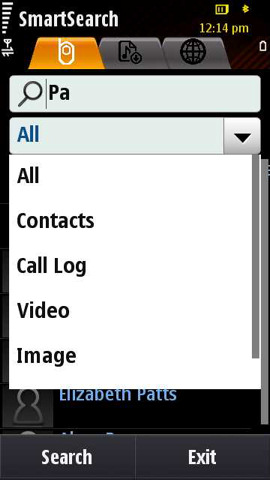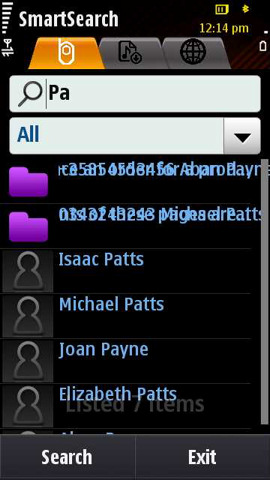 Other applications include Dictionary (with support for multiple language translation pairs), and Smartreader (barcode reader and business card scanner). The Omnia HD will also ship with a variety of third party-licensed applications including Zip manager, Quickoffice (view Microsoft Office files), Adobe Pdf (view PDF files), Qik (live video streaming), RoadSync (Microsoft Exchange sync for emails, contacts, and calendar), and Fring (multiple IM, VoIP and presence client). This bundle of third party applications will likely grow before the final release.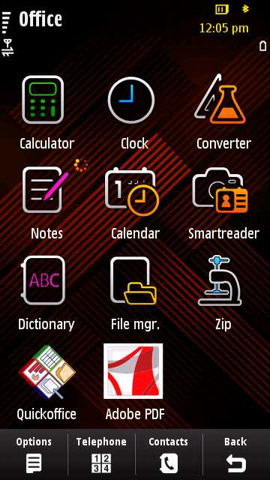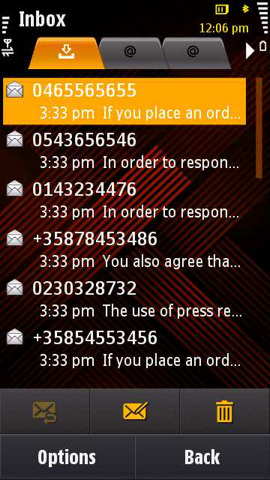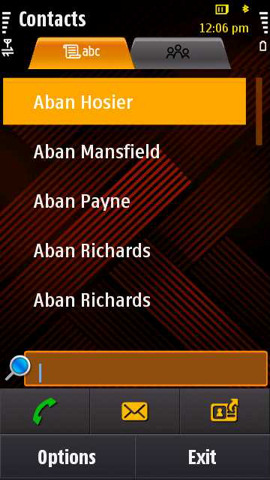 The Omnia HD runs S60 5th Edition on Symbian OS 9.4. We commented, at some length, on the move to touch for S60 and the essentials of its implementation in part one of our 5800 preview, so we will not repeat that here. As with the 5800, there's also optional haptic feedback, a real advantage in my opinion. With S60 come all the standard applications, including Messaging, Contacts, Calendar and so on. You can see more details on these in part 2 and 3 of our 5800 preview.
The Omnia HD uses the default text entry options of the S60 platform - you can choose between a full QWERTY keyboard, virtual alphanumeric keypad, small QWERTY keyboard and handwriting recognition. Handwriting recognition, beyond a few letters, isn't really practical on a capacitive screen and similarly the (in)accuracy of capacitive touch makes the small QWERTY keyboard tricky to use. The alphanumeric keypad, which includes optional T9 recognition, works very well, but isn't as fast, at least potentially, as a full QWERTY keyboard. S60's full screen QWERTY keyboard, with a bit of practice, works reasonably well, but does not really match up to the Apple's or HTC's virtual keyboard implementations. Given the potential provided by capacitive screens (multi touch) and the flexibility of S60 (e.g. the plug-in for the FEP) this is really an area I would have liked to seen Samsung customise.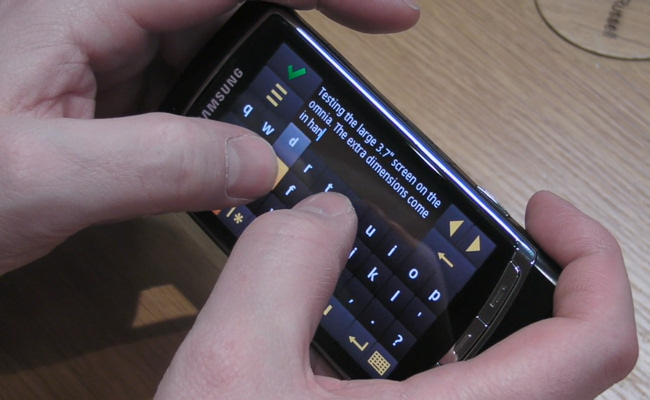 Samsung have made such customisations in other parts of the S60 UI. In general, there are more transitions and eye candy than on Nokia phones. The most significant change is the customised version of the application switcher (accessed by holding down the home key). Rather than a simple list of icons of open applications, it shows a 'carousel of screens' of open applications; finger flicks move you around the carousel, touching a screen loads up that application and there's also an x, in the corner, to close the application. An alternative 'grid' view is also provided, which shows all open applications in a 3 x 3 grid - it is somewhat similar to Expose on the Mac. It's possible to see this as a bit gimmicky, but on the other hand it is a visually, highly effective, demonstration of the multi-tasking capabilities of the phone.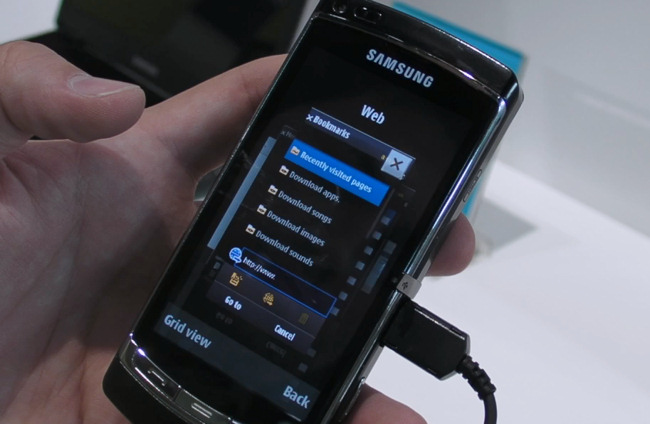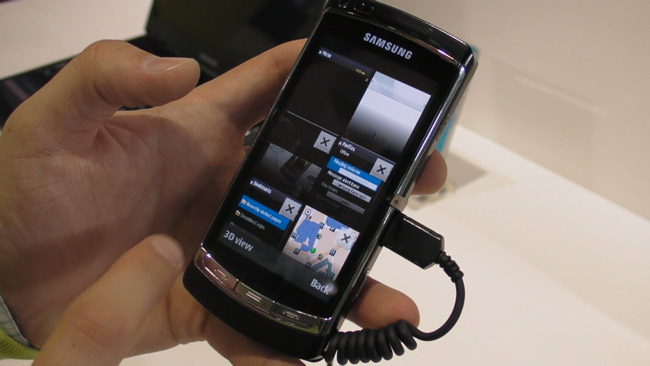 As will be apparent from earlier parts of this preview, Samsung has put an enormous amount of effort into customising the platform, both through UI customisation and application customisations and additions. Earlier Samsung S60 devices had the Samsung style in their hardware, but the software made them feel like Nokia clones. With the Omnia HD, that impression is greatly lessened. Anyone familiar with S60 will feel at home, but so too should customers of Samsung feature phones. Moreover, Samsung have created a significant amount of differentiation between their S60 phones and those of Nokia, something which I regard as essential if they are to find success in the market. Both offer the same basic S60 experience, but there are significant differences between their higher level software and service offerings. These differences will be worth much closer examination. We'll be reporting on this in more detail, once we have a decent length of real world usage under our belts.
Conclusion
For viewing images and video the Omnia HD's large, AMOLED backed screen is the best I've seen on a mobile device. Similarly its 8 megapixel camera (especially the HD video recording) and audio capabilities (dedicated DSP, 3.5 mm audio jack, stereo speakers, and FM radio) are amongst the best you'll find on a mobile phone. Taken with its tablet like form factor and comprehensive software package, all of these attributes mean the Omnia HD feels like more of a cross breed between a mobile phone, and personal media player. This cross over package fits in with the current fashion for touch based mobile phones in the tablet form factor; this is a highly visible and talked about market segment. The amount in interest already generated by the Omnia HD is indicative of this, but it is also worth remembering that it is only a small part of the overall market.
In a general sense the Omnia HD faces a number of competitors, including the Apple iPhone v3, Palm Pre, HTC Touch Pro 2, and the Nokia N97. All of these devices are phones, but such functionality tends to be secondary to their other capabilities. Each of these devices have their own twist. For example if you compare the N97 and Omnia HD, which I'm sure many will do this summer, you'll find they each have their own strength and weaknesses. For some the keyboard will mean the N97 if favoured, others will favour the Omnia HD for its HD video recording or AMOLED screen. Similarly the iPhone boast impressive multimedia consumption and the 'best-in-class' iTunes ecosystem, but fails to match the Omnia's more cutting edge hardware and multimedia features. The Palm Pre promotes social communication and web convergence, but has lesser multimedia capabilities. The Omnia HD offers a device with very strong credentials in multimedia creation and consumption, but one that, perhaps, lacks refinement in other areas. With all of these devices due out between now and the early autumn (and much detailed information still to be filled in), the coming summer holds much promise for gadget lovers!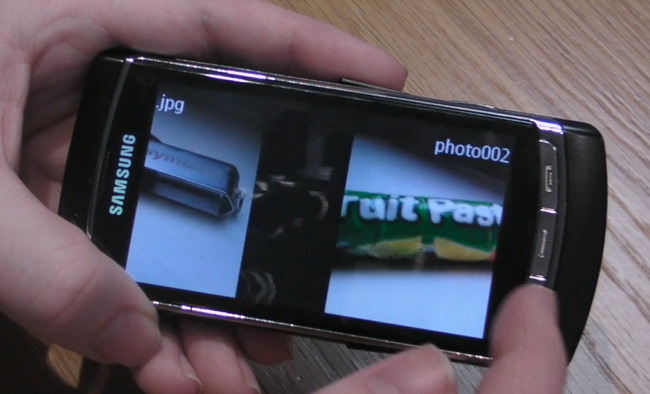 The focus-driven nature of the S60 5th Edition UI takes a different approach to both the iPhone OS and Android. This, together with the legacies carried over from earlier version of S60, has resulted in mixed reactions from some early previews. Many of these criticisms are unfair or one-sided, but it is fair to say there is room for improvement. The market sucess of the Nokia 5800 suggests that S60 5th Edition is not the anchor that some might assume. While it is certainly possible to make an argument that S60 5th Edition is less suited to very high end devices, until both the Samsung Omnia HD and the Nokia N97 have been tested in the market I think it is premature to come to any conclusions. It may be the customised homescreens and other software tweaks that end up making all the difference in terms of the perception by consumers for both devices. Every device has its UI strengths and weakness, and the UI, while important, is only one part of the equation.

By choosing the Omnia branding for the new device, and highlighting it as one of its three flagship models for 2009, Samsung is also making a statement of intent. Samsung has been quietly building expertise in Symbian phone integration and the i8510 (INNOV8), announced last summer, demonstrated their ability to create cutting edge devices on top of the platform. However, large scale market sucess has been largely absent, caused, at least in part, by a lack of widespread availability and marketing. By choosing to build on top of their sucessful Omnia brand, which originated with a Windows Mobile device of the same name, Samsung are signposting their intent to give a large push to the Omnia HD. There are indications that this will be supported by several media campaigns, from traditional advertising to social media and word of mouth campaigns. Similarly, Samsung are putting plans in place to help support developers and provide an on-device application store. Much will still depend on operator uptake, but with clearly definable market-leading specifications, there's plenty of scope for operators to push it as an 'ultimate' mobile phone.
The Omnia HD is a technical marvel - its gorgeous screen, its HD video recording capability and general multimedia prowess means its stands out from the crowd. Its hardware, while not perfect, is impressive and cutting edge. It is, most definitely, one of a handful of contenders for the super-phone title in 2009. In one sense that alone makes it a 'good' phone, but will it be a 'great' phone? I think that depends on how good a job Samsung does on the software; both in the release version and in subsequent firmware updates. Samsung's S60 phones do not have the best track record in this department, but Samsung are planning to provide firmware upgrades for the Omnia HD (definitely via a PC, likely OTA as well). For this issue, only time will tell.
With a preview, based on pre-release hardware and software, it is never fair to draw any final conclusions. But, as we've seen over the three parts of this preview, I do think the Omnia HD holds a great deal of promise and will be one of the most talked about Symbian devices of the year.
Rafe Blandford, All About Symbian, 7 April 2009
---
Samsung Omnia HD Preview
In part 1 of the preview we covered the Omnia HD's hardware and general design.
In part 2 of the preview we covered the multimedia elements of the Omnia HD, including the camera and HD video recording.
In part 3 of preview we cover GPS, Web, TouchWiz, other software, S60 integration and draw overall conclusions.

See Also
Steve's first impressions of the Omnia HD
Samsung Omnia HD photo gallery from MWC
Samsung Omnia HD news announcement
Note
This preview is based on both my experience at Mobile World Congress and some additional hands on time with the Omnia HD (at Samsung UK). Even with the relatively short time period between the two, there were noticeable software and performance improvements and we would expect this to continue up to the late April release date. As such this preview should be taken as indicative only and we've ignored some of the issues which are common on prototype devices (e.g. the odd crash or debug dialog). You should bear this in mind when reading this preview.
Reviewed by Rafe Blandford at