This is a completly new CFW, based on Belle Fp2 113.010.1506, product code 059G1Z6
cooked by huellif and freaxs_r_us.




In Menu, Tools, Xtras you will find three apps: Delight App which contains our Backup&Restore solution, FAQ and other features, e.g. a MiniCMD launcher.




C:drive after flash is minimum 370MB

RAM: 295MB

As with the other Delight CFWs, you have to 'Refurbish' the firmware when going from stock firmware, i.e. the whole phone is wiped. So usual backups and precautions apply. When updating from one version of Delight to the next, you can 'Update' and thus shouldn't lose data, apps or settings.
Here's the full changelog for Delight for the Nokia 700 (over and above the stock Nokia firmware):
Added:
- ROMPatcher 3.1 FP2
- Domainsrv mod FP2
- installserver_log by CODeRUS
- tactile feedback for calls
- soundimprovment
- akncapserver
- ID3 editor
- EQ editor
- eikcoctl mod
- unlock menu (subfolder, app renaming)
- short multitap
- predic on E:\
- smilies in all apps
- SysAp mod 1.4 (disabled popups, unlimited SMS sending retries, save log after SIM change,disabled charger and volume popups, browser and network queries, PSM notes and autoswitch, reboot via long press powerkey)
- ported theme effects on/off option
- ported Touch input options (adaptive search)
- you can close all system apps
- load effects from E:\effects
- sip client
- power symbols
- internet radio
- MIFeditor
- winrar
- increased maximum SMS size (30 SMS)
- modified swipolicy.ini (more rights with devcerts and less warnings)
- log extender mod (999 days)
- profile symbols
- Delight Theme made by LAO STIA
- Delight conversation skin by Cahjoss, it replaces the default conversation skin in messages. Use the DelightApp to change skins on-the-fly
- Delight App 1.2

settings:
- isabled product improvment
- by default no Screensaver
- enabled dolby by default
- menu a-z by default
- infinite browser cache at E:\
- splashscreen.mif from C
- increased maximum SMS size (30 SMS)
- disabled NFC by default
- Voice Recorder 5Hours at 256kbps

Deleted (but can be added later via SIS if needed)
- Nokia Music
- QuickOffice
- F-Secure
- Adobe Reader
- Youtube
- JoikuSpot light
- World Traveler
- Vlingo
- Social
- Bounce Boing Battle
- Microsoft Communicator
- Shazam
- ColorizIt
- Nokia Recommends (+ widget)
- CNN
- Public Transport
- default Backgounds
- NFC tutorial
- MS Office samples
- Video Pro
- Silent Film Director

Removed other:
- offline queries
- Priority Of Aknspasrv
- USB popups
- popup fader (C++)
- reduced QML popup fader
- FOTA
- OVI SMS signup after first boot
- change theme popup (it works much faster)
- disabled no connection popup

Added screensaver:
- Animation
- Music Player
- SlideShow

Integrated Updates:
- 3G network compatibility fix
- Application compatibility fix
- Email and Calendar update
- FIX for Messaging
- Gallery and Camera update
- Image share to Twitter
- New homescreenwidgets
- Nokia Big screen
- Nokia Store
- SMS Update
- Telephony update
- Wifi update
- Youtube update to Gallery
- Facebook ShareUI fix

Widgets Added:
- Anna Notifications (incl. Belle Icons)
- Anna Notifications 2*2
- Calendar small
- Clocks: analogue – small, profile, small digital, text small
- Contacts: mini, comms
- Small: DLNA server, WIFI, FM-Transmitter
- Internet Radio
- Mail One Line and Two Line
- Music player, compact
- Search and Search Mini in ROFS
- Vertu Apps Launcher
- calendar small (exclusive calendar + calendar small in one CFW)
- Webview widget small 4*3

You can download the base files for Delight 1.0 here. This is the english only version - for translations, see the source links here, the full list of extra languages currently supported is:
02 french
03 german
04 spanish
05 italian
06 swedish
07 danish
08 norwegian
09 finnish
10 american english
13 portugese
14 turkish
15 icelandic
16 russian
17 hungarian
18 dutch
25 czech
26 slowak
27 polish
28 slowenian
29 taiwan chinese + writing files chinese & hk chinese (worldwide EXCLUSIVE full taiwan chinese FP2 firmware - DELAYED)
30 chinese - + writing files taiwanese, chinese
31 chinese - has two additional writing files taiwanese, hongkong
33 thai
37 arabic
39 tagalog
42 bulgarian
45 croatian
49 estonian
50 farsi / persian
54 greek
57 hebrew
63 kazakh
67 latvian
68 lithuanian
76 brazilian portugese
78 romanian
79 serbian
83 latin american spanish
93 ukrainian
94 urdu
96 vietnamese
230 Hindi (= english and hindi writing files)
326 malaysian
327 indonesian
Note that writing custom language versions is slightly trickier and involves swapping downloaded files into the flash file set.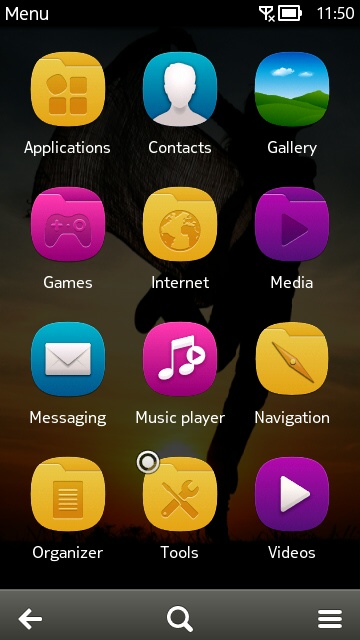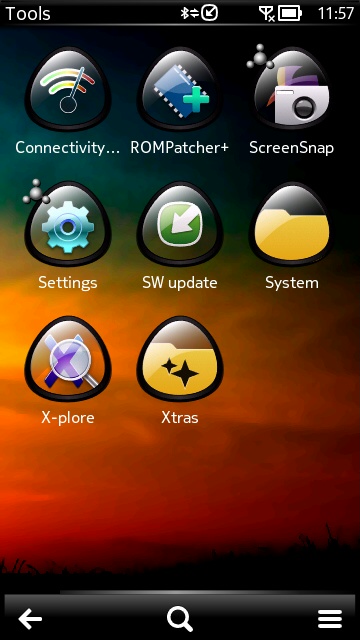 The default theme is Nokia Evolve (though see below), note ROMPatcher+ and the Xtras folder...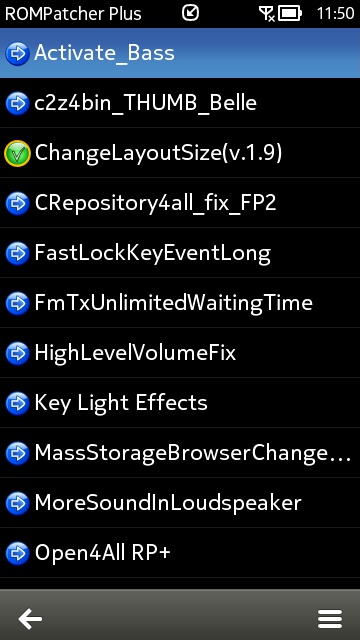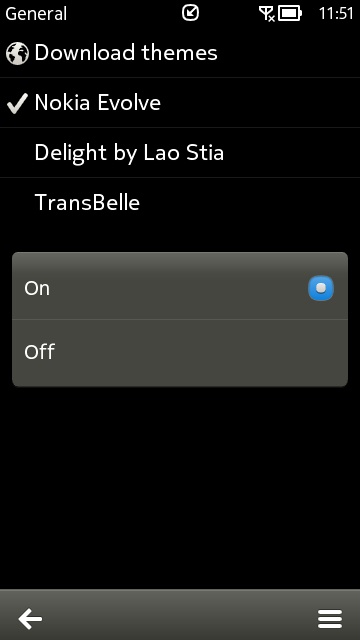 For the really geeky, plenty to play with in ROMPatcher+; (right) note that theme transitions can now be turned off - Hooray!
There's a full FAQ built into the Delight App in the firmware, which is a nice touch. See also the developer's own flashing tutorial - it's not trivial, but it's also not that hard and any Symbian fans trying to make a go of things through 2014 and 2015 are advised to become familiar with this sort of thing.