NB: As with flashing any firmware from scratch ('Refurbishing'), you'll lose the contents of your system disk (C:), so remember to sync/backup data as necessary beforehand. Applications are best installed from scratch, so make sure you've got the relevant SIS files and (perhaps) Nokia Store login details to hand.
First of all, the links you'll need.
Flashing tutorial (with extra links)
The changelog varies slightly according to device, but I went for the 808 version 1.2. The actual flashing (refurbishing) process went very quickly and only took a minute or so, though I already had the right version of Phoenix installed and all relevant USB drivers were already in place on my Windows 7 laptop.
After flashing, my Nokia 808 showed 599MB free on the system disk and free RAM after booting was 301MB, which is all rather impressive, to say the least!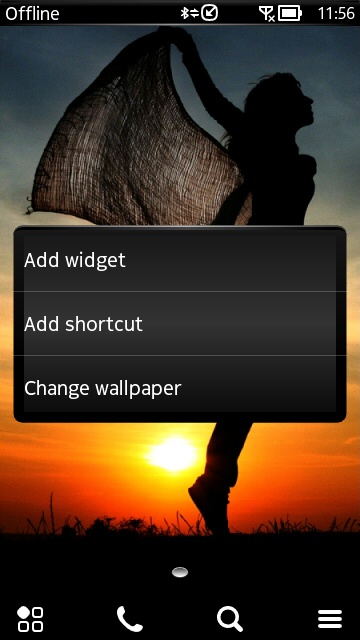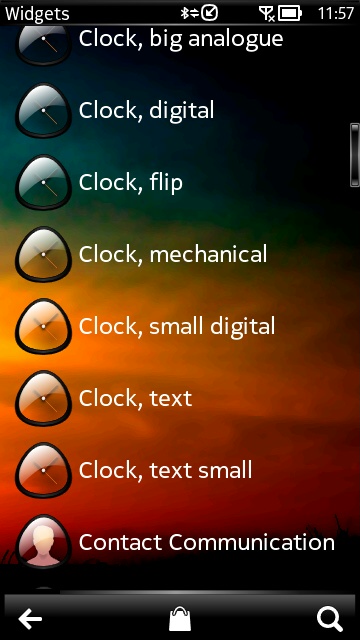 A clean look for Delight all round, packed with every Symbian update and widget imaginable...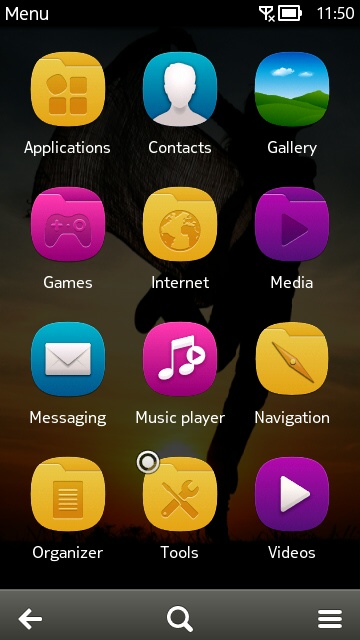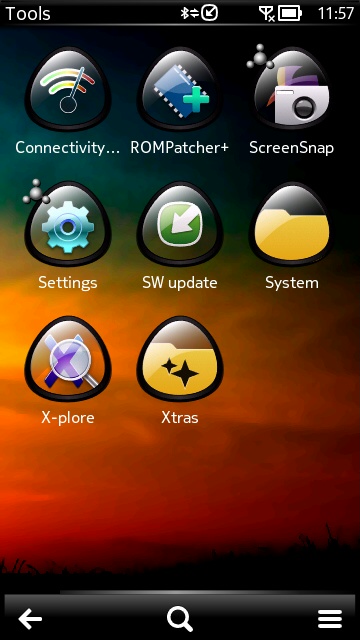 The default theme is Nokia Evolve (though see below), note ROMPatcher+ and the Xtras folder...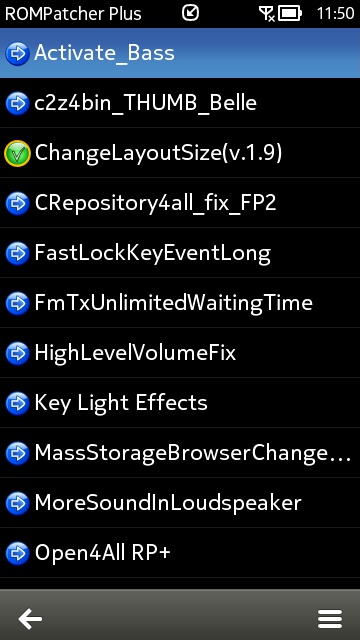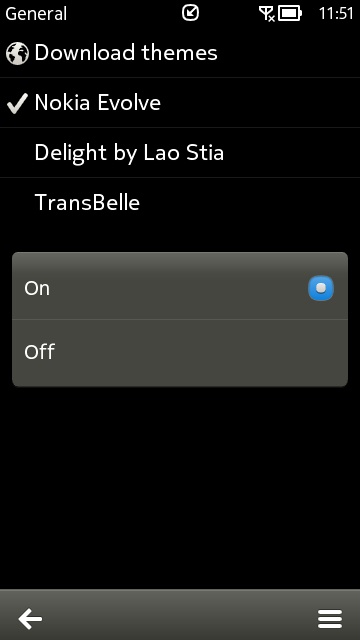 For the really geeky, plenty to play with in ROMPatcher+; (right) note that theme transitions can now be turned off - Hooray!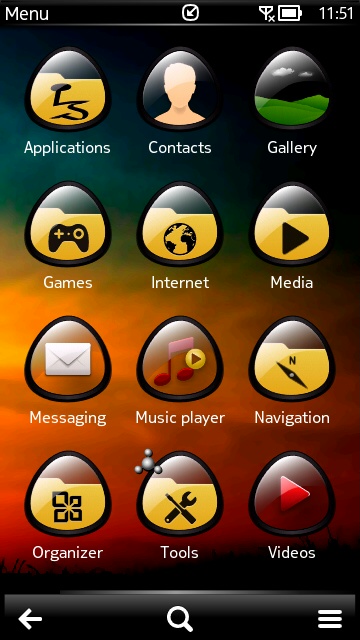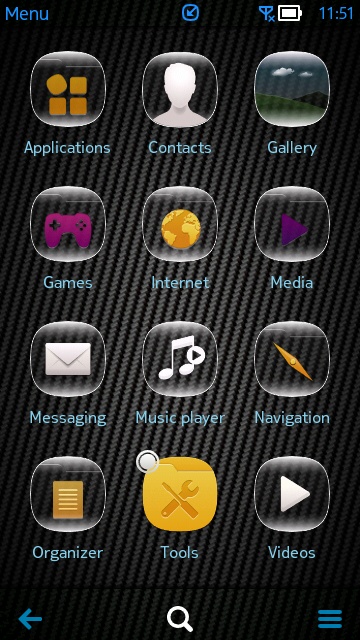 Delight comes with three themes - this is the Delight theme in place, very slick, though heavily stylised; (right) the alternative 'TransBelle' theme...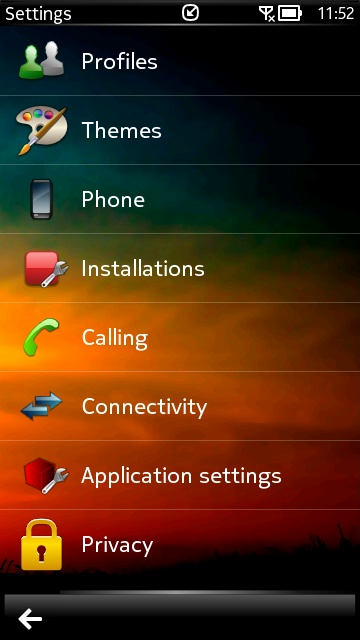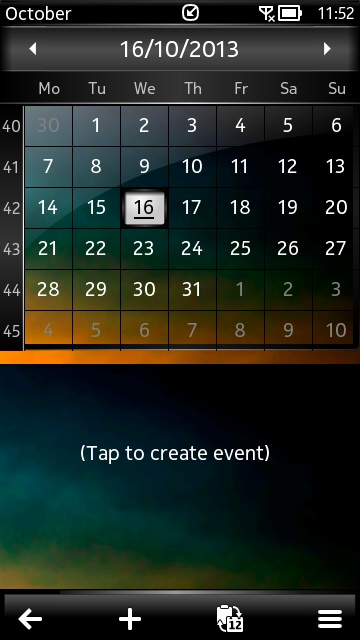 Two standard Symbian screens with the Delight theme in place.
Although not apparent in static screenshots, there's lots of attention to detail and tweaks which wouldn't look out of place on the latest iOS 7 or Android devices - flashing transitions and bevelled toolbars. It remains to be seen how much of these stay in place on my device (theme transitions, although very slick, might be first to be axed!)
Some selected highlights from the changelog:
fixed 101f874b.txt (calendar usb sync)
added new widget skins
added Webview widget small 4x3
added Delight Theme
added Delight conversation skin
added latest MiniCMD version
Delight exclusive apps (Resolver, Backup, Restore & Updater) now within a dedicated DelightApp
added FP2 widget skins option to selector
added 3x4 and 4x5 menu options to selector
completely updated Delight effects
These are all, of course, on top of the existing extensive additions made for earlier versions of Delight, including:
Integrated ROMPatcher (this means custom mods can be patched in easily, a few are included here)
Integrated installserver.exe (so unsigned

widgets

and apps can be installed)
ID3 and EQ editor mods
added various screensavers (Animation, Slideshow and Music Player)
Tweaked Music player for Symbian's sound parameters, with more output volume
Unlocked app menu (so you can create subfolders and rename all apps)
No more USB popups (but you can still see/change the USB mode in use from the notifications pane, of course)
Filemanager extender, so you can access any file in any part of the file system, even in the ROM (Z:)
Exclusive Delight theme effects
Various performance, scrolling and camera quality mods
Music folder search changed to just look in E:\music\ and F:\music\ (for performance reasons, and to stop extraneous sound files showing up)
The web browser cache is made infinite and moved to mass memory
Voice Recorder mod (5 hours max, 256kbit/s)
Unlimited SMS sending retries (rather than the standard three)
Send protected files (e.g. via Bluetooth, saves having to rename them first!)
Java permissons mod (to avoid the Java pop-up when starting an app that wants to go online?)
Runs with the Nokia Pure font
Wi-fi tethering for enabled for USA devices (which had been locked down by carriers?)
22 more Music player Equalizer settings
DLNA Play app added
Latest versions of Maps and Store are baked in
Max. 10 homescreens now
Removed from the firmware: Nokia Social, F-Secure, Youtube, Nokia Music, Joikuspot Lite, Microsoft Communicator, NFC tutorial, Adobe Reader, Quickoffice reader, Cpix and Bouncing boing battle, among others.
X-Plore 1.60 file manager included
Connectivity Analyzer included
Internet Radio included
Widgets baked in (over and above the stock firmware): Anna Notifications (incl. Belle Icons), Anna Notifications 2*2, Calendar small, Clocks: analogue – small, small digital, text small, Contacts mini, Contacts Communication, DLNA server toggle, WIFI toggle, Mail (one line and two line versions), Music player compact, Vertu Apps Launcher (favourites and most recent, this is from the official Vertu Constellation device), Torch, Stopwatch, 'Mirror' (you may recognise several of these from official Nokia widget update packs)
Official Messaging and Calendar patches included
Phew!
In addition to the performance benefits and other tweaks listed here, the advantage of custom firmware at this stage in Symbian's life is that it's easy to install 'unsigned' applications, low level applications which won't be able to be signed at all after January 1st 2014 because of Nokia's Store close-down to new content. In addition, you're also completely independent of Nokia's own firmware track - which seems to have stalled permanently anyway. You're now on the Delight firmware track - and, indeed, can in theory update using 'Update software' in Phoenix rather than having to refurbish.
Comments welcome.