Written in May 2010, some tweaks to fix broken links November 2012...
My Nokia N82 journey has been a long and slightly twisted one, if I'm honest. At first, I hated the styling (mainly the buttons, colouration and d-pad). I then tried the black version (shown here), which rectified the colouration issue and Nokia had tweaked the build to fix the d-pad problem - and I ended up almost reversing my position. This last article was exactly two years ago though - an absolute eternity in the smartphone world.
And yet, I've recently gone back to the black N82 in recognition of its (still unique) qualities:
virtually indestructible form factor, plus lack of moving parts, i.e. nothing to break
90MB of free RAM - you don't see that very often in Nokia smartphones these days (non-Symbian users reading this, note that the OS is a lot more efficient than the competition - 90MB free is plenty for anything, enough for 30 or 40 running apps)
120MB of free disk space on disk C: (ditto)
hardware graphics acceleration (though, admittedly, few titles make use of this)
good camera with lens protection and Xenon flash
Plus, along with the N86, N95, N95 8GB and N96, there's
a good video camera with preset focus for shooting people (most Nokia phones now get set to infinity and people are a blur)
And, along with the N95/N95 8GB, 5800 and X6, there are:
decently loud stereo speakers
But how much has changed in the meantime? What have I been able to do to bring this 2007/2008 device into a working environment in 2010?

Firmware
Before going any further, the first activity has to be to update the N82 to the last firmware, v35.x.002, dating from November 2009. I say 'last' because I'd lay odds that no more N82 firmware will be released. The N82 doesn't have Over The Air updating (though it does have User Data Preservation), so you'll have to plug it into Nokia Software Updater or Ovi Suite to perform the v35 update.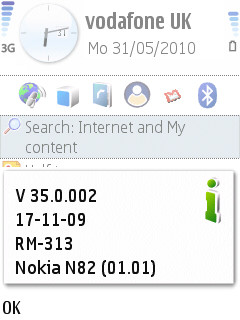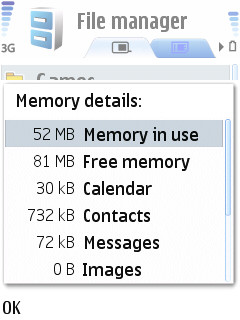 Capacity
The original Nokia N82 shipped with a 2GB microSD card, miniscule by today's standards. Add up video clips, music and maps and most of us manage to fill a 8GB card rather easily. Which is why I've stuck a 16GB card in mine. However, the N82, as a S60 3rd Edition FP1 device, had to make do with slow USB speeds, around 1MB/sec, which can be a nuisance when transferring large files. For mass transfer it's usually easier to take the microSD card out and stick this in a desktop-mounted card reader/writer!
Screen brightness
One quirk of the N82 is that Nokia artificially limited screen brightness to try and maximise battery life - a shame for those of us who like our displays vivid and don't care that critically about absolute battery life. You can see the full brightness of the display every now and then when something goes wrong (e.g. when crashing beta software) and, just for an instant, the error message is shown with full backlight, the OS's control being temporarily weakened.
I've even been tempted to 'the dark side', getting an certificate file for my N82 and signing the appropriate helloox utility, in an attempt to follow Internet instructions for changing the one crucial TXT file that controls the backlight limits. Sadly, about three man hours of effort later, all I got was a frozen utility and a phone of uncertain stability. I gave up and hard reset etc. If you too want to pimp your N82 in this way, take a full backup first and acknowledge that the way ahead is dimly lit at best (hah - no pun intended, re: the backlight brightness - see what I did there? I'll get my coat....)
In the meantime, we're left with a 2.4"-screened device that's definitely underwhelming in the display department. My solution (of sorts) was to make the very best of a bad job. In daylight hours, I figured that any theme that wasn't 100% pure white was simply wasting x% of the backlight's power (such as it is). Unfortunately, most 'white' themes for S60 aren't actually white - more a silvery grey, so immediately the display brightness/contrast is down by another 10 or 20%. Instead, I dug out 'White', an old, ultra-tiny, ultra-simple white theme of utterly unknown origin that dates from 2006. I can vouch for it though, having used it on many devices in the last 3 years. The only catch in installation is that you have to set your N82's 'year' back to 2006 or 2007 for a couple of minutes while you install, then set the year back to 2010 (or whatever) again afterwards. A minor inconvenience.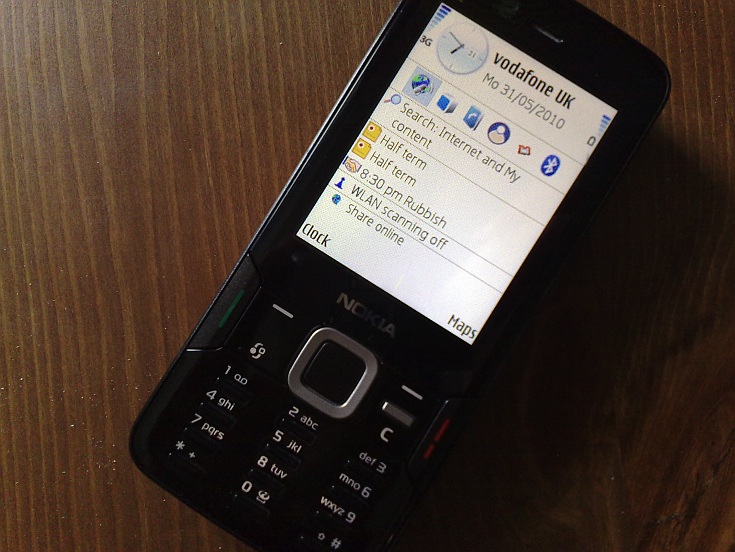 So, so black - and how to switch
Staying with the subject of themes, for evening/pub/event use (remember that the N82's Xenon flash means it's perfect for evening use, unlike 99% of other smartphones. Rant, rant......), I've found going the other way, to full black makes for a very cool look - the jet black of the case merges with the jet black of Tehkseven's Just Black theme.
Seasoned S60 users will point out that 'Themes' is buried in the OS settings somewhat, making switching between the two theme extremes somewhat cumbersome. However, they reckon without Sittiphol's excellent little stub utility 'Themes Launcher'. I assign this to a slot on my N82 homescreen and can then switch themes (according to it being daylight or evening) with only a couple of keypresses. (Again, the date trick is needed when installing - I think I went back to 2008).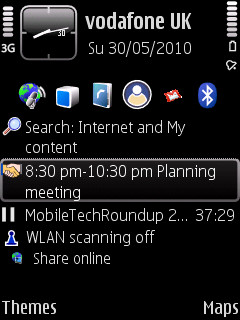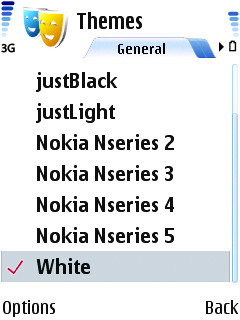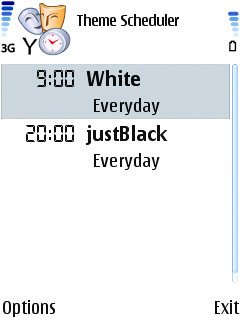 Footnote: in fact, in search of something more automated, I've been playing with Themes Scheduler from the Ovi Store (or free here with a little signing juggling) - this allows timed theme switches, so I've set up White to come 'on' at 9am each day and 'Just Black' to come 'on' at 8pm each evening. We'll see how we go....
Maps, maps, maps
Mapping is an area that has come on hugely in the last couple of years. v35 firmware for the N82 comes with a mature version of Nokia Maps 2 and works very well indeed for basic satellite navigation, with the only caveat being that real time voice guidance still costs real money, albeit not a lot - about 9 Euros per year.
The obvious area to pimp the N82 was to try applying the latest (official) Ovi Maps release for the device, v3.1. I tried this, fiddled around trying to get it all working but found the application unstable on the N82 - your mileage may vary, but be warned that I ended up having to hard reset the device and then rebuild - Ovi Maps isn't your standard standalone Symbian application and it gets its tentacles well and truly into the OS. My advice? Stay with the mature, working version of Maps in the firmware. You'd have to take the small financial hit with v3.1 anyway - it's only the newer v3.3 and later which are totally free.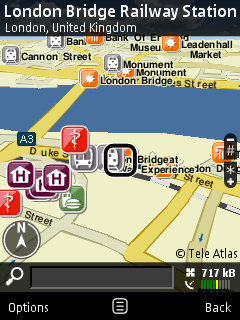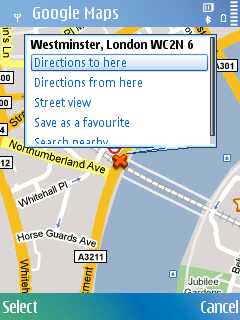 Nokia Maps 2 is still a very decent real time sat-nav, with POI subsystem; and Google Maps has come a long way since the Java-based v1.0!
Also much updated since the N82 was launched has been the totally free Google Maps, now up to v4.1.1, with the likes of Latitude support, built-in voice searching, Street View, Google Buzz integration and other 'layers'. v4.1.1 installs and runs perfectly on the N82 and is a no-brainer install. See m.google.com
As you'll have seen from Phones Show 112, I've also had a lot of fun with Viewranger, a bitmap-based off-road mapping system (that I know Rafe is also a big fan of) - see the video for a brief demonstration. With the N82's transflective screen (so it's great in the sun), with the abundance of RAM (Viewranger is heavy on resources) and with the general ruggedness of the device, it's the perfect Viewranger vehicle.
With the excellent GPS in the N82, plus Nokia Maps, Google Maps 4.1.1 and Viewranger, I'm pretty much good to go, on-road or off-road.
App Store
The rise and rise of the app store has been a feature of the last couple of years, of course. Nokia's Ovi Store didn't even exist when the N82 was launched, but a launcher for it appears in the latest firmware in terms of a redirect from the built-in Download! client. Of course, Download! itself is an app store and predated the iPhone's App Store by a couple of years, but Nokia didn't put anywhere near enough investment in it and it rather withered on the vine. The phone will lead you through the (somewhat time consuming - about 5 mins!) Download!-to-Ovi Store replacement process, as depicted here, but the upshot is that after a few minutes of installation time and after a restart, Download! will have vanished and the Ovi Store icon will have taken its place.
The Ovi Store client works pretty well on the N82, though you're limited to just the applications that work on non-touch S60 3rd Edition devices, of course. Still, that's a healthy few thousand and worth browsing round. Skype, shown here, is just one of the many cross-platform software stars now available for all versions of S60/Symbian.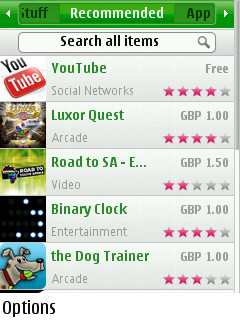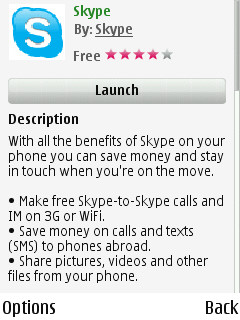 Email
People often talk of the way the S60 interface looks dated in comparison to the mobile OS opposition. But one of the biggest software limitations has been the way email is handled. In fairness, Nokia recognised the limitations of S60's built-in email client ("Messaging") a while ago and have been phasing in their cloud-based take on the concept ("Nokia Messaging"), in which an always online, push-based client syncs neatly to all your traditional and webmail inboxes. Well, that's the theory anyway. It's a complex piece of software and the journey from beta to full stable product is still not over.
Regardless, I threw caution to the wind and stuck the latest 2010 build of Nokia Messaging on the N82 - and it works pretty well. It even handles the small QVGA screen well, without too many limitations. You can get the software most easily by downloading "Email for Nokia" from the Ovi Store.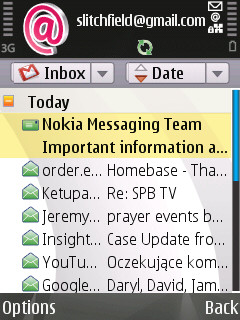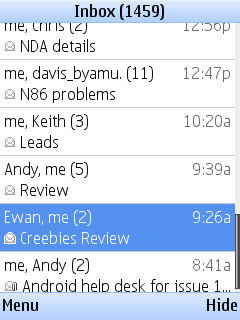 Mind you, since my email needs are (day to day) very simple - just Gmail, I have to confess to uninstalling Nokia Messaging and its voracious appetite for data connectivity, preferring the tiny but ultra-powerful Java-based Gmail client - if only because you can interact with the full range of Gmail functions, including starring email, adding emailed contacts and searching through four years of email - almost a hundred thousand emails - in a couple of seconds. You can get this here.
Radio, radio
When the N82 (and N95) were first announced, the only radio on the devices was the built-in FM receiver. This was very limited, mainly by the poor reception from the aerial - your headphone lead! Cementing the N95/N82 as a powerhouse smartphone platform for its time was the release, fairly early in the N82's existence, of the free Nokia Internet Radio - wonderfully, it introduced us to tens of thousands of Internet-hosted radio stations - if you're within range of Wi-Fi then you have all the radio you'll ever need.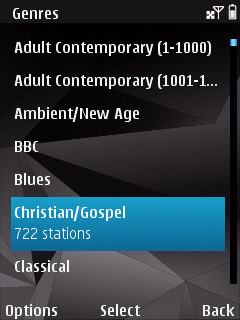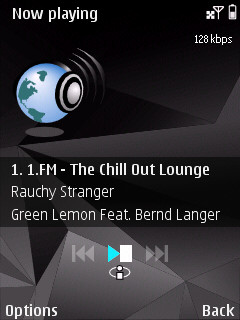 You can download Internet Radio for the Nokia N82 here. Grab and enjoy. In conjunction with the loud speakers on the N82, it's a potent combination.
Gaming
The N82 neatly spans the second (and final) age of N-Gage, which was being reborn as the N82 came into the world and which has just been torn down, now in 2010. The reasons for the failure of N-Gage for the second time have been gone into elsewhere on AAS, but suffice it to say that it's probably not worth you pouring money into N-Gage games this late in the day, no matter if a few of them were actually decent titles - you simply won't get the support.
The v35 firmware for the N82 still has the original N-Gage 'teaser' video/icon, but it's a distraction at best and I consigned it to a dark corner of the phone (moved it into 'Tools/Utilities'), freeing up a spot on the root menu for another icon of my choice - a dedicated 'Games' folder. You can make your own folders very easily in S60 by using 'Options > New folder' on the menu - and I find it very helpful to have all my installed games in their own folder. Thus, when I fancy a game of something, they're all in one place - and the game icons are also kept well away from my more serious application icons.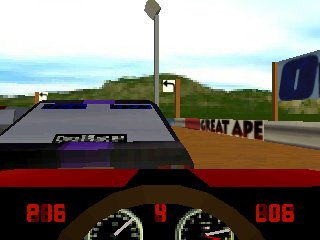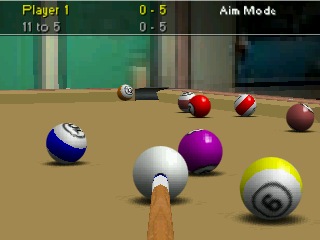 The N82, like the N95 before it, had a TI OMAP 2420 graphics acceleration chip - which helped out for video recording and playback and for a few graphical duties, but was hopefully also going to be used by some decent leisure titles. Sadly, the latter never really arrived. Oval Racer remains a favourite of mine and screams on the N82, but the screen size makes it a little straining to play. Virtual Pool Mobile is also a favourite, but - let's face it, the N82 was never built for gaming.
I've settled on the handful of modern, ancient and Java classics shown - I'm not planning any long N82 game sessions, but these will keep me amused while waiting inline or on journeys.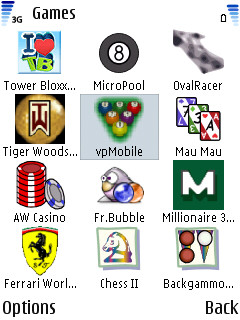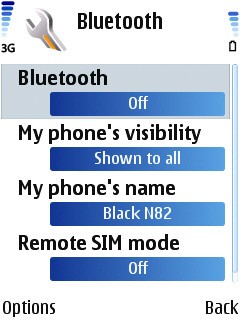 Battery life
As hinted previously, Nokia were a little concerned by the N82's battery life even at launch - the BP-6MT is rated at 1050mAh - more than that in the N95, though this isn't saying much. In practice, the N82 makes it through a day of heavy-ish use, but only just.
Having eliminated the screen as a major power drain (because of Nokia's artificial backlight limits), the wireless radios are the next thing to look at. On devices with battery capacity to spare (think Nokia E61i, E71, E52 or E55), I'm used to leaving Bluetooth turned on all the time even though I only use it a couple of times a day. On the N82, I leave Bluetooth turned off by default and keep a shortcut to turn this on from my homescreen if needed. In addition, from 'Settings>Connection>Wireless LAN', I keep Wi-Fi scanning turned off too. In other words, the phone connects to Wi-Fi only when needed - it's not regularly 'sniffing' the airwaves. This seems to me, to be a much forgotten power saving measure!
With these two radio measures in place, I've been quite happy with N82 battery life. As with other smartphones, when travelling into rural areas, I'd also be tempted to dive into 'Settings>Phone>Network' and set network mode to 'GSM' - the hunting for, and connection to weak 3G cell towers is a major, major source of power drain when you're away from the city, in my experience.
With older smartphones, either those that have sat on a shelf for two years or those that have been well-used, the worry is always that the battery is nearing the end of its useful life and not holding a full charge. Just for info, note that 100% original BP-6MTs currently sell for only £5 on Amazon, so it's almost a no-brainer to pick up a spare, either for swapping in permanently or for keeping charged for emergencies.
Homescreen widgets? You've got to be kidding
The modern trend (in 2010) seems to be to bring as much online information as possible to the phone homescreen. Typically, there would be your latest Twitter feed tweets, the subjects of the last few emails received, the day's weather forecast and any news headlines. Some of this information is present in the S60 3rd Edition FP1 homescreen in embryonic form - for example, the summary of Share online media updates, but things are otherwise quite static.
For the other functions mentioned, I have a shortcut to BBC Mobile set up as one of the homescreen shortcuts - the BBC site remembers my location and so this is a one-click way into both local weather and breaking news - plus there's TV and radio information as a bonus, never far away. The amazing Gravity, much mentioned in these parts, is also shortcutted, giving one-click access to Twitter, Facebook and Google Reader feeds. For maximum readability on the small N82 screen, I do take a moment after installation to set Gravity to use 'Full screen' and to use 'Large fonts'.
The result is a pretty useable homescreen and on-demand content system. All on a ruggedised camera champion from 2008.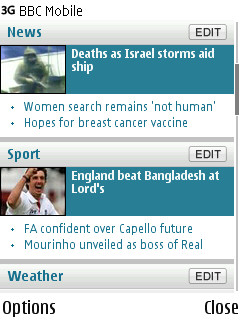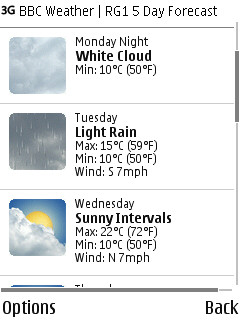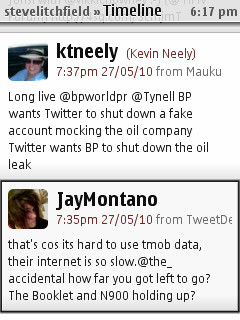 _______
Comments welcome if you have your own N82 story - how do you use this smartphone in 2010?
Steve Litchfield, All About Symbian, 1st June 2010