Here's the note on the BBC web site:
We've recently launched BBC iPlayer Downloads as our sole Desktop download service. We've concentrated on providing a service that allows you to download a programme, watch it and delete the programmes once expired. That's it. We believe that keeping it simple offers an improved and more reliable experience.

With specific reference to removing Windows Media Player download and Portable devices downloads, it was no longer cost-efficient to produce these downloads as they accounted for such a small number of download requests received.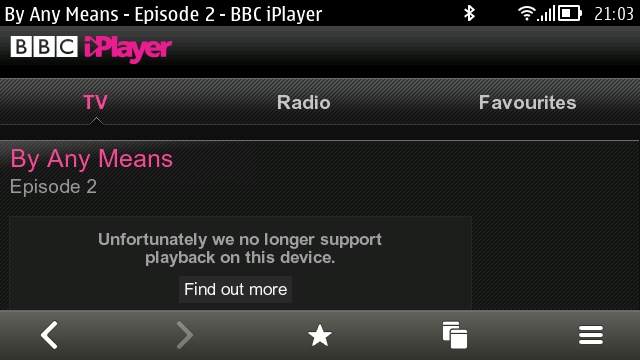 Going to a programme page now shows the error message shown above (in Web), with no 'Download' links on current programming. Note that if you follow links back to older content, there will still be some 'Downloads' offered, but in my testing the BBC's servers no longer serve up the appropriate viewing licenses now, so the resulting .WMV files are unwatchable.
It's tempting to lambast the BBC for not keeping WMV downloads going (after all, surely Symbian is not the only platform affected here?), but it should be borne in mind that iPlayer is a completely free service for end users that must cost a fortune in content production, in servers and bandwidth at the BBC's end.
Having said that, we UK users all end up funding the whole shooting match through our annual license fees, so perhaps it would have been nice to have been consulted or surveyed before each major change.
I doubt that watching BBC iPlayer content was a major part of most AAS readers' use of their Symbian smartphones, but it's disappointing to note yet another online service which has effectively become incompatible with our OS.