As ever, news of the update comes via the Flickr page (of all places!), with v0.9.9 bringing (over 0.9.6, previously reported on):
Fixed: Colour conversion from JPEG into application
Added: "Exposure" setting (which does a linear multiply of intensity)
Added: Open Page now has a full-screen view of the gallery
Added: Button on "file" page to switch between preview and original view
Changed: The buttons for the UI to use icons instead of text.
Added: "Saturation curve" slider which changes saturation of unsaturated colours
Added: "Dynamic colour space" slider which changes the dynamic effects from linear to CIELAB
Changed the shadows and highlights sliders to work better
Fixed the contrast slider to work a bit better with dark colours
Added feature to open images from the file system instead of the gallery if needed
Altered the exit option to wait for all worker threads to complete
Restructured some of the filter code to do luminance map separately and be able to be colour space converted
General bug fixes
In addition to this impressive changelog (in less than a month), there's now some decent documentation for PhotProc in the form of an illustrated 'wiki', online here. Here's a typical screen grab: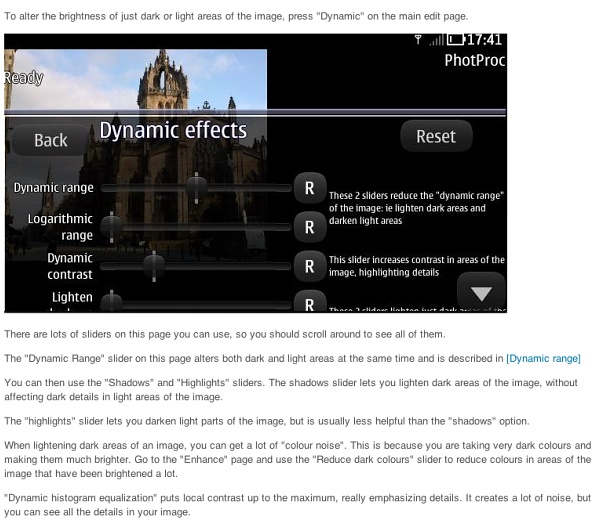 Great to see this appear, especially in advance of (presumably) the big v1.0.0 release. The developer's still touting for alternative app names, by the way. I'm in favour of simply adding an "o" in the middle, making it easier to say, i.e. "PhotoProc". Or even "PhotoProc 808"? Comments welcome.
You can download this latest version of PhotProc from its sourceforge home page here.
Also posted to the Flickr thread were a number of 'before/after' examples of PhotProc's use, here's one such, to whet your appetite: