Since the 1.3 update (which included a new week view without timeline view) that we reported on, there have been numerous point updates to Business Calendar improving its performance. You can find a full change-log of updates on the developer's website, but here are the highlights of the updates made to Business Calendar since we last covered it: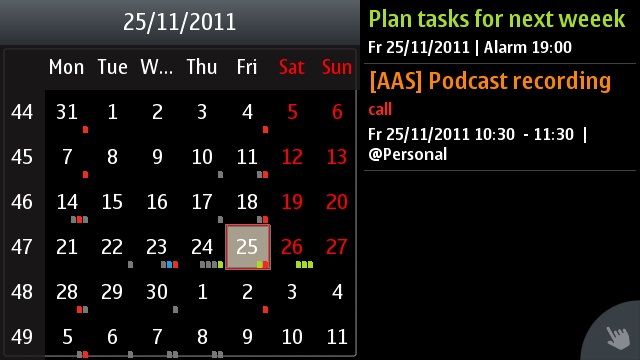 Month view

Business Calendar 1.3.1:
automatic re-size of days in weekly list according of appointment count
adjustable default appointment type (event or to-do)
over due tasks displayed on current day
double click in week and month views on header of the day goes to day-view
holidays also from United Kingdom, Netherlands and Denmark
appointments can have start time equal to end time
after appointment saving go to date of the event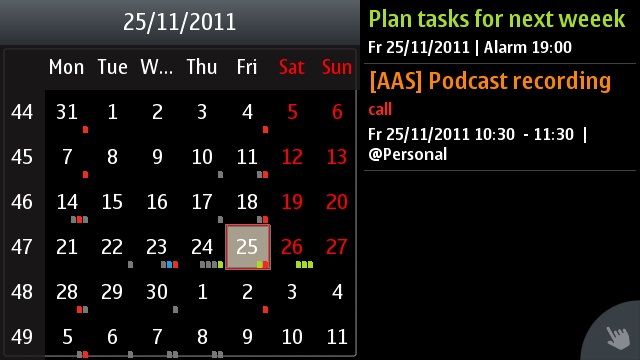 Week view, block mode

Business Calendar 1.3.4:
for E7 users - Enter opens new appointment
for E7 users - space-bar jumps between currently viewing day and today's date and vice versa
Norwegian language version
displaying of "age" at anniversaries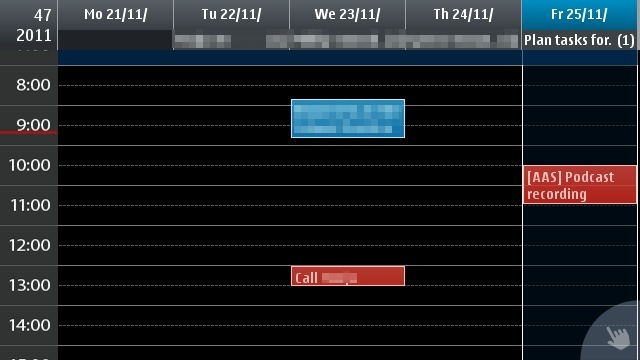 Week view, time chart mode

Business Calendar 1.3.5:
Business calendar available also for E6
fixed storing of completed tasks
fixed bug in subject field on E7
repeated yearly entries were not always correctly opened in month-view
Business Calendar 1.3.6:
split screen for appointment edit
all fields are now multi-line, the scrolling on the editing screen works now fine
month view crash bug fixed - when GB and NL holidays were displayed
Following versions up to 1.3.9 have been bug fixes, which is good news as it shows this important application in the Symbian ecosystems is still a living project. Why important? Other platforms have a good number of alternatives to the operating system apps (i.e. PIM and Email apps), and this is an area that Symbian has been lacking in for a long time, and so having a powerful calendar app that actually has a better future in terms of updates than the built-in calendar app!