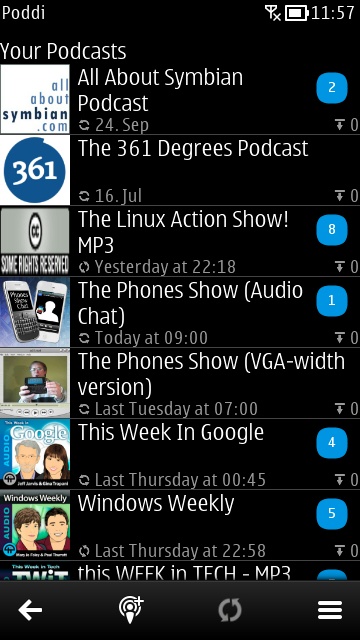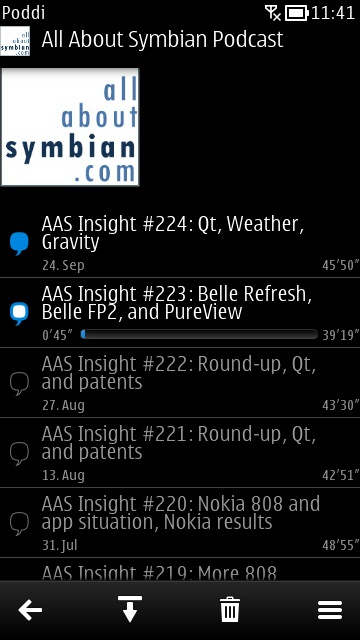 Poddi 1.1.0 Changelist:

Features added:
- OPML import: Read your existing subscriptions from Podcatcher, etc. (Export not provided yet)
- Playback now has short-skip function (forward or back by e.g. 30/15 sec)
- Download manager allows multiple simultaneous downloads.
- Automatic download of new episodes
- Automatic deletion of old episodes
- Extensive settings UI to configure all of the above
- "All new", "Never Played" and "All Downloaded" episode lists added to front page
- Podcast feed summary can now be viewed (long-press on the podcast feed in "Your Podcasts")
- "Mark all old" feature for episode lists

UI Improvements:
- Download manager allows individual downloads to be paused, and resumed later.
- Choice to delete partially-downloaded files rather than continue downloading.
- Headset << and >> buttons now perform "Short skip" rather than "Next/previous episode"
- Download of single episode must now be confirmed - single tap shows episode summary, with option to download.
- Long-press menu added to items on podcast list ("Show summary, Check for updates, Download new, Mark all old, Unsubscribe")
- Download options improved: "Download new", "Download all" or "Download selected items"
- Delete options improved: "Delete old" added in addition to "Delete selected items"
- Add podcast button is now present on front page or podcast list.
- Long "Add podcast" button now shown only when podcast list is empty.
- "Now playing" preview, and "Current Episodes" lists now show podcast name as well as episode title.
- Various small cosmetic improvements.

Bugs fixed since 1.0.0:

- Fixed hang/crashes when download requests are redirected to missing resources.
- Fixed extreme slowdowns during playback.
- Performance improvements in Unsubscribe function
- Removed unstable behaviour and crashes when juggling multiple downloads
- URLs that don't point at actual files, and URL targets that rename their content, now handled correctly.
- Better support for RSS episode timestamps that don't conform to RFC-822/EN
- Removal of damaged or non-existent item URLs from episode list
- Unsubscribe now also deletes partially-downloaded items
- Artwork fallback image is now always used when cover is missing.