Review:
S-Tris 2 for S60 3rd Edition Review
Score:
83%
Yeah yeah yeah, S-Tris 2 is another Tetris clone. But this is a pretty good one, it's available for every Symbian platform, and to top it all it's freeware!
Version Reviewed: 1.55
S-Tris 2 for S60 3rd Edition Review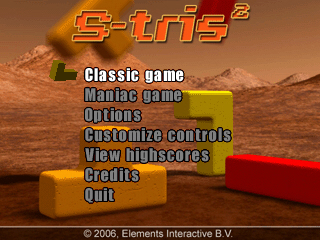 A very wise person once said that if you don't know what Tetris is, then you're either dead, very close to dead, or living in Peterborough and probably an estate agent.

S-Tris 2 is a freeware Tetris clone from Dutch smartphone developers Elements Interactive, and is available for pretty much every Symbian platform and screen resolution: S60 1st/2nd, S60 3rd (176x208, 240x320, 320x240, and 352x416), UIQ2, UIQ3, Series 80 and even Series 90 too. You can get all of these versions and more, right now, for free, from Elements' S-Tris 2 download page.
Other smartphone sites would stop there. However, here at All About Symbian we like to give exposure to freeware games as well as commercial games, so we're going to do a short review of S-Tris 2.


Gameplay
In case you ARE an estate agent from Peterborough, Tetris is a game where you try to arrange falling blocks of various shapes so they form horizontal lines. When the blocks stack up all the way to the top of the screen, the game ends.

Elements have added some extra features to the usual formula, including a shadow which lets you know how the block would fall in its current orientation, and a grid so you can line up drops exactly. Both these features can be switched off if you prefer a more classic-style game.

As well as the normal mode, there's also a maniac mode where there are a few non-standard blocks sprinkled in with the usual shapes, which makes life more difficult for people who've already conquered normal Tetris.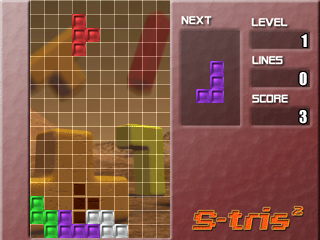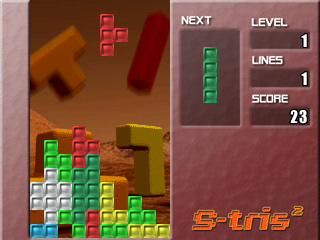 You can see both grid and shadow options switched on in the left picture, and switched off in the right.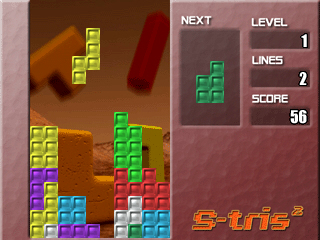 S-Tris 2 in Maniac Mode, with some rather odd-shaped blocks in amongst the normal ones.
Graphics & Sound

This isn't really a graphics-oriented genre, but S-Tris 2 has been done competently: the colours and shapes are totally clear, with nice backgrounds that don't interfere with gameplay. On S60 3rd Edition QVGA devices you can download a version to suit your preferred screen orientation, either 240x320 or 320x240.
As with the graphics, the sound is nice enough although nothing to write home about. There's an unobtrusive techno track in the background with sound effects for various game events.
Television Out Test

If you have a Nokia N93, N93i, N95 or N95 8GB you can use any of their functions, including gaming, through a television set thanks to their TV Out feature. This feature works on any set with a composite or SCART connection (SCART-only sets will require a very cheap composite adaptor however).
S-Tris 2 works through a television set with no problems at all, and it looks very nice too. However, the TV set makes no difference to the gameplay as the Tetris genre has never required a big screen.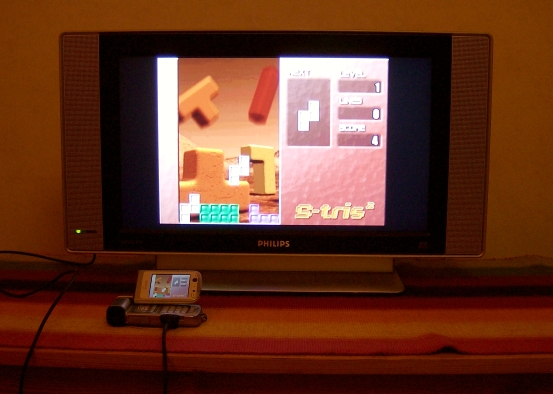 Overall
S-Tris 2 is a well-executed version of a classic game, with support for every Symbian device and resolution, as well as quite a few other platforms too (heck, there's even versions for the GP2X and Gizmondo, though perhaps tellingly there's no Palm version). As well as the core gameplay, it has extras which should make it interesting even for experienced players. And, to put the icing on the cake, it's totally free.

If you like Tetris and you have a Symbian device, any Symbian device, do yourself a favour and download S-Tris 2.
AAS Score: 83%

PS: You can see a video of S-Tris 2 in action over on the Unofficial Nokia Gaming Blog.
---
About this review:
The game reviewed here was the Symbian S60 3rd Edition version of S-Tris 2. It was reviewed on a Nokia N93. The screenshots are taken from the horizontal QVGA version, but the game is also available in a vertical QVGA version, and in other resolutions too.
S-Tris 2 is freeware, it costs nothing.
S-Tris 2 for S60 3rd Edition can be downloaded from this link.
There are also S60 1st/2nd Edition, UIQ2, UIQ3, Series 80 and Series 90 versions on the same site.
Reviewed by krisse at