Review:
Nokia N97 Review - Part 1 - First impressions
It's Nokia's 2009 flagship and it's finally here. Steve Litchfield excitedly rips open the (eco) packaging and sets to work to deliver his first impressions...
OK. Take the Nokia 5800 XpressMusic, now well known and loved. Add:
a larger screen (3.5" rather than 3.2")

32GB of internal flash memory (yes, 32 GIGABYTES)

a functional slide-out qwerty keyboard

a mechanical d-pad for game playing

a more sensitive resistive touchscreen layer

a much better stills camera (5 megapixels, large aperture)

a metal screen surround, with higher quality buttons and better build quality generally

microUSB charging

a compass

a bigger battery (1500mAh, rather than 1320mAh)

a new, much better widget-based homescreen

N-Gage applications, the Nseries image gallery and other associated applications

improvements to Web, with kinetic scrolling

... and you've got the N97. That's quite a list of improvements. The big question is whether the improvements are worth the extra £200 or so that Nokia are asking for the N97, SIM-free. Arguably yes, I've been impressed so far (a few caveats below not withstanding), and with many people eventually getting the N97 on contract, in which case it will be 'free', the price issue will all but go away.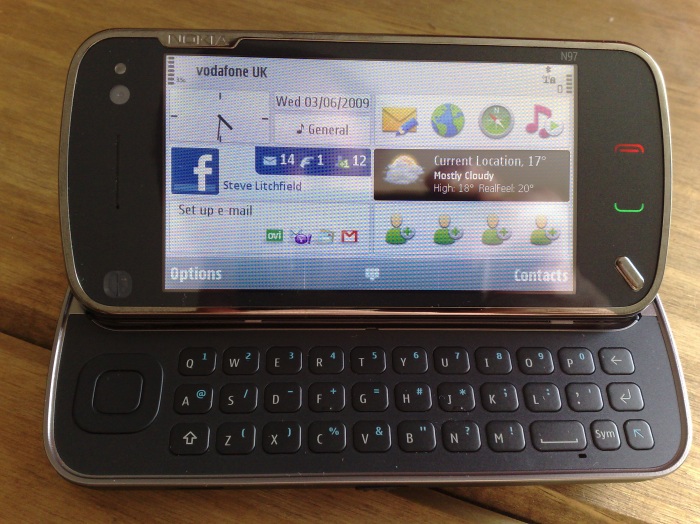 What follows is my initial tour of the Nokia N97 and my thoughts along the way. Over the next two weeks, we'll have further review parts, looking in more detail at every aspect of the N97.
In the hand, the N97 adds a few extra millimetres in width (allowing for the larger screen), in height (ditto) and in depth (due to the qwerty keyboard), but the overall device is still great to hold, with the bottom of the rear face curved downwards to both provide a natural handhold and stabilise the N97 when on a desk being typed on. It's still quite a bit narrower than other competing full-face devices, e.g. the iPhone, but the difference from the 5800 is enough that the N97 feels less of a touchscreen phone and more of a miniature tablet computer.
One with a rather well hidden secret. There's a hinge mechanism (with struts apparently made from a metal alloy, thankfully) and the screen slides and tilts up, as shown above. The thing is - the build quality of the mechanism is so high that it takes a few seconds for you to even work out which way the screen slides - the fit when closed is that tight. Some great mechanical design here and one which I'm sure Nokia has patented. HTC and Apple, to name but two, will be eyeing up this design enviously. It brings to mind the great Psion palmtop designs of old and, like the Psions, there's a ribbon cable allowing the magic to happen while keeping data flowing to the screen. However, we're talking a ribbon cable with more maturity and suppleness than the clumsy component in the Psion - so I don't anticipate ribbon cable problems here. Here's a shot of the cable itself: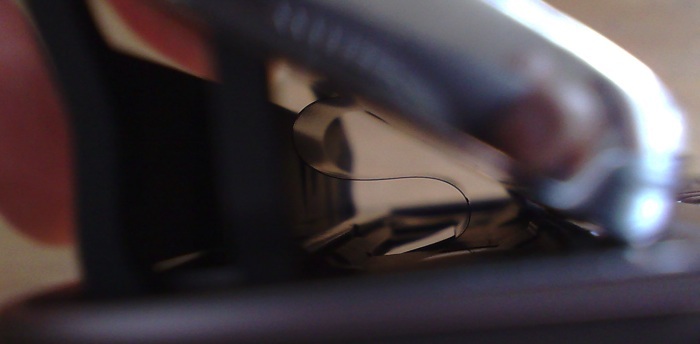 One side effect of the stable and sturdy hinge is that the space available for the qwerty keyboard is rather restricted, in terms of rows of keys. A further restriction comes because of the need for a mechanical d-pad (needed for compatibility with all the N-Gage games). And then, because of the sliding mechanism, the keys are constrained vertically as well. The end result is a keyboard that's constrained into a rectangle measuring only 85mm by 20mm, with key travel being only a millimetre.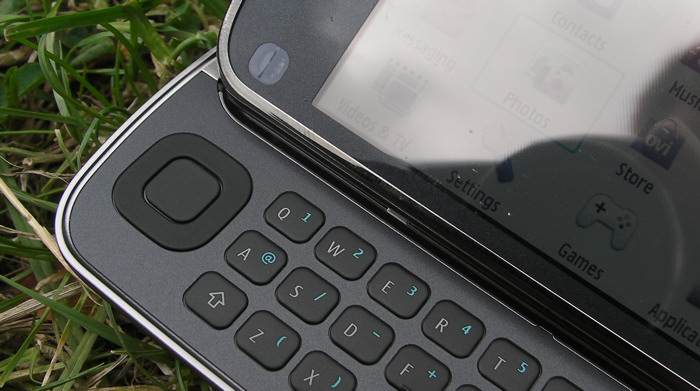 It's all a far cry from the Psion Series 5mx, an old device which, ostensibly, this has a lot in common with. Qwerty keyboards have been steadily declining in size and usability in portable devices - the N97's is only slightly quicker to use than the on-screen 'virtual' qwerty of the Nokia 5800. In part, the lack of speed is because of the size, but it's also because of the weird layout imposed by only having three rows: the space bar is shuffled off to one side, for right thumb use, for me the single most frustrating element of the design - in fairness, you do get used to it, but having to relearn where the most commonly used key is located is annoying.
Another design element which would have been trivial to fix is that the current key legends are comparatively small. They look clear enough in the photos, but use the N97 in real life in average light and your eyes have to be pretty good to always see which key you're about to hit. Larger letter legends would help enormously here, Nokia. Changing the key layout and then making the legends tiny is not a good combination... It's worth noting that in, low light, the keys are backlit beautifully and the experience is transformed, with no visibility problems.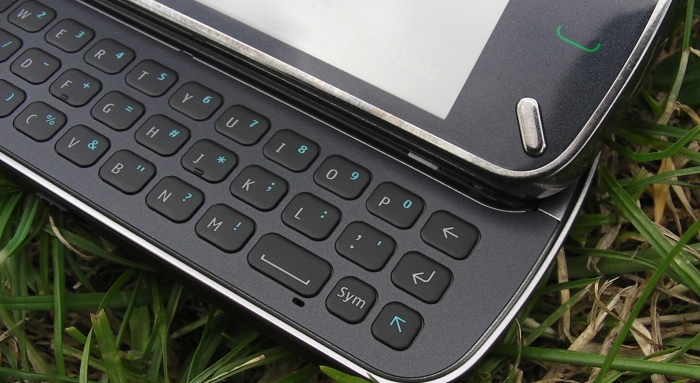 To re-iterate what I said in the podcast yesterday, the Nokia N97 is better seen as a touch-screened Nseries device that happens to have a d-pad for gaming and a miniature qwerty keyboard for ad-hoc use, rather than as a crossover upgrade from an E90 or E71, both suited to much longer text entry - coming from either of those smartphones you'll probably be frustrated by the keyboard here. It's fine for short text messages, but writing anything longer would drive me crazy.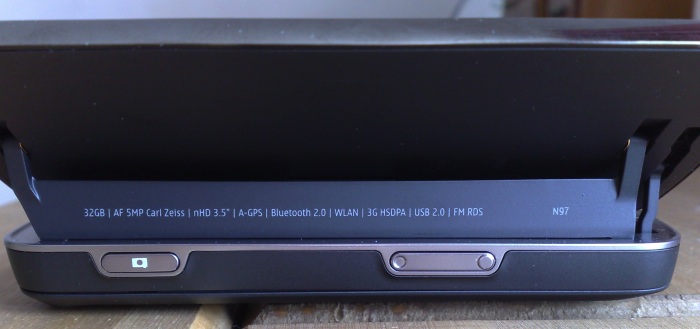 The other effect of the hinge is, of course to angle the screen, Psion Series 5-style, so that it's automatically at a good angle for viewing when sat at a desk. I found that using the N97 in this mode, with the screen raised (as in the top photo here) was fairly practical, even though you have to brace the device slightly for finger taps in the top half of the screen.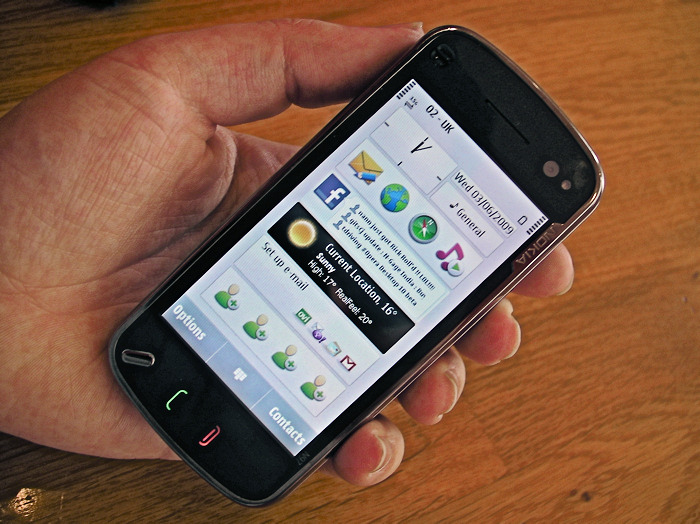 The screen is still TFT LCD and with a resistive top layer, of course, but the N97's component is of much higher quality than that in the 5800 XpressMusic, with the result that it's slightly more responsive to finger taps and drags, and with there being significantly better contrast outdoors in bright light - although the TFT does get harder to see the more you angle the screen into the sun, it stays clear for much longer than the 5800. This is especially valuable when taking photos or video, as the chances are that you'll have the sun behind you. Of course, a transflective screen (such as on most traditional S60 phones or on the Apple iPhone) would have done even better - maybe making a resistive transflective screen is a problem? Anyway, perhaps that's an option for a future device - I don't think many people will be too disappointed by the N97's screen overall.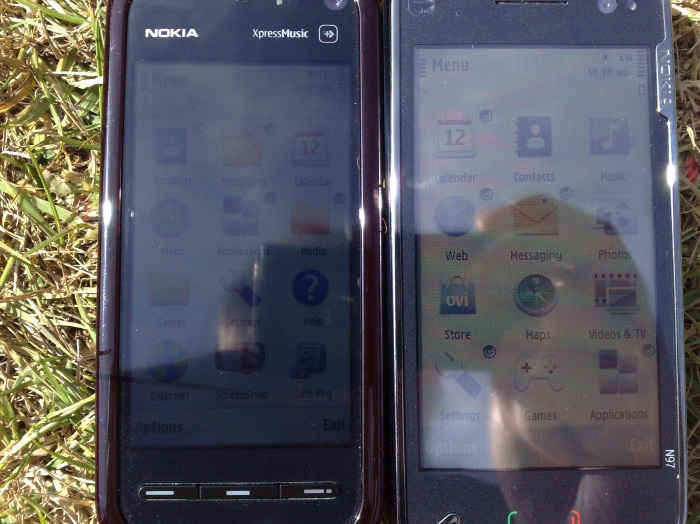 The cameras in Nokia's Nseries smartphones haven't really improved much since the classic N95 - the specification has remained identical, while we've seen minor variations in colour handling and video focus. We now have dual LED flash, which is obviously better then single LED, but light years short of the Xenon flash on the N82 and 6220.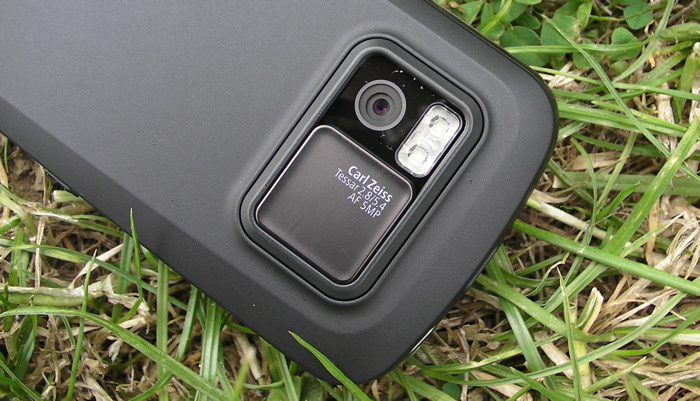 In use, stills results are excellent and even better than those from the N95, with slightly better colour accuracy, to my eyes at least. Here's a sample photo from the N97 from this morning: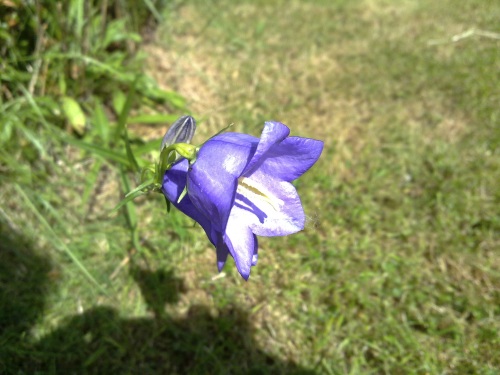 click to d/l or enlarge...
There will be much more on the camera side of things in a future review part. Video capture is at the same spec as on the 5800 - with no initial focussing yet again and with focus set at infinity - I much preferred the N95/N82 style capture, focussed at a metre or so and aimed at making people in focus rather than the distant background, but I guess it depends on what you want to shoot. Those looking for initial focus in video mode will perhaps be looking at Samsung's i8910 HD instead. Here's a brief (overcast but bright) video clip shot on the N97 in its default widescreen mode - again, wait for my review part for detailed samples in wider light conditions.
Of special note is that the sound levels in recorded clips are too low. I'm really hoping that this is a software issue that can be fixed in firmware - maybe levels were set low so as to cope with people recording video at concerts, or maybe the automatic gain control is just not working right yet?
Also of note in the N97 on the hardware side is the huge 1500 mAh battery, the same one as in the E90, E61i and E71 - it's a proven power source and it's good to see here. Battery life shouldn't be an issue.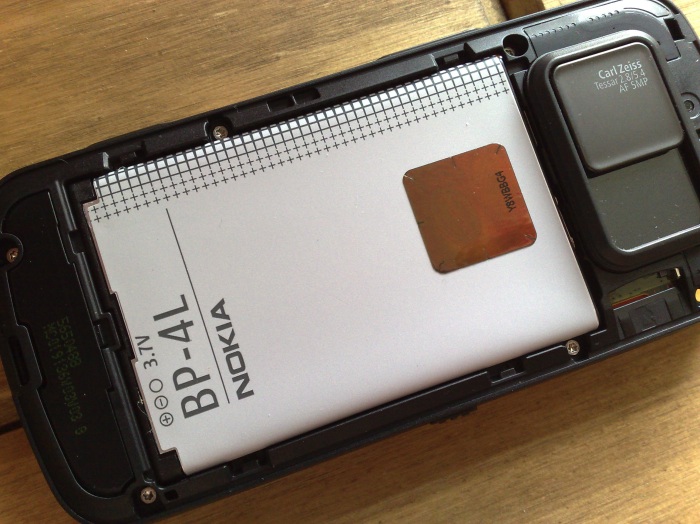 In terms of processor speed and general performance, the core chip runs at almost 20% faster than that in the 5800, resulting in a speed-up that's noticeable. Everything's that bit snappier and most of the time I had no complaints about the speed of S60 5th Edition. Free RAM after boot-up (and after all homescreen widgets had loaded) was 46MB, but I'd expect this figure to rise in future firmwares, up into the mid 50MB range, at least.
Is 50MB or so of free RAM enough? This is an argument that could run and run. 95% of users will have no problems, but power users will start hitting the limits in normal use. For example, running up Web (with a big page loaded), the N-Gage client, Music player, plus the Ovi Store and a few PIM applications - a not unreasonable workload after a few days of use) - results in some of the initial loads (Facebook, AccuWeather, etc) being closed down, to save memory. As the firmware is tightened up by Nokia, I'd expect the free RAM to rise and these minor issues to go away. Yes, Nokia could have stuck in another 128MB of RAM, as Samsung did with the i8910 HD, but there are cost and battery life implications. A tough one to call.
Taking a long hard look at the software bundle in the N97 is something that will take us a few review parts to get through. However, here are some of the standout highlights, bearing in mind that this is a 'first impressions' piece: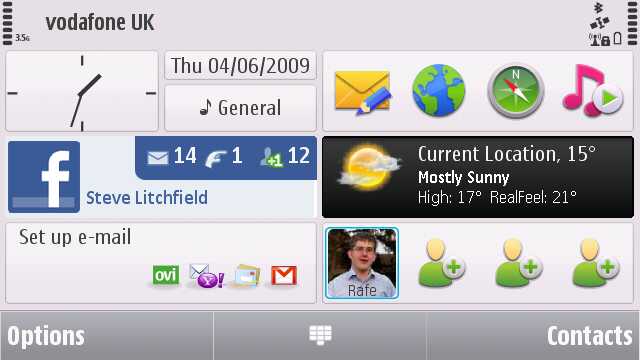 Homescreen - never mind the schizophrenic mess that is the 5800's home screen, the N97 nails it here. Mixing live social panes (e.g. showing current Facebook messages, Hi5 and more...), live weather (via AccuWeather) for your actual location, application shortcuts, email and more, you'll never have used the home screen so much. Great job. GREAT job. And a single side swipe removes all the widgets, for both privacy reasons and so that you can admire any wallpaper. Very neat. I dearly, dearly hope that this homescreen also finds its way to other Nokia S60 5th Edition devices...
Web - as Rafe already reported in detail, Web now has kinetic scrolling, plus other enhancements, such as defaulting to full-screen view once a page's HTML has been parsed.
Maps - although still v2.0, it now works in landscape mode as well. Hopefully this can be retrofitted to the 5800 in the next firmware.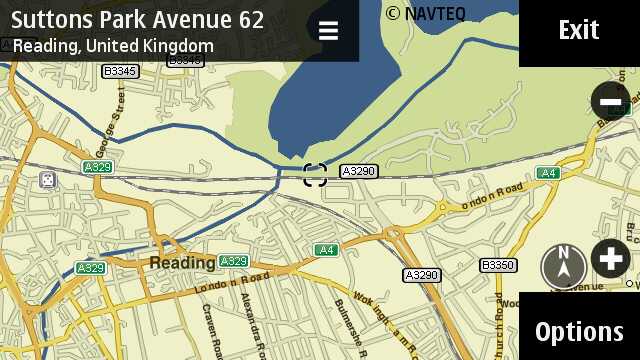 N-Gage - the client for this is built-in (at least on our retail review model - this may vary according to markets) and all N-Gage games that I tried seemed to work fine. No doubt there is room for fine tuning here, not to mention games which actually use the full screen, but it's a start.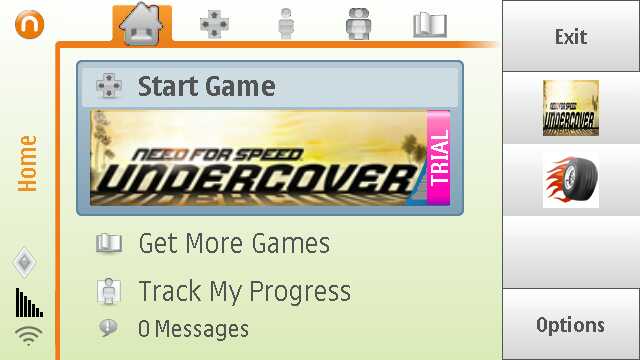 Nokia Drawing - a new, simple utility that lets you do quick sketches. More on this in due course.
Quickoffice - as usual with Nseries devices, it's the viewer only, v4 (so no Office 2007 file compatibility), though an editing version is/will be only a paid upgrade away.
Third party bundle - from JoikuSpot to YouTube to Amazon to AP News to Qik to Boingo, Nokia has sensibly rounded up some of the best free apps and widgets and pre-installed them. About time. With the Ovi Store also now in the firmware, more users than ever before will finally get to grips with third party software.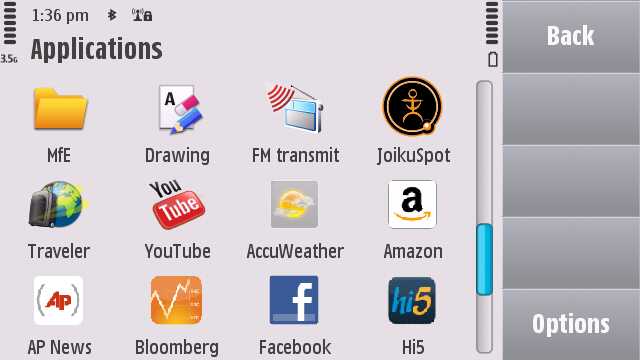 Summaries
Pros

Cons

Super screen in most light conditions

Great build quality

Mature camera system

Powerful battery

32GB of flash memory
Good external buttons and d-pad

Terrific homescreen 'live' widgets

Good third party application bundle

Kinetic scrolling in Web, Ovi Store and other Webkit-based apps


Fiddly, non-standard qwerty button keyboard

Video camera focussed on infinity rather than on people, sound volume problem

Relatively low RAM
Cam-based hinge with ribbon cable - however strong, there's the possibility of breakage, failure and dirt/dust ingress - better treat the N97 nicely, everybody!
No TV out cable supplied in the box
Immature firmware (typically true of any phone at first, of course)
Low stereo loudspeaker volume and quality
Am I excited by the Nokia N97? Yes, on the whole, in terms of specifications, it offers a huge step up from my current 5800 XpressMusic, with comparatively few disadvantages - this packs a frighteningly large amount of technology into such a small box. Is it the perfect Symbian smartphone, one that will please everybody? The usual answer: No. Camera fiends will be looking for 8 megapixels and above, preferably with Xenon flash - for them the N82 (or new N86 8MP) is still the best real world camera-toting Symbian-powered smartphone. Email and office fanatics will be looking for a much better (and more standard) qwerty keyboard (see the comparison photo below - the E90 still reigns supreme here, among Symbian phones, at least, with the E71 and E75 snapping at its heels). Music fans will find the 5800 XpressMusic better and (much) louder and with the instant access media bar, or might prefer the dedicated hardware music controls on the potentially underrated N96 and older N95 family. But between these extremes, there's a big space in between where the N97 will do almost everything a lot of people will ever ask of it.
The original N95 was a watershed device that opened people's eyes to what was possible in a world of uninspiring options. We've mentioned the N97 in the same breath in our podcasts, but I'm starting to think the comparison isn't that appropriate. The world of large touch-screened smartphones is itself fiercely competitive these days, and many of them rock a qwerty keyboard too. Will the N97 stand out? It's certainly a desirable bit of kit and, with significant firmware and feature love from Nokia in the next 12 months, might well have the staying power that the N96 seemed to lack.
Steve Litchfield, All About Symbian, June 2009
PS. Watch this space for our formal review, looking at every aspect of the N97's hardware, software and services over the next month.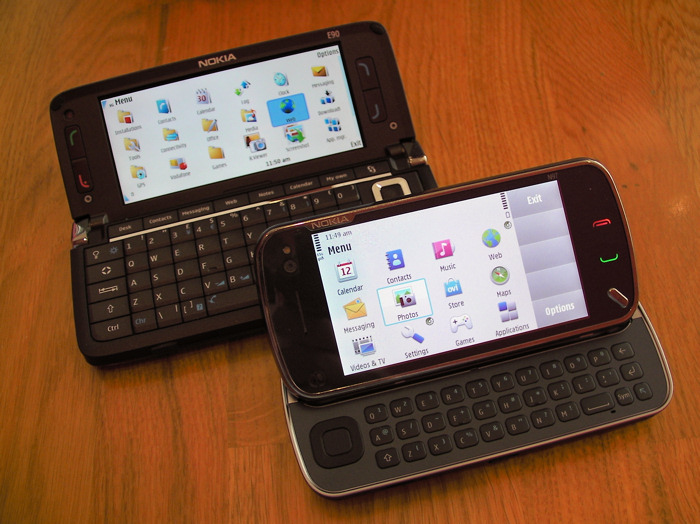 Reviewed by Steve Litchfield at