Review:
Nokia E70
Score:
88%
Steve Litchfield explores the gull-winged Nokia E70 communicator - the De Lorean of the smartphone world? [Updated review because of major new second generation firmware]
Version Reviewed: 2.0618.07.10
Weighing a light-ish 127g and finished in a similar silver plastic to the E61 (another in Nokia's Enterprise range of S60 3rd Edition smartphones), the E70 certainly looks the part, in terms of functionality taking precedence over form. Having said that, it's smooth-sided and not that unattractive, with the worst offender being the 'ears' on each side of the screen.
At heart the E70 is a fairly standard S60 3rd Edition Eseries smartphone, with the full set of PIM and Enterprise-focussed applications, including the new S60 Office suite and licensed versions of Handy Expense, Zip Manager and WorldMate. See our E61 review for all the gory detail of the platform, hopefully most people reading this will know the drill by now - S60 3rd Edition is slicker and prettier, with better support for different screen sizes, but has a slightly more limited range of third party software available (though in practice this mainly means less games). The display's impressively high resolution at 352 by 416 pixels and all S60 screen elements are nicely drawn and smoothly finished off.
The kicker comes when you open the device up. As you'll have spotted from the pictures, the numeric keypad lifts up and over the screen in 'gull-wing' fashion, creating a two-part qwerty keyboard that's surprisingly useful. The 'flip' hinge is very sturdy indeed and the keyboard locks nicely into the flat position, ready for holding in both hands and thumb typing. As soon as the keypad is lifted, the display starts to change, and after a couple of seconds delay the S60 interface appears again but this time in landscape mode, as appropriate for keyboard text entry.
The delay when switching only really occurs once, it's less than a second thereafter [remember, this is the updated review now that v2.x firmware is freely available for the E70]. The reason for the slight delay the first time you do this is perhaps related to the way the interface flipping has been implemented on the E70. My guess is that a whole new instance of much of the interface is launched when switching to landscape mode, and this can take a couple of seconds the first time. It also takes a couple of seconds when opening the keyboard when the closed phone is in 'locked' mode, with the OS taking a while to 'intelligently' remove the key lock.
You'll also be down by 4MB of RAM while in landscape mode, which is a bit of a shame, though not usually a major problem. If you're planning on using Web a lot in landscape mode then you'll start hitting RAM limits and other applications in the background might have to be closed by the OS, but otherwise most people should be OK, with only minor inconveniences. The now familiar next-gen Web browser from Nokia seems to be the biggest culprit in terms of RAM, by the way, and it's a real shame Nokia didn't more more memory in to allow for this - the E70 is a business device, after all, and its target user will want to do a fair amount of W-LAN web browsing on heavyweight sites.
Being able to work in either portrait or landscape has its own advantages, of course, with some applications (Documents, Web) working better in traditional desktop aspect ratio.

In candy bar mode...

And then with the keyboard opened out...
The keyboard itself is top notch, with nicely shaped keys, reasonable key travel and even a dedicated row of number keys at the top. Again we come back to form factor though, as the split nature of the keyboard does mean that you have to make some adjustments to your thumb typing style. Until you get really fast and memorise all the key locations, your eyes may start to get tired constantly moving backwards and forwards between the two halves of the keyboard. When in dim light, the entire keyboard lights up with a gorgeous white backlight, and there's even a manual backlight key for situations where you need the backlight before the built-in sensor has kicked in.
After quite a bit of practise, I got up to 25 words per minute (see my input speed feature), with the main limitation being having to use my thumbs to type and being restricted with each to the letters on each side of the screen.
Away from the keyboard, the quality's up to Nokia's usual fairly high standard, although I didn't like the slightly fiddly joystick and I also found the positioning of the main applications/menu button to be rather odd - being next to the bevel of the main body of the flip, it didn't stand out enough and was hard to find and press with my thumb. There's a good (though rather too easy to hit by accident) Voice Recorder button on the left of the E70, kicking you off immediately into a new recording, and a matching infrared port on the right. There's the usual Pop Port on the bottom end, along with an original 'large' charging jack, bucking the recent trend for Nokia of using a slimmer charging pin.
The Pop port is used, as usual for S60 3rd Edition devices, for PC Suite, Data transfer (a.k.a. mass storage mode) or IP passthrough (connecting through a connected desktop's broadband connection), but of course you can also use the E70 as a stereo music player. Like the E61, though, Nokia have been penny pinching again and only supply a mono headset - or maybe they assume executives never need to unwind? Still, it's easy and cheap enough to get a stereo headset as an accessory. Music volume is quite quiet but it's fairly straightforward to set up your own boosted EQ setting in Music player (or volume boost in OggPlay).
On the back of the E70 is the camera, this being one of the few Eseries devices with a camera. Not just any old camera though, this appears to have the same internal hardware as the well-thought-of N70, with super colour capture on (2 megapixel) still images and reasonable video capture at 'near-VHS' quality and 15 frames per second. Having such a high quality camera on a business device was a very welcome surprise. Shooting or filming is best done in portrait mode, for reasons of RAM efficiency and because the viewfinder works better in this orientation.
Since using the E70 I've had plenty of positive comments about the quality of its images, arguably better than those from the imaging-focussed N93 by virtue of better colour handling and lower image noise. Oddly, I had far less comments when I was using the N70, with essentially the same camera as the E70 - maybe my soujorn with the N90 (uninspiring colours) and then N93 (noisy, compression artefacts) have made my friends and colleagues appreciate the colours and smooth images from the older camera more...
Video playback is good, too, with RealPlayer working well to play back MPEG-4 and 3GP videos in full screen, especially clear on the very bright high-resolution display.
Beneath the camera is the battery compartment, with the E70 coming with the 1150mAh BL-6C battery, which should keep it going well enough. Interestingly, the plan view of this battery is the same as the more common 850mAh BL-5C so if all else fails when out and about, you could swap in one of these (nick it from your partner's phone?) and carry on working. A nice touch.
The biggest power drain on the E70, other than the bright screen, is almost certainly going to be its built-in Wi-Fi. This works just as well as on the E61 and enables reasonable web browsing on the smartphone. The smallish screen is the main limiting factor, despite the high pixel count - you can fit most of a page's width on-screen but in order to read the text you then have to have the eyesight of a ten year old. Still Wi-Fi on a communicator is pretty much a must-have these days and the E70 will enable you to stay in touch with your email and with the world for 'free' as long as you're within range of home/office/free networks. I have to say that I found Wi-Fi reception on the E70 (and E61) to be noticeably worse than on the larger 9500, maybe aerial size really does start to make a difference...

The now familiar new Nokia web browser, in page overview mode. Over Wi-Fi especially it works pretty well, but there's only so much you can fit on a 2.1 inch screen! Here are some more screenshots:
A key selling point for business is the E70's strong support for mobile email. It ships with an installer for Mail for Exchange, which syncs with Microsoft Exchange servers and includes support for push email. Once Mail for Exchange has been installed it is a simple matter to fill in the appropriate Exchange server settings, choose which items to sync (from Inbox, Contacts and Calendar) and set up a sync schedule. The sync schedule settings are particuarly welcome since they mean you can escape from the tyranny of push email at the weekend because they make it possible to only have email pushed to you between certain times and on certain days.
Once a new mailbox is set up, Mail for Exchange is created in the Messaging application. Changes made on the device, such as a new contact or the read/unread status of received email are automatically synced in the background to the Exchange server over the air via GPRS, 3G or WiFi. Similarly, changes on the server (such as arriving email, or a meeting entered in Outlook on your PC) are 'pushed' to the phone automatically. Email arrives on the phone around 15 seconds after it arrives at the Exchange server, depending on the speed of the connection and the size of the email.
Mail for Exchange is a memory resident program which means, once installed, it operates in the background and is automatically started when you switch on the phone. As such it is very much a configure and forget option. It's not a perfect solution as it lacks support for syncing folders and doesn't support meeting requests or global address lists. Sync and mobile email solutions from other vendors, including Blackberry, Visto and Seven are also supported and work in a similar way to Mail for Exchange.
The E70 comes with a 64MB miniSD card, which will be fine for many users, along with the 60-odd MB of the internal flash disk, though anyone intending to install a navigation product, listen to music or watch videos 'out of hours' will of course have to dip into their pocket for a much larger card (in addition to the stereo headset).

Working with the new S60 3rd Edition Office Suite, based on Symbian's original Office software for Psion and Nokia Communicators...
From its specifications, the E70 should wipe the floor with almost any other smartphone or communicator. And it does, providing you make sure you get a unit with the new v2.x firmware (or update an older one using Nokia's free service). There are slight niggles, such as the split keyboard strangeness, the flush Menu key, the protruding Voice Recorder button and (even with latest firmware) the relative lack of RAM in a 'professional' device. But I'm nit picking really, and most definitely coming at the E70 from a power user's perspective.
The E70 is one of those devices that you really have to try for yourself, even if it's only standing in a dealer's shop playing with one for 5 minutes. Typing on the split keyboard is a bit of an acquired taste, though you'll get used to it fairly quickly. The low RAM issue is the biggest downside of the E70, as with all of Nokia's 3rd Edition smartphones so far ('penny pinching' gone mad, in my opinion), although the new v2.x firmware comes with several RAM optimisations and helps a lot.
The E70 is a fabulously specified device that delivers in almost every area it claims to. Is it a phone? Is it a communicator? Is it a camera or music/video player? Is it a laptop? It's all of those and more and gets my whole hearted approval.
Steve Litchfield, 25 July 2006 15 September 2006
---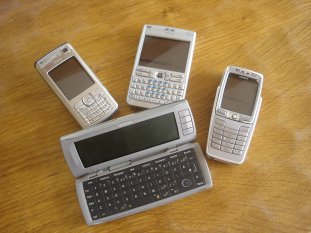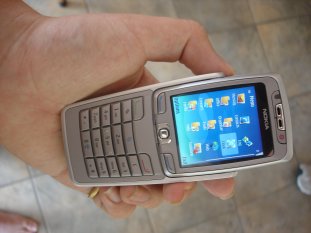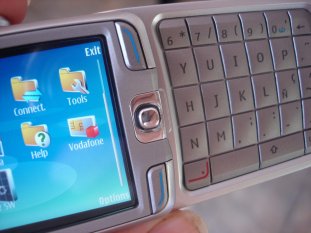 You can also read our reviews of other S60 3rd Edition smartphones and software and join our discussion forum:
Please leave your comments below.
Reviewed by Steve Litchfield at