Review:
AquaCalendar for UIQ 3
Score:
80%
Guest writer Asri al-Baker: The built in UIQ 3 Calendar does a remarkable job for showing appointments, reminders and birthdays, and a separate to-do app called Tasks makes managing life easier. However, power users have always been a bit limited until AquaCalendar (AC) stepped in.
Version Reviewed: 5.20
Buy Link | Download / Information Link
AquaCalendar (AC) is available for all Symbian flavours outside Japan (read Ewan's take on the S60 3rd Edition version
HERE
). It's more than a PIM, Contact, To-do and birthday manager and above all, it's highly configurable.
Different panes

AC's strength lies in its different ways of presenting a Calendar database. For example, 2 types of Day view, 'Hour day', which displays entries by hours showing empty slots and 'Busy day', which displays them as a list.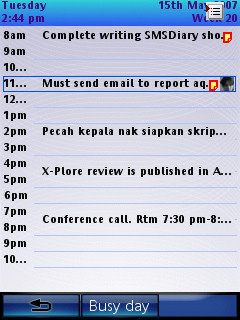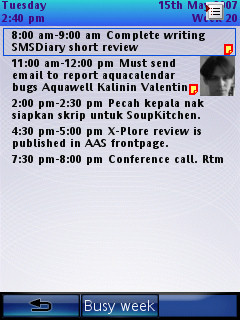 Hour day and Busy day
Apart from the Day view, there are a number of other views which can be tailored to display the Calendar information you want. There's Week (Hour and Busy), Period, Month, Tasks (a.k.a. To-do), Birthday, Contacts and Messages. The respective panes can be customised. For example, Busy Week displays 7 days by default. If you exclude weekends, it will adjust intelligently and display information from weekdays only. See the difference in the following screenshots.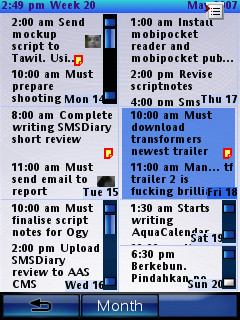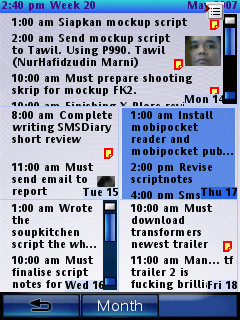 7 days vs 5 days. Which one do you prefer?
Screen usage


If you want to view more text, you can change to full screen mode (all screenshots in this review are in full screen mode). This is great to display lots of information on the screen. You'll appreciate this feature if you have many entries in a day, and with the text wrap function switched on and with a little bit of of zooming, you have a very useful Calendar here. Not only that, AC is perfectly functional in the P990's FC mode and if you want more adventure then you can even go for the 'landscape' mode. In short, the developer really makes use of the screen's real estate. Almost no space is wasted.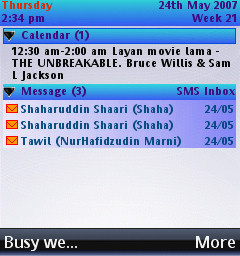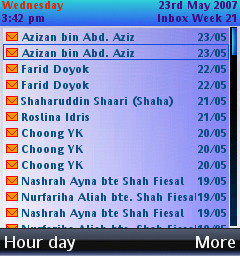 Flip closed on P990. No problemo!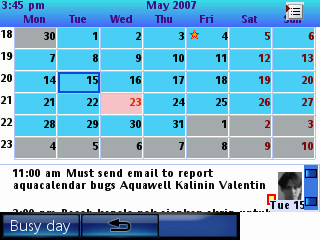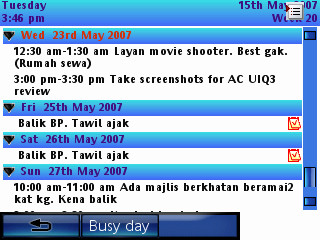 Landscape? Even better
Other highlights
Contact linking
: There's a very useful function where you can create new Calendar entries directly from AC's Contact list. Just tap and hold for 2 seconds on a contact and a pop-up menu will be displayed for you to use. Tap on 'New Appointment' and it will bring you to the right text dialog. Moreover, if the contact has a photo assigned, it will be displayed in the respective entry!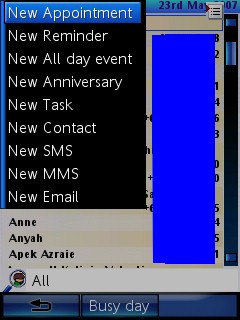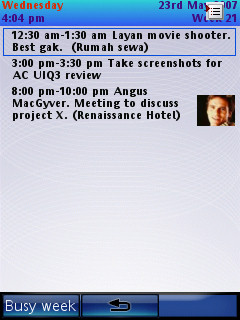 Linking event to contact. A very nice feature.
Unique text entry window
: Standard text entry in AC is presented very intelligently. It is divided into 4 tabs, representing the entry details, alarm, repetition and notes. Normally, you will only need to use the first tab but for power users, the other options are nicely hidden.
Entry preview
: The entry preview is where details of an entry are displayed in full. No truncated texts here. However, you can't adjust the font size nor scroll down to view more texts. Let's hope the developer will enhance this function by making it configurable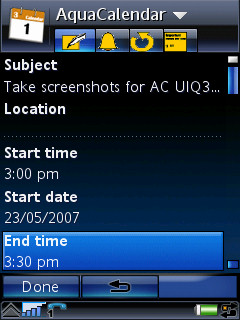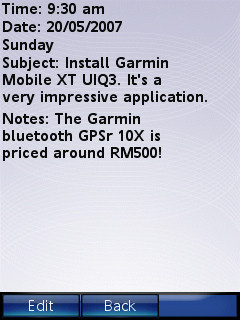 The text entry window and the Entry preview

Conclusion

I could go on and on writing about AquaCalendar. But this is supposed to be a review, not a user manual ;-) It's a very mature app, stable and, most importantly, functional. You might need to spend 15 minutes to learn its features and dig into its options but that time you spend will be well worth it. The customisation options are very impressive and detailed. You can change the background colour, add icons to entries, create different categories, change font colours and size, etc. It writes all info into the internal Calendar database, and synching is perfectly executed, whether you use Outlook or MS Exchange Server.
All the eye-candy in AC is optional but it's great to have it. AC is truly unique in that it shows that PIM does not need to be boring - with a little bit of colour and spice, AC is a winner.

Asri al-Baker. May 23rd 2007
Reviewed by Asri al-Baker at