Review:
Hands on with Nokia's Comes with Music
Rafe's been trying out Nokia's newest Music service offering. There may be some caveats, but overall he comes away very impressed.
At Nokia World 2007, in Amsterdam, the initial announcement of Comes with Music was slipped into a keynote. The general response was fairly muted, though I remember thinking it was potentially the most exciting ('revolutionary') of Nokia's service announcements. It certainly seemed to have the potential to shake up the music industry.
Fast forward to today and Comes with Music becomes available to the public, in the UK, for the first time. So what's the verdict? Impressive. It is one thing hearing it described, it is quite another actually using it. Comes with Music delivers what it promises - unlimited downloads for a year - with the cost bundled into the initial cost of the device. Yes there are caveats, chiefly around availability and the DRM involved, but given that you're only paying around £50 for the service I think, for many, it will be an acceptable trade off.
The Comes with Music service is accessed mainly through Nokia new music PC application - Nokia Music. Essentially it is Nokia's equivalent of iTunes, allowing you to organise music stored on your PC and download music from the Nokia Music Store. It has been in beta since May, but the first full version has now been released to coincide with the launch of Comes with Music.
Nokia Music version 1.0 is much improved over the early betas and, while it is still fairly resource hungry, many of the rough edges we noted have been rounded off. It provides a comprehensive set of tools for managing your music collection (CD ripping, playlist editing, automatic search, various browsing options) and is very well integrated into the Nokia Music Store. There's two-way sync with mobile devices, if you download music while on the road it will be automatically copied back to your PC the next time you sync, as you'd expect.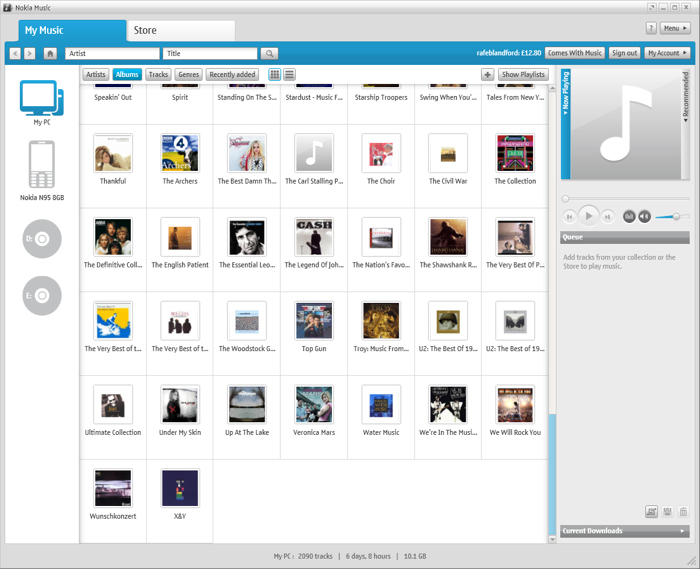 Perhaps more importantly, it is very easy to use; it is clear that a lot of thought has been put into making it as user friendly as possible. For example, there is a pop up box explaining the layout and basics of the application the first time you start the application, and the UI is geared towards drag and drop operations (though the usual menu options are also available). When you connect a mobile device (anything that supports MTP, in fact) you'll see an icon appear in the application's side bar - you can then copy music to it by dragging it from your collection and dropping it onto the device (there are also options for automatic sync based on playlists).
The application is divided into two distinct areas by two tabs on the top of the screen: My Music - PC music management and device transfer; and Store - access to Nokia Music Store. The latter (which uses Internet Explorer as the browsing engine, one of the reasons Nokia Music is currently PC-only) is integrated, as you would expect - download a track from the store and it is automatically added to your collection. The Nokia Music Store has millions of tracks listed, the vast majority are priced at 80p (UK). As a 'pay to download' store it is good, the easy integration with Nokia devices and mobile access are definite plusses that should appeal to those looking for an easy solution. On the other hand, there are a lot of music stores out there, some of whom provide DRM-free music, so there isn't a great deal, the Nokia brand aside, to make it really stand out.
This is where Comes with Music comes in - what it does, put simply, is to remove pricing barriers to music downloads. Once activated, you no longer see any prices - just a simple download button. Yes - you're effectively paying a subscription fee up front, but it is the perception that matters - for the duration of your subscription you can download anything you want from the store for 'free' - and after the subscription is over you can keep all the music you have downloaded.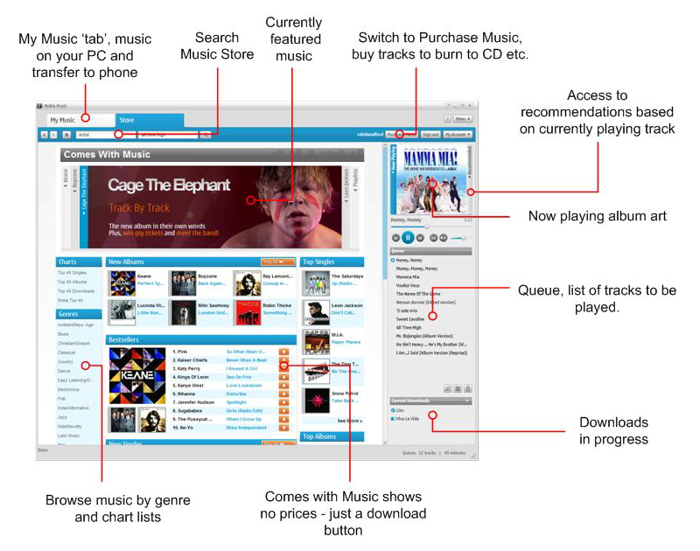 How it works
I tried out Comes with Music on the Nokia 5310, a Series 40 phone, though to be honest the phone you're using doesn't make any difference to the service. Of course, the music playback itself will vary between devices, and S60 devices - such as the N95 8GB (also available at launch) - offer the most flexibility, but Nokia will likely restrict Comes with Music to its music focused/enabled handsets (those with the XpressMusic branding).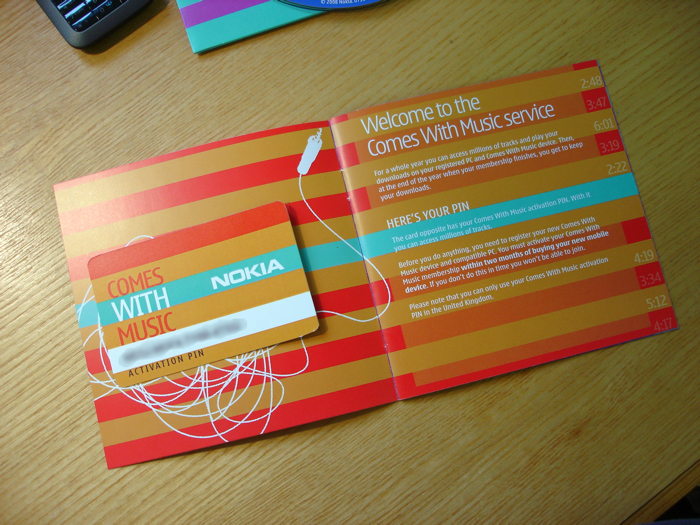 The box has the stripey Come with Music branding which promises 'unlimited access to millions of tracks'. Inside is a standard handset and a Comes with Music booklet which contains an activation pin. Activating the service is very easy, you install the Nokia Music software, access the Music Store, follow the Comes with Music link and enter the pin code. And, at a stroke, all the prices in the Music Store disappear. You're then free to start downloading whatever you want. In a way it is all rather magical.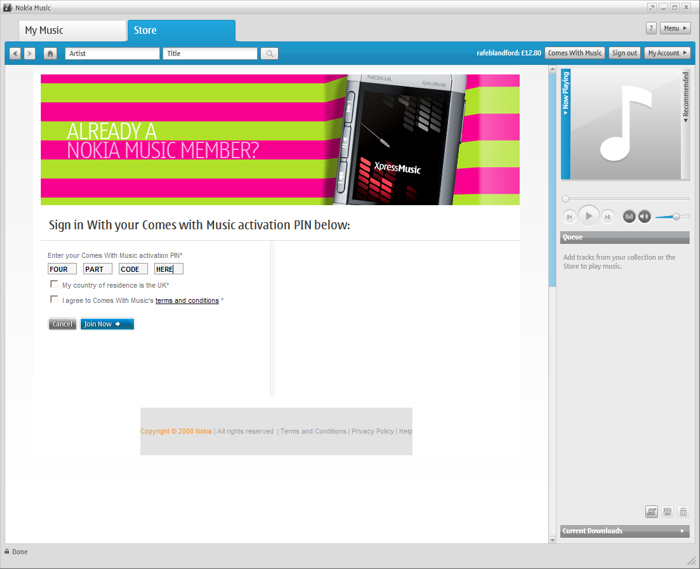 It does change the way you look at music - I have downloaded tracks I'd never have bought outright, partly because I could, but mainly because I wanted to see what they were like. Nokia have created several 'Introduction to...' pages which underlines this ability to try out new music and there are also playlists available from various artists who have selected their favourite music. This ability to try out new music without any perceived costs is, to my mind, the most innovative aspect of Comes with Music. Of course you'll also download your favourite albums and artists, but you would have probably got them anyway. Comes with Music lets you be much less selective and will, I imagine, result in much more eclectic music collections. Overall it is a liberating experience (perhaps rather ironically given the DRM!)
In case you're wondering, you have to use the pin code in conjunction with the device you bought it with. It will not work with another device, even if it is a Comes with Music device (I tried it on the N95 8GB). That means there's no sneaky way to get Comes with Music onto your current N95 8GB by the back door (i.e. buying a 5310, using the pin with your current N95 8GB and then eBaying the 5310 will not work). Shame really!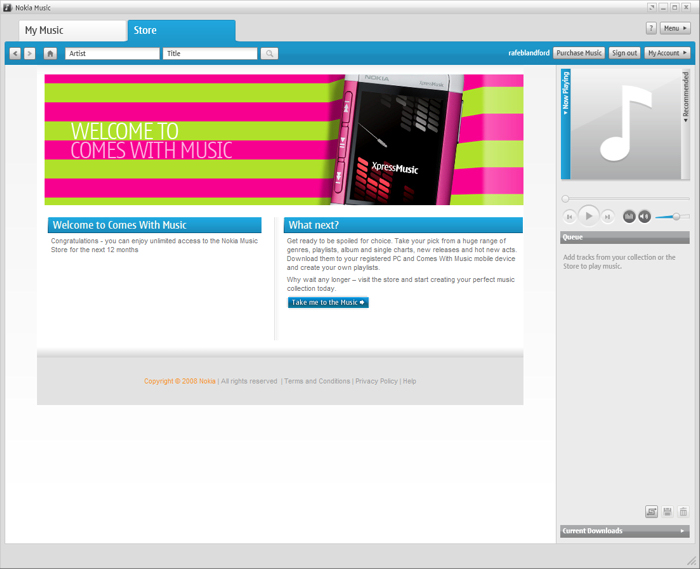 Caveats
The files downloaded via the Comes with Music service are encoded in Windows Media Audio format at 196 kbps, in common with purchased tracks from the Nokia Music Store. However the DRM properties are subtly different. There are no CD burning or transfer rights - Comes with Music downloads can only be copied to the Comes with Music device. (Tracks purchased from the Nokia Music Store typically have around 5 CD burning rights and 20 or so mobile transfer rights.)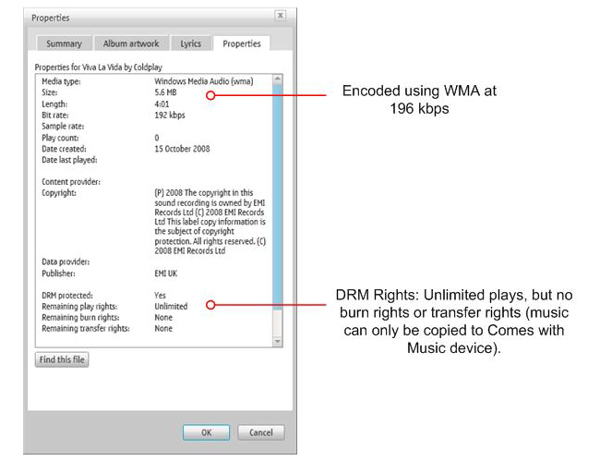 If you want to burn Comes with Music tracks to a CD you have to buy them through the Nokia Music Store (at the full cost of 80p). This is a bit disappointing, but, to be fair, isn't really that big a stumbling block for legitimate usage, given that you can connect to most stereos via a line in from the 3.5mm audio jack that is standard on Nokia's music phones. However it is a caveat that you need to be aware of when deciding whether to buy a Comes with Music handset.
The fact that Comes with Music downloads are tied to a particular device is the caveat that will give the biggest cause for concern. If you already own an iPod, other DAP, or music-capable phone then you will not be able to transfer music to it. A lot of people have made significant investments in both devices and music purchases, such that the switching cost makes Comes with Music unattractive. Moreover, Comes with Music will be limited to a certain set of devices which may not have universal appeal.
Currently, Comes with Music handsets have restricted availability. It is a UK only service at the moment, but it will expand to other markets in due course. You can expect countries that already have Nokia Music Stores to be the first to get Comes with Music implementations.
Networks are not welcoming Comes with Music with open arms because they see it as a threat to their own music services and revenue. This is why Nokia has launched with pay-as-you-go (PAYG) handsets with Carphone Warehouse. However, next month will see 3 offer the N95 8GB in a Comes with Music version on a contract. Whether other operators follow suit is open to debate, but if there are strong sales in the PAYG market or 3 has strong sales, then they may not have much choice.
There's been some debate as to whether Comes with Music really is unlimited. There is an abusive usage clause in the term and conditions:
"Your license to download Comes With Music Content is limited to your personal non-commercial and reasonable use. If our analysis of your use of the Service suggests abusive or excessive downloading, Nokia may contact you and ask you to moderate your usage. If you fail to comply with such a request, Nokia reserves the right to restrict or terminate your use of the Service."
I imagine if you spend all day doing nothing but downloading music Nokia might want to have a word, but I can confirm there are definitely no set numerical limits to downloads. No doubt Nokia analysis includes the proviso that initially people will go a bit download mad, but as time goes by the number of downloads will tail off. So yes - this really is an unlimited music download service.

Conclusion
There are other music subscriptions out there, many of which are compatible with mobile devices. However, these limit access to music to the subscription period and are generally more expensive (around £10 per month). Against that, Comes with Music offers an annual subscription for around £50 and lets you keep the music when the year is up. The DRM restrictions do limit your ability to transfer the music to another device, but some provision is made for this once the year is up (we'll have to see how well this works in practice this time next year). As such, Comes with Music probably isn't suitable for those who regularly switch devices.
However, I think that, for the majority of people, Comes with Music will be something of a revelation. If you're thinking about buying a Comes with Music handset then the question you need to ask yourself is this: am I willing to pay £50 for unlimited music for a phone and PC for a year with a somewhat restricted ability to use it beyond that period or those devices? It is a compelling offer and, once it becomes more generally available, I expect it do very well. I'm sure we'll see similar services from other device manufacturers, but it is fair to say Nokia has opened a new chapter for the music industry.
Rafe Blandford, All About Symbian, 16 October 2008
---

Where can I get it?
You can currently buy two different Comes with Music packages from the Carphone Warehouse. The Nokia 5310 is available on PAYG for £129.99 (+ £10 air time) or on a contract (free from £25 per month) and the Nokia N95 8GB is available free on a contract from £40.
These handsets are also available from the Nokia Online Shop. The Nokia 5310 is available SIM-free for £159.99 and the Nokia N95 8GB is SIM-free for £399.
(These represents a premium of and £44 and £54 respectively over the prices for handsets only).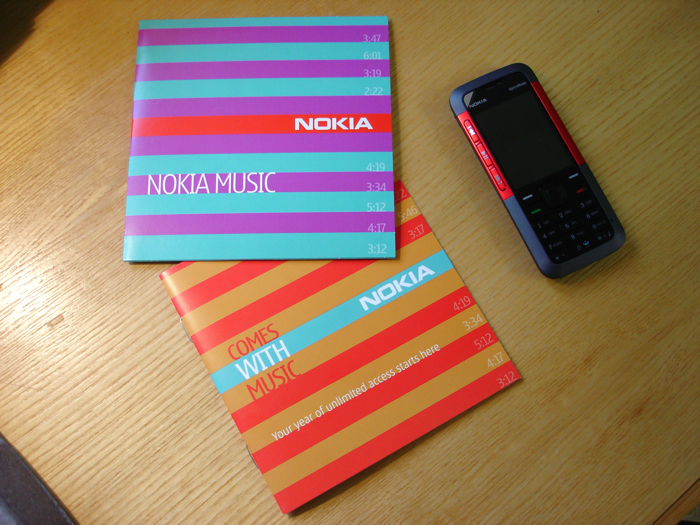 Reviewed by Rafe Blandford at