Review:
Choetech SC001 19W Solar Charger
Score:
84%
With just about the hottest summer sun in the UK since records began over the last few days, what better time to review this, the Choetech 19W Solar Charger, offering twin USB output at (up to) 2.4A per port? Free charging from the sun for all your USB-charging gadgets, especially your smartphone(s), with an IDOL 4 Pro and Galaxy S9+ shown below, to prove it works with both Windows and Android(!) Summary? You don't quite get what you expect, but what you do get is superbly designed and the energy is as advertised - completely free!
Buy Link | Download / Information Link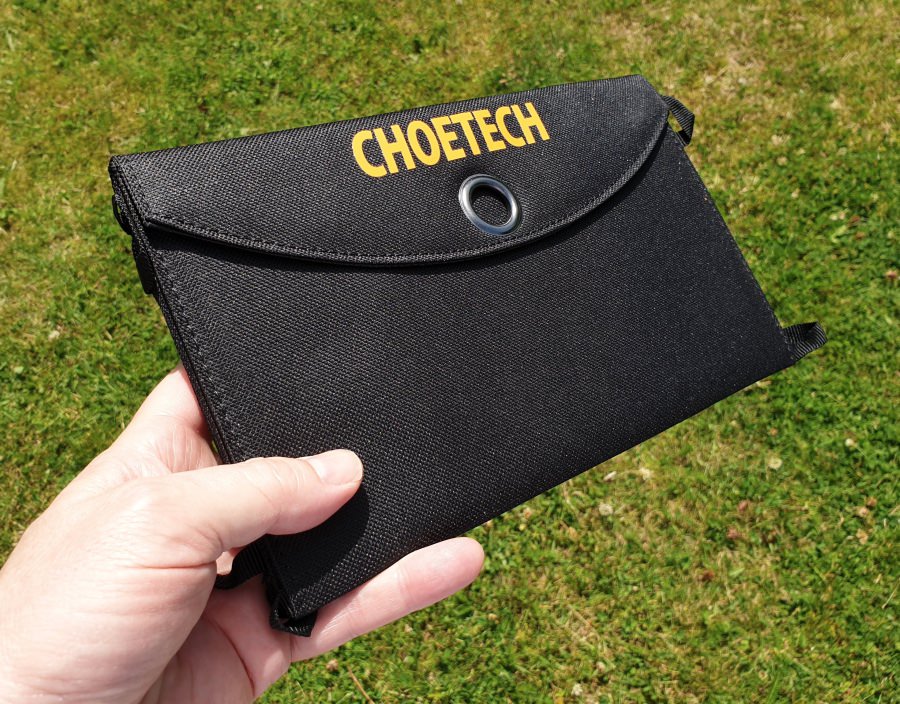 The overall package is soft and yet rigid polyester, with just enough padding to protect the solar panels inside. The foldover has a magnetic catch that does its job and it's important to note the carabiner hole in it - the idea is that, in use, you clip the unfolded accessory on the back of your rucksack when out hiking (for example). Or perhaps to the outside of your tent? A couple of carabiner clips are provided, to get you started, with an elasticated strung pouch underneath the first panel to keep any clips, cables or phones being charged. It's all very well thought out.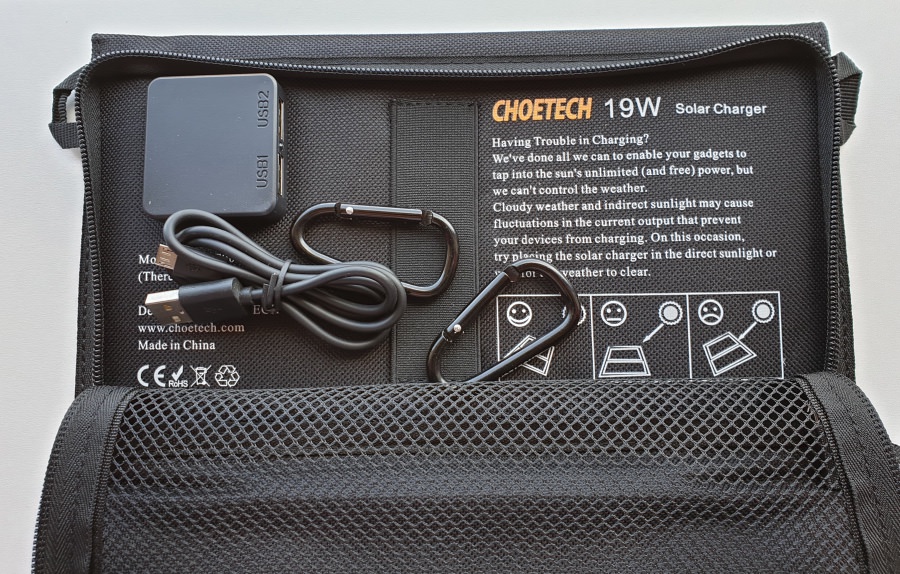 The panels are electrically linked and brought together in the small square junction box shown, with two USB-A ports, each capable, in theory, of delivering 2.4A (or 3A total, if both ports are in use). There's a charging light, which I guess might be useful for seeing if there's a problem, but in normal use it's on the underside of the accessory and can't be seen.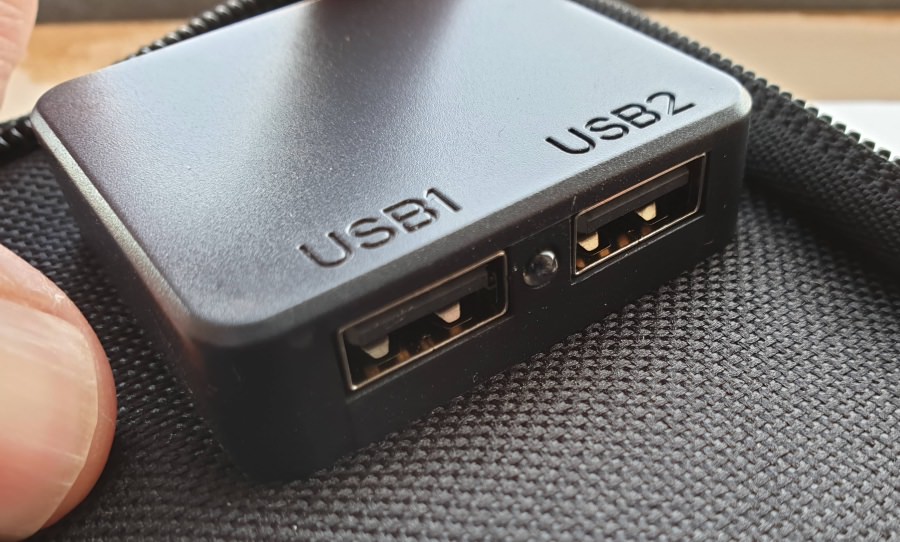 And so into the sun. On a typical hike you'd string this on your backpack, but for testing under optimum conditions I laid the accessory out flat on a garden bench in the full sun. And, again typically, you'd put the phone(s) being charged in the string section behind the first panel, so that there were no unsightly wires looping out. But, for the purposes of testing and clarity, I've strung it all out below - though I did hide the phones most of the time under the end panel, since full-on sun for a couple of hours would destroy the devices, I suspect!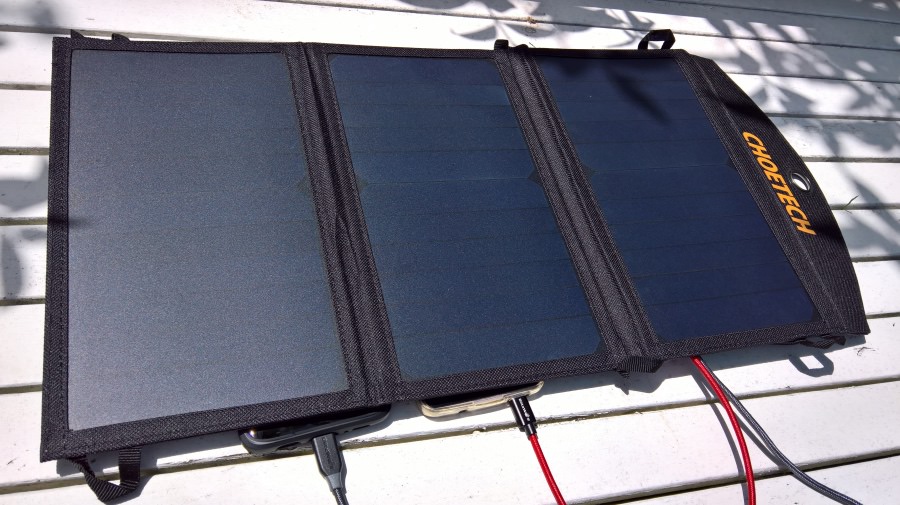 In this case I was testing the IDOL 4 Pro, running Windows, and the Galaxy S9+, running Android, and both seemed happy with the charging current supplied, even if their battery percentages were slow to rise. I then did detailed testing of just one port with a test device that had been drained, and got a consistent 1A (at 5V) from the solar panels. (Obviously, if I still had two devices connected then they'd each get 0.5A)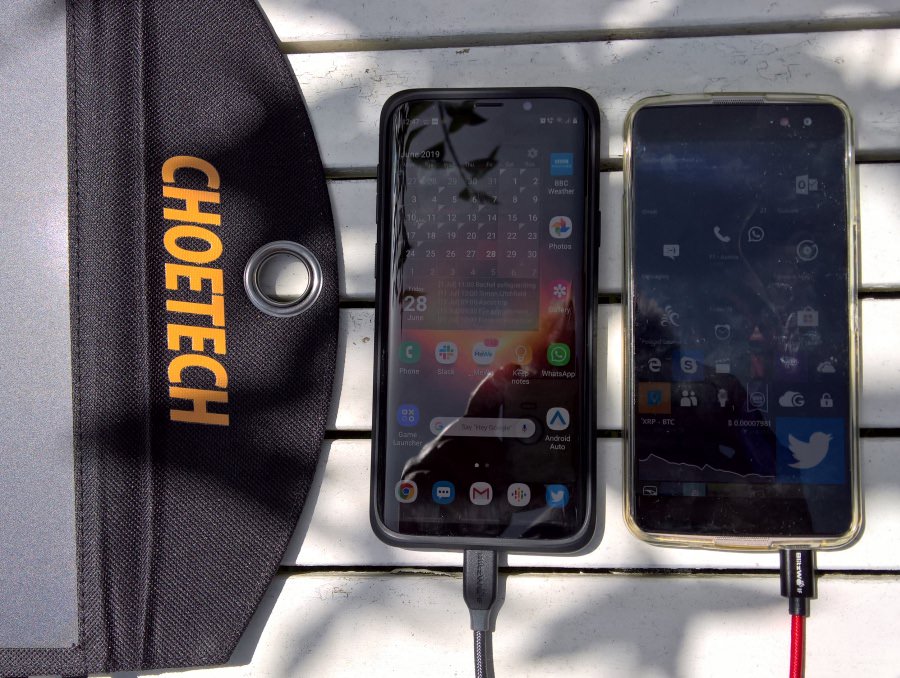 Now, 1A at 5V, so 5W in power, is decent free energy from the sun, but it's not the 19W that's the accessory's theoretical maximum (hey, it's in the product title!) - and I can only put this down to the differences in sun intensity between the UK at Latitude 50-something degrees north and that at the Equator (think the middle of Africa!)
Which is fair enough, even in the midst of the hottest UK summer day, the radiant sun can still be borne for half an hour with no protection, whereas I suspect that doing so would be very dangerous at midday in Africa. In any case, 1A compares to the speed of a typical fast Qi wireless desktop charger and taking a typical smartphone from (say) 50% to full over a three hour hike is both achievable and very useful.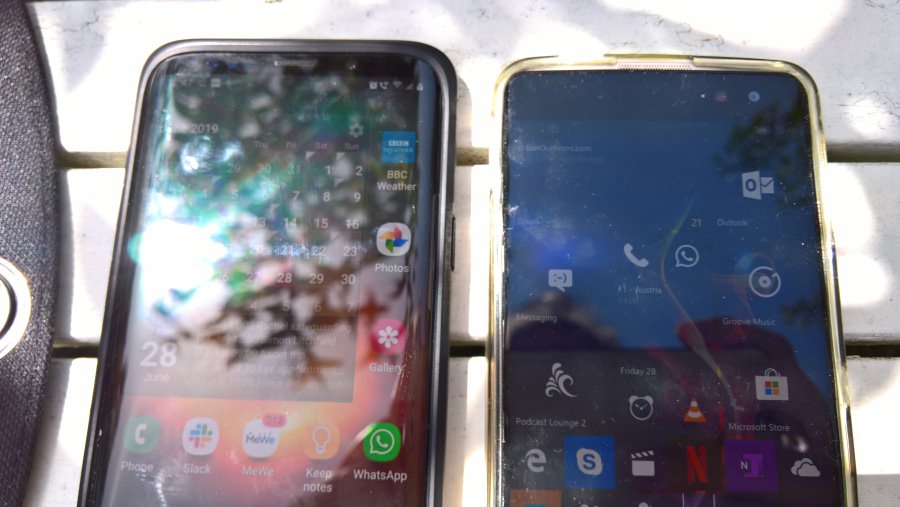 The charger is 10.2" by 6.3" by 0.7" when folded and 20.9" by 10.2" when opened. Cord loops at the corner of each panel mean that you should be able to lash it in various configurations to whatever outdoor equipment you happen to use.
So - as expected, the UK sun, even at its best, can't supply more than 1A charge, but if you're reading this in sunnier countries then you'll achieve more. I was at first disappointed that there was no mention of Qualcomm Quick Charge or Power Delivery support, but then even with maximum sun the charger wouldn't generate enough power to make either system relevant. It's all about expectations here, I think.
At £39 in the UK, this isn't cheap, but then solar chargers rarely are - you're paying for all those photo-electric cells. If you're a casual user then solar chargers are a bit of a cool luxury, to play with. But I can imagine that if you really are the outdoors type and to be found halfway up hills each weekend then this is something of a must!
PS. The SC001's product page is here on Choetech's site.
PPS. I'll post again if I get a promo code from Choetech during the week, as often happens.
Reviewed by Steve Litchfield at