Review:
AUKEY 'Compact' 10050mAh Power bank
Score:
82%
With some of may all time favourite power banks reviewed here, here and here recently, what possible reason could I have for featuring one more? Simply that this AUKEY unit has a higher power-to-volume density than anything else I've seen. It is, in fact, jaw droppingly impressive - despite an otherwise less-than-cutting edge electrical spec.
Now, I know you're thinking 'Galaxy Note 7' here and wondering whether this super-compact form means that the AUKEY product is dangerous? Not in my tests so far, it doesn't even get warm when being charged, apart from around the input port and end electronics, partly because its charge is limited to 2A - so no fears of over-current explosions here.
The idea here then is to have a small gadget in your pocket, compact enough that you genuinely forget that it's there, yet with enough juice to recharge the entire family's USB gadgets through a busy day out without flinching. If this sounds impossible then take a look at the photos here and take my word that I've been trying it out, charging tablets and phones - and the capacity is genuine. As you'd expect from AUKEY, which is an established name in this sphere.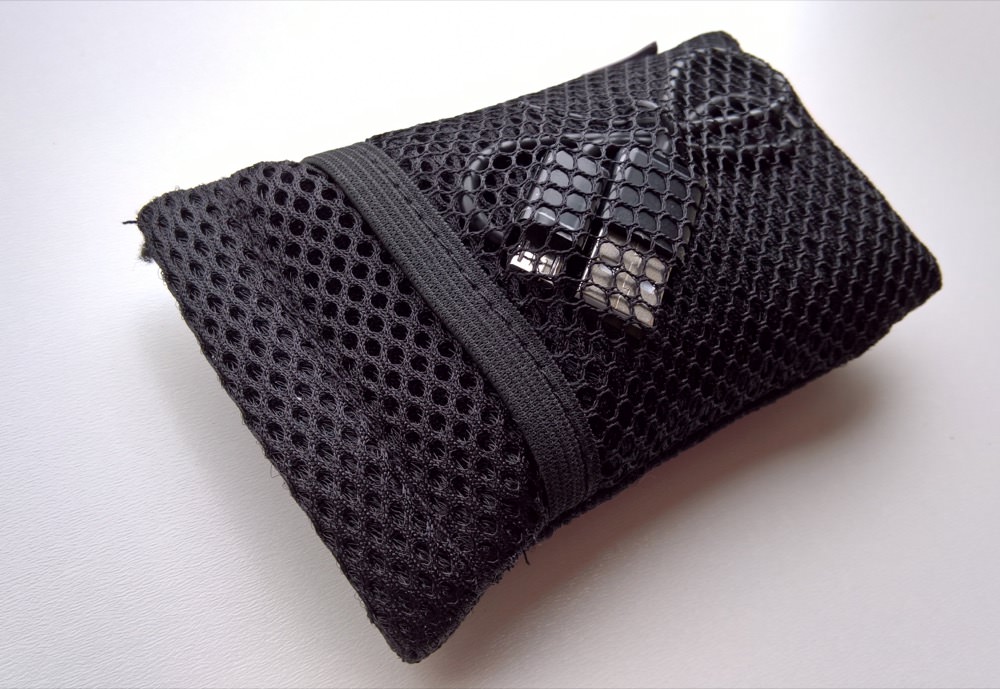 The 'Compact' (as I'll call it) comes with a neat elasticated bag and a USB to microUSB cable (both shown above), though these increase the bulk unnecessarily perhaps - the Compact works better when pocketed as-is, keeping the volume to the absolute minimum - it's a 'pebble'-like design with smooth plastic to help it slide in and out of pockets: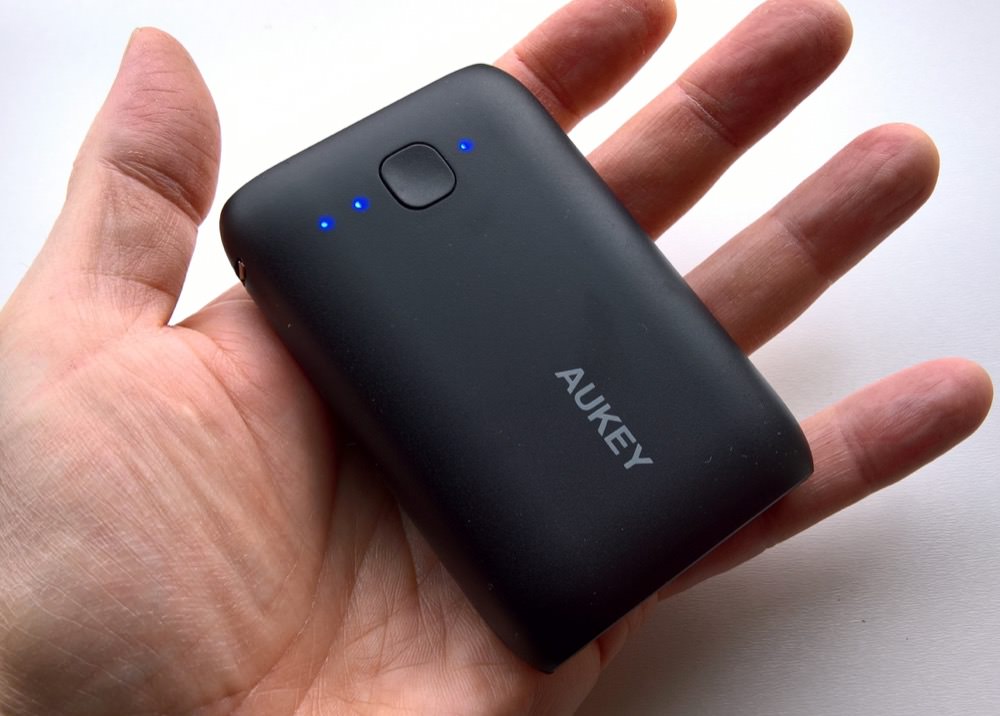 The usual four LED array shows the current charge state, either side of the main 'on' button. I do prefer having this manual method of triggering charging, since not all USB devices activate power banks which come 'on' automatically.
Most notable in these photos is the tiny size of the power bank, yet with relatively huge capacity, confirmed on the end of the accessory, shown below: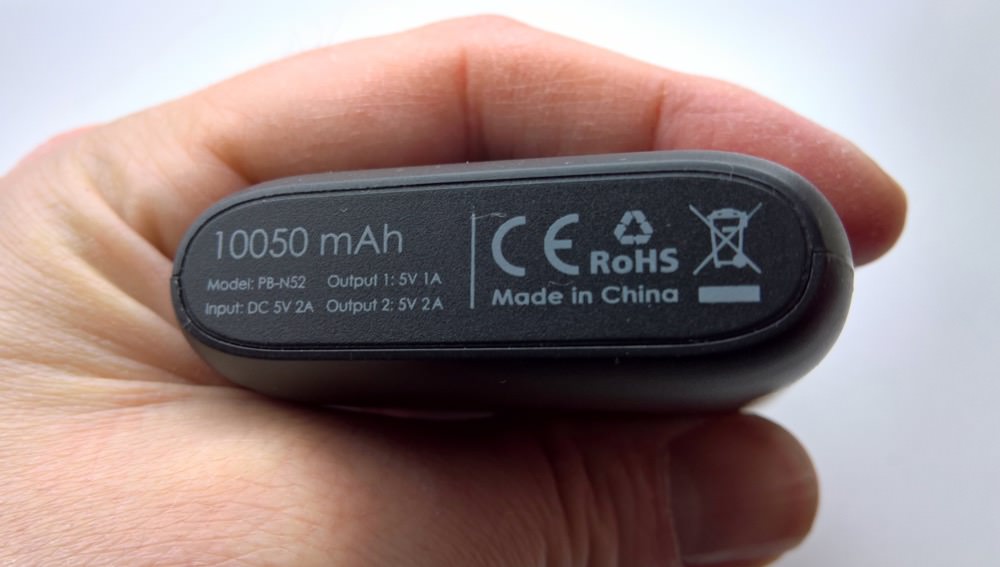 Seen from the side, the svelte lines are again apparent, along with the (slightly old fashioned) microUSB port for input: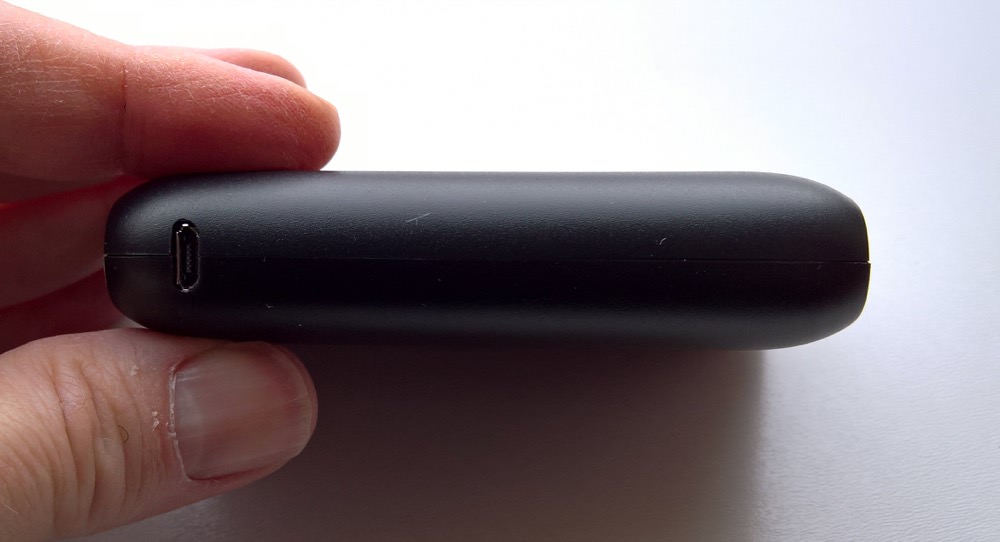 And so to the business end of the Compact, protected by default by a thin sheet of plastic. It's not at all obvious that the user should remove this, but the tiny scratches in ths plastic were annoying me, so I peeled it off, as shown below. I suspect that many users will leave the plastic on as extra protection, but I've always used my phones and accessories 'naked'(!)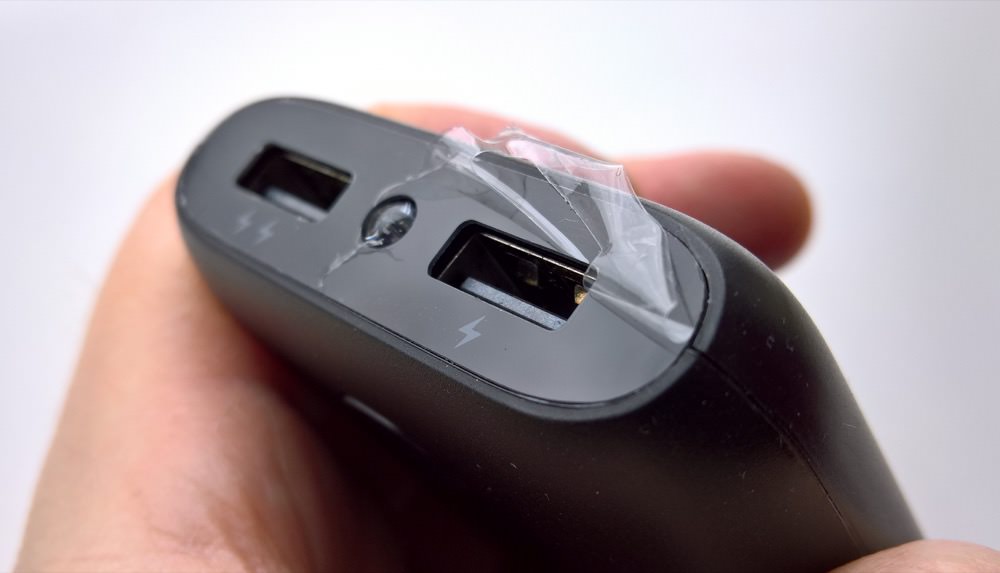 With the plastic peeled off, we have a clean end-plate, with central LED torch, activated by a three second press on the main power button (and ditto to turn off). Plus two USB-A output ports, pushing 1A and 2.1A respectively. This, along with the microUSB input, is where the AUKEY Compact feels old fashioned - we've been used to Quick Charge 2.0 and 3.0 outputs, to 3A or 4A outputs over USB Type C, and so forth, so this is a step backwards into terms of the cutting edge. Regardless, the build quality is great and the ports work well at their stated currents.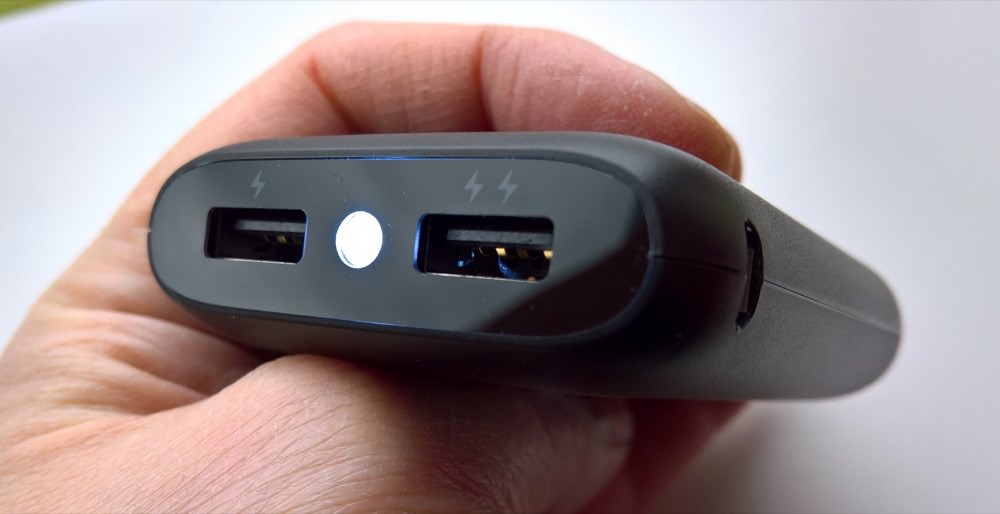 Charging the Compact is at 2A, so we're looking at over five hours, more usually leaving it overnight, ready for putting back in the pocket for the next trip or period. With summer coming in the Northern Hemisphere and with coats and jackets coming off, it's a good time to discover a genuinely high capacity power bank that is far smaller than it has any right to be. In daily use, I take this, with three short 10cm cables, USB-to-C, USB-to-Lightning, and USB-to-microUSB, ensuring that I'm equipped for whatever my extended family throw at me (last weekend, out of the blue, I had to rescue two phones and a tablet - normobs are just terrible at keeping electronics charged!)
So not a perfect accessory, but with a USP that's only going to become more and more useful as more of us venture out into the world, with friends or family, as the sun appears!
You can grab this on Amazon UK here, and before you baulk at the cost note that we have a special offer for AAWP readers with £6 off using promo code VO3J2KJO, taking the price down to a very reasonable £16.99 - until April 25th 2017. So you've got a week to claim this at the time of writing.
Reviewed by Steve Litchfield at