Review:
Smartphones and Beyond
Guest writer David Addington brings us a detailed review of one of the landmark texts in the smartphone industry and a superbly detailed history of Symbian itself. Read the review and then grab the (e)book!
The book is now out in electronic form, at least, for the Kindle, here on the UK site and International (US) site.

David writes: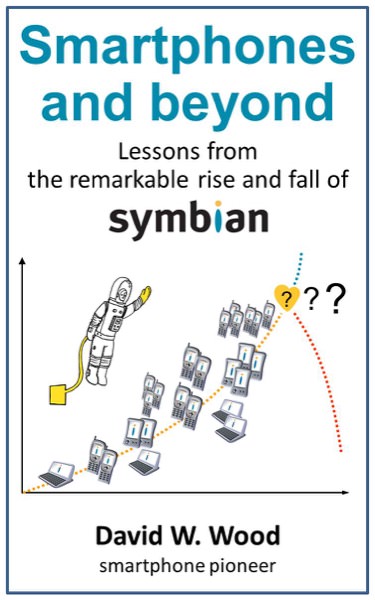 As media technology has advanced in the last few years, there are now countless opportunities for all and sundry to vent viewpoints across the web. Certainly smartphones have played their part in advancing this, so it's only natural that the merits of smartphones and their operating systems will be a keen topic. What seems harder is getting measured debate concerning smartphones, but more specifically around operating systems. Viewpoints tend to be subjective as users firmly rationalise their preferences, whether that be iOS, Android, Windows Phone, etc..
Therefore it seems unusual that in order to get some objectivity around the various operating systems you should read an ebook from a former Symbian executive director. But that is exactly what you get with David Wood's mammoth e-book: Smartphones and Beyond. This is his detailed review of his time at Psion and Symbian and how the market changed and evolved, right through to Symbian's demise. During the book Wood is candid about the strengths and weaknesses of the operating system itself, the organisation and the opportunities that were missed.
At 800 pages, no review could possibly cover the detail Wood has gone into; but some interesting points were:
The work of Psion: it was astonishing how visionary they were. EPOC (that evolved into Symbian) which ran their PDAs, was well ahead of the field which gave them an early headstart with Symbian. Interestingly, even then Symbian was not seen as just for phones – it was intended for everything.
When originally set up, Symbian had Nokia, Ericsson, Motorola as paid shareholders who had governance responsibilities. The grand vision was that it would be a co-operative approach to ensure that Symbian was the base standard for phones. Unfortunately (and not surprisingly), differing phone manufacturers were less keen to agree on approaches that didn't suit them. This hugely compromised Symbian's decision making ability to focus on one solution. This came about partly because of financial requirements - lack of investment/available capital was a recurring problem, with Symbian's ambition far outstripping its ability to deliver.
Despite being world leaders for a period in the smartphone operating system area, they always had one eye on Microsoft, who they saw as their ultimate threat. Both Apple and Google were not seen as threats initially.
Symbian were slow to realise that their ultimate path was with Nokia and there were many years when software development was harder because the organisations were separate.
A recurring theme of the book is the alternative histories in terms of the key business decisions Symbian had to make at the time, the perspective at the time and what could have happened from a position of hindsight. What you learn is that predicting technology futures is very difficult, as little is ' black and white'. For each failed technology approach there is scope to, next time, turn that into a success. Certainly Apple and Google learned very fast as they overtook their more established competitors. In fact, Wood highlights how good Apple and Google were at making things easy for developers in terms of ease of software design and the security elements required for their App stores. In contrast, Symbian with its complex C+++ programming requirements and onerous security certification process simply put developers off. This lack of developer support was a key reason in its ultimate failure, and also contributed to the bad press concerning Symbian.
Wood (shown below, left, by the way) touches on this point and that he had recommended a dedicated marketing campaign to raise Symbian's profile. In fact, it is astonishing in hindsight how low Symbian's profile was considering that it was in more than half the world's smartphones at various stages. Apple and Google ran slick and well supported marketing campaigns, helping fuel desirability of these brands. In comparison, Symbian was not desired by the public - despite (in my humble opinion), having a good combination of technology flexibility (à la Android) and ease of use (à la Apple). Who knows how a bit of concerted marketing might have helped?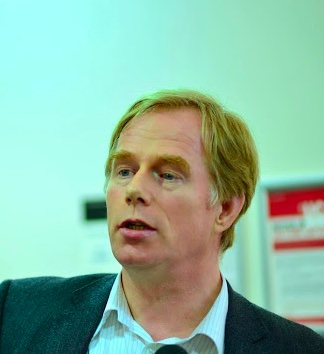 As the years go by, Symbian evolves from a slow, unresponsive organisation to one that was lean and customer focussed; but by now the market had evolved. However, Nokia were clearly not lean and more importantly didn't properly understand software development. Their ability to carry out a consistent strategy and approach over a long period of time was a huge strength in developing their phones, however this became an Achilles heel for software. They simply could not respond quickly enough or understand how to develop software 'right first time'.
Wood's views on Stephen Elop are particularly interesting. Wood saw little evidence of a CEO having already determined a Windows path for Nokia, in fact he was full of praise for his dynamism and the fresh approach that he brought to the role and felt that he looked deeply at Nokia in terms of its future Symbian/Meego future. The infamous ' burning platform' memo is discussed, but Wood considers it a brilliant piece of work. He felt that Elop had reached the point where Nokia had to be shaken from its previous ways of doing things (or die), and this was the most powerful way of starting this process.

He is understandably less complimentary about the decision to go with Windows Phone as Nokia's operating system. He argues that Windows Phone was simply not as good as Symbian or Meego. Wood also questions the merit in stopping Meego after receiving such a positive reaction upon launch. He sees this as a big opportunity missed, regardless of the 'eco system' consideration.
Most damning of all is the decision to announce the Windows Phone partnership agreement, 6 months before any Nokia Windows Phone would be ready. This had an understandably catastrophic effect on sales of the existing Symbian devices and he speculates that Elop simply believed the Windows Phone development issues would be resolved quickly. Whilst he believes Elop would have been under pressure from Microsoft to effectively 'can' Symbian, it still seems very hard to rationalise this decision on a business level. Whilst a Symbian/Meego future may not have worked for the long term, it is difficult to see how the timing of the Microsoft tie up would be successful in the short to medium term. It's difficult not to agree with Wood that this was flawed from day one and I would go further and say that this could go down as one of the most infamous business decisions, comparable in impact with the Gerald Ratner "prawn sandwich" speech.
But again to reflect the greyness of decisions and Wood's objectivity, he believes that if Elop had been appointed a year or two earlier then he would have likely stuck with Symbian/Meego when Nokia's situation simply wasn't as dire. It is also alleged that discussions with Google took place around this time and it was likely that Google would have offered a preferential offering to Nokia, such was Nokia's importance to the overall market.
Summing up the e-book, 'Smartphones and Beyond' gives a fascinating and detailed insight into a software company where the challenges of every day business present themselves, but with often little clarity around the future. I would even argue that the book is more about the culture of organisations and the market they operate in, rather than the technicalities of Symbian (though some of these are in the text as well).
Downsides ? There are a lot of press releases to wade through, which I don't think are always required and Wood introduces some of his predictions for other technology areas in the final chapter. These rather sit outside the rest of the book's approach. That said, if you can get through this, you will be rewarded with insight, understanding and much to ponder about the sector.
Could Symbian have survived for longer? Very probably. Should Symbian be higher regarded in history? Absolutely.
Reviewed by Rafe Blandford, Steve Litchfield at