Review:
Google HD Browser
Score:
80%
I've talked in the past about bookmarking specific URLs in order to get to the 'HTML5' (/touch) versions of Google mobile web sites, i.e. the versions that iPhones and Android phones see. All too often, Symbian phones get served up the very low tech 'feature phone' versions of each page - which is a shame when Symbian OS and modern hardware can do a pretty decent job of handling whatever Google serves up. Google HD Browser automates the signing into Google and making sure the right URLs are used, giving - in effect - an (almost) complete Google touch experience. See below for comments on how effective it is and notes on some caveats.
Buy Link | Download / Information Link
With a touch of hyperbole, the application is described on the Nokia Store as:
Google HD Browser is the ultimate app that let you browsing the High Quality Google HTML5 version, optimized for touch devices, it will brings the best of Google to your Nokia device, and you'll be able to use Google Search HD, Gmail, Google Maps, Google+, Google Translator and much more more... Browsing Google Apps will be easier than ever on your Nokia device.
Which is a touch over the top, but the thought's there and Google HD (Browser) gets closer to this aim than any other solution or set of bookmarks that I've seen yet. I'm presuming the magic happens through Qt web views, a change of reported 'User Agent' and some specially targeted URLs behind the scenes, but what matters for end users is that they see much the same touch-optimised and relatively function rich interface as browsers on iPhones and Android devices would.
Of course, the end result will still be some way slower and clunkier than dedicated applications on each platform. There's a huge caveat in what is reviewed here, in that while using it you have to make allowances - you're effectively using a web browser to access a web interface and there will be a slight delay after each screen tap while the next page is requested and loaded. Once your mind has got round the concept (i.e. "I'm not using a native/local app, so I'll be patient...") then Google HD is surprisingly useable even if never rises into "slick" territory.
Most importantly, for people who are heavy users of Google services and who are now effectively locked out of most of them (especially after the withdrawal by Google of Exchange support), Google HD offers a way 'in' again. Well worth a quid, at least, even if you spend an hour browsing round the interface and then end up dismissing it as too slow or too limited.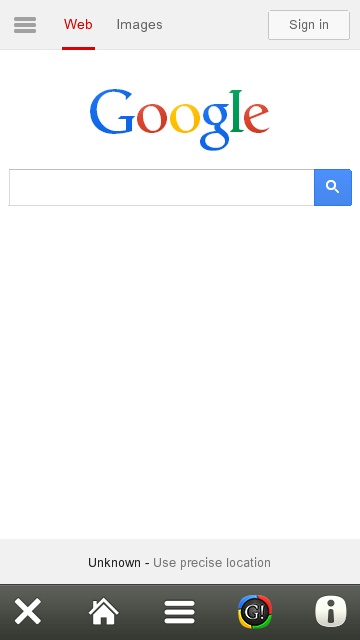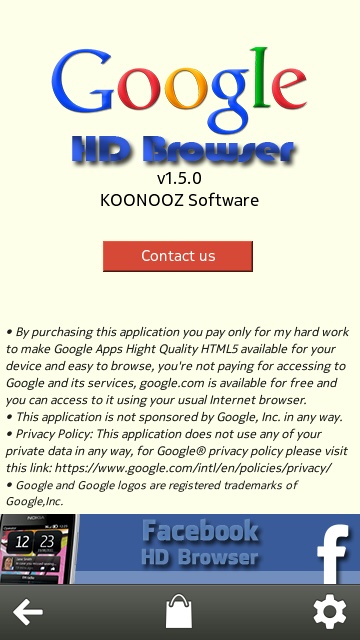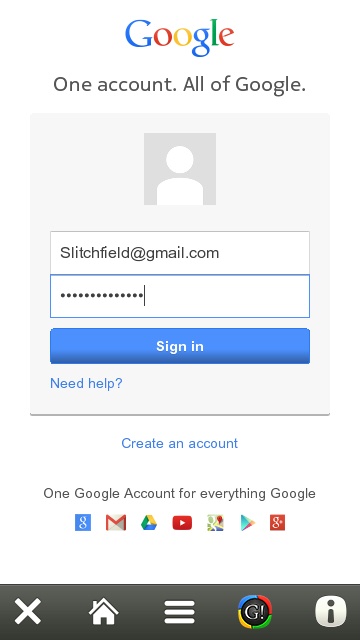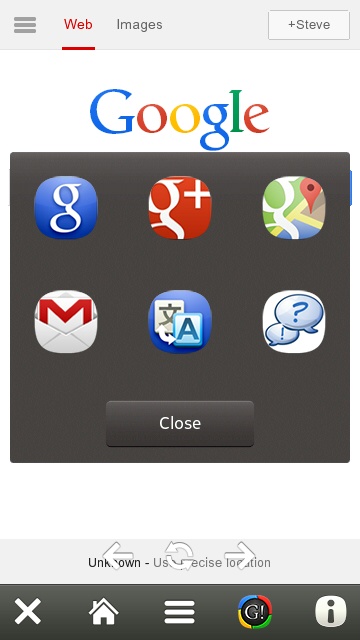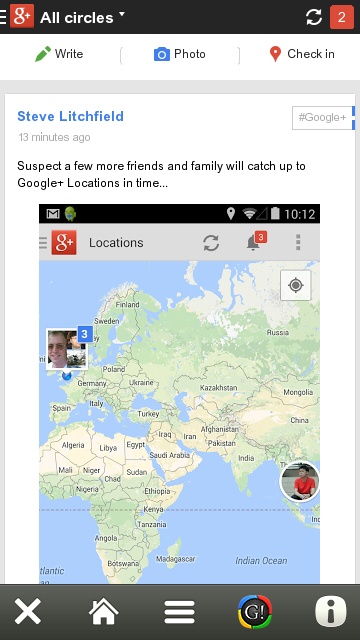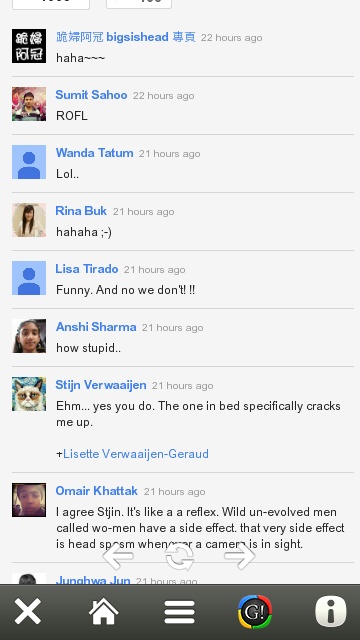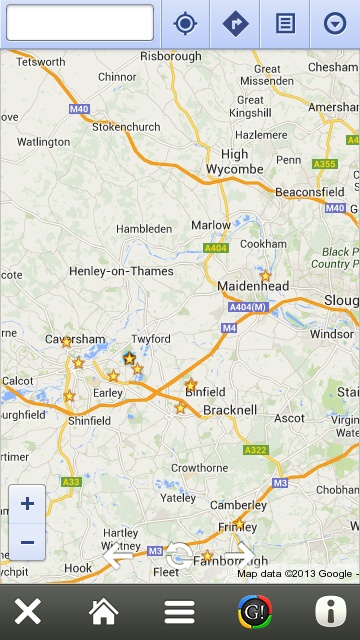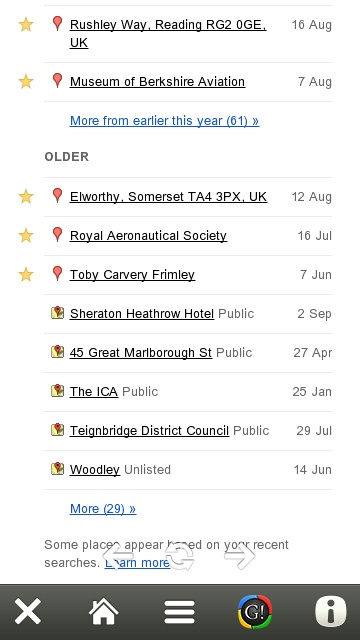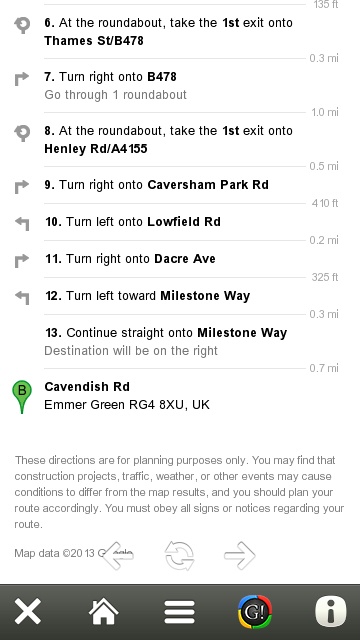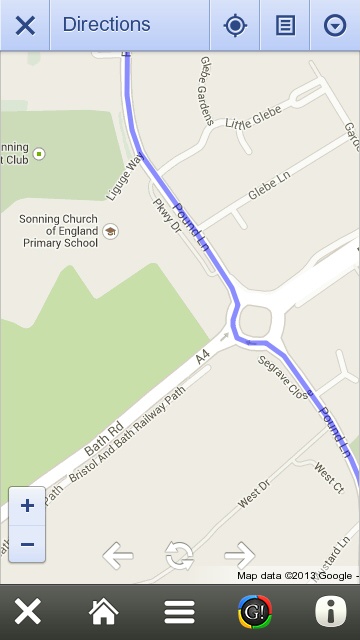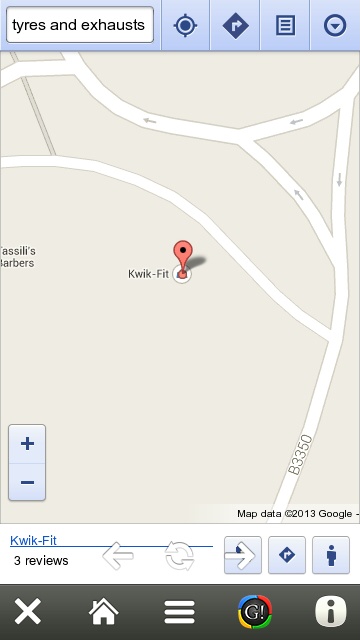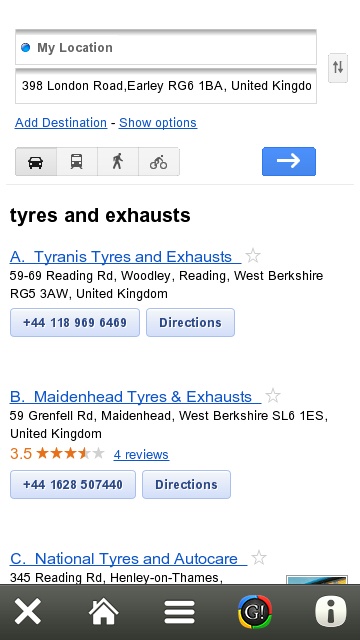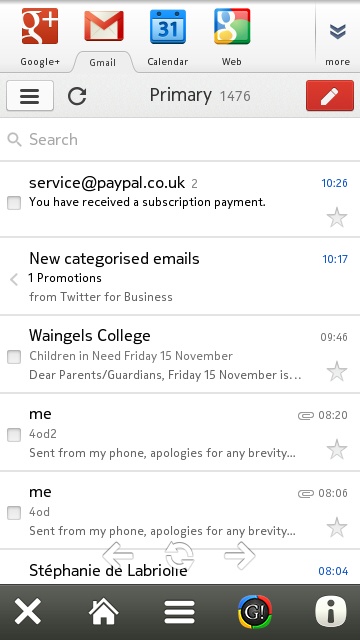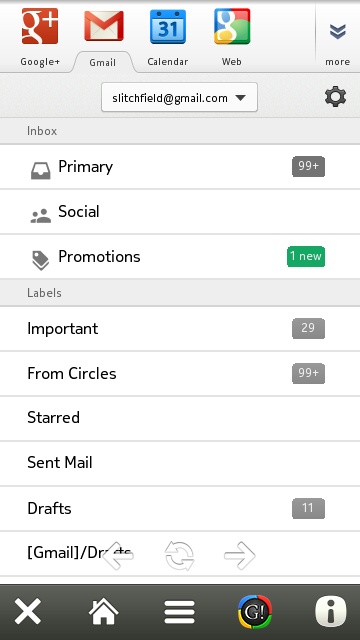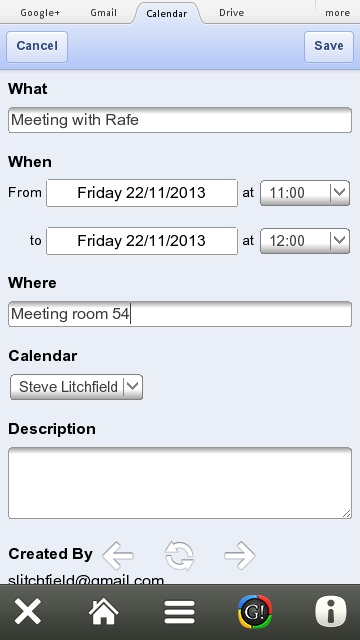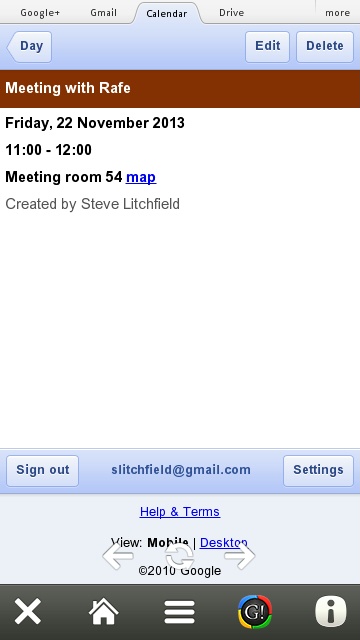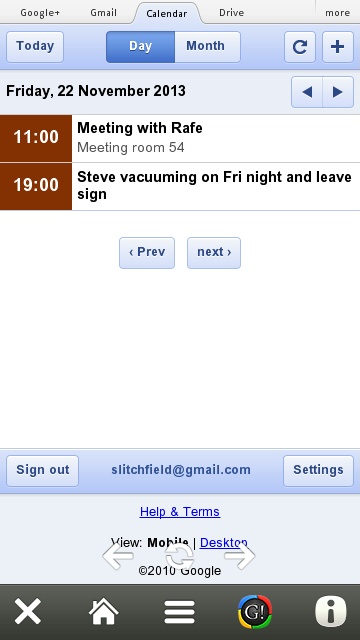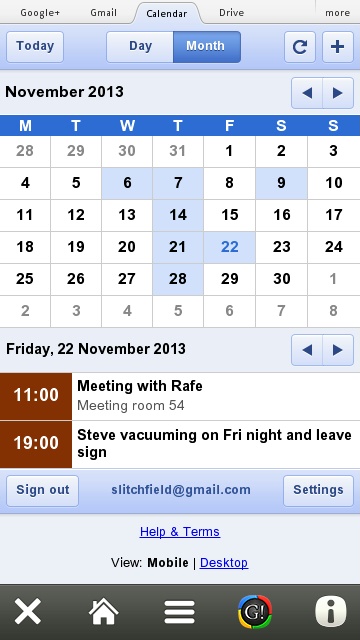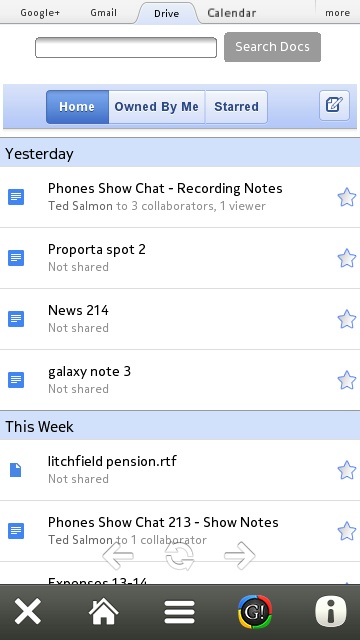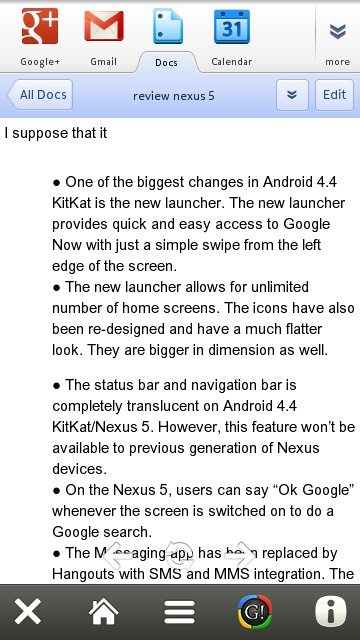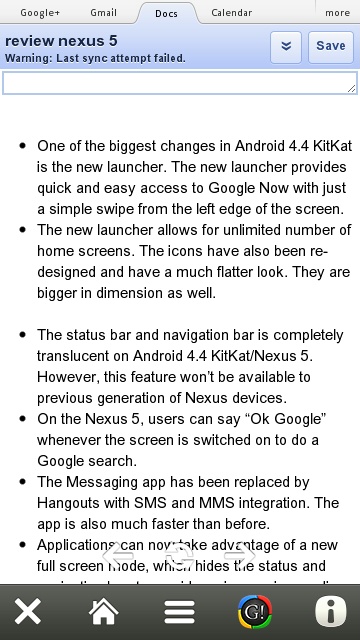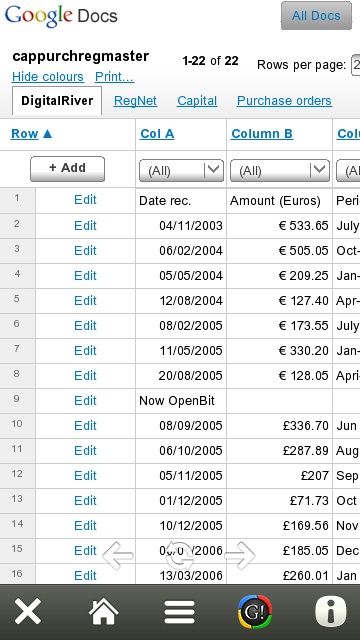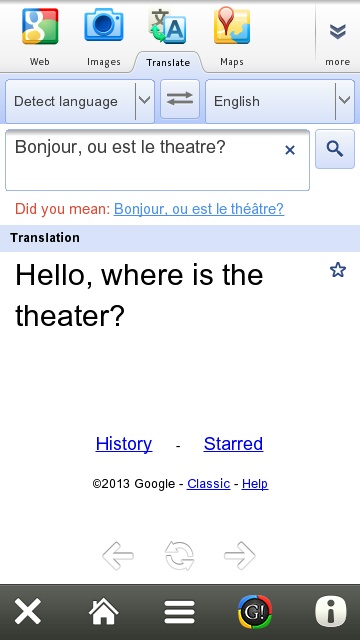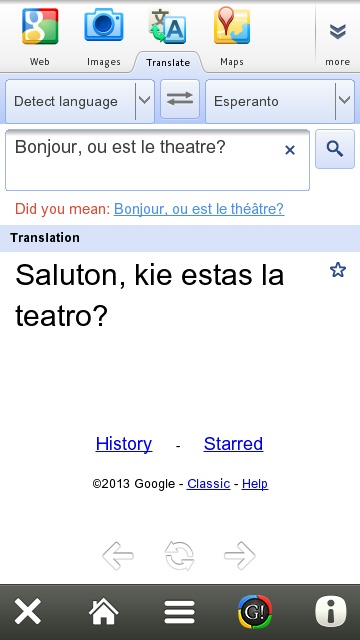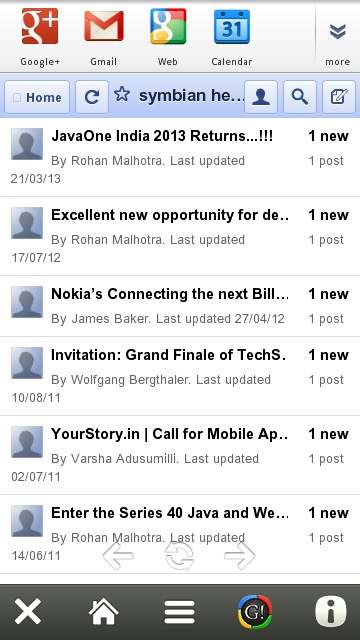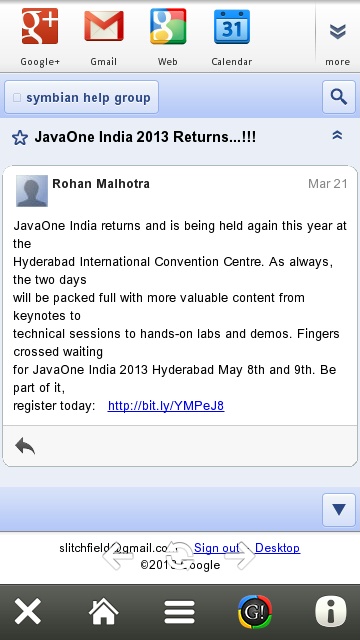 Now, since the interface being seen is all generated on the fly by Google's servers for iPhones (etc.), changes can be made by Google in the future and everything just appears here as usual. But I can't but worry about the long term - what happens after January 1st and Nokia Store applications get 'frozen'? Hopefully the developer can sort out an alternative download site (and payment option), since there are bound to be some small tweaks needed here and there.
"Workable" perhaps best describes Google HD Browser - hardly a ringing endorsement in a 2013 world of slick, zero lag interfaces, but when the alternative is, in this case, "not working at all" then I'm welcoming this solution with open arms. Recommended.
You can buy Google HD Browser here in the Nokia Store for £1 or local equivalent.
Comments welcome if you've given this a try, too.
Reviewed by Steve Litchfield at