Review:
ViewRanger GPS
Score:
78%
It's fair to say that ViewRanger has come a long way in seven years, since my initial 2006 review on a sub-QVGA device and I can only apologise to all concerned that we haven't updated our coverage of it on All About Symbian since then. The first versions concentrated more on the unique 'panorama' and photo sharing functions, but it's fair to say that ViewRanger is much more of a general GPS and off-road navigation tool now. Best of all, it's now much more Internet aware in terms of getting new maps as and when needed.
Version Reviewed: 2.9.3
Buy Link | Download / Information Link
One thing should be noted before we dive too deeply into ViewRanger GPS - it's a mature product in terms of functionality, but it bears the scars of multiple UI changes (most forced by Symbian itself, to be fair) - as a result, there are oddities in terms of menus and look and feel. I'll return to this topic below, but forgive it for now, since ViewRanger is still something of a unique product.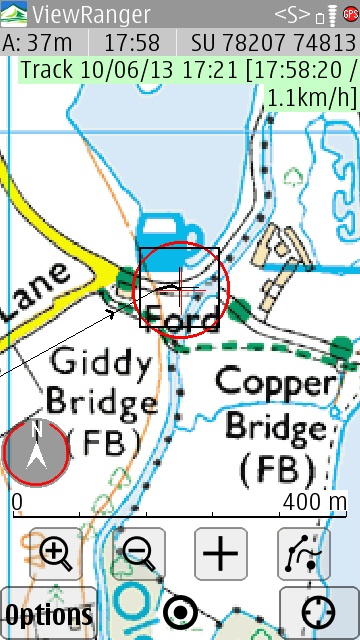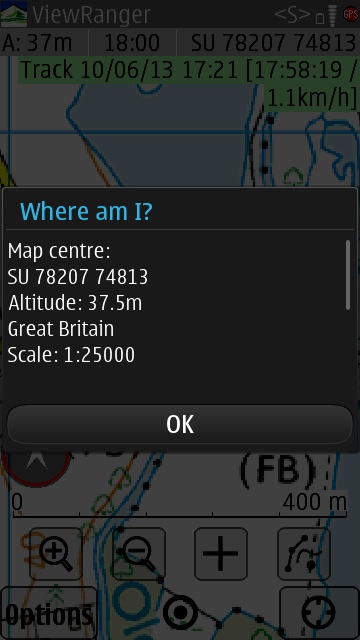 Traditional smartphone mapping products are all geared around road navigation - perhaps with some cycle track and public transport support if you're lucky. By keeping a road focus, these products can snap your position to known lines and minimise positioning uncertainties. In addition, there's ample opportunity to minimise data use by implementing vector maps rather than bitmaps, plus they can provide the 'sexy' bit of computer mapping: voice guided navigation.
However, go off-road and you're usually in a large blank area - or a patch of green. ViewRanger, quite literally, takes 'the road less travelled', being optimised for off-road use, the idea is to appeal to hikers and mountain bikers. Which is a larger niche than you might think and ViewRanger is the best known product in this field by far. It started on Symbian, but is now available for other platforms, of course.
As shown above, armed with your current GPS position, digitised versions of official Ordnance Survey maps can be overlaid, giving you accurate information on gradients, footpaths, streams and much more. You can zoom in as much as you like, but you're ultimately limited by the bit resolution of the source maps (the 1:25,000 version is sampled above).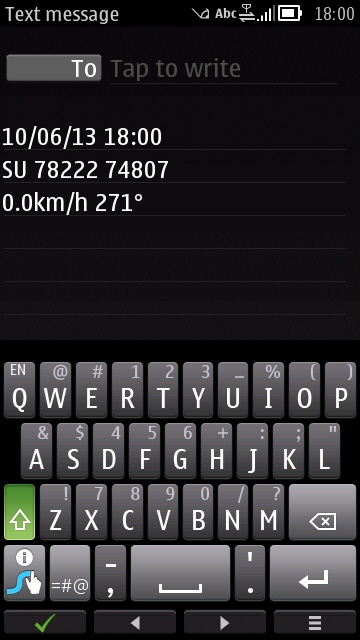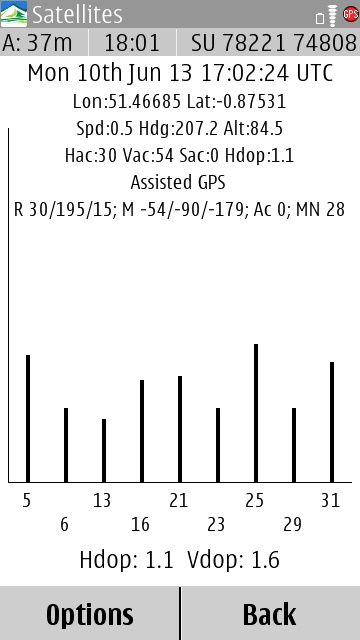 ViewRanger GPS, as the name implies, functions pretty well as a generic GPS utility too, the 'Phone' menu section lets you fire off your exact position via email or text. Although UK OS grid coordinates are shown above, you can switch this to be any of a dozen alternatives in the settings, including no less than three lat/long variations. There's a useful GPS satellite view too, something you don't often see in mapping apps these days, which can be very helpful in diagnosing a poor position fix.
You can set up waypoints on the map and then home in on them (in straight lines, of course, this is off-road, remember!). ViewRanger GPS's UI elements largely disappear when you're not using them, which is smart, with one tap on the lower part of the screen enough to bring the tools back. Although zoom icons are shown, you can also use multi-touch to magnify the maps if needed.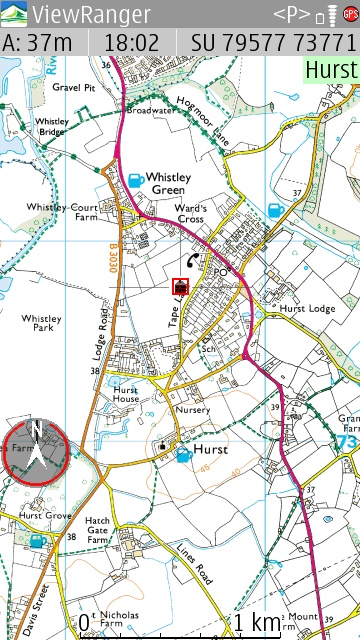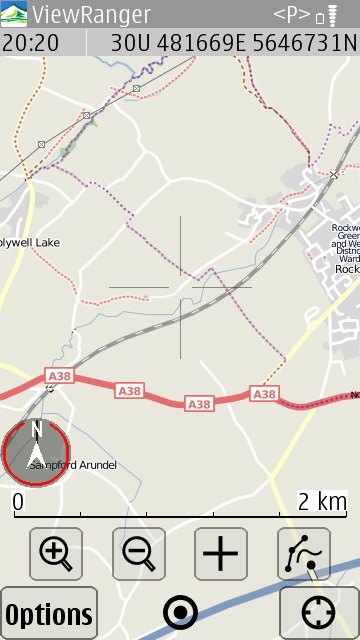 In addition to the 'premium' Ordnance Survey maps (in the UK), all countries all get basic mapping via a variety of OpenStreetMap variants, Bing Aerial imagery and (shown below) the useful OpenCycleMap: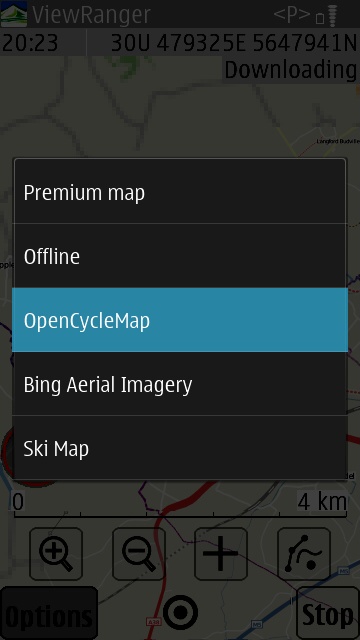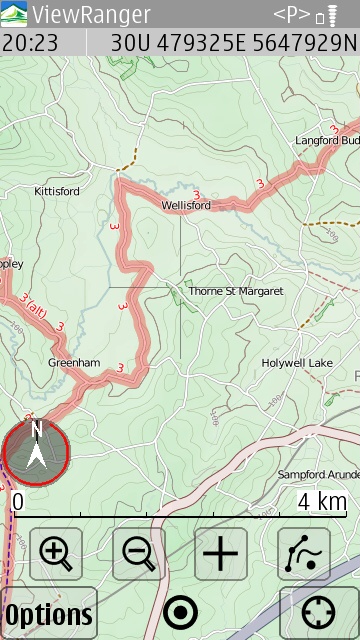 You can switch between all these different map data sets at will, plus I noted (but didn't try) a number of multimedia 'extras', shown below. What I really wanted to test though is how ViewRanger GPS now manages its core maps. Back in the day (2006), everything revolved around buying maps on CD and then sideloading the areas or countries needed, but happily things have moved on a lot.
In the screenshot below, right, I show my sideloaded 1:25,000 maps of Berkshire, UK, zoomed right out, set within the UK National Grid - around 120MB of map imagery, these were taken from a CD I acquired in 2010 but the maps work just fine here. Although you can't buy on CD anymore, you can still purchase large areas and then sideload if you like, though the usual buying system for ViewRanger customers is now to purchase a number of credits from the company's web shop and then use them in-app, as needed, to grab the specific map tiles for where you are (or where you want to walk).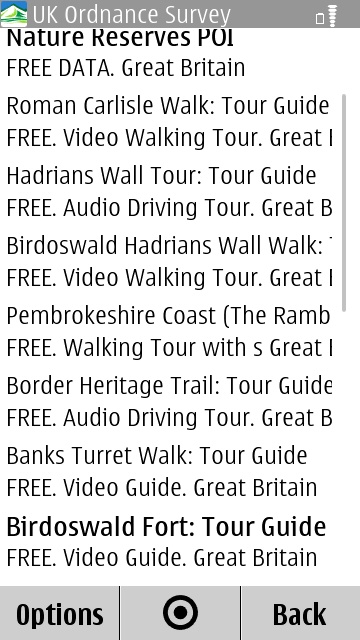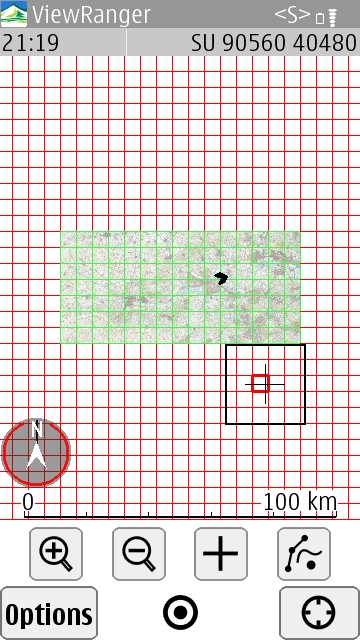 To illustrate this, let's pick a spot outside my original sideloaded map area. Note the red and black squares, corresponding to map tiles and 'areas' respectively. On the 'Downloads' menu, we see: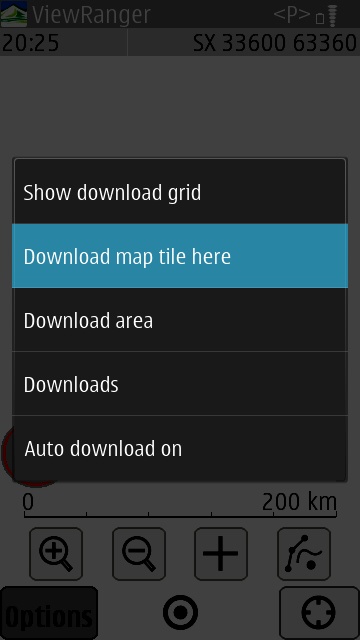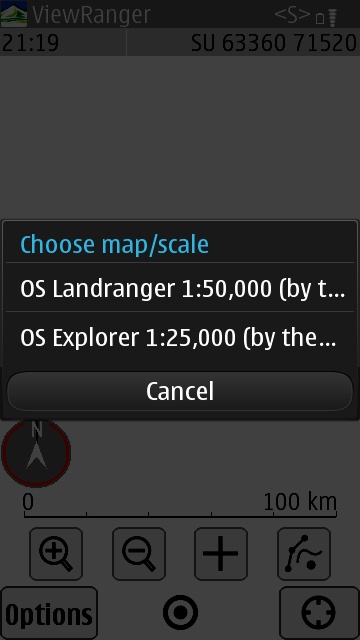 Downloading an 'area' grabs the maps for the larger black square, obviously, and typically requires around 500 credits. If you needed lots of map tiles (for example, for a cycle ride) then this would save a lot of fiddling tile downloading though. For the illustration here, we'll just download a single map tile: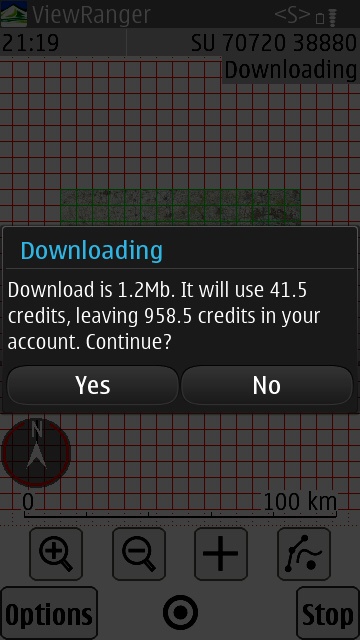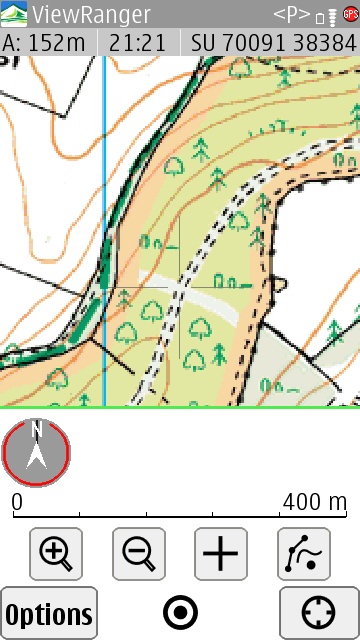 Ah, looks like my walk will take me off the 'bottom' of this tile, so I'd better download the next tile down too. There goes another 60p or so (it's roughly 1.5p per tile for the 1:25,000 OS maps)!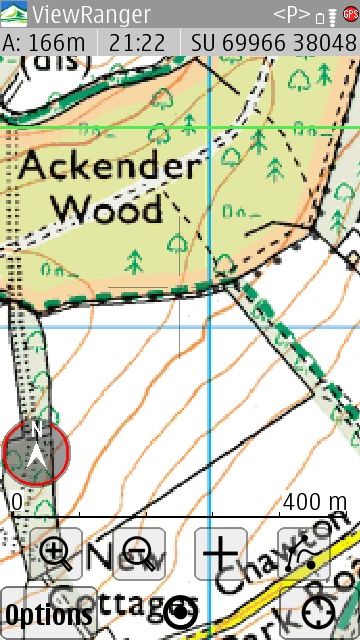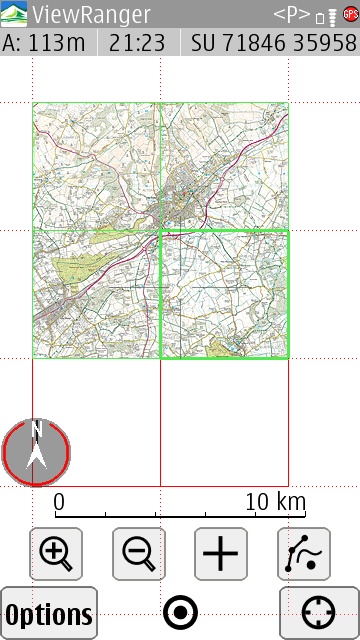 Great. In fact, I also need two more neighbouring maps, so I'll grab those too. I now have four map tiles covering the area I'm going to be walking around. Every map tile that gets downloaded is stored in a folder on your memory card (or mass memory) and will thus always be available when you come back to this area later on. If you switch phones then you can just copy the files over (or move the physical card), though note that there are some (geographical) restrictions to re-downloading tiles that you've previous bought - see ViewRanger's FAQ for more on this.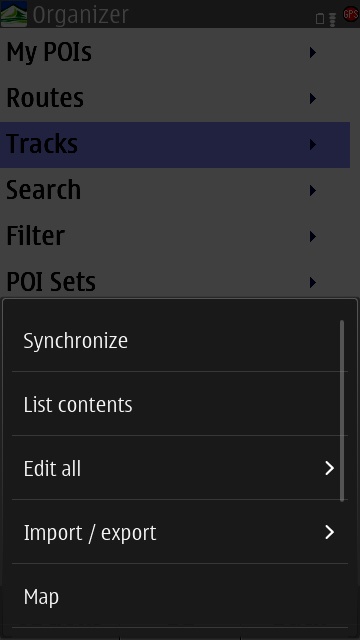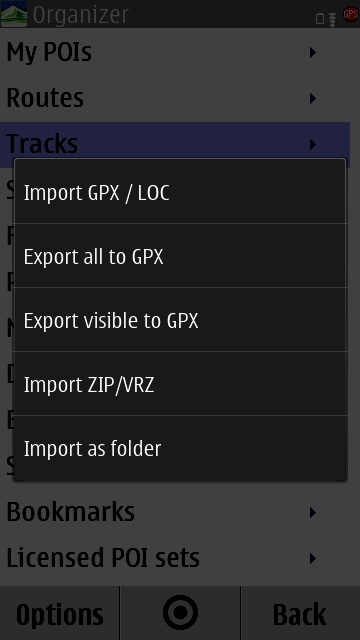 There's more to ViewRanger GPS that I haven't got room to go into here - setting up buddies (with either ViewRanger or Globatsat or Retrieva loaded) so that you can find them on the map, or filtering the map to add POIs (e.g. AA places to eat or stay), plus, as shown above, plenty of import and export options to and from GPX, LOC and VRZ file formats.
However, as the two screenshots above show and as you might have gathered from the moderate score for ViewRanger GPS, the application is complex to use. Partly, in fairness, because of the huge feature set, but also because of the cruft from versions from days gone by. In the screenshot above, left, we've gone to the 'Options' menu and selected 'Organizer', to bring up the secondary, nested full page menu (shown in white), from which I've tapped on 'Options' again, to overlay (effectively) a third level of menu functionality. Arggh!
I do sympathise with the developers and the UI decisions they've had to take at each stage in the last seven years, but I can't help but feel that the interface needs to be drastically simplified. Maybe it's time to start the interface design from scratch while still re-using the core navigation and map handling code, rather than trying to tack functions onto an older, existing design?
However, don't be too put off - it's likely (as I did) that you'll only use a fraction of ViewRanger's functions, in which case you'll learn how to get into those parts of the app and can get on with your outdoor activity very happily. And if an Android or iOS user tries to evangelise ViewRanger to you on their phone, why not respectfully point out that your Symbian handsets have had the application for the best part of a decade?(!)
PS. The best starting points for you to get going with ViewRanger GPS are to download the app for free from the Nokia Store and then to buy some credits so that you can grab some really detailed premium maps for your own home countryside.
PPS. You may wonder why detailed off-road maps are usually 'premium', i.e. why do you have to pay for them, when the likes of Google Maps, Apple Maps, Nokia Maps (etc. ) are all free? The answer is that the aforementioned are all only really detailed around the road network, which is relatively cheap to map out and digitise. Think about trying to construct an accurate map of a local hill or quarry, in terms of every contour change, every footpath, every stream and you can see that this sort of mapping is at least an order of magnitude harder - and no, you can't do it using satellite maps, though these do help the map makers, I suspect. As a result, off-road maps are expensive to make and thus have to be licensed in some way in order to recoup the cost.
Reviewed by Steve Litchfield at