Review:
LiveJournal
Score:
80%
Symbian Bloggers are in for a treat – after having two options for WordPress, they now have a LiveJournal app too. LiveJournal is one of the original blogging platforms, and was a social network before there were social networks as we now know them. Users will be glad to hear this app is functionally equivalent to the WordPress apps, and supports specific features like LJ-Cut and other tags specific to the platform.
Version Reviewed: 1.0.0
As mentioned above, LiveJournal goes back a long way – 1999 in fact. Though first intended as a blogging platform, it quickly became the equivalent of contemporary social networks, thanks to user friendships, privacy settings, and community groups. LiveJournal even encompassed the follower model by allowing asymmetric friendships.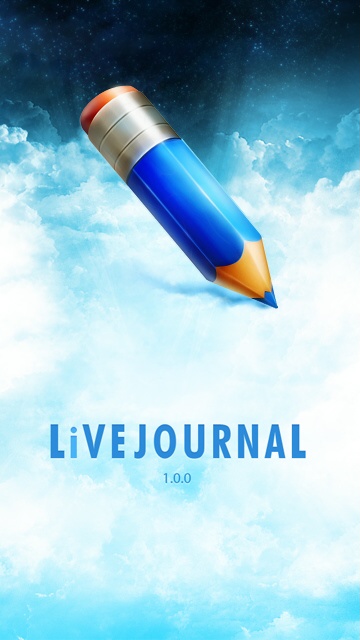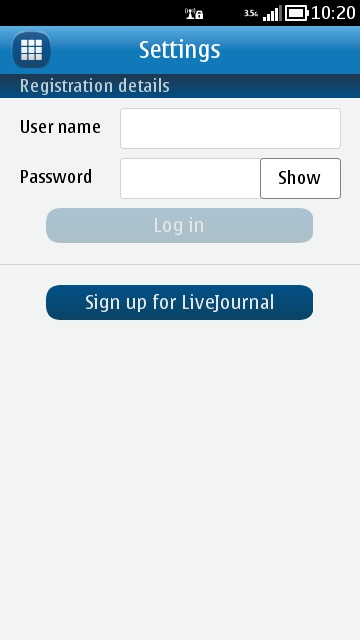 Logging in to LiveJournal.
LiveJournal is still alive and well, and offers both free and paid levels of membership. It is also an open source software project, giving rise to niche versions such as the gothic DeadJournal. However, this app is specifically designed for LiveJournal.com, and no other variants.
After launching and logging in, you are presented with the feed of posts from everyone on your friends list and your communities. However, the start-up view can be changed via the main settings page. This stream of posts can be filtered by your friends groups – something you need to set up on the desktop website.
Each post is previewed with the usual LiveJournal data, such as avatar, mood, current music, and comment count. When you view a full post, placeholders are shown in place of images. This reduces data use and loading time. However, tapping the placeholder loads a scaled down copy of the embedded image.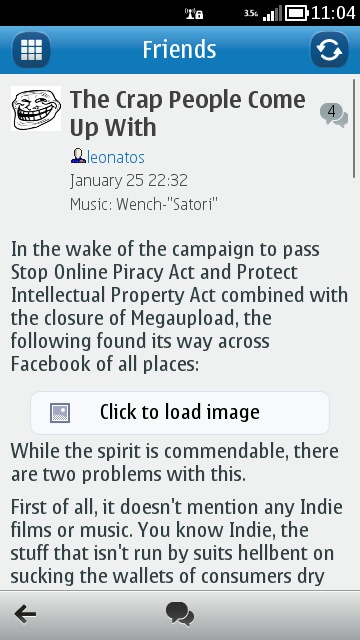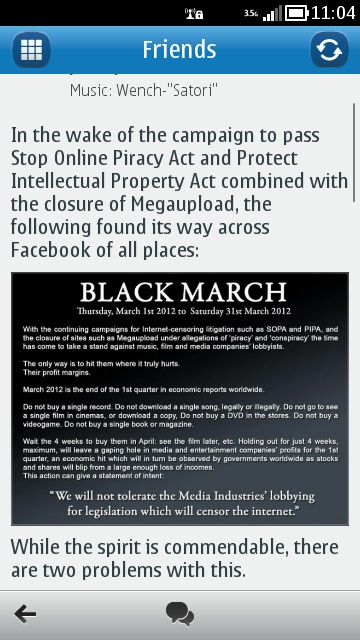 Loading embedded images.
The only constant part of the user interface is a toolbar across the top of the screen which hosts the main menu icon. The menu is a grid of six icons for your journal posts, your friends' posts, your private messages, the post creation screen, and the main settings.
The private messaging interface works nicely. The To: field has a drop down list of all your friends, allowing you to autocomplete the recipient's name. Unfortunately, you can only reply to messages, there's no option to delete or mark as read.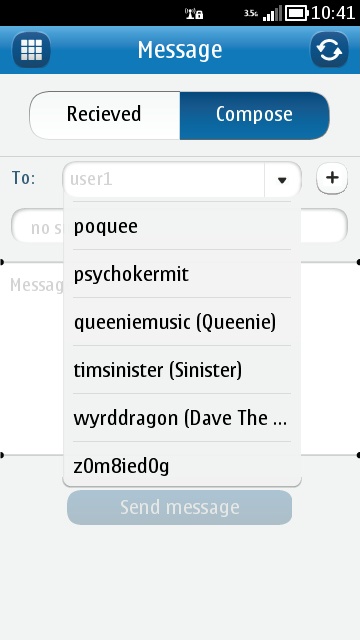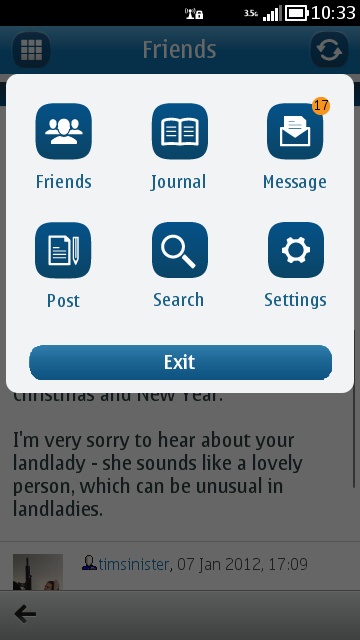 Writing a private message and using the main menu.
The "Post" screen allows you to create a new post or edit a draft, but there's no way to edit published posts. Similar to the WordPress apps, there is a HTML toolbar, but this becomes fiddly to use because this app does not support Symbian's split-screen keyboard.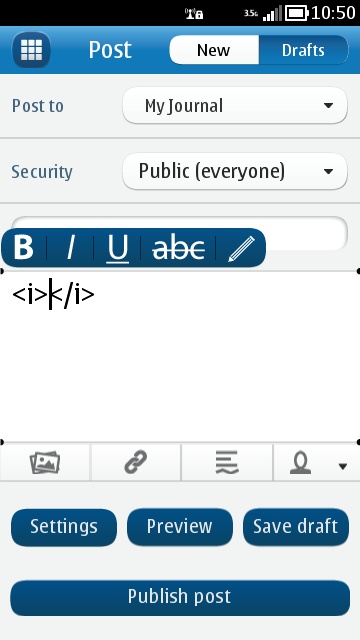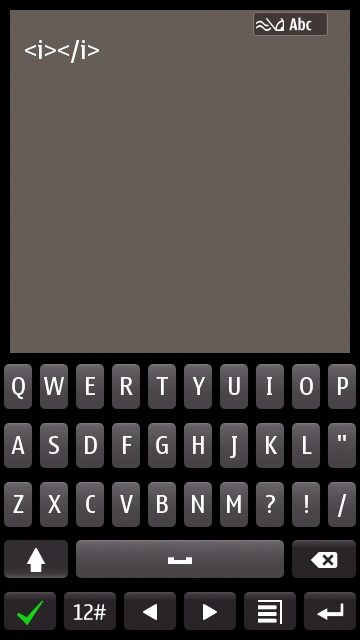 Editing text is not easy.
All of the standard LiveJournal fields are supported, such as mood, current music, and location. The privacy setting allows for public, friends-only, or private. However, you cannot restrict posts to a group (i.e. subset) of friends.
LiveJournal has several custom HTML tags, which are supported in this client. The LJ-USER tag is automatically inserted, allowing you to select from a floating list of your friends. The LJ-CUT tag is supported too – this is like WordPress' "More" tag.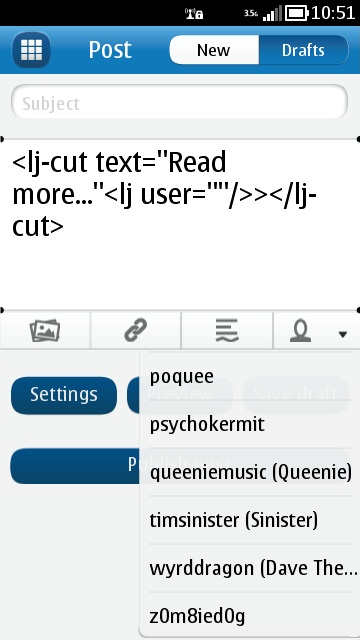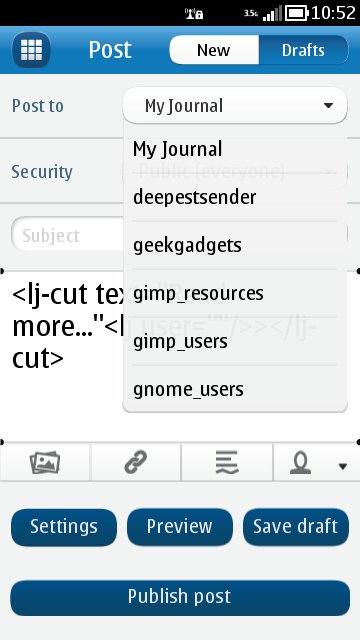 Inserting LiveJournal tags, and selecting usernames and post destination.
Images saved on your device can be embedded into posts. As you publish or save as a draft, they are uploaded to the LiveJournal Scrapbook service which is part of your account.
Overall, LiveJournal for Symbian is great for browsing accounts you're subscribed to and for making very short posts. However, I feel that making long-form richly formatted posts will be too fiddly to bother with. It's definitely worthwhile with little to complain about though, especially considering that LiveJournal is free in the Nokia Store.
Recommended.
David Gilson, 8th February 2012.
Reviewed by David Gilson at