Review:
FlickrUp
Score:
85%
Flickr is the photo sharing site of choice for photography enthusiasts and professionals. Symbian users can already upload to Flickr either by email or Gravity. However, until FlickrUp came along, there was nothing available for browsing and uploading. This Nokia Belle-style Qt app is fully functional, resplendent with options, and is available for the princely sum of zero!
Version Reviewed: 2.0.0
When FlickrUp is launched for the first time, you're invited to login. Web based authentication is used, allowing you to login either with your native account or through your Facebook or Google account.
Post-authentication, the primary screen of FlickrUp shows you four horizontally scrolling lists of thumbnails. These correspond to your Photostream, Photosets, Galleries, and Favourites. Touching these takes you to a vertical list of thumbnails accompanied by their title, description, upload date, and privacy status.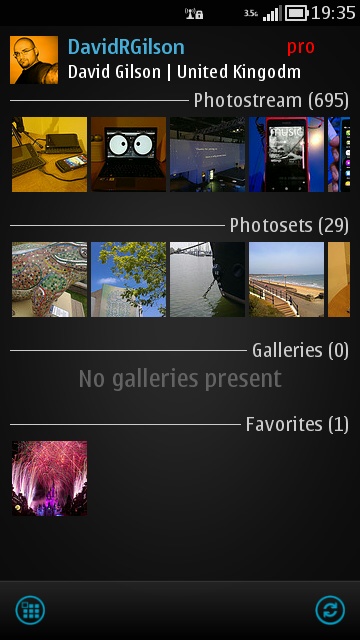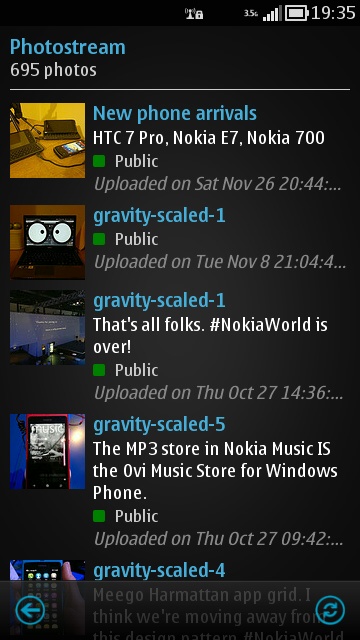 Main screen and Photostream.
While viewing a single image, details can be overlaid by tapping, and swiping sideways takes you to the next image in the current set. The triple dot icon on an image page brings up the comments for that image. This feature really helps FlickrUp shine as a social application rather than just an image browser.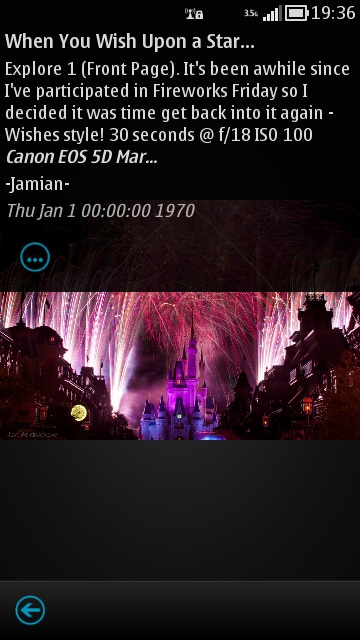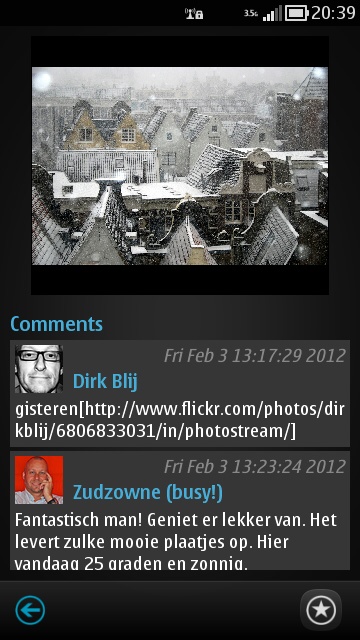 Viewing image details and comments.
On the lower left corner there is a (tiny) icon for launching the main menu. Rather than rows of text, the menu is a table of labelled icons, which looks good. The first two options allow you to browse your contacts' uploads and view recent "Interesting" picks from the Flickr editor. A simple search function is also available here.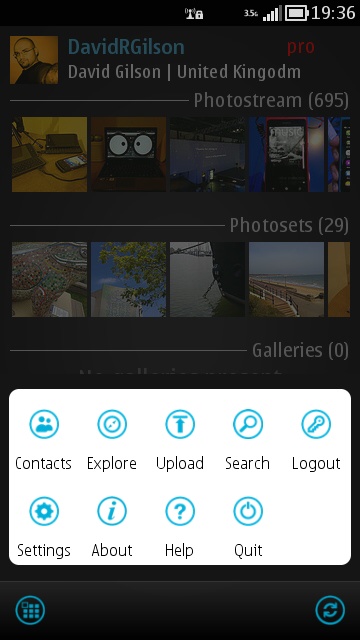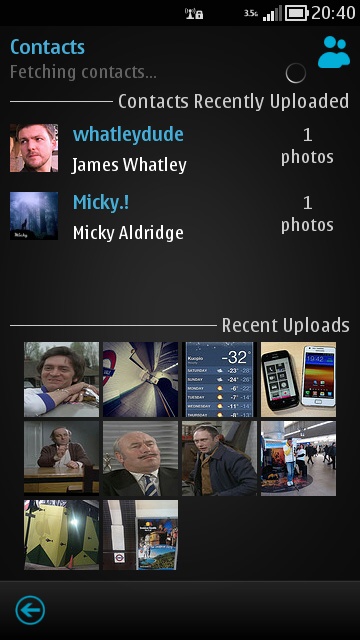 Main menu and contacts photos.
The next icon takes you to the upload screen, which is resplendent with options. You can even select multiple files, set options for each of them, and then leave FlickrUp to perform a batch upload. In addition to setting title, description, and tags, you can select which resolution to upload, and the privacy and parental control content.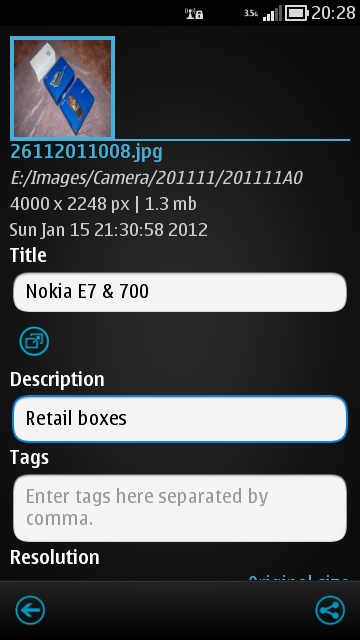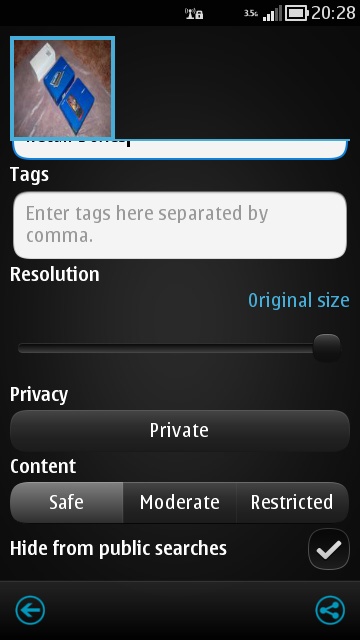 Upload options.
If you don't want to diddle with options every time you upload, you can choose your defaults via the settings page. This page also lets you select which local folders you'll choose uploads from. Those who are keen on optimising the battery life of their AMOLED smartphones will be glad to know they can choose between a light or dark theme.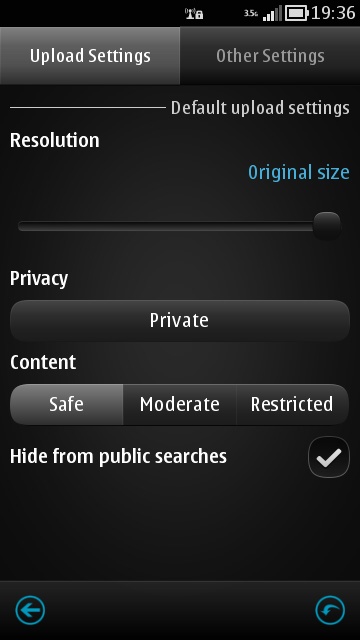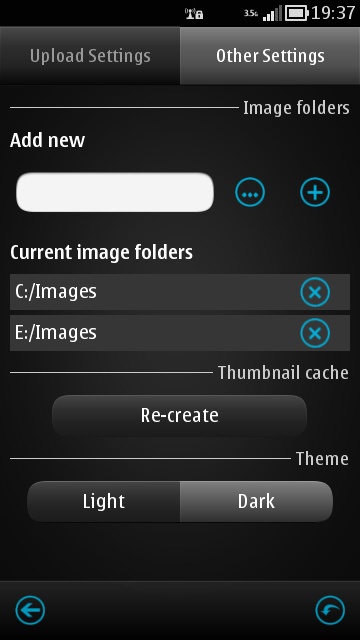 Settings menu.
FlickrUp does have some limitations that surprised me though. I would have expected an image download capability – this would have been a great way to get new wallpapers for your phone. There's no option to share images via your social networks either – even the Twitter and blogging options that you can set up on your Flickr account are not included.
Overall though, FlickrUp is a great product despite the limitations discussed above. It's designed completely within the Nokia Belle style guide, and is one of the quickest applications to switch between portrait and landscape that I've seen. I'd reasonably expect an app like this to cost as much as £3.00, but FlickrUp is free on the Nokia Store. Apart from the "About" page, there aren't even any advertisements!
Highly Recommended.
David Gilson, 5th February 2012.
Reviewed by David Gilson at