Review:
Live Cams
Score:
75%
I'm a sucker for a good webcam portal. Partly it's because I hate travelling and, this way, I get to see loads of places round the world without leaving my desk, partly it's because I'm as nosey as the rest of the human race when it comes to seeing what other people are doing, especially when they're doing it on the other side of the world, often without knowing they're being watched! Which is why I made a beeline for Live Cams, available for Qt-compatible touchscreen devices in the Ovi Store.
Buy Link | Download / Information Link
Before going any further I should mention that Live Cams is cross-platform - as in ported from a successful implementation on the iPhone. Not that this is a bad thing, since the underlying databases and research have been already done - it means masses of content from moment one on Symbian. But it does mean that the interface is a little odd in places and that some functions don't actually work.
Still, you'll notice a reasonably good score above, which means that Live Cams mainly lives up to its name. There's a lengthy startup phase while the latest feeds are gathered (understandable, though more caching of these would have been better), and a fullish set of 5000 or so webcams from around the world. When you first go into Live Cams, you're presented with a random selection, updating live in thumbnail form - not a bad way to sample what's on offer, and the eye is immediately struck by the cams which update every second or so - it's almost like having a video cam for some feeds.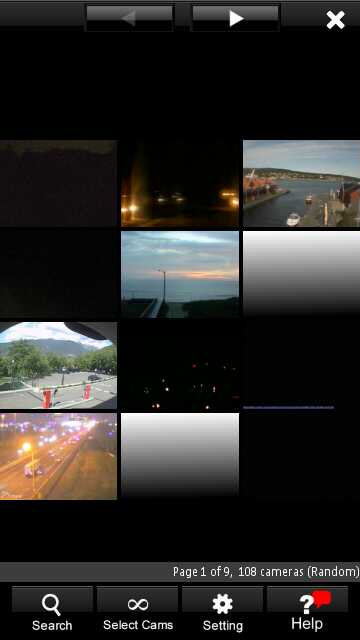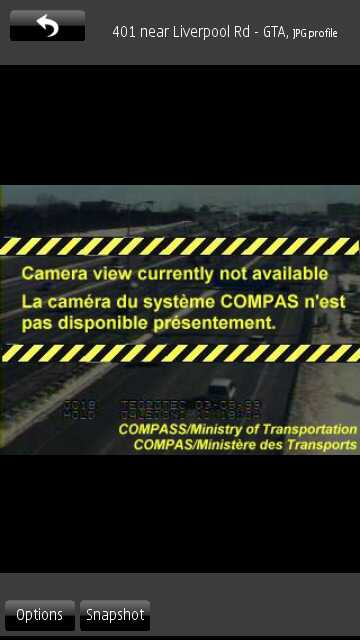 As you'll notice in several of the screenshots and as exemplified by the shot above, right, it's also inevitable that some webcams aren't available live, 24/7. Or perhaps they're hit by a power cut. Or the guy who owned it moved out and forgot to tell anyone - though Eggman's staff are supposed to weed out old cams, meaning that most of the feeds here do work - even if you sometimes have to wait a few tens of seconds for the first picture.
Unique for Live Cams is PTZ (Pan/Tilt/Zoom) control of many cams. That's right, for quite a few of the webcam feeds, you can control the camera - from your Symbian smartphone! There are two different PTZ interfaces on offer, depending on the make of webcam that you're connected to, but they're both inuitive and they both work.
For example, below I'm looking in on a guy's office (with his permission - I mean, he installed the cam!) and could pan around the office to keep him in view. Pretty spooky, really. Only one Live Cams user can control the cam at once, of course, and most cams had a timer assigned to them. i.e. you get 30 seconds to control the motor and then someone else can jump in.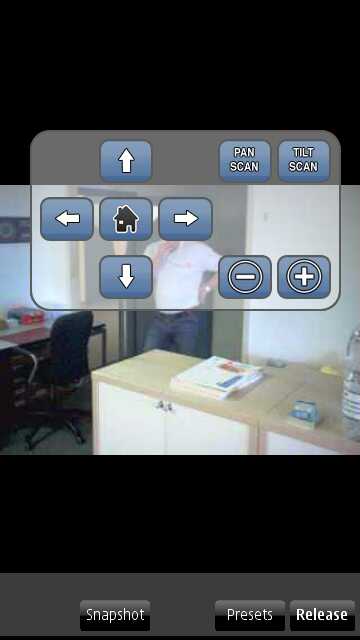 You can search for keywords in webcam titles, or simply browse any of the predefined search categories. It's all very well thought out, even if the screen elements/controls are occasionally unresponsive and a little strange to the eye - again, casualties of the port to Qt on Symbian.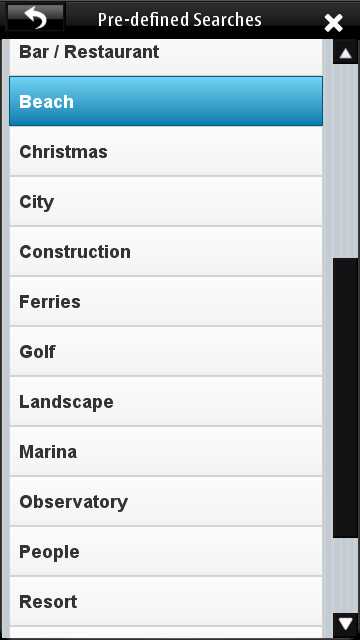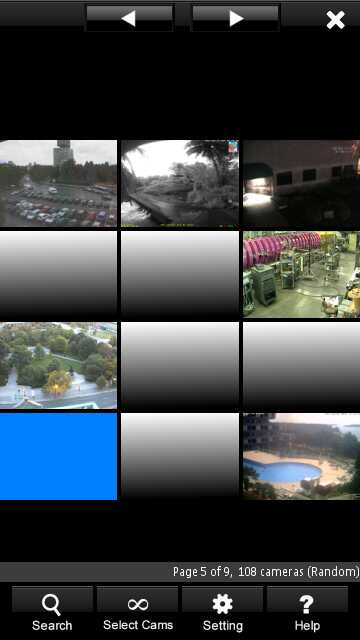 For any webcam, you can of course tap it, to bring the image (often a video, or at least an animation of still scenes) up larger - landscape mode is also supported, so you can bring each photo larger still by rotating your phone. Many photos also have 'Map' buttons shown (where geotagging information is available in the feed) and this brings up an overview of the camera's location - though note that it's zoomed quite a way out and there are no zoom controls - perhaps for privacy reasons, perhaps for bandwidth control.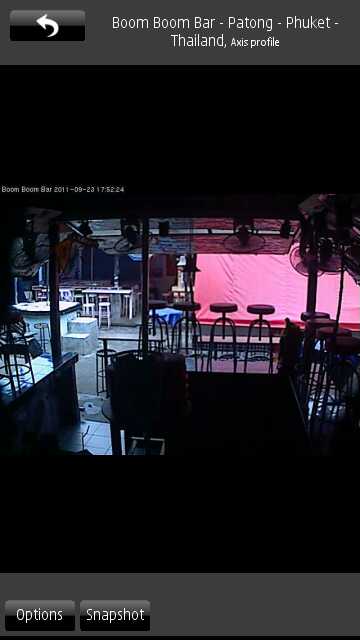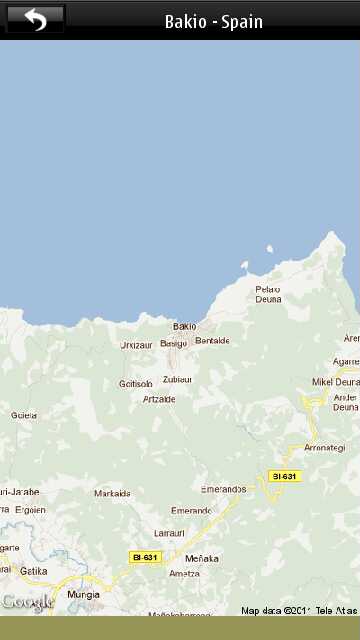 You'll notice the 'Snapshot' function above - this claims that the image has been 'Saved to my album' but apparently this doesn't work on Symbian - I couldn't find the images anywhere on my memory card. Ah well. 'Options' offers a way to mark a webcam as a 'favourite', a system that works very well, since you can just browse your favourite cams later on, even as your preferred starting mode for 'Live Cams'.
If a webcam also has an associated URL, there's the option to 'Open link', going to that URL in your phone's default web browser. This works well but often goes to a somewhat generic site rather than that cam's home page on the wider web.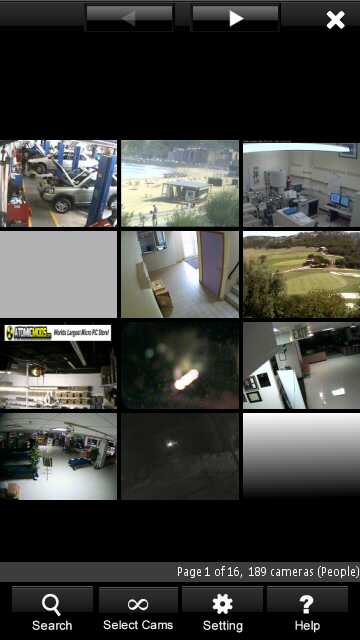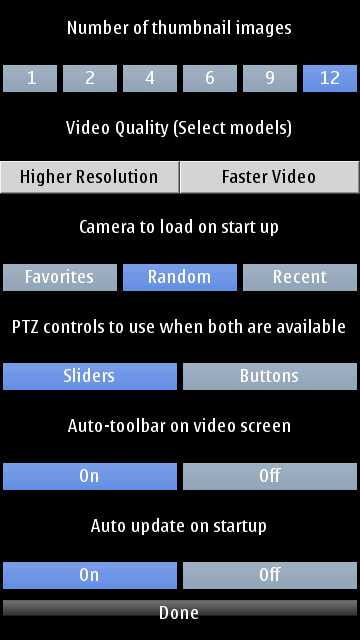 The search system is well constructed, but you're limited to specific words in cam titles - it's all too easy to end up with 'no camera found'. Still, 5000 webcams should be enough to keep you going, even just browsing through categories and enjoying the discovery experience.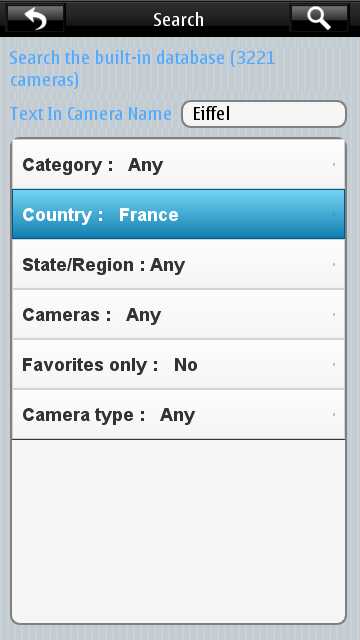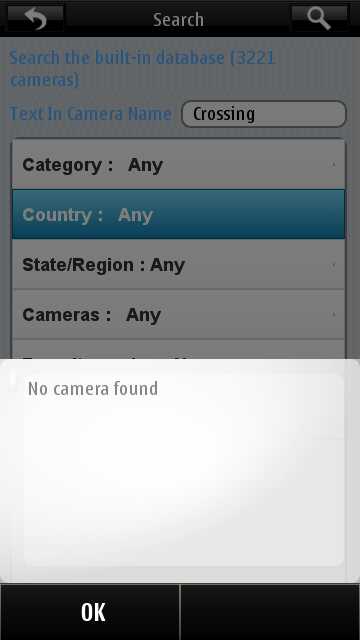 Here I'm browsing 'Bridges', Live Cams has found me 17 examples, here's one up on screen, updated once a second - looks like early morning and not much traffic around in Connecticut!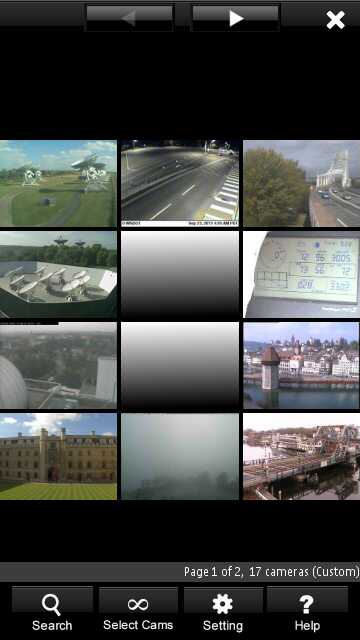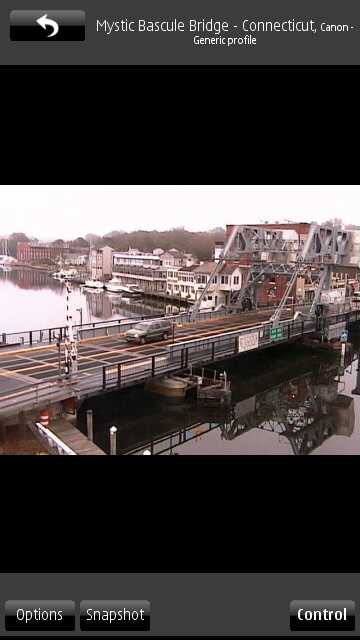 Here's an example of the other type of PTZ control - using sliders rather than buttons. Also note the timer on this particular cam - only 17 seconds left to do that 'swivelly, whirring, police surveillance thing'.... The range of webcam models supported is very wide, below, right, is the filter from the Search dialog, wherein you can tell Live Cams to just show you cams from a particular manufacturer. Geeky, but impressive that this level of control is present.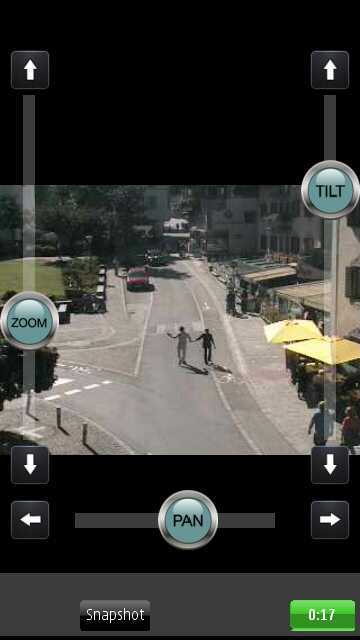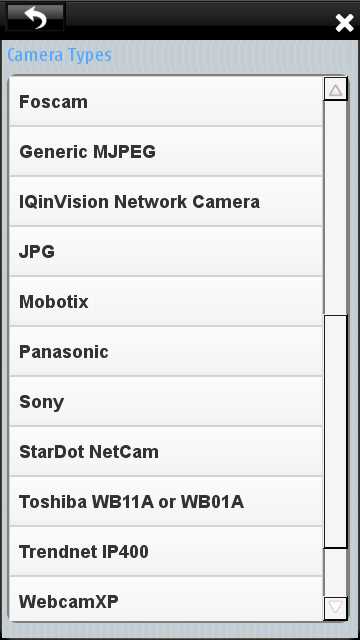 Overall, Live Cams impressed me. Not with its speed and interface - neither are optimal on Symbian. Not with the 100% uptime of its cams, only about 70% of those in the database seemed to be working when I tried (during the UK day). But as a fairly polished way to not only peek into other vistas around the world but also take control of what you're seeing, Live Cams is great fun. And well worth the paltry £1 it's selling for on the Ovi Store.
Go on, you know you want to, have a nose around now!
Steve Litchfield, All About Symbian, 23 September 2011
Reviewed by Steve Litchfield at