Review:
4squick
Score:
77%
Time for another social media client in the shape of 4squick. Focused on Foursquare, and making sure you can get into the app, check-in and get on with your life as quickly as possible, this Qt-based application has a small but growing cadre of supporters. Will AAS join the troops? Read on...
Version Reviewed: 0.96
Buy Link | Download / Information Link
To start with, I'm loving the cheeky nature of the name. For a long time Foursquare has been txtspked down to 4sq (or maybe that should be twttrspk?), so for an application with the primary goal of doing your check-in and status update as quickly as possible, going with the abbreviated portmanteau of 4squick is a brilliant name. Not only does it feel familiar, but it also gets the unique selling point of the app over.
I'm sure they've read the Foursquare brand feature guidelines.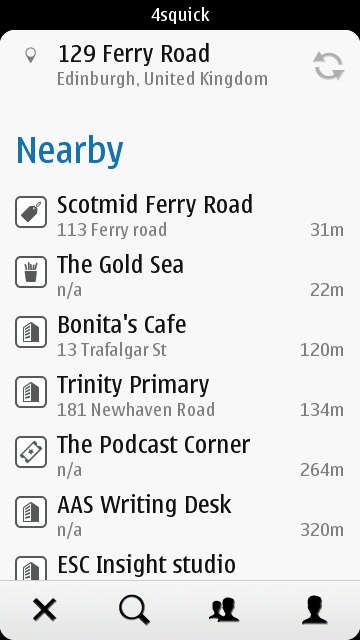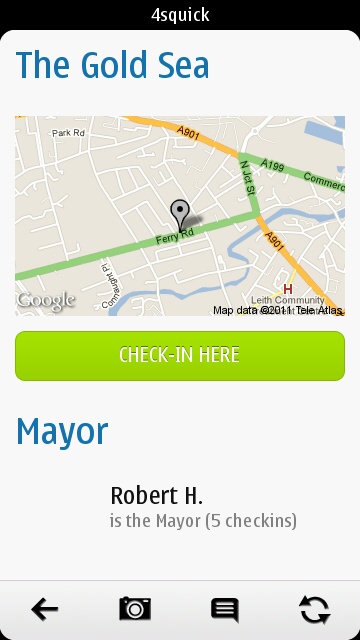 So, how fast is 4squick compared to the official client? First up, with neither app running in the background of my E7 and no existing GPS signal showing on the status bar (e.g. from Nokia Maps running), how long does it take to perform a check-in at a location in the Foursquare database? The official Foursquare app takes 41.2 seconds and 4squick takes 31.1 seconds to go from opening the app to confirmation that I have checked in. So almost 25% quicker.
There is less of a difference when both apps are running in the background and simply need to refresh the list of places and decide where you are. The variance was maybe a second or two, and neither application was always in the lead, so I'm going to call this a draw with a lot of dependance on the interent connectivity and GPS signal around you.

But 4squick is also quick because of the UI. There is much less screen furniture on display, the target areas for buttons like refresh, share with a social network, and the list of places nearby, are larger and friendlier. This makes it a much easier application to use when walking along, as your arm and phone bounce up and down and you try to hit a hot-spot on the touchscreen.
The other addition to 4squick over the official application is the ability to add pictures to your check-ins. Powered by Foursquare's own picture sharing system, this is likely a temporary advantage as you'd expect the official app to have it integrated at some point (as it is on Android and iOS). When that update will arrive I'm not sure, but 4squick do need to tweak their image system as well. You can add pictures already taken by your phone, but you can't specifically start up a camera instance and take a photo from inside the application. When I went to take a picture, 4squick closed itself (perhaps by Symbian freeing up some memory) so I needed to start the check-in process again.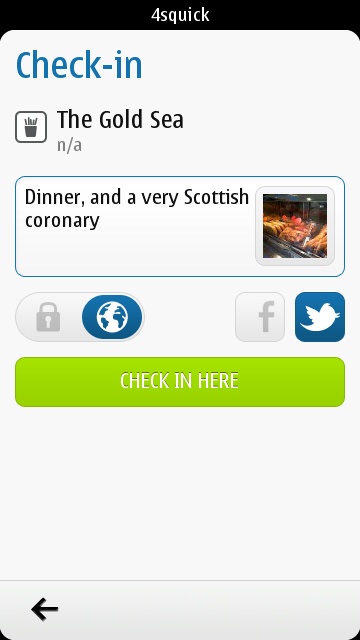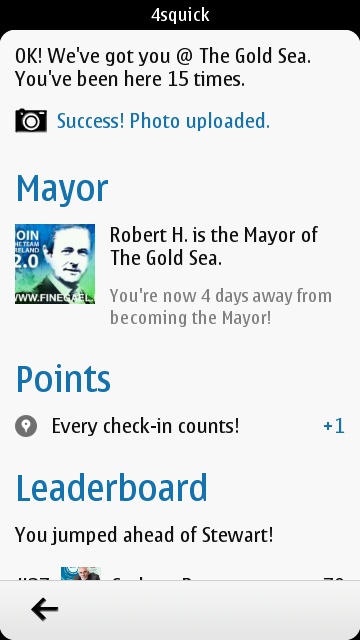 This isn't a huge issue for me, as I rarely add photos to check-ins, but it could be an important consideration for some. This quirk aside, I'm enjoying 4squick, even if it's miles away from the Symbian style guide with its brash white look, rounded corners and defaulting to Arial font (which is nice, but just wrong on a Symbian device - thankfully you can toggle back to the Nokia default). What I need is here, from a list of places nearby and where my friends have checked in, to the public tips at each location and the leaderboard of my friends centred around my current position (which sits around #25-#35, if you're interested).
But above all of this, the reason I'm probably going to be using 4squick rather than the official client (or the update option inside Gravity) is that it fits the new icon design of Symbian Anna and makes my phone look even smarter thanks to the 'squircle' ion. And it's purple. Shallow, yes, but sometimes presentation is about fitting in, and 4squick does that very well.
-- Ewan Spence, Sept 2011.
Reviewed by Ewan Spence at