Review:
Wikiquotes
Score:
52%
We've all heard of Wikipedia, but have you heard of Wikiquotes? This is another Wikimedia website, which publishes proverbs and quotes from prominent people, books, films. This can be useful for both research and general interest. Our review today looks at an offline version of Wikimedia for Qt enabled Symbian phones. The entire Wikiquotes database is downloaded as part of the app, which weighs in at a whopping 95MB download. Read on to find out whether it's worth the download.
Version Reviewed: 1.0.2
Buy Link | Download / Information Link
Wikiquotes (for Symbian, and unofficial) is a simple application. In short, it's an offline reader for the Wikiquotes website database. The content provided with the application has been formatted so that it can be efficiently displayed on the phone. Even so, it still entails a 95MB download from the Ovi Store. Given that my first attempt to install failed, I strongly suggest that once download has started, you put the phone down and don't touch it for a while; as I did on my second attempt!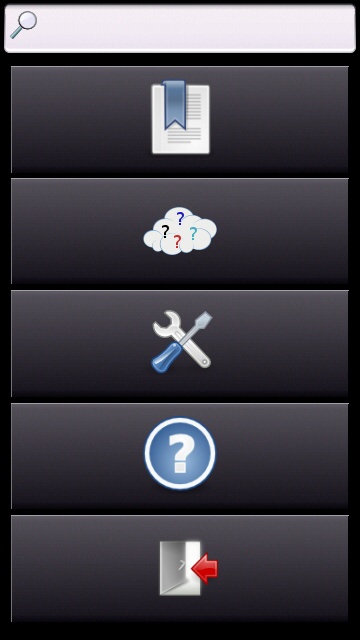 Wikiquotes' main user interface
The main user interface of Wikiquotes is reminiscent of Symbian's home screen widgets. At the very top, there's a search box, followed by five horizontal (widget sized) buttons, including the exit button. The search engine works well, with real-time filtering of results with every letter typed.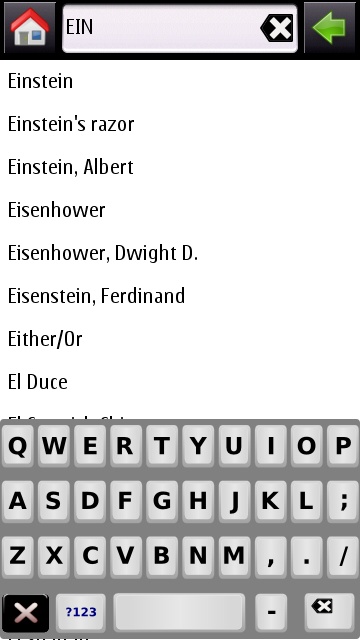 Wikiquotes' search in action
Wikiquotes is light on settings. There's a slider for font size, and a button to toggle whether a portrait QWERTY keyboard is used with the search box. The virtual keyboard is tiny on the regular 3.5 inch touch screens of recent Nokia models, though.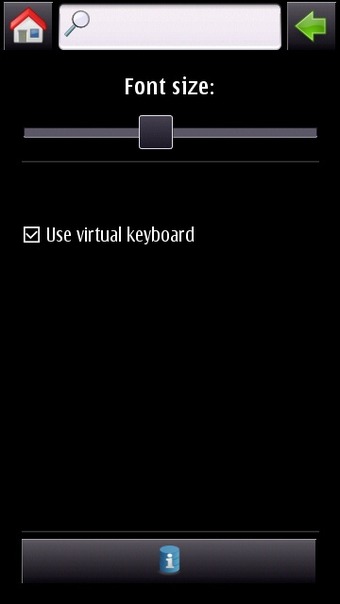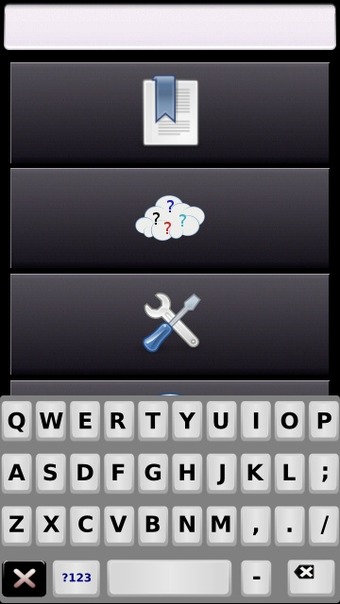 Wikiquotes' portrait QWERTY keyboard and settings page
The font slider gives visual feedback in the form of a line of sample text; which isn't all that helpful. Seeing the size of a solitary line of text doesn't prepare you for how article text will look, wrapped around images and indents. What's more, it's just inconvenient. If you decided to change the font size part way through reading an article, you have to go back to the settings page, thus losing your place in the article! I would have much preferred to have an interactive pinch-to-zoom system.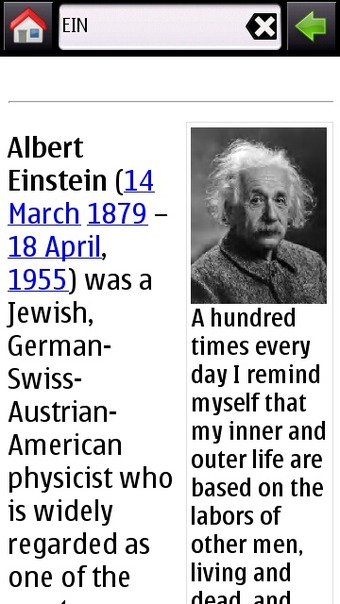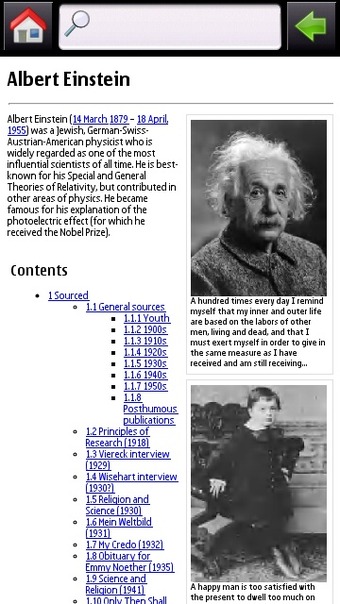 The two extremes of Wikiquotes' zoom levels
As articles load, a progress bar is shown at the bottom of the screen. The bar always gets to 100% in short order, but this is unrepresentative of the application's general performance. Most articles have a hyperlinked list of contents; I found with several large articles, that tapping these links caused the phone to freeze up, rather than jumping to the corresponding section of the article. However, when it did work, there was fairly smooth kinetic scrolling. The developer deserves props, as kinetic scrolling is not yet natively supported in Qt.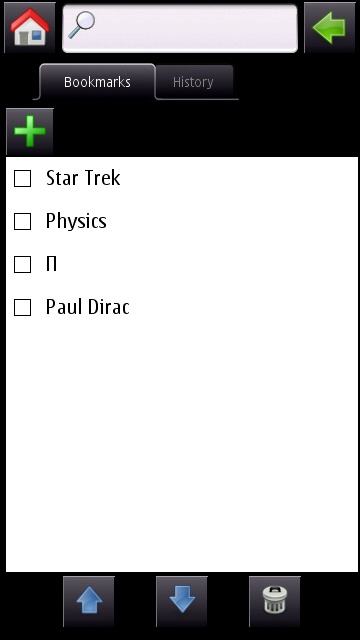 Wikiquotes' bookmark menu
The bookmarks button on the main screen leads you to a screen which has a tab for bookmarks, and a tab for your recent history. To preserve your privacy, the history list can be wiped. A bookmarks list is a handy feature for keeping shortcuts to your favourites articles, or anything else you're currently reading. Unfortunately, there's no way to save the last point that you had read to.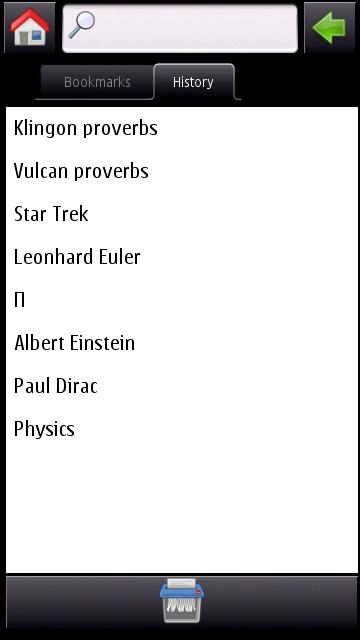 Wikiquotes' history menu
Wikiquotes has poorly implemented text selection functionality. After repeated tries, I couldn't master the knack of reliably selecting text. It seemed that double tapping a word would select it, but upon releasing, a word on the line below would be selected. Neither could I find a way of extending the selection to a sentence; I did, however, manage to select a paragraph, without knowing how. Perhaps I was missing something, but selecting text shouldn't be THAT hard!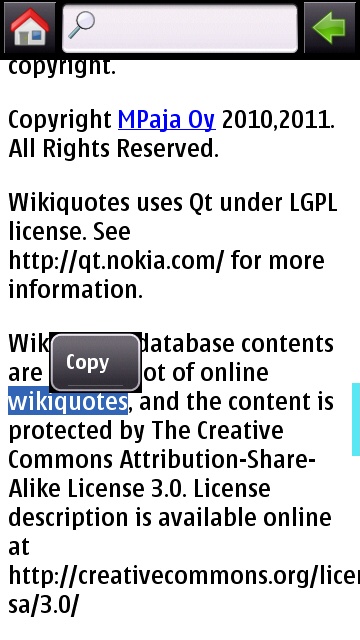 Text selection in Wikiquotes
A feature of Wikiquotes (for Symbian) that I liked a lot was the random article selection, via the second button on the main menu. This speaks to the light entertainment value of Wikiquotes. By going into a random article, you might discover something new about a culture or individual that you didn't know before!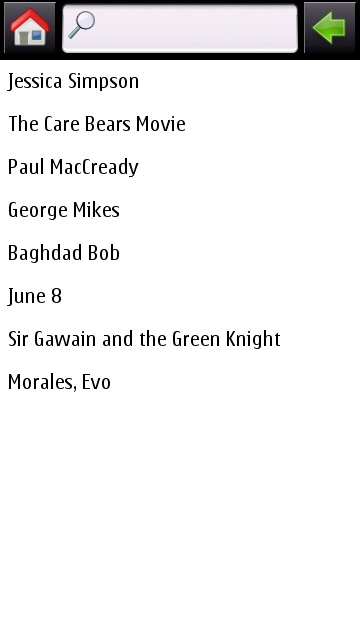 A random selection of Wikiquotes articles
As to the content, Wikiquotes does provide a good central repository of a massively broad range of references. I can imagine this will be of interest mostly to those reading for general interest, or doing specific research. For example, you can find articles based on anything from the cultured musings of Samuel Pepys, Ocar Wilde, or Immanuel Kant; to the lesser known quotes from the world of Star Trek or StarGate SG-1!
One note to make with the content. As the help pages of the application state, the content is based on a snapshot of content from wikiquotes.org. However, there's no mention anywhere of when this snapshot was taken, so there's no way to verify how current the data is. Neither is there any facility to manually update or synchronise the Wikimedia content.
"I went out to Charing Cross, to see Major-general Harrison hanged, drawn and quartered;
which was done there, he looking as cheerful as any man could do in that condition."
Samuel Peyps, October 13, 1660
"Logic is the beginning, not the end, of Wisdom."

Spock, Vulcan Proverbs
All of which brings us to the question, 'who would buy this application?' I can only suggest this to anyone who is going to be offline for extended periods, mostly likely travellers, who want something different to read, as a form of entertainment. I found the user interface too clunky for more serious use. Providing you are going to be in range of WiFi or a cell tower, you will have a smoother experience using the mobile Wikiquotes website.
Wikiquotes is available in the Ovi Store for £1.50; and Wikipedia Lite, with a small sample database, is available for free.
David Gilson for All About Symbian, 1st May 2011
Reviewed by David Gilson at