Review:
NuevaSync
Score:
85%
Keeping one's device in sync with calendar and contacts is one of the core functions for anyone who uses their phone as their personal organiser. One option for doing this is the Mail for Exchange protocol which is supported by Nokia Messaging. NuevaSync is a premium service that brings together a range of cloud email and PIM services together and provides push synchronisation to your device. Here's my long term review.
Buy Link | Download / Information Link
Anyone who has tried using Google's own Mail for Exchange (MfE) server either with Nokia Messaging or Maemo's "E-mail" application, will know that the process isn't always a happy one. This is where NuevaSync can step in and be of help; they have developed their service to work around Nokia-specific behaviour. However, to describe NuevaSync as a bandage for these problems would be disingenuous to say the least, as much more is on offer here.
NuevaSync is primarily a premium service, but there is a free service too. However, the latter is limited to calendar and contact sync. However, they do offer a one-time free-trial of the premium service so you can see if it's to your liking. The premium service doesn't just furnish you with push email and task synchronisation, but also with a range of other support functions. Beyond the complementary dedicated servers and technical for premium users, other functions include contacts backup, and a remote wipe function (a no-frills answer to Klomptek's Track and Protect 2).
As one might expect, NuevaSync supports contact and calendar sync with with Google as well as push email with Gmail. However, NuevaSync supports push email from any IMAP service that supports push notifications (full list here). Contact sync with the online address book Plaxo is also supported. So far, Google is the only calendar service supported. Task synchronisation is supported with Toodledo (recently reviewed) and 37 Signals Highrise.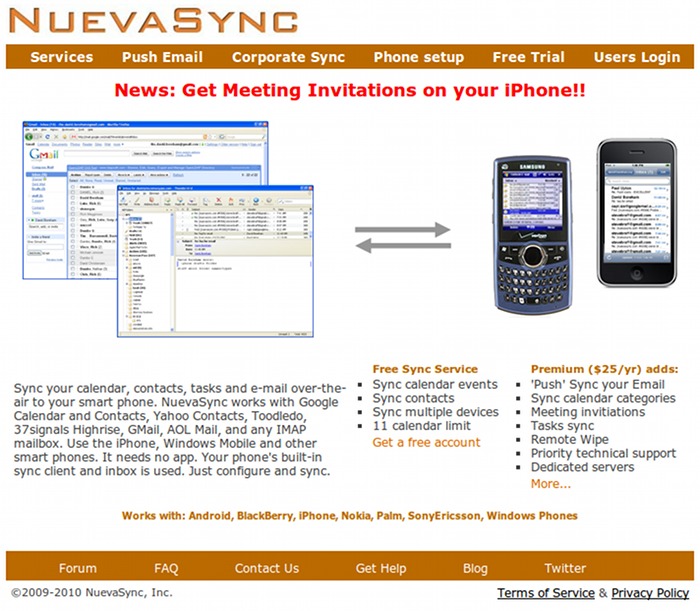 The NuevaSync homepage

Day to day use of NuevaSync
I have been testing NuevaSync for seven weeks, keeping an E72 and N900 both in sync with Google services and Toodledo. Prior to this, I had been using Gmail via IMAP, and a SyncML service to manually keep Calendar and Contacts in sync. However, that ruled out the N900, which has no native SyncML support (and third party support requires a significant amount of script hacking to configure).
There is of course the question of whether or not one likes the idea of push email, and this has to be a personal choice. I long resisted making the move, and even though it is sometimes a pest, I would rather have it than not have it now. If I don't want disturbing, Nokia Messaging can be instructed to disconnect from the server, and schedules can be set for when push notifications can be accepted.
Whether using Symbian or Maemo, the MfE protocol takes the opportunity to update all of the other PIM data whenever an email is pushed to the device, which means that all of your data is regularly updated without any action on your part. This is a big step forward from having to manually run the Symbian SyncML application. Having said that, Nokia has now created Ovi Sync which will automatically sync PIM data between one's device and the Ovi services. Therefore, using a reliable service like MfE gives the best of both worlds - automatic synchronisation without being tied into the Ovi services. Incidentally, Ovi services are not supported by NuevaSync (after all, it's a cross-platform service). So if you do use those, you should stick with Ovi Sync for Symbian devices.
Inevitably, there will be sync issues sometimes, especially if you're one who likes to experiment. Control over your sync data is done from NuevaSync's website, rather than a mobile application. The great thing here is that the desktop website is mobile friendly, and so control of one's sync data is still available from within a mobile device, via the web browser.
The NuevaSync control panel

The website displays simple indicators to show whether sync with the external cloud services is running okay, and the device management page shows which devices you've sync'd and how long ago; as well as whether there were any errors. The main tool available for remedying sync issues is to reset the sync data, which means that NuevaSync will overwrite the mobile device with data from the server, and it isn't possible to do the reverse of this.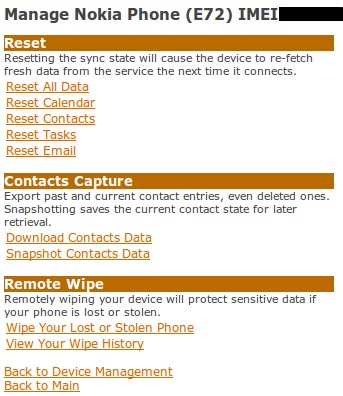 Nuevasync's sync management page

NuevaSync allows you to synchronise multiple calendars to your device (11 for free accounts, 50 for premium accounts). However, they all come through as a single calendar to your device, Symbian or Maemo. Once you've granted permission for NuevaSync to access your calendars, you can access a page with check boxes so you can control which of calendars are synchronised through to your device. This is particularly useful if you subscribe to many calendars of interest on your desktop which would unnecessarily clutter the calendar homescreen plugins found on S60 3rd Edition and the newer N97-style home screen widgets.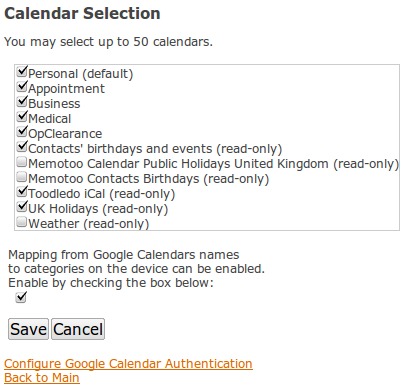 NuevaSync's Google calendar selection page

NuevaSync is being constantly developed and a newer feature is a "Contacts snapshot" for being able to roll-back to an earlier backup copy of your address book. The backup is held within your NuevaSync account, but you will have to manually import it back into Google or Plaxo. Unfortunately, there's no equivalent for backing up your Google Calendars yet. Even more features are available to brave users via NuevaSync Labs, which is currently testing a duplicate contacts solution, among other projects.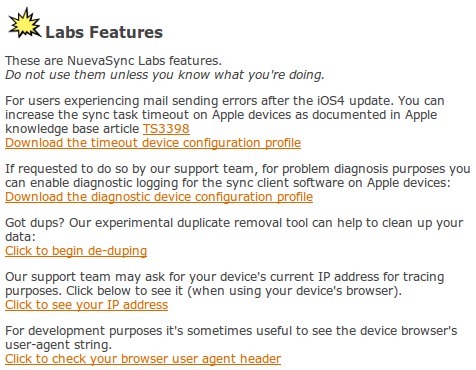 The NuevaSync labs page

The final ingredient to the NuevaSync experience is the vast level of documentation. In addition to a forum that is actively attended by NuevaSync's main author (David Boreham), there is a detailed Wiki (http://wiki.nuevasync.com), which explains everything you need to know about setting up your device and any device-specific problems you might face, and what to do about them.
Closing thoughts
NuevaSync costs $(US)25 per year, and so the reader must judge if that's a fair price for what they're getting. Being quite a nerd for all things about Personal Information Management, I've found NuevaSync has really improved my user experience of the devices mentioned above.
David Gilson for All About Symbian, 26th October 2010
Reviewed by David Gilson at