With the core product free to all and yet with enormous worldwide street mapping and POI datasets, Nokia Maps is a big, big deal. It's innovative pay-as-you-go pricing system for voice-guided navigation has attracted some criticism but is, in my opinion, beautifully pitched. The 2.0 version is a big step forward from 1.0, in both routing ability and user interface. The pedestrian (walk) facility is also noteworthy as it represents a significant expansion area for GPS navigation.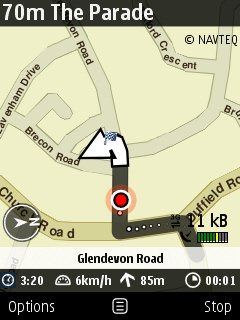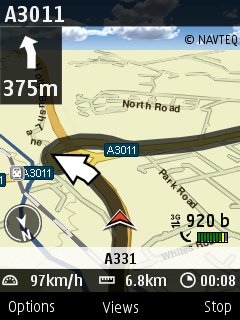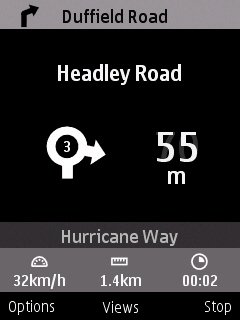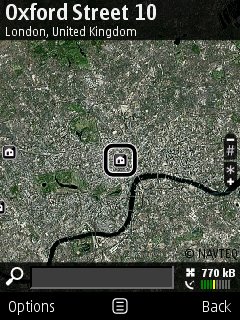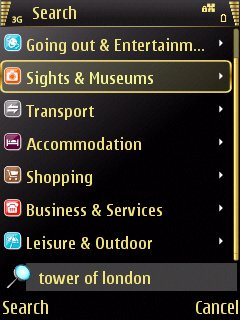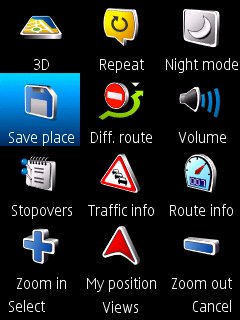 Thanks to the Nokia Beta Labs, here's the changes as a result of beta feedback, some of which are new for the latest build [2102]:
'My licenses' function added, to show current license status
fixed full UK postcode lookup
flatter menu structure for route planning

optimised the GPS polling frequency for better experience when walking
added manual map zooming during navigation
added lat/long display in the Details view
expanded the navigable countries with New Zeeland, Venezuela and Chile.
added network positioning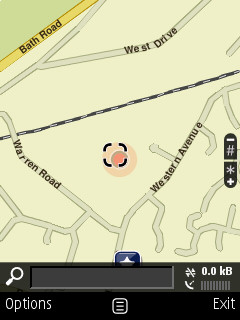 This last feature is especially interesting. The Beta labs post quotes:
"It will position you really fast, usually within 5 to 10 seconds. It works indoors, on a bus or train. Network based positioning cannot be used for navigation since it is not accurate enough. However it works just fine for showing where you are (roughly) on the map. A pink circle in the map shows the accuracy of the position. When GPS fix is achieved, this is used instead of the Network based position, and the pink ring disappears. Network based positioning is now enabled on all A-GPS enabled devices."
In other words, it's a 'best guess' presumably based on network cell ID and somehow tied into the Assisted GPS server system on supported devices, to give Maps a rough idea where you are in the few tens of a seconds while the GPS is getting a proper lock. Quite why Nokia Maps doesn't use the same cell tower as Google Maps for Mobile is a mystery - maybe the Nokia Maps system is more sophisticated, doing extra triangulation? And it's not really clear why this network positioning (which only needs an online connection) can't be made to work on non-GPS devices like the N81 and E51... Comments welcome.
And here's the official Nokia announcement and changelog:
"Downloaded over 240,000 times since announced in February, Nokia Maps 2.0 has improved its optional Car Navigation, enhanced its pedestrian navigation, added multimedia city guides, now offers satellite images, and is sporting a redesigned user interface. Nokia's mapping and navigation solutions give people navigation features, local content and world maps directly on their mobile device, in a way that only connected devices can.

A partial list of the updated features in Nokia Maps 2.0 includes:

DRIVE:
Improved optional Car Navigation equals PND-level car navigation experience with faster routing.
Easy-to-use, updated User Interface features including a new navigation carousel with pre-defined navigation views - i.e. navigation, arrow, bird-eye.
Top-of-the-line navigation features: signposts, multi-stop route planner
WALK:
Optional pedestrian navigation efficiently walks you from A to B with visual guidance. It helps you to locate yourself by giving information about the surrounding buildings, streets and parks and, if the device supports it, notifies the direction you are walking.
Nokia Maps 2.0 includes public transportation information (station entrances) data in 17 cities with localized icons for stops.
Advanced multi-sensor positioning using A-GPS, and pedestrian orientation using the compass feature (Nokia 6210 Navigator needed for built-in compass usage)
DISCOVER:
Satellite images with hybrid rendering overlays for selected cities worldwide provide real aerial views on your mobile.
Signature "one-box search" allows you to search through places, addresses, restaurants, nightlife, outdoor, accommodation.
New premium multi-media city guides including features photos, video, audio streams.
Nokia Maps 2.0 uses vector maps provided by Navteq and TeleAtlas, Nokia Maps now has maps covering over 200 countries, with over 70 of them navigable. Maps can be downloaded over the air directly to selected devices or by using the Nokia Map Loader on a PC. A new beta version of the Nokia Map Loader is available on the Nokia Betalabs web site.