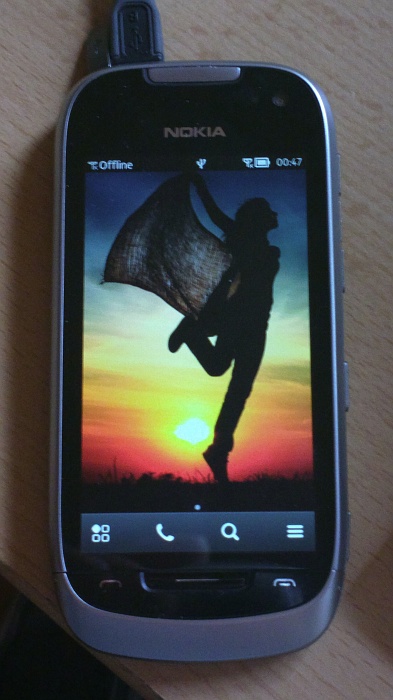 From the Delight team blog post, here's the changelog for Delight 1.0 for the Nokia 701 (compared to the original latest Nokia Belle FP2 firmware from 2012):
C:\ drive after flash is minimum 608MB
RAM: 295MB

Added mods:
- ROMPatcher 3.1 FP2
- Domainsrv.exe mod
- installserver_log CODeRUS
- tactile feedback for calls
- SoundImprovment 3.5 (Anna sound config + more volume)
- akncapserver (faster taskswitcher)
- ID3 editor
- EQ editor
- unlocked menu (subfolders, app renaming)
- Delight Menu (you can revert to original Symbian Belle menu via Delight App)
- short multitap
- predic on E:\
- smilies in all apps
- SysAp mod 1.4 (disabled FMTX popups, unlimited SMS sending retries, save log after SIM change, disabled charger and volume popups, browser and network queries, PSM notes and autoswitch, reboot via long press powerkey)
- ported theme effects on/off option
- ported touch input options (adaptive search)
- you can completly close all system apps
- sip client
- power & profile symbols
- Voice Recorder 5Hours at 256kbps
- increased maximum SMS size (30 SMS)
- modified swipolicy.ini (more rights with devcert and less warnings)
- keyboard fast mod by Allstar12345
- exclusive keyboard skin by bhavin192 (you can choose other skins via Delight App)
- Picture viewer works in :\private\ folders
- torch mod, now you can enable torch via lock key in power saver mode

Added apps:
- Delight App
- SMS Themer
- LCG X-Plore
with full filesystem read access and full write access of :\private\ without of Open4All
- s60v5's GPS Data
- Noka Internet Radio with widget
- Connectivity Analyzer
- Photo Editor from N8 (you still can access FP2 editor from gallery)
- Video Editor from N8 (you still can access FP2 editor from gallery)
- MIFeditor
- WinRAR

Settings:
- disabled product improvment
- enabled dolby by default
- menu a-z by default
- infinite browser cache at E:\
- splashscreen.mif from C:\
- disabled NFC by default
- preset camera default settings

Deleted:
- Nokia Music
- QuickOffice
- F-Secure
- Adobe Reader
- YouTube
- JoikuSpot light
- World Traveler
- Vlingo
- Nokia Social
- Bounce Boing Battle
- Microsoft Communicator
- Shazam
- Nokia Recommends (+ widget)
- CNN
- Public Transport
- default Backgounds
- NFC tutorial
- MS Office samples
- Video Pro
- Silent Film Director
- Nokia Weather and Weather widget

if you like to: you can reintall some of them via http://n8delight.blogspot.com/p/downloads.html or go to menu, tools, SW Update

removed other:
- offline queries
- Priority Of Aknspasrv (improves the battery life a lot, but causes small blackouts in gallery)
- USB popups
- popup fader (C++)
- reduced QML popup fader
- FOTA
- OVI SMS signup after first boot
- change theme popup (it works much faster)
- disabled no connection popup

Screensavers:
- Animation
- Music Player
- SlideShow
- by default no Screensaver

Integrated Updates:
- 3G network compatibility fix
- Application compatibility fix
- Email and Calendar update
- FIX for Messaging
- Gallery and Camera update
- New homescreen widgets
- Nokia Store
- SMS Update
- Telephony update
- WIFI update
- YouTube ShareUI fix
- Facebook ShareUI fix
- Twitter ShareUI fix

Themes
- Delight Theme by Lao Stia
- Evolve Qt 3.0 For FP2 by SLAYER33
- Delight conversation skin by Cahjoss (you generate your own skins via SMS Themer)

Theme Effects
- Smooth As Hell V4 by Allstar12345
- effects are loading from E:\effects

Widgets Added:
- Anna Notifications (incl. Belle Icons) + a 2*2 version
- Clocks: analogue – small, profile, small digital, text small
- Contacts: mini, comms
- Small versions of: DLNA server, WIFI, FM-Transmitter, Calendar, Notes (exclusive), Webview, Music Player
- Internet Radio
- Mail One Line and Two Line
- Search and Search Mini in ROFS
- ported Vertu Apps Launcher

Widget Skins from:
- Xinox
- Kang Shao
- SelvaSathyam
- Teom@n
- MrKenkadze27

There's far more on the original Delight blog post, including a list of all the contributors who have made this release possible, plus specific language downloads in case you don't want to use English in Delight on your device.
Note also the flashing tutorial, and that as this is the very first Delight release for the 701, you'll have to 'Refurbish' in Phoenix, meaning that you'll lose everything on your system (C:) disk, so the usual backups of data, the writing down of passwords and settings, and the gathering of SIS installers, where appropriate, are all needed. Subsequent Delight flashings of the Nokia 701 can be done using 'Update', meaning that all data and apps will be preserved.
Comments welcome - I imagine there must be a great number of very happy AAS readers right now!