The new Nokia Asha platform was "purpose-built to give people the best possible mobile experiences at an affordable price", and is based on Series 40, but which also utilises existing Nokia design patterns and technologies from Smarterphone, a company which Nokia acquired in 2012, to create a new and distinctive user interface.
The Nokia Asha 501, which weighs 98g and measures 99.2mm x 58mm x 12.1mm, has a 3.2-megapixel camera, 2G cellular connectivity, WiFi, a 3-inch (240 x 320) capacitive touch screen protected by hardened glass, 4GB of internal memory, support for a microSD cards, and an official battery life of 48 days in standby and 17 hours of talk time. It will be available in both dual-SIM and single-SIM variants.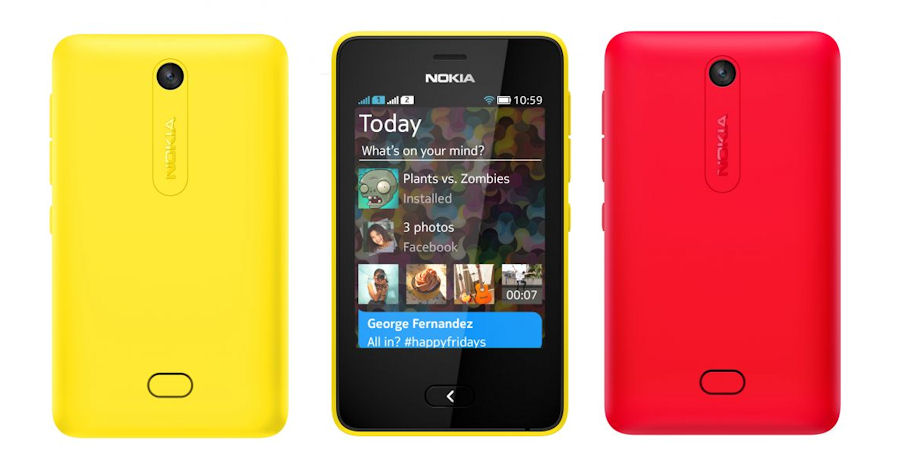 In terms of hardware the stand out feature of the Nokia Asha 501 is the design, which looks and feels like a premium product, drawing on Nokia's new universal design language (also seen in the Lumia products, and mobile phone products such as the Nokia 301 and Nokia 105), which can ultimately trace its roots back to the "Fabula" design used in the Nokia N9 and Nokia Lumia 800. The familiar colour line up from the Lumia range will also be available, when the product hits the shops in June it will be available in bright red, bright green, cyan, yellow, white and black.
On the software side the new Nokia Asha platform aims to make it "easier for people to access everything they love, with a simple swipe and a choice of two main screens: Home and Fastlane". Home is a traditional icon based app launcher, whereas Fastlane shows recently accessed contacts, social networks and apps; essentially providing a record of how the phone was used and "giving people a glimpse of their past, present and future activity, and helping them multi-task by providing easy access to their favorite features". More simply it can be described as a combination history and notifications list view.
The UI styling and operation is reminiscent of Nokia's MeeGo Harmattan powered N9 product, a debt that Nokia acknowledges in its official blog post, and is also evident in the phone's double to wake-up feature, and the numerous swipe gestures included elsewhere in the user interface.
Combined, the new design and new user interface set the Asha 501 apart from its Asha full touch predecessors, though in reality it's more evolution than revolution. This is reflected in the app continuity from Nokia's Xpress Browser, to the pre-loading of Facebook, Twitter, instant messaging and Weather Channel apps, and the inclusion of Nokia's well known 40 free EA games offer.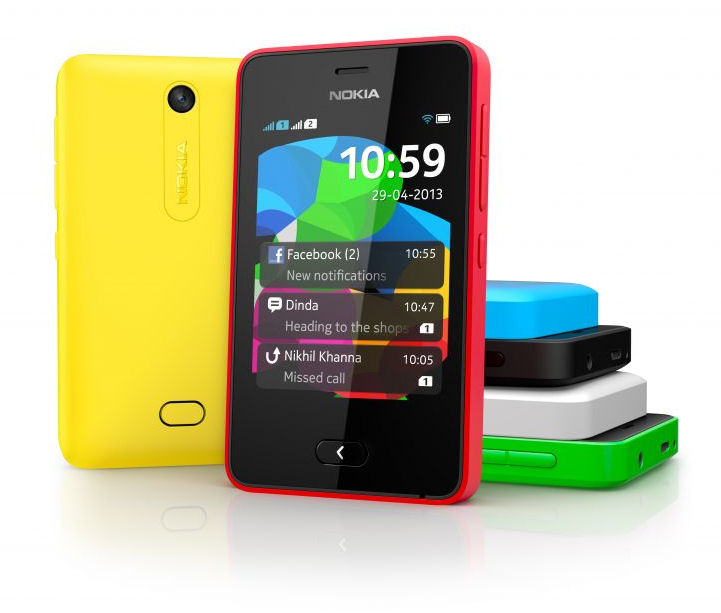 Filling the gap
The Asha 501 and the new Nokia Asha platform fills an important gap in Nokia's product portfolio, sitting between the low cost, Series 40 and Series 30 powered, mobile phone products (e.g. the Nokia 105 and 301), and the Windows Phone powered Lumia smartphone product family. It is an area where Nokia has struggled in the last few months, most notably seeing a fall in the sales of its Asha full touch products in the last quarter.
In the smartphone space Nokia has bought down the price (€129) of its Lumia Windows Phone devices, in the form of the Nokia 510 and 520, further and faster than many expected, but it is unable to compete with the lowest cost Android devices (€50-€100). While there is room for some further reduction in the entry-level price point of its Windows Phone portfolio, Nokia is unlikely to be able to match the lowest cost Android devices with Windows Phone in the next few years.
The Nokia Asha platform should be seen as Nokia's strategy to fill the gap between its cheapest mobile products (e.g. Nokia 105), which remain relatively healthy in sales terms, and the Lumia portfolio of Windows Phone devices. But, should the Nokia Asha 501 and its follow on device be considered smartphones?

A smartphone?
When announcing the Asha 501 Nokia made extensive use of the word smartphone, which may be somewhat controversial since the new platform is essentially a re-skinned Series 40, albeit with extensive engineering work under the hood. On the developer side, like other Asha products, it can run Java and web based apps, but not native apps, which is sometimes regarded as the traditional smartphone definition. The new platform, in a technical sense, has limited multi-tasking capabilities (e.g. music app can play in background, but web is suspended when you switch away), but, perhaps more importantly, the user interface presents the artifice of a multi-tasking platform. This, together with the rich user, service, and app experience, will be used as evidence that the new devices is a platform.
Ultimately whether the Asha 501 is considered to be a smartphone is rather meaningless outside of statistical categorisations, what's more important is the fact that the device will be positioned directly against low-cost Android smartphones, and will provide a similar user experience. Moreover the Asha 501 and a low end Android device have more in common with each other, in terms of both real-world experience and limitations, than they do with higher end smartphones, be they a Samsung Galaxy S4 or a Nokia Lumia 920.
At this stage it is difficult to assess whether Nokia will be successful with its new products. The company says it aims to sell 100 million devices based on the new platform "over the coming years", but that is a necessarily vague statement of intent. An important factor that may help Nokia is that it has created the platform specifically for this market segment, or, in other words, it has built the platform around around the typical consumer behaviour, whereas low cost Android devices might best be described as being built down to reach this price point and market segment. The ecosystem effect does give Android an advantage, but its reality and weighting are much smaller in this market segment than in mid-range and higher end smartphones.
Nokia will be hoping than a combination of good hardware design and a slicker and better designed set of experiences on its new Asha "smartphone" devices can out distance the smartphone ecosystem advantage present on the Android devices.