A few notes first:
The size of the 'active installed base' for a smartphone platform is important as it reflects how many users might be interested in a particular app, service or download. Or indeed, interested in a particular web site (cough: All About Symbian?)

Actually defining 'active installed base' is somewhat problematic. Rafe has used 'sales from the last two years' in some previous statistics, but I think this understates the true figures slightly. I mean, there are still plenty of people using N95 variants, from 2007, still plenty of people using N82s and E71s, and so forth, all from 2008. But clearly, on the other hand, there are also plenty of 2009/2010 era Symbian smartphones which are now either being used as a dumb phone by a relative or child, or which are simply sitting in a drawer doing nothing.

So, for my definition, I went for 'sales in the last three years', rolling in the extra current quarter (Q1, 2012) since we now have stats for this, making a total period of 13 quarters if you want to count them up. In Symbian terms, this means everything from the Nokia 5800 onwards, with some now unused S60 5th Edition phones being cancelled out by some pre-2009 devices being still in happy use. In Android terms, this effectively means every device, since three years is around the life of that platform(!)

As you'll see, I was interested in how the installed base of each platform has changed over time, so I went back to the start of 2006, to integrate the three year rolling calculation across the chart.

There are some approximations in my figures, due to oddities like Japanese Symbian non-smartphone sales not being counted, like Samsung bada sales in recent years complicating Samsung's figures, which in terms makes a slight difference to the Android count, but I'm happy that the data points are all within a couple of percent.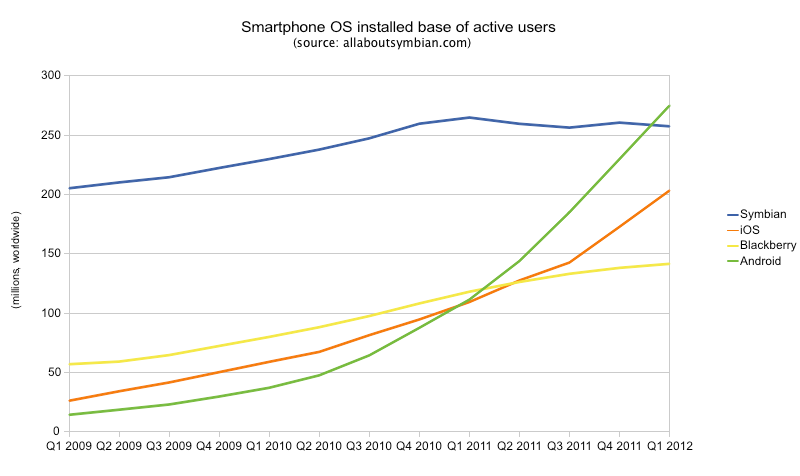 Of note for Symbian fans is that the platform's not going away in a great hurry, the size of the ecosystem and general active Symbian community has remained at just over the quarter billion mark for the last 18 months and, taking into account the same 3 year 'rolling sales' method of calculation, I'd estimate that it won't be significantly under 250,000 even at the end of this year, 2012.
Android's installed base is rising fast, of course, I'd estimate this at hitting 400,000 or so by the end of the year. Plus, judging from current sales trends, iOS will also overtake Symbian's installed base by the end of the year.
And so effectively, Symbian, Android and iOS are by far the biggest existing smartphone ecosystems on the planet. Yes, I know we also run the All About Windows Phone web site, but the installed base for Windows Phone is still 'in the noise' in terms of the numbers being quoted on this chart - it's still very early days for this new smartphone platform.
Steve Litchfield, All About Symbian, 26 April 2012