Nokia note that in the first quarter multiple factors negatively affected the Devices & Services business to a "greater extent than previously expected". These include competitive industry dynamics, especially in India, Middle East, Africa and China, and gross margins declined in smartphone sales. The first quarter numbers would have been worse, but were offset by lower warranty costs, a benefit that is not expected to reoccur, which in part explains the outlook for the second quarter. The timing, ramp-up and demand related to new products, together with macro-economic conditions also contribute to the second quarter's negative outlook.
The preliminary estimated results for the first quarter and the outlook for the second quarter are described by Nokia's CEO, Stephen Elop, as "disappointing". They are significantly lower than market expectations and, as a result, Nokia shares are trading down approximately 15%.
Stephen Elop, President and CEO of Nokia, said:

"Our disappointing Devices & Services first quarter 2012 financial results and outlook for the second quarter 2012 illustrates that our Devices & Services business continues to be in the midst of transition. Within our Smart Devices business unit, we have established early momentum with Lumia, and we are increasing our investments in Lumia to achieve market success. Our operator and distributor partners are providing solid support for Windows Phone as a third ecosystem, as evidenced most recently by the launch of the Lumia 900 by AT&T in the United States."
Nokia estimates that Devices & Services net sales in the first quarter were €4.2 billion (compared to €7.087 in Q1 2011 and €6.664 in Q1 2010). The significant reduction in earnings was driven by the issues outlined above and by lower than expected device sales.
Nokia estimates it sold 83 million devices in the first quarter. Of these, 12 million were smartphones (compared to 24.2 million in Q1 2011, down 50%) and 71 million were mobile phones (compared to 84.3 million in Q1 2011). Of the smartphones, more than 2 million were Lumia devices (Windows Phone), with Symbian accounting for the rest (just under 10 million). Nokia says that Lumia device activations have grown every month since the range was first introduced in November 2011.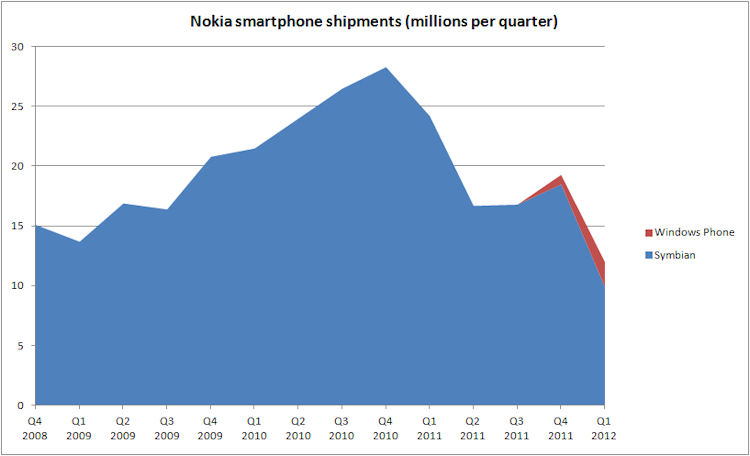 From the device numbers, the key issue is the faster than expected decline in Symbian device sales, together with slightly weaker than expected mobile phone sales. Symbian device sales have dropped by 58% year-on-year and 40% quarter-on-quarter. These figures are slightly overstated by the channel stuffing that occurred in Q1 of last year and the lack of new devices does not help. Nonetheless, the numbers do point to a dramatic fall in sales of Symbian devices; Nokia did issue a warning in its Q4 2011 results that Symbian device sales were facing significant pressure, but clearly this has been even more dramatic than anticipated.
Despite these results, Symbian sales continue to remain a very important part of the Nokia smartphone portfolio. In the first quarter of 2012, five Symbian devices were sold for every Windows Phone device. The ramp up and segmentation of the Lumia devices remains somewhat constrained by both commercial and technical factors. Ultimately the transition from Symbian to Windows Phone is a gradual process, but it does appear to be somewhat rougher than was originally anticipated by both the company and external commentators.
On the Windows Phone side, the device sales numbers are more positive, with the sale of more than 2 million Lumia devices suggesting that Nokia has established early momentum. The attention will now shift to Q2's figures, which will include the launch of the Nokia Lumia 900 in the US and early shipments of the Lumia 610.
In the statement issued today, Nokia also outlined plans to address the competitive industry dynamics, including increasing investments in Lumia products to bring more products, to more customers, in more markets. The company will also take tactical pricing actions (price cuts) in the mobile phone market and expects to accelerate planned cost reductions. It will also pursue "additional significant structural actions if and when necessary".
We can expect to get a full picture of the first quarter when the full results are announced next Thursday.