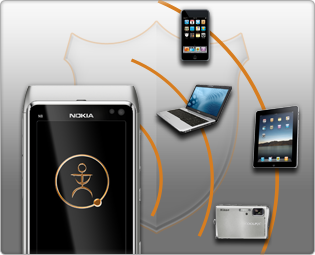 It's fair to say that anyone who has already purchased the full JoikuSpot Premium utility probably doesn't need this new product, but the extra functionality may well sway someone who has so far existed with just the http-only free version of JoikuSpot.
Having said that, there's a launch promotion for this new Qt-ified JoikuSpot, at 5 Euros for the first 1000 purchasers. So if you're going to buy again to get the new version then the cost isn't that prohibitive?
From the official 2012 Edition page:
Purchase the JoikuSpot 2012 Edition license from this official sales site and transfer it to your phone. After phone installation, you can simply start JoikuSpot 2012 on your phone to turn the phone into a WiFi HotSpot. Other WiFi devices like laptops or iPads can then wirelessly connect to internet via your phone JoikuSpot WiFi HotSpot, and enjoy high speed 3G internet instantly. Under JoikuSpot Settings you can define controls for usage, like security settings, user limiters, data cap limiters, phone battery threshold levels, and create Your JoikuSpot User profile. You are invited to personal web service My JoikuSpot, where you can register and log in and enjoy the service palette via the web service.

JoikuSpot 2012 Edition works with Nokia Symbian Anna and Belle phone models: N8, E7, C7, C6-01, E6, X7, 702T, T7, Oro, 500, 600, 700, 701 and 603. Please make sure you have the latest firmware in your phone.
Changes for this new 2012 Edition are:
You can set data caps for your JoikuSpot use. Data caps can be set by session or by total maximum allowed data use. This is especially useful if your data plan with your network operator introduces restrictions for data amounts that are allowed. The client also presents a monitor view, where you can track your total data consumption. In addition, you can set limiters to connected users. You can for instance define that only 3 devices can connect to your HotSpot at one time.

There's a new 'value added service' My JoikuSpot. You can register a free account at My JoikuSpot either from the JoikuSpot 2012 Edition client, or via web at www.joikuspot.com. Here you can view your entire JoikuSpot session and your data consumption history. You can also manage your JoikuSpot profile and connect your Joiku profile with social media services. After connecting your profile with your Twitter and Facebook acconts, you can share your JoikuSpotting from the JoikuSpot client with your contacts online.

There's an integrated JoikuNews Client. You can directly access latest JoikuSpot news updates from the JoikuSpot Client. This way you will always know when there are new product updates available or new platform versions being published.

You can define if you want the landing page (My JoikuSpot Web Service) on or off for connecting devices.
As with previous versions, the client also has views for monitoring your JoikuSpot status (connected or stopped), duration of your session length, speed of your operator mobile internet connection, and amount of data consumed (down and up), connected devices to your WiFi HotSpot, and security level selected.
Because of the implementation in Qt, there's an important change in phone compatibility. Whereas JoikuSpot Premium supports every Symbian phone model from Nokia and Sony Ericsson, going right back to early S60 3rd Edition devices, the 2012 Edition is exclusively available for Nokia Symbian Anna and Belle phones. It's also available directly through the Nokia Store, here, or on your device.