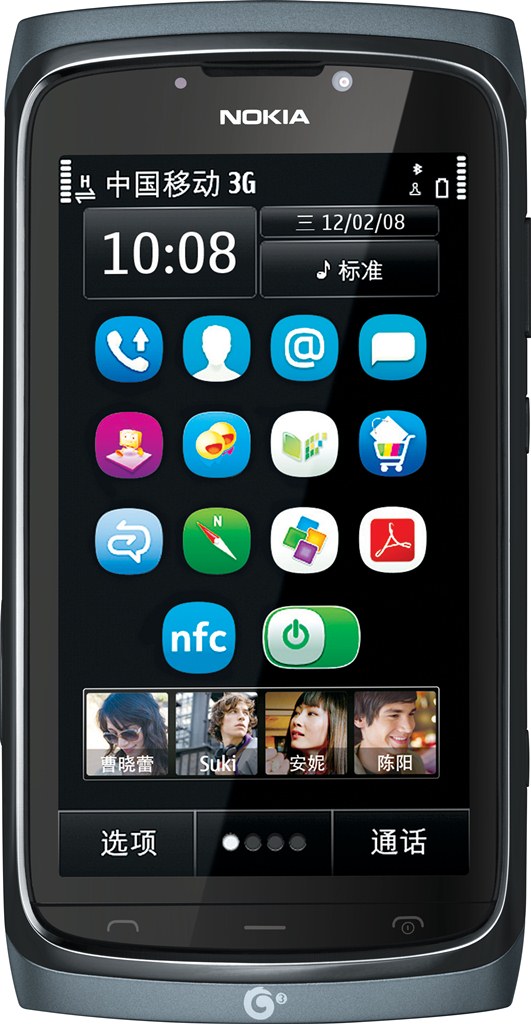 From the press release (in Chinese):
The Nokia 801T is a continuation of Nokia exquisite craftsmanship, and is simple yet elegant... Its 4-inch large CBD touch screen is perfect to display messages, information and photo content; there's a built-in telescopic TV antenna, so that business people can experience anytime, anywhere mobile TV (CMMB) to bring an audio-visual feast.
Nokia 801T largely fills the gaps in the field of high-end TD (3G) products... It features a Nokia TD-SCDMA smart terminal using NFC technology in the first of its kind. For business users, NFC functionality makes work and life more efficient and convenient.

Built-in CMMB mobile TV, capable of receiving TV signals with clear, smooth playback quality, can sync TV shows, and does not generate data traffic during playback, so that business people can spend their leisure time watching their favourite TV programs.
Overall form factor and specs are roughly similar to those of the X7, though with a LCD screen rather than OLED:
Specifications
Developer Platform: Symbian Anna

Screen Resolution: 360 x 640 pixels

Screen Color Depth: 24 bits

Screen Size: 4 inches

Display Technology: ClearBlack, LCD transmissive
Device Size: 125.2 x 65 x 12.75 mm

Volume: 83.2 cc

Weight: 170 g

Frequency Bands: GSM 1800, GSM 1900, GSM 850, GSM 900, TD-SCDMA 1880-1920, TD-SCDMA 2010-2025

CPU Count: Single CPU

CPU Type: ARM 11

CPU Clock Rate: 680 MHz

Graphics Processor: 2D/3D Graphics HW Accelerator, BCM2727 chip, GPU @ 200 MHz with 32 MB, with OpenVG1.1 and OpenGL ES 2.0 support
CMOS Sensor: 8.0 Megapixels

Camera Digital Zoom: 2 x

Camera Focal length: 33 mm

Camera F-Stop/Aperture: f/2.8

Camera Focus range: 50 cm to infinity

Video Recording Resolution: 1280 x 720 pixels

Video Digital Zoom: 3 x

Video Recording Formats: H.263, H.264/AVC, MPEG-4

Video Playback Formats: 3GPP formats (H.263), Flash Video, H.264/AVC, MPEG-4, RealVideo 8,9,10, Sorenson Spark, VC-1, VP6, WMV 9

Audio Features: Audio Equalizer, Audio Recording AAC, Audio Streaming, Bluetooth Stereo, Handsfree Speaker, Loudness, Music Player, Stereo Audio Recording, Stereo FM RDS Radio, Stereo Widening




Maximum User Storage: 230 MB

Mass Storage Memory: 8 GB

ROM Memory: 1 GB

RAM Memory: 256 MB

Graphics Memory: 32 MB
Memory Card type: Micro SD

Local Connectivity: Bluetooth 3.0, Bluetooth Stereo Audio, Micro USB, MTP (Multimedia Transfer Protocol), NFC, Nokia Adapter Cable for USB OTG CA-157Connector, Nokia AV 3.5mm, USB 2.0 High-Speed, USB Mass Storage, USB OTG 1.3
Bluetooth Profiles: A2DP, AVRCP 1.0, BIP, DUN, FTP, GAP, GAVDP, GOEP, HFP, HSP, OPP, PBAP 1.0, SDP, SPP 1.0

Email Solutions: Mail for Exchange, Nokia Messaging, OMA E-mail Notification v1.0
Power Management: 2.0mm Charger Connector, USB Charging
Battery model: BP-3L 3.7V 1300 mAh

GSM Talk Time up to: 5.7 hours

TD-SCDMA Talk Time up to: 8.0 hours