Microsoft and Nokia are also working together to provide mobile device management of Symbian Belle devices through Microsoft's System Center Configuration Manager. Further details of the device management capabilities will be announced in due course.
In addition, Nokia also announced that the next update to the business software suite on Symbian, which is expected to arrive in the first half of 2012, will deliver native versions of Microsoft Word, Excel and PowerPoint, and further updates and enhancements for other Microsoft applications and services. This will mark the first time that Microsoft has developed native Office applications for a mobile platform other than its own.
Today's announcement significantly enhances Symbian Belle's enterprise credentials, providing support for, and integration with, Microsoft Enterprise tools and services that is only matched by Windows Phone 7.5. For businesses running Microsoft solutions, the portfolio of devices provided by the combination of Nokia's Windows Phone and Symbian Belle products will provide a wide range of products in different form factors and at different price points.
Nokia and Microsoft both emphasise that the mobile components of the Microsoft applications and services come at no additional cost and do not need additional infrastructure. The companies are seeking to draw a contrast with competitors, such as Blackberry, which require additional investments to add business mobility solutions.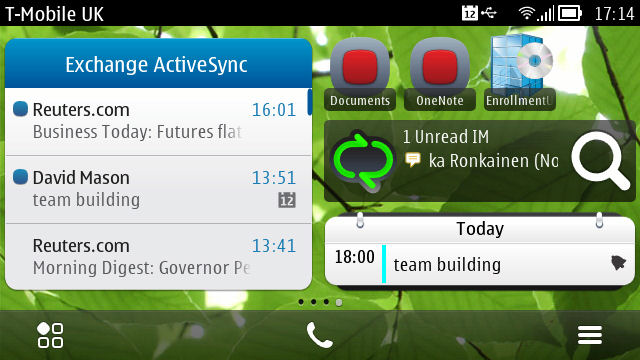 Symbian Belle with Homescreen widgets from the new applications

Key points
Nokia and Microsoft are bringing a number of productivity focused applications to the Symbian Belle platform. They are intended to complement the existing tools and applications on Symbian so as to provide "the best possible mobile enterprise experience". The updates comprises:



Microsoft Lync 2010, a re-branded and substantially updated version of the existing Office Communicator. It provides secure corporate instant messages and presence.

Microsoft OneNote, which is a rich note taking and information management tool. It is part of the Office 2010 Suite.

Microsoft PowerPoint Broadcaster, which allows viewing of broadcast presentations directly from PC to mobile (e.g. when on a conference call).

Microsoft Document Connection, which provides a single point from which to access Office documents from the local file system, in email attachments and on remote SharePoint servers.

An updated version of Microsoft Exchange ActiveSync, which brings improved search capabilities, an integrated conversation vew and support for multiple Exchange accounts.


The update will be delivered through the Software update application and is expected to be available in the fourth quarter.

Microsoft and Nokia are working together to provide mobile device management of Belle devices through Microsoft System Center Configuration Manager 2012. No additional information was available, but a further announcement will be made in due course.

In the first half of 2012, native Microsoft Word, Excel and PowerPoint applications will be released. In addition, there will be further updates to the other applications. For example, SharePoint sync will be added to OneNote.
Microsoft OneNote
The Microsoft OneNote application provides a mobile version of the desktop application. Microsoft describes OneNote as a rich note taking application, with support for embedded images and audio. Notes can be synced using Microsoft SkyDrive (an update in 2012 will deliver Sync via SharePoint).
The mobile application for Symbian allows the viewing and editing of notes, including the ability to add images and audio on the phone. There are some limitations, the viewing and layout of data from the desktop application will be streamlined for the mobile screen and entries which use Ink (hand written notes) are displayed as image files, but all key content is displayed and remains editable on the mobile device.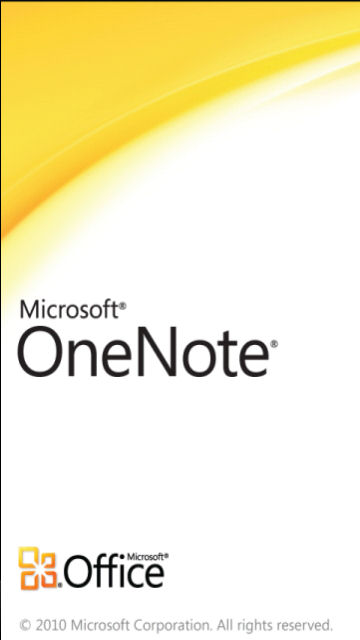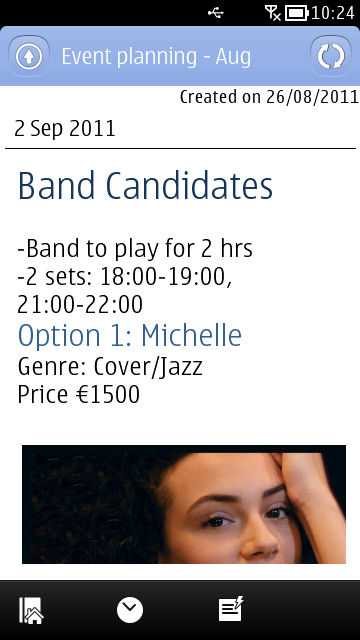 Microsoft Lync 2010
Microsoft Lync is the re-branded and updated version of Microsoft Office Communicator. It provides instant messaging and presence for the corporate environment. Lync is integrated into a number of other Microsoft products and is intended to be a general purpose communication service allowing for better collaboration and unified communications.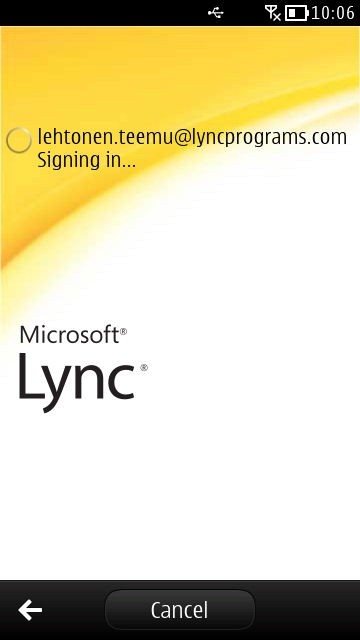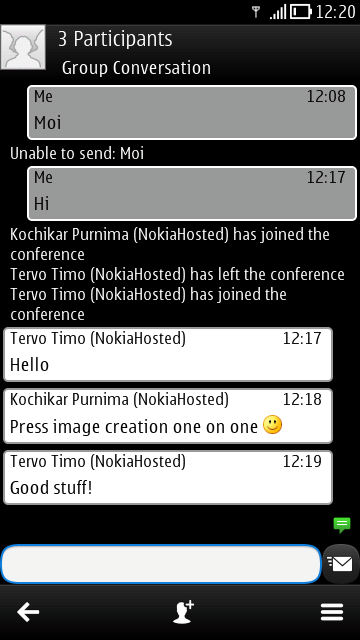 New in the updated application is support for rich presence. This allows a user to set a specific status message to give additional information about availability. Previously it was only possible to choose from a predefined list (Available, Busy, Away, etc.) In addition, it is now possible to add contacts from the corporate directory and add them into existing groups on the phone. This allows for easier contact management and avoids some of the fiddly set up that was needed in the earlier version of the product.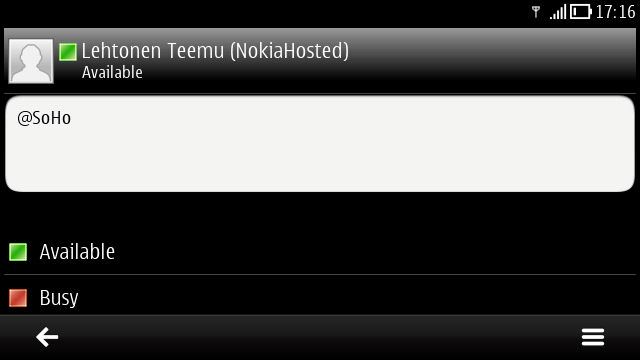 Also new is the integration of calling into the Lync application. This functionality takes advantage of the Lync back-end, allowing for least cost routing (e.g. for an internal company call, Lync might be set to call both parties, allowing greater control over how calls are routed).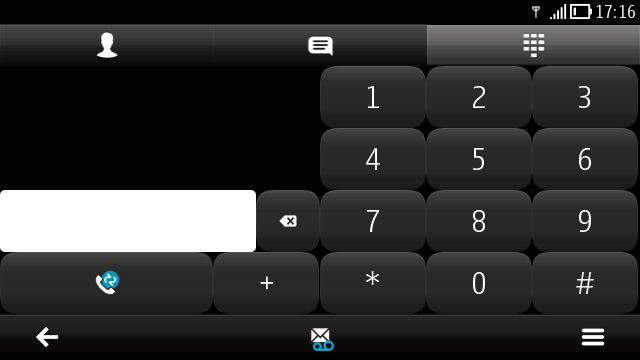 Microsoft PowerPoint Broadcast
Microsoft PowerPoint Broadcast allows the viewing of 'broadcast' presentations on the mobile device. For example, this can be used to share and view a presentation during a conference call. Typically, on the phone, broadcasts are activated by following a web link sent via email.
On the back end, this can be done using the Microsoft service from within PowerPoint 2010 (Windows Live ID required), or from a SharePoint server via a unified access gateway.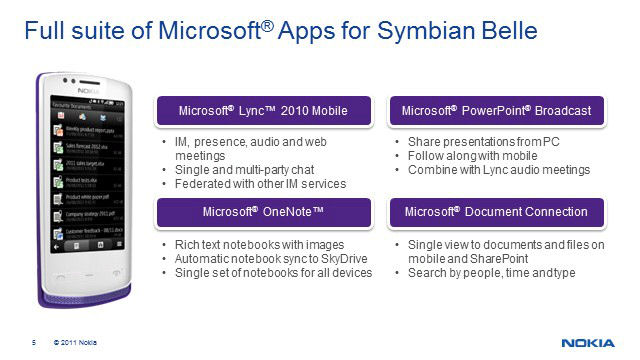 Microsoft Document Connection
Microsoft Document Connection gives easy access to Office files stored on your phone (local storage or email attachments), or on remote SharePoint servers (multiple SharePoint accounts are supported). The list of files can be filtered by date, type and person (by creator or email address). Specific documents can also be marked as favourites, making it easier to find regularly used files.
Tapping on a file will open it in Quickoffice. Later in 2012, Quickoffice will be replaced by the Word, Excel and PowerPoint applications currently being developed by Microsoft, which are due to be released next year.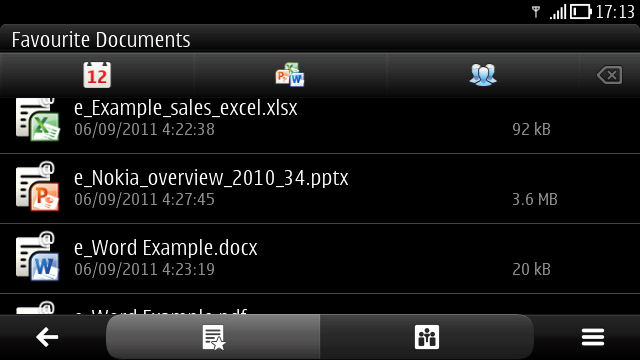 Microsoft Exchange Active Sync
Nokia's Mail for Exchange is re-branded to Microsoft Exchange Active Sync, bringing it in line with Microsoft's own naming convention.
A number of new features are also added in the updated version. The most noteworthy of these is the introduction of support for multiple Exchange accounts. This means it will be possible to use Exchange ActiveSync functionality for both business and personal use (e.g. Google, Hotmail). The update will also bring more powerful and better performing search functionality, making it easier to find email in your inbox.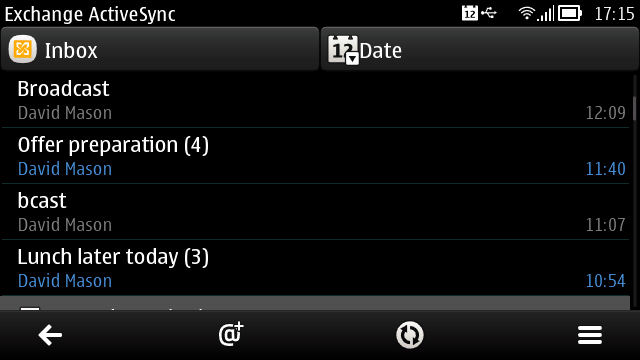 The new version also takes advantage of some updates to the Mail application in Symbian Belle, which brings an improved homescreen widget and support for a conversation view when reading emails (see screenshots above and below).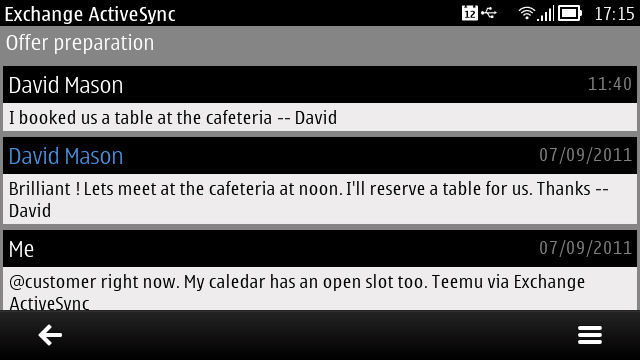 See also