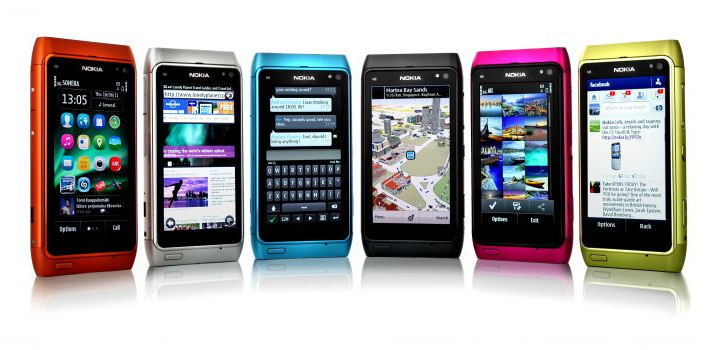 In the UK and most other markets the Symbian Anna update is (or will be) available simultaneously for SIM-free and operator branded handsets.
The update is available through the software update module of Ovi Suite (version 3.1.1 and higher) and, in some cases, over the air (via Sw update application on the phone), as shown here on the editorial N8. However, given the size (large, at 27MB, just for the basic OS changes) of the update, we strongly recommend you use Ovi Suite to carry out the update (the full ROM image is 290MB or so).
The update process will take around 20 minutes, with the exact timing being largely dependent on the speed of your Internet connection. While all your apps and data will be preserved, we would still recommended following the prompt to perform a backup before downloading and installing the update.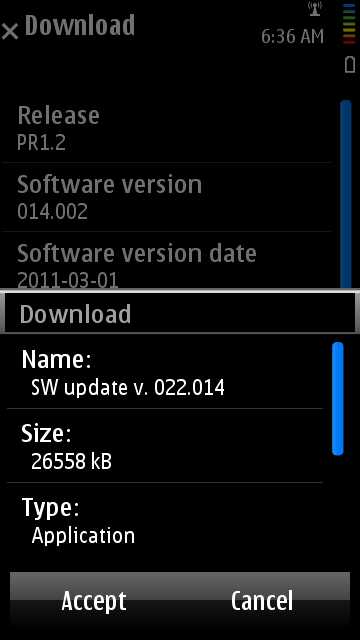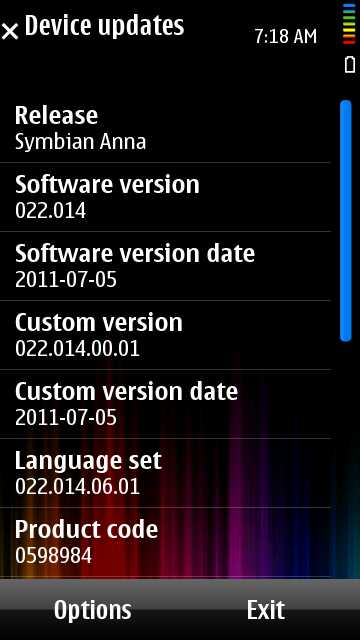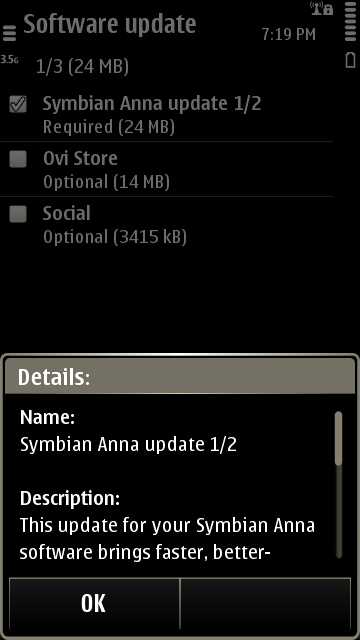 The Anna update has two stages:
Updating the core OS to v22 firmware (Anna) - this can be done over the air (OTA), e.g. through Device Manager, *#0000# on the Call screen and 'Check for updates', or via Ovi Suite.
Installation of some additional software and application updates (including Quickoffice and Adobe reader). This is principally done using the 'Sw Update' application (look for "Symbian Anna Update 1/2" and "Symbian Anna Update 2/2", shown above, right). Note that at least one of these extra updates normally 'fails' on the first time you run it. Try again immediately. If that doesn't work, restart the device and try again - all our devices updated fully - eventually!

10 more Symbian phones too, using Anna and beyond
Ilari Nurmi, Vice President at Nokia, said:

"Nokia's Symbian smartphones are used by millions of people around the world every day, addressing specific consumer needs and providing choices at many price points. Symbian Anna represents a significant update to the experience those users have and demonstrates our ongoing commitment to Symbian, which will see up to 10 more phones introduced over the next 12 months, further updates to the user experience and support for the software until at least 2016."

Changelog: What's in Symbian Anna?
Improved text input usability through the introduction of a portrait QWERTY keyboard and widespread use of split screen input. Split screen overlays text entry input boxes on existing screen elements and works in both portrait and landscape orientations. For example, in Maps a search can be entered and auto-completed results seen as you enter text. Similarly, in Messaging, when you reply to a message in Conversations view you can see previous messages in the thread. The portrait keyboard also enables Swype in portrait mode, giving you another input option (note you need to install Swype app from Ovi Store).

Updated Web application with a more intuitive user interface and faster performance. This includes a standard location for the address bar at the top of the page (with improved auto-complete, which benefits from the new split screen text entry), visual back button accessible at all times (bottom left), and a redesigned and more responsive 'quick menu access' floating button. Performance of page rendering has been improved, with an updated version of WebKit and improved scrolling and page navigation performance. It also offers better compliance with recent standards. The Web application continues to be based on the Symbian WebKit code base.

New fresh icons, delivered as part of a new theme. The icons are derived from the existing

icongraphy

, but with rounded edges, giving a more contemporary look and feel.

Draggable homescreen, making moving between homescreens more intuitive. Widgets now load on a as-needed basis, improving performance and reducing the amount of memory used.

Ovi Maps 3.6, which is already available for existing devices (it recently graduated from

Beta Labs

). The major features in this version are improved search, the ability to share a location via email and SMS (including to non-Nokia phones), public transport overlays to map view, improved social check-in functionality and the ability to download country maps directly to the device over the air.

Updated version of Social application (version 1.3.237), with new icon and improved performance. Previously available as an update via the Sw update application.

Updated Calendar application, which gains a split-screen month/day view.


Updated Photos application, which now opens straight into photo grid, rather than album / folder list view.

Updated Camera application, with reworked icons and UI elements, clearer indicator icons on the corners, direct return to the viewfinder after the setting of scene modes.

Updated Mail application, with better use and layout of UI elements (most notably in email lists), faster rendering and scrolling of HTML emails and improved stability.

Improved enterprise and security in the Microsoft Exchange implementation (Mail for Exchange). Meeting requests are now fully supported and the updates also include the provision of six new security policies, including enablers for the capability to turn encryption on remotely from Exchange device management tools.


Addition of device encryption functionality - the device, mass storage and microSD card memory can be optionally encrypted, with support for hardware accelerated encryption provided by the operating system.

New Intranet application, which makes it easier for corporate users to connect and access their company Intranet, via the use of IPSEC and SSL VPN enablers.

Pre-install of Microsoft Communicator Mobile for corporate

IM

and presence (currently available via Ovi Store for selected devices).

The latest version of Qt (4.7.3) and Qt Mobility (1.1.3), to improve developer productivity. This includes support for Qt Quick and a significant number of API improvements. Also included are Flash lite 4 and Java Runtime 2.2.

[Nokia C7 only]: The NFC (Near Field Communication) hardware in the Nokia C7 is activated by the update. It allows you tap C7's together to share contacts, photos, video and play games. In addition, NFC-enabled accessories can be paired by tapping and the device can be used to read NFC tags.


[Nokia N8 only]: Under the hood tweaks made to prepare for extra camera features, including a UI tweak, plus continuous auto-focus in video mode and higher frame rates. These will be enabled in a separate application update, officially teased as perhaps coming on Monday.

[affected devices only] Hardware with (alleged defective) 'purple' tinged displays is improved by a software fix that significantly improves contrast and colouration in low light conditions.

If 'Theme effects' are turned on, application loading is accompanied by a small circular animation to let the user know that something's happening. Previously loading applications would result in a short pause and a fade to black into the application.


Over 100 under-the-hood optimisations and bug fixes. In general this means you'll notice both smoother and faster operations during usage.
Country availability
The Symbian Anna update is available in the following countries this week: Belgium, China, Czech Republic, Denmark, Egypt, Finland, Germany, India, Indonesia, Kuwait, Norway, Poland, Russia, Sweden, Thailand, UAE, the UK, and more (see comments below).
According to Nokia Conversations other countries are "mostly confirmed for the next three weeks".

Additional notes
Initial extra observations, beyond the changelog above:
The Quickoffice and Adobe Reader applications are not included in the basic Symbian Anna firmware update. However, Symbian Anna does include a full license for both applications. An additional application package is available via Sw update and Ovi Suite, as shown in the screenshot at the top, which includes these applications and other application software updates.

In some cases, application icon reassignments (to other folders) get lost and have to be redone.

Rafe Blandford and Steve Litchfield, All About Symbian, 18 August 2011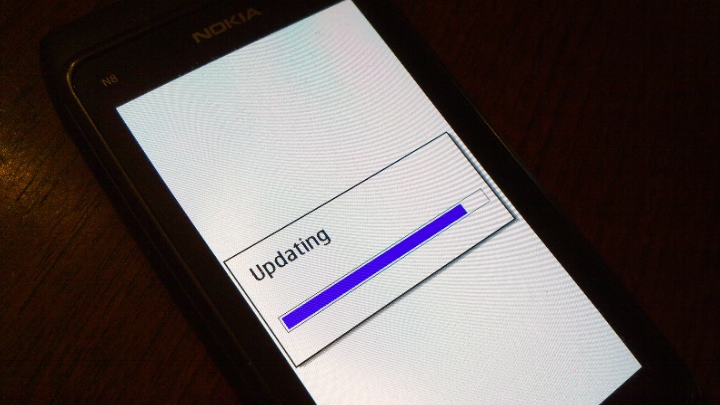 Here's the update in progress, it takes around 15-30 minutes.